ALABI, D.Litt (h.c) Ekefa Olubadan of Ibadanland and the First Culture Ambassador of the National Museum and Monument, Ile – Ife Today, Thursday, June 18, 2020 is the sixth anniversary of the death of the late Alhaji AbdulAzeez Arisekola Alao, CON, the first Aare Musulumi of Yorubaland, late Aare of Ibadanland and former Vice-President –General of the Nigeria Supreme Council for Islamic Affairs (NSCIA). For ease of reference,
I refer to the late businessman and philanthropist in this tribute as Aare. He died in his sleep in his London, UK home on Wednesday, June 18, 2014 and was buried in his Oluwo Kekere, Basorun, Ibadan home on Friday, June 20, 2014. May Aare's kind soul continue to rest in peace in Aljannah Fridanous. Amen. A man of great intellect, kindness, friendliness, business acumen, energy and wits, the late Aare was most of the time, in his lifetime, providing relief to the poor, weak, hungry, the rich and famous.
His philanthropy broke barriers of religion, politics, tribe, gender, class, cause, or what have you. Great men and women, all over the world, are gifted with attributes of creativity, intelligence, endurance, humility, compassion, honour and wits, among others. Many world leaders, dead or living, are easily remembered for their wits or quips. Examples abound in such leaders like a late British Prime Minister, Mr. Harold Wilson "(Twenty four hours is a long time in politics)"the greatest boxer in history, Muhamamd Ali "(Float like a butterfly, sting like a bee)"a late President of the United States of America, John F. Kennedy "(Ask not what your country can do for you, but what you can do for your country)"statesman 2 and late Premier of the defunct Western Region of Nigeria, Chief Obafemi Awolowo "(Its not life that matters, but the courage you bring into it)"the yet – to –be declared winner of Nigeria's June 12, 1993 Presidential Election, Bashorun Moshood Kashimawo Olawale Abiola, GCFR ("You can't clap with only one hand") and Britain's First Female Prime Minister, Lady Margaret Thatcher ("I am not called the Iron Lady for nothing). Aare, was also a man of good cheer and great humour. I recall some of his quips as his mood or occasions dictated. · General daily attitude: "Tell Rafiu (the chief gatekeeper at Aare' s Oluwo home, Ibadan) to allow all visitors in. Allah will provide succour to us all". Thereafter, would start the day with cash/material donations to multitudes –relations and strangers. · When a business deal sailed through: "God damn it. Even though I am unlettered, I know how to use my brain for good". "Pass me the calculator, please". ·
When angry or rejecting an offer: "Capital No! And no Jupiter will make me change my mind". · In a Jollymood: "Jesus/Allah will put melody in your life". · While settling disputes: "Let us be fair to all parties in a case, and remember the Judgment Day in heaven, when Allah shall apportion the deserved judgment to every soul". ·
While offering rides in his limousine –squeezing himself to the middle seat: ""Move nearer me. My body weight is like that of a feather. Or how much does Laisi weigh? Born on February 14, 1945 to the late Pa AbdulRaheem Olaniyan Alao and the late Alhaja Olatutu Alao, at Adigun Village of Ibadan, in Ona Ara Local Government Area of Oyo State, Aare attended Saint Luke's Primary School, Adigun and ICC Primary School, Oke –Offa Babasale, Ibadan, where he topped his class throughout and obtained the Grade
'A'Primary School First 3 Leaving Certificate in 1960, the year he left the village and came to live in Ibadan, his home town. Aare, successfully passed the entrance examinations into the famous Christ School, Ado-Ekiti, Ekiti State and Lagelu Grammar School, Ibadan, Oyo State.
He scored the highest marks in the entrance examination to Christ School, AdoEkiti, necessitating the expatriate principal of the school to write a letter to the young, precocious AbdulAzeez to appear before him, because no candidate had ever obtained such high marks in the school history before.
When the young, rustic, but brilliant candidate appeared before the British principal, he explained that he would not be able to take up the admission offer, as his parents fortunes had dipped, due to his father, Pa AbdulRaheem Alao's illness, resulting in a slump of his cocoa business.
A scholarship offer by the school to Aare was not allowed by fate to be utilized by him. That is a story for another time. Nonetheless, the determined AbdulAzeez studied privately Quranic Arabic and Western education, and emerged a first class product of all. In the early 1960's, Aare joined his late uncle, Alhaji Karimu Olasupo Jenrola, at the famous Gbagi Business District of Ibadan as an apprentice trader.
After successfully understudying his uncle, he started the sale of Gammalin 20 products vide the incorporation of his Azeez Arisekola Trading Company in 1961, with a loan of three hundred and ten pounds. (£310) given to him by an acquaintance of Alhaji Jenrola, the late Mr. Olatunji Owodunni.
For displaying the qualities of a future business magnate, impetus for hard work, integrity and creativity, the Western Nigeria District Manager of Imperial Chemical Industry (ICI) Mr. P.K Hampel, a Briton, took the young AbdulAzeez under his wings.
Mr. Hampel, setting all formalities aside, appointed Aare a 4 dealer for ICI products in the now-defunct Western Region of Nigeria in 1969. By 1970, Aare received a commission of one thousand pounds (£1,000.00). An astute young businessman (especially in his own words, "Baranda"–the art of fast sales and turnover of commodities) Aare built his first house at the age of 25 years.
In 1972, he registered his motor company, Lister Motors, becoming the star dealer for the popular Japanese brand, Datsun. It was from that era of business boom that the late Alhaji AbdulAzeez Arisekola Alao became the unstoppable merchant, philanthropist and socialite, as attested to by the two popular records waxed in his praise by his two juju musician friends, Chief Commander Ebenezer Obey, MFR and King Sunny Ade, MFR in the 1970s.
But, Aare's high speed in the social circuit slowed to a gradual halt, when on July 14, 1980, he was installed the first Aare Musulumi of Yorubaland by the League of Imams and Alfas in Yorubaland.
Thereafter, Aare devoted much of his time and resources to religion, charity, promotion of culture, peace and unity. Six years ago, he returned to his Creator, Allah (SWT).
May Aare's kind and beautiful soul continue to rest in peace in Aljanah Fridaous Amen. *Slightly edited, this tribute was first published on Sunday, 18 th June, 2017.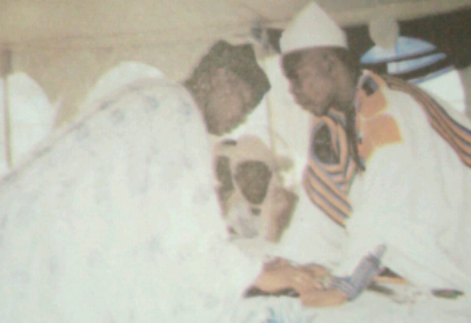 Send Us News, Gist, more... to citypeopleng@gmail.com | Twitter: @CitypeopleMagz