Have you wondered what's with the buzz about the trending all-in-one app, Scooper? Let's tell about the app that Nigerian Android users are now crazy about. The Scooper app was launched in Nigeria back in 2017 and has since gained ground with over 3 million users and routinely updated features that capture the interest of nearly every age group, demography, and gender. What we can tell you for free is that users can now make money while having fun with Scooper. Yes, you can make money just by reading the news, watching live games and chatting with friends.
Unlike every other mobile App, Scooper comes with ample value-added features that keep the user's company and at the same time, save a few coins in the pocket.
City People, after a comprehensive review of Scooper App, brings you 10 key features that stand Scooper out from other phone apps, Enjoy
PERSONALISED NEWS FEED:
With Scooper, you can screen the categories of news. Scooper has an array of newsfeed that comes in various categories and interest: varying from sports, entertainment, movie, music, politics, fiction, crime and so on. You can also get a live feed of sports bet and live scores from live matches across the world. With Scooper on your mobile phone, you have the world in your pocket.
SPEED OF UPDATE:
With Scooper, news update comes on by the seconds, you can be sure to get stories as they break across the world. Scooper focused on the speed improvements first because "we thought the most important experience we could change was improving load times. Scooper believes that a delay of only several seconds is enough to make some users abandon an app, we have carefully developed an app that does not come with excess luggage, rather, Scooper offers a friendly user experience that gets you acquainted within minutes of download and trial.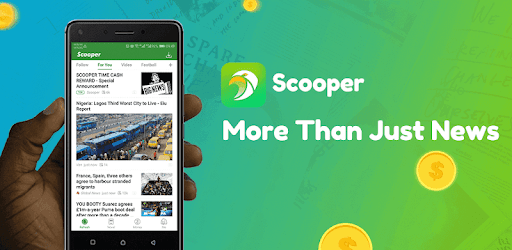 LIVE COMMENTARY
Scooper's in-house commentators give readers a real-time account of selected football matches across major leagues and competitions around the world. You will also get to listen to exclusive coverage from the Premier League, the EFL, Champions League, Europa League, FA Cup, EFL Cup, La Liga, UEFA Nations League, UEFA European Championship and international friendlies.
PROFESSIONAL GENERATED CONTENT:
Scooper users are sure to find contents, videos, and stories that are exclusively available to the app users, by professional writers and content providers. Scooper curates content in tandem to the interest of readers and popular demand. The stories are authentic, genuine are made exclusively available to Scooper users. The contents also vary across all categories of news and opinion pieces.
FREE FOOTBALL BETTING TIPS:
We can tell you for free that Scooper is the home of football predictions and match previews. You can follow our selections with a free bet on matches. We post all football tips & predictions 2 days before the match. This enables us to research team news and get the early price value before the odds start to shorten as the day goes on. Be sure to get acquainted with Scooper if you want to follow our football tips. Please gamble responsibly!
NOVELS:
Scooper gives readers to enjoy an array of stories filter by your mood and how much time you have to read to explore our extensive app list. Scooper boasts of several novels across categories such as romance, thriller, fiction, mystery and short stories.
BUZZ QA:
Scooper is the only existing app which engages users with Q & A platform, discussing issues from virtually all areas. Scooper builds Community with a Social Discussion Board, Critical Thinking and Reflections…Scooper fun beyond limits.
SMALL DATA SIZE:
Are you concerned about how running apps you exhaust your phone memory? With Scooper, you don't have to worry. For each update, Scooper users are not at risk of overloading their device's storage because the app is lightweight. Scooper app, at the point of download, is less than 10MB and the functionality is totally storage friendly. It also doesn't come with excess app luggage that drains your phone battery.
WITH SCOOPER, NO UNSOLICITED ADS
It is no doubt that the absolute revenue source for App is the running ads. However, Scooper puts the satisfaction of users before profit. The Ads on Scooper do not disrupt the attention of users and they don't pop up unnecessarily at their faces. The ads are user-friendly.
YOU MAKE MONEY WHILE YOU USE SCOOPER!
Scooper has an exciting feature that allows users to earn coins by inviting new users using their unique referral code. The coins can be used to cash out items at the Prize centre- a depot of several gift items. You also earn coins by reading stories, watching movies or downloading Novels. For every minute spent on scooper, there is a coin popping in.
Knowing what best Android App is good for your Android phone or tablet is no easy task. The Google Play Store is chock-full of apps, all organized according to what it thinks will interest you most. The concern is in the fact that you don't know the essence without trying them out. Scooper offers you the opportunity to survey the user's experience and make a decision. Try Scooper today and thank us later.
Send Us News, Gist, more... to citypeopleng@gmail.com | Twitter: @CitypeopleMagz