•As Over 300 Stylish Ladies Storm Event
•LONDON Fashion Designer, ADEBAYO JONES Storms Event
The history of the Nigerian Fashion Industry cannot be completely told without making mention of City People Magazine. This is to show the kind of influence Nigeria's oldest soft sell magazine has in the industry before the advent of social media. And now that the social media has taken over the space, City People still remains relevant after 23 years of active soft sell journalism. City People had a separate magazine called FASHION & LIFESTYLE. In the days of Fashion and Lifestyle, the magazine mirrors what celebrities wear, how they came about their designers but now that social media is all that is in vogue, City People Online Fashion & Beauty magazine is where all celebrities display and talk about their fashion styles. On Sunday, June 30, 2019, City People took out time to celebrate the old and new players in the Fashion and beauty industry. It was a very classy event where both local and international designers, fashion-oriented celebrities, models, buyers and sellers gathered in one single auditorium to celebrate one another and also display their different but very captivating fashion styles. Call it a fashion show, a night of good music and entertainment, celebrities dance party or models hangout, you will never be far from the truth as these and many more made the night so memorable. City People's DAMILARE SALAMI was there and he brings you a blow by blow reportage of all that transpired for your reading pleasure, enjoy.
Lekki Coliseum Hosts Event
The Lekki Coliseum is the hottest celebrity event centre in Lagos right now. The ever glamorous Lekki Coliseum (TLC) located in the heart of LekkiPeninsula was the most appropriate venue for an exceptional night of fashion and beauty display which the show was christened after. The aesthetics and status the event center had garnered over time left no doubt in the minds of all the guests that it was capable of housing the biggest celebrities and their entourages in the country.
DJ MOP dazzled guest
Popular Lagos disc jockey, Agbeni Oluwashina Abiodun aka DJ MOP (Money Over Personality) is a popular face on the wheel of steel in the Nigerian showbiz scene. His brilliance, passion and work ethics have placed him on a high pedestal in the industry. His status as a top DJ in Nigeria was again challenged having being placed with the responsibility of entertain 'A' list designers, fashion moguls, the giants and fast-rising stars of the Nigerian fashion and beauty industry. His ability to carry all the classes of people at the show along made him the best choice indeed. No one was left stranded and this was evident in the cheers that greeted the air from the crowd each time DJ MOP airs their favourite tracks. He opened the show by leading the national anthem and afterwards, he only left his musically insatiable audience well satisfied.
Popular Designer, Tope Ibile Vogue OpenED THE Show
What many Nigerians know MrsTemitopeOlanre-Alabi is designing mind blowing attires and making people look good in their outfits. However, she has just proven to us that she is a jack of many trades and a master of all.
The award winning designer, certified fashion educationist and assessor of international repute, who is also the director of studies at Ibile Vogue Academy and the chief wardrobe consultant of Ibile Vogue played the role of opening anchor at City People's firstOnline Fashion & Beauty Awards. Despite being a very official person, MrsOlanre-Adanri revealed the other side of herself as she boldly took the early comers at the show to a world of superb oratory entertainment. She was not the usual woman of few words many know her to be, yet, she was far from being boring.
Why City People Online Fashion & Beauty Magazine WAS SET UP
Online Fashion and Beauty Magazine is the latest baby of Nigeria's oldest softsell magazine, City People. It is an online platform set up a few months back to cater to the need of the fashion conscious Nigerians across the world. It was set aside to celebrate all the practitioners and stakeholders in both sectors be it old or new by mirroring their lifestyle and serve as a tool to project the Nigerian fashion and beauty industry to the larger world in a very unique manner that no other platform has ever done before. Being a trailblazer in the lifestyle business, the award focus on championing the progress in the sector and repositioning it by encouraging others to do well, thereby creating a healthy competition for both users and practitioners.
Red Carpet Was A Goal
Starting from Adebayo Jones, the legendary Nigerian designer, down to ace broadcaster, SeunOlagunju, the red carpet was very lively from start to finish. It was not just a red carpet but a runway for celebrities to express the fashionista in them. Aside this, another captivating side attraction at the red carpet was the fashion exhibition by many fashion brands present. Notable among them was Adire Tribe, Dimple collections, Shoge Designs, Way plus Collections, TK Fashion, etc.
OGUN BROADCASTER Seun Jewel Takes Over Anchoring
Seun Jewel is a veteran broadcaster and a popular on-air-personality. She is now the General Manager of Smash 88.1 fm in Abeokuta and she served as the anchor of the show after taking over from MrsTemitopeOlanre-Alabi. Of course, everyone who knows Seun Jewel behind the microphone knows that her energy, brilliance, oratory prowess and charming voice are second to none. There was no dull moment from everyone's perspective and all the accolades go to this veteran per excellence.
Fast Rising Hip Hop Act, Capital Effect Raises The Roof
As much as it was a fashion and beauty show, musical body shaking vibes from talented musical acts and the ever ready DJ MOP were not scarce. Fast rising music act mounted the stage and did his thing in the most entertaining and professional way anybody could ever imagine. His composure, art and delivery presented another Grammyawards nominee in the making. Note that you heard about him first from City People Magazine when he becomes the hottest act in the Nigerian music industry.
TV DIVA Seun Olagunju's Royal Entry
Her outfits and entry are better watched live than imagined because words cannot truly capture the awe this beautiful screen diva, Seun Olagunju garnered as she walked majestically to her table of honour with her entourage on the night. Everyone who knows SeunOlagunju would agree that she's a sight to behold. However, at City People's first Online Fashion & Beauty Awards she looked extraordinary as she caught the attention of every guest while she walked through the runway to her seat.
Adire Tribes Model Flaunt Beautiful Designs
Just the name already expressed, Adire Tribes is a fashion brand that deals majorly in Adire outfits. Ranging from clothes, to bags and shoes, Adire Tribes has you covered for your most authentic Adire clothing materials and design. At City People's Online Fashion & Beauty Awards,AdireTribes had her models display these beautiful attires and the guests responded with not just applauds but also by patronizing them even at the venue of the event. Adire Tribes designer and CEO, MrsAdeolaIdonijeBadmos was also at the show to add colour to the already classy event.
Mrs. Uzama tAkinbile-Yusuf Chairs Event
The chairperson, MrsUzamatAkinbile Yusuf, a former commissioner for Wealth Creation in Lagos Statewas handy to perform her duties and also encourage female entrepreneurs who have relatively dominated the fashion and beauty industry. In her remarks, she encouraged those present to see challenges as a way to turn things around and this approach will in the long run bring financial gratification for them if they didn't give up.
NAMAQUA Wine Offers Free Drink
NAMAQUA wine was the icing on the cake for all the guests. They served free drinks of red and exotic wines for all interested persons. Being one of the major sponsors of City People first Online Fashion and Beauty Awards, NAMAQUA wine played a very vital role in ensuring that all the guests were fully satisfied. The smiles on the faces of their waiters/waitresses were so inviting such that you will be tempted to make an order.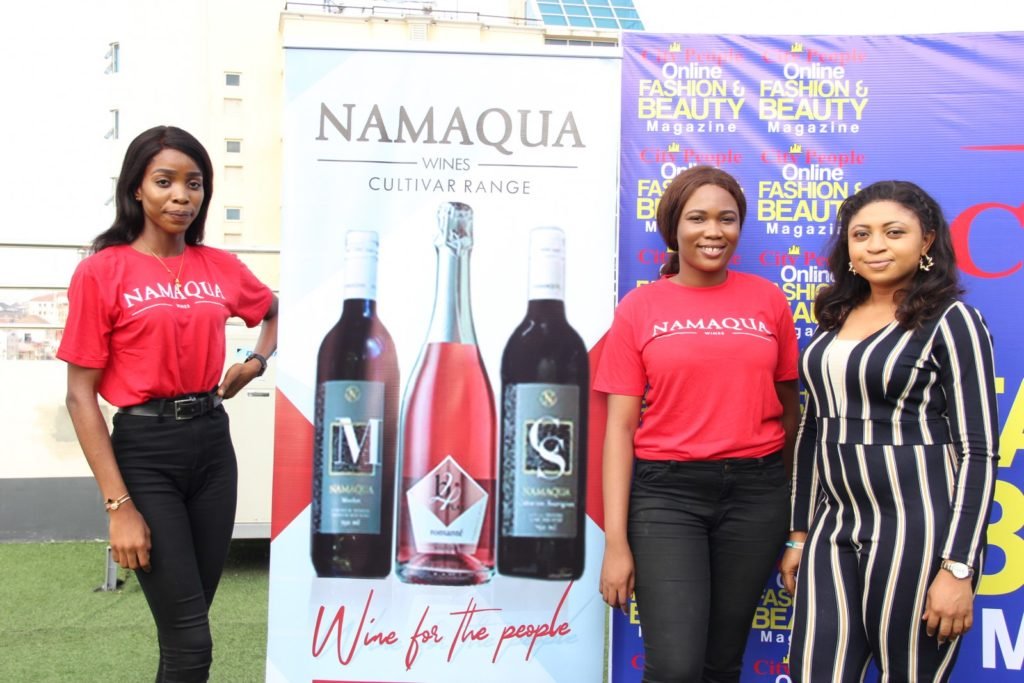 DIMPLES Fashion Et Al Models Display
When Dimples models took over the runway, virtually everyone mistook the event for a wedding reception. Dimples Fashion Et Aldeals in sales and designs of wedding gown and they are simply superb at what they do.The designer, MrsAjisegbedeModupe Imam joined her models upstage after a display of beautiful different wedding gowns designed by her and took a bow after an applauds which expressed satisfaction from the guests.
UzamatAkinbile Yusuf Presents First Set of Awards
Pharm UzamatAkinbile Yusuf received the singular honour of presenting the first set of awards to winners and some of the proud winners who got their plaques from her include the international designer, Adebayo Jones, Adeola Ogunkolade, founder ADEG, Sidikat Folami whose company bagged Customised Fabric Manufacturing Company of the year. Outstanding Ethnic Fashion Company of the year went to Rave Plus Collections while BisolaIdowu who was bagging her first ever award was recognized for her outstanding contributions to the Fashion industry. Most Supportive Fashion Décor Company of the year went to Sparrow Décor while FunkeFabeku, another winner of the night stood out on the podium with her charming smile and catchy silver colour gown.
EDDIE's Beauty Fascinator Steals Show
Edna Adeyemi is the CEO of Eddie Beauty. She also emerged as one of the winners of the prestigious City People Online Fashion & Beauty Awards. That was not the big story on the night of glamour and fun. The big story was how her fascinator got everyone talking. Immediately she mounted the podium, all eyes were on her head and people barely listened to her remarks. The fascinator became one of the talking points of the night.
ooni's 3 sisters Bag Fashion Awards
Princess Folasade Fadairo got a special recognition award for her contributions to the development of fashion and beauty in Nigeria. One unique thing about her was the accolade she showered on her mum for making her develop so much passion for fashion. She launched a new fashion line on the same night and named it after her late mum, Wuraola Abebi. The fashion line is called Wuraola by Folasade Fadairo Princess Adesola Ogunwusiand Princess AdeimpeOgunwusiare the sisters of the Ooni of Ife, Oba Adeyeye Enitan Ogunwusi. They are very popular on the Nigerian social scene and they walk together a lot. Something unique about their presence at the City People first Online Fashion and Beauty Awards is the fact that they all emerged winners.
Makani Couture Brand Models Takeover Runway
Makani Couture design different kinds of lady's wears. Models who represented the brands suddenly took over the runway after DJ MOP slammed a popular Naija tune that got everyone high. They flaunted different Kaftan, blouse, dress and African attire designs before taking a bow to end the session.
Adebayo Jones, Mrs Elizabeth Eden Present Second Set of Awards
Without much ado, the anchor, Seun Jewel called Mr Adebayo Jones, one of the winners of the night and Mrs Elizabeth Eden to present the second set of awards to winners. This category had Funmi Beauty Wealth Spa grabbing a recognition award, while DIMPLES Fashion Et Alwon the upcoming bridal brand of the year award, Habi Ikoun and Funmi Onabamiro were also recognized for their contributions to the development of fashion and beauty in Nigeria. Popular singer, SeunBankole (SB Live) got the most stylish celeb personality of the year award in the male category. Others who got their plaque in this session are TK House of Fashion, Magnetic Elegance, BankeMeshidaLawal, Foremost Fashion Academy of the year which went to Digital Academy, Lola Adewole Lawson, CEO Fashion for Life (FFL). Beauty Brand of the year went to BM Pro.
Yeye Oge Fao's Creative Ankara-Lace Combo Design
YeyeOgeFao'sappearance on stage spoke volume about her title (YeyeOge) meaning the mother of fashion. She was beautifully adorned in a sequence Lace and Ankaradesign and definitely caught people's attention as different designers rallied around her to snap a photograph of the design. A lot of people praised her creativity for the combination and confessed that they had never thought of anything of such.
RAVE PLUS COLLECTION MODELS WERE ALSO HERE
They didn't just come to mark register neither did they just come to pick an award plaque. Rave Plus Collections were at the City People First Online Fashion & Beauty Awards to make a statement about their brand and why they have remained so relevant in the industry and they did just that in style. Being one of the last to present their models to the guests didn't deter them, instead, it was the morale booster they needed to do just well.
FunkeFabeku and FunmiOnabamiro Present Last Set of Awards
Can you remember the saying about keeping the best for the last? That was exactly what the anchor, Seun Jewel did. She kept everyone wondering when the gorgeous broadcaster, SeunOlagunju would mount the podium because of her queen-like attire. Finally, it was time and she stepped up in her royal majesty just after Mrs Funke Fabeku & Funmi Onabamiro announced her name. Other winners who got their plaques from this duo are IyaboAbagun, Princess RonkeAdisa, BunmiAyuba (Tailor Made) High Chief AdeboluDosunmu and Peju Johnson.
TK Designs &Shoge Models Close Design Display
Models from two giant fashion companies in Nigeria, TK Designs and Shoge rounded off the show with a display of mind-blowing Nigerian designs with world standard quality. JumokeRaji, the brain behind TK Designs accompanied her models off stage before Shoge models took over. They also pulled their stunt and were seen off stage by their boss, Funke Fabeku.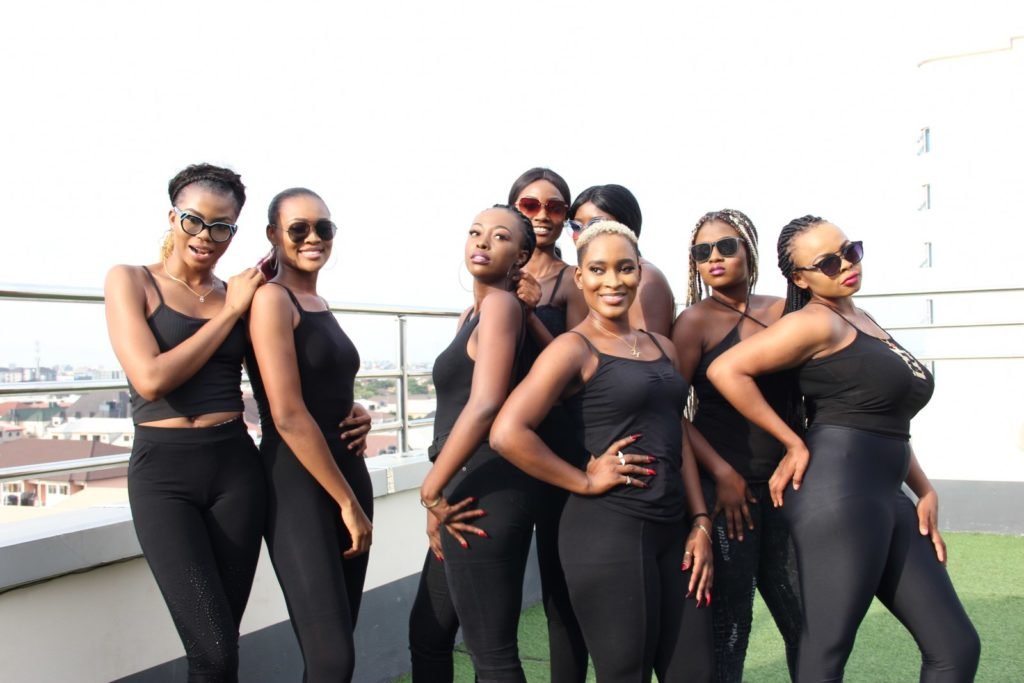 Small Chops Galore
There were plenty of small chops and drinks at the event. It didn't have only surplus in terms of attendance, quality of programme, entertainment and total packaging, it also had surplus food and drinks. Many of the guests who spoke with City People expressed maximum satisfaction and revealed that they were not expecting the kind of fun they had considering the fact that the award was the first of its kind. They also expressed anticipation in the next edition. Small chops were served by NYPHEM Pastries and Olayiwola Small Chops. Lagos businesswoman, Princess Toyin Kolade sponsored the refreshments.
Damilare Salami 08155134152
Send Us News, Gist, more... to citypeopleng@gmail.com | Twitter: @CitypeopleMagz