As Institute Of Medical Research Signs MOU With ESGN
Friday, August 24, 2018 marked the beginning of the end of Infertility, Dysmenorrhea, Irregular menstruation, Intense pain during sexual intercourse and other fertility related issues in the country. This is because the Nigeria Institute of Medical Research, NIMR, has assigned a Memorandum of Understanding MOU, with the Endometriosis Support Group of Nigeria, ESGN and Nordica Fertility Centre to carry out the first national research on dysmenorrhea amongst secondary school pupils.
The research being the first of its kind in Africa, and set to target not less than 30,000 secondary school girls, had the high and mighty of the medical research institute in a round table discussion with members of the ESGN and Nordica Fertility to brainstorm on how the Nigerian girl-child would be able to live her menstrual life without fear of losing out of different opportunities such as writing exams, official assignments, and etc. because of the excruciating pains from menstruation, secure women's reproductive life through early diagnosis of reproductive abnormalities, observe menstrual hygiene and etc.
The Director-General of NIMR, Prof Babatunde Salako in his opening remarks expressed delight in the bold step taken by ESGN and Nordica to collaborate with the institute in other to solve a national problem. He says "on behalf of the Nigerian Institute of Medical Research, I want to assure the Endometriosis Support Group of Nigeria that we will bring to bear in this study, our expertise over the years and facilities to ensure the success of this study.
Present at the round table parley was the DG-NIMR, Prof Babatunde Salako, CEO, Nordica Fertility Centre, Dr Abayomi Ajayi, CEO, Health Environment and Research Foundation, Dr Bamgboye Afolabi,
Dir. Of Admin, NIMR, Yaba, Alhaji A.S. Yunusazazzau, Director of Research, Dr Nkiruka Odunukwe, Mr Onuora Molokwu, ESGN, Deputy Director, Research, NIMR, Dr Sam Awolola, Ag HOD, Biochemistry & Nutrition, Dr Aina Oluwagbemiga, Deputy Director, Research, NIMRM, Dr Sam Awolola, I.T Engr, Simeone Gbeleyi amongst several others.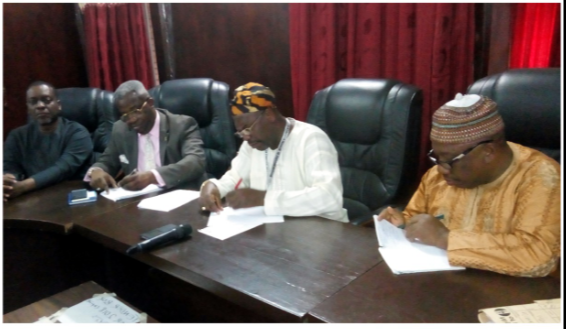 WHY RESEARCH ON DYSMENNORHEA?
Dysmenorrhea is the medical term for menstrual cramps, which are caused by uterine contractions. Many Nigerian girl-children have been denied right to being educated because of the consistent and unbearable monthly pains, some have been tagged 'witches' while many have been neglected to bear their burdens alone because of their inability to find a lasting solution to the pains they bear every month.
Titled national survey on dysmenorrheal, infertility and national hygiene among secondary school girls, the research according to Prof Salako is necessary at this time as "this condition has been shown to have affected women's life in terms of frequent monthly period, discomforts and pains that are severe enough to prevent them from attending schools and classes at younger age. More importantly, they are not able to listen to lectures and if it happens during exam you can imagine what can happen to such a candidate who is not well prepared for the exam or who is in fact suffering from this symptoms during examination."
"It also affects their career and in some situations it leads to endometriosis which is why the ESGN is very well concerned and I believe that the gynecologist among us can tell us the relationship between endometriosis and infertility in future for the patient who has suffered this condition over the years."
"So we believe that the outcome of this research can tell us the prevalence of this condition among our secondary school girls and also provide us specific symptoms beyond what is commonly known in other for us to be able to define the condition, detect the condition early enough and provide appropriate treatments and supports for those individuals so that they will not suffer some of the backlash of the condition. We also believe that it will be an opportunity for us to reduce the rate of infertility among women in Nigeria."
Dr Ajayi who heads Nordica Fertility Centre also added to why the research on dysmenorrhea among secondary school girls, he says; "in other parts of the world, the importance of early diagnosis was being put across, and we also know that the commonest symptom of endometriosis is dysmenorrhea, we thought that the easiest way to nail endometriosis is to go to where it starts, when the girls are just commencing their menses in secondary schools. Also just as the DG said, dysmenorrhea is the commonest reason why girls and are absent from school or work which impacts on their career and quality of their lives. We thought this might just be a good way to see the prevalence of the condition in the country but this cannot be done without accurate figures."
"One other thing we are also going to be doing as we go along in during this survey is that we are also going to be educating these girls. We know what their practices are and also impact them with the right knowledge."
WHERE IS THE RESEARCH TAKING PLACE
A research consultant who also doubles as the CEO of Health Environment and Research Foundation, Dr Bamgboye Afolabi, while addressing everyone that witnessed the signing of the MoU among all concerned bodies explained that the six geo-political zones of the country i.e. north-east, north-west, north-central, south-east, south-west and south-south are fully represented in the research as states within this regions have already been selected for sampling.
WHY NIMR AND ESGN JOINT EFFORT?
Prof Salako while answering questions from journalists revealed why the Endometriosis Support Group of Nigeria, ESGN, and Nigerian Institute of Medical Research NIMR, had to embark on a joint effort so as to represent the interest of both private and public sector in the entire wellbeing of the Nigerian girl-child.
"Most research that is successful should end up as a policy brief and I believe that the advantage this collaboration has is that we are part of government in the ministry of health and apart from the yearly report that we send to our principal, the ministry of health under the aegis of the honorable minister of health, we also relate with some of their programmes and departments. For example, we are going to e inviting P.Is. that will be responsible for  this study in different states and meeting is going to be include the representatives from the department of planning, research and statistics of the ministry of health so that from the beginning, the policy makers can be a part of the process and they can make use of the results to formulate relevant policies. We are also going to prepare policy briefs as part of the institute's responsibility to the government which is the real meat of the research."
Speaking further, he said "we believe this is a study that should be supported, therefore, the Nigerian Institute of Medical Research, NIMR, is going to bring to bear the experiences of our researchers in that specialty and of course offer other facilities in terms of laboratory and every other thing required. Dr Abayomi further opened up on why it was necessary for all the parties involved to come together when he said; "we intend to interview 30,000 girls across Nigeria who have been chosen statistically and because of the nature of the study, we knew that the ESGN could not do it alone, that's why we are here at the NIMR and we just concluded the signing of the MoU.
HOW THE RESEARCH WILL BE FUNDED?
Dr Abayomi who is also a trustee of the Endometriosis Support Group of Nigeria spoke with City People on how they intend to fund the research; "it's difficult, not cheap to fund a national survey but we don't want cost to be on our way, we know that we cannot on our own fund it but we know that as we go along, people will see the relevance of what we are doing. We have started talking to a few people but we know that with the goodwill of other bodies involved, we will be able to raise funds for it, he said.
DAMILARE SALAMI
08155134152 / 07033426688
Send Us News, Gist, more... to citypeopleng@gmail.com | Twitter: @CitypeopleMagz