Three Top Smart Speakers in the Market
Internet of Things (IOT) which once seemed like science fiction in the not too distant past has finally taken a hold on the earth and Artificial Intelligence (AI) has found a medium in it. Consequently, in the last year, smart speakers have become a veritable platform for AI and the competition from top manufacturers is getting stiffer by the day.
Here are three top smart speakers around right now in the order by which they have introduced into the market. We also name two others that are expected early next year.
Amazon Echo
This smart speaker from the stable of Jeff Bezos' Amazon has to get the credit to have started the revolution in the smart speaker world. Launched about three years ago but only became widely available just over two years ago in the United States, Amazon Echo took the market by storm and further strengthened the Internet of Things (IoT) platform. It features a platform supported by Amazon's intelligent virtual assistant called Alexa and is contained in a cylindrical tube with a far-field microphone and multi directional speakers.
Alexa responds to questions and commands like a natural person with a female voice. Commands to which Alexa responds to include trivia, history and currents affairs as well as mathematics. Most importantly Alexa serves as link to smart devices through IOT protocols.
This means that Alexa can do almost anything when paired with a smart device, including turning on and turning off lights, television, fans, air conditioners, thermostats and several other smart home devices. Of course it streams music from digital music vendors.
Since its introduction, Amazon's smart speaker has gone through several iterations with newer generation of the devices and expanded into several sizes and features, including Echo Dot, Amazon Tap and Echo Plus and Echo Show.  Amazon Echo wake-up word is "Alexa" or "Echo"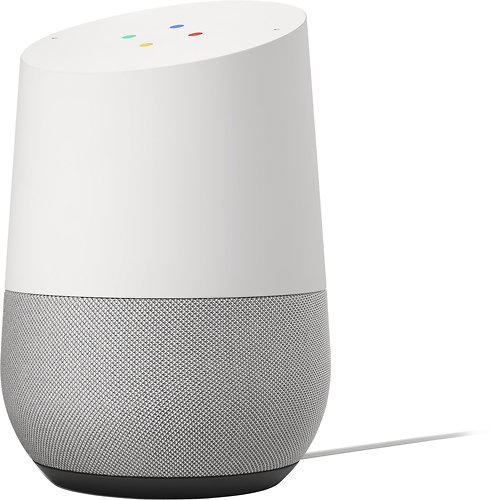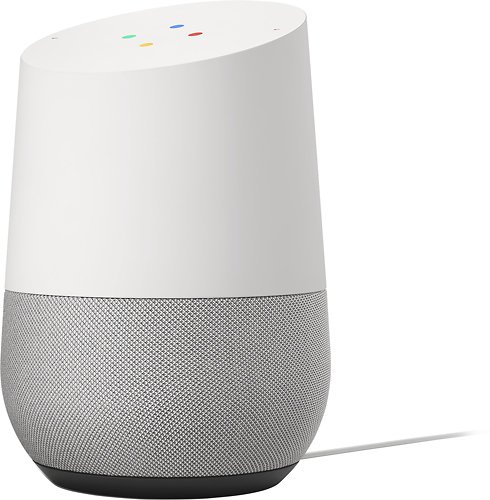 Google Home 
This is Google's answer to Amazon Echo. It was introduced in the last quarter of 2016 and it has been playing catch-up with Amazon echo ever since. Google Home is aesthetically designed to blend with other decorations in a living room. It looks more or less like an air freshener with a changeable fabric base a white top. It is supported by Google's virtual assistant called Google Assistant which was improved for the home. . Although, Google Home came to the scene roughly two years after Amazon Echo, it has indeed caught up or even overtaken with the latter in several areas.
Google Home is becoming more and more integrated with more smart home devices everyday just like the Amazon Echo which has thousands of what it calls "skills", which means all the things it is capable of doing. One area that Google Home is king is in answering questions in context. For example, you can ask Google Home a follow-up question like a discussion but Amazon Echo is still not yet there. Courtesy of its native search engine, Google Home seems to have answers to more query than Amazon Echo. Meanwhile, Google recently expanded its devices to include a Google Home Mini and Google Home Max. Google may need to change its wake-up words "Ok Google" or "Hey Google" as it is a mouthful.
Hardon Karton Invoke 
Since Google launched its Google Home devices in late 2016, speculations have been rife that Microsoft is coming out with its own smart speakers. It was expected to be supported by Microsoft's virtual assistant, Cortana. However, the months that followed indicated that the Bill Gates founded corporation might not be so keen on that kind of hardware for now but was open to developer partnering and developing smart speakers based on Cortana. Enter Hardon Karton Invoke.
This smart speaker comes in a distinct cylindrical shape unlike Amazon Echo and more like a flower vase top with a wider base. The smart speaker is physically bigger than both Google home and Amazon Echo.  Enter Hardon Karton Invoke. This device seems to hold a lot of promises but it is not quite where these other smart speakers are for now. It still has some catch-up too do in terms of integration with IoT devices for a smart home. However, the consensus is that it sounds better than the competition. The device wakes up with "Hey Cortana"
Still Expected
Apple sure likes the expectation game and the trillion dollar company is playing it again with the Apple Homepod. It is a smart speaker expected early next year. Also expected next year is a revolutionary Japanese smart speaker, Gatebox. These two deserve another write-up
Send Us News, Gist, more... to citypeopleng@gmail.com | Twitter: @CitypeopleMagz