As we celebrate death and resurrection of Jesus this season, the incoming federal representative lawmaker from Adavi Okehi constituency, Honorable Joseph Asuku Bello has urged Nigerians to imbibe the spirit of tolerance, peaceful co-existence and sacrifice for one another, as development and growth can only occur in the nation when all tribes and tongue unite and speak with one voice.
Speaking in his Easter message on Sunday, April 21, 2019, the honorable hinted that such fundamental values would go a long way in promoting and strengthening the foundation of love, peace, and harmony in the country. Adding that this season should serve as a reminder to the selflessness, love, sacrifice, and tolerance of Jesus Christ throughout His earthly sojourn, his death, and his resurrection, Hon, JAB as he's fondly called canvassed for peace, unity and harmony along ethnic, religious and political line.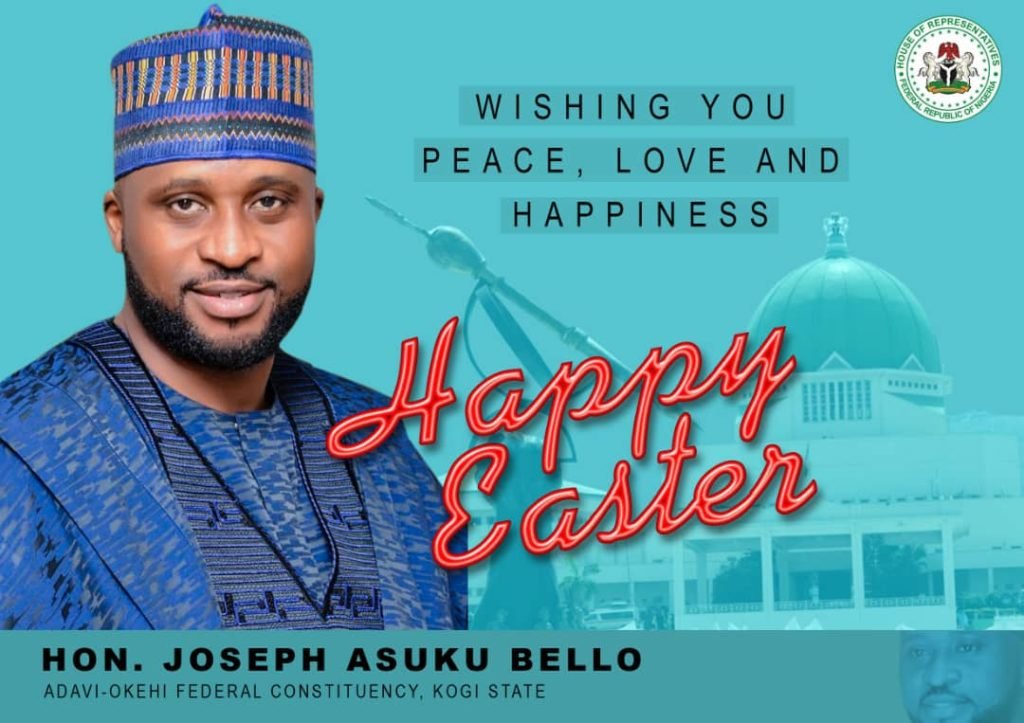 He said;
"Jesus exemplified the virtues of selflessness, love, and tolerance during his period on earth; it will be Christian-like for us as his followers to use this season as a period to reflect on our individual and collective roles towards promoting and sustaining that foundation of love, peace, and harmony in the nation.
"We must, therefore, see this period as a time that presents us the viable opportunity to think about how we can help to steer our nation back on the road to peace, stability, and prosperity, by working in the spirit of togetherness."
He said there was no better time for the country to unite together and eschew bitterness along ethnic and religious lines, adding that no challenge is insurmountable where the unity of purpose thrives.
"No doubt, Nigeria will surely make faster progress towards the achievement of the peaceful, united, strong, progressive and prosperous country that we all desire if, as a nation, we eschew all divisive, parochial, ethnic and religious sentiments and rivalries, and begin to live more harmoniously with one another, as Jesus Christ enjoined us to."
"I commend my people from Adavi-Okehi constituency of Kogi State, for their continued demonstration and promotion of mutual understanding and peaceful co-existence in spite of existing ethnic, cultural and religious diversities.
"Let me also use this important celebration to reiterate my commitment to service and good representation to you my good people and to uphold all the promises I made to you during our campaigns." He said.
"I wish you a happy Easter celebration and enjoined you all to continue to support this administration at all levels, to deliver more developmental projects that would make life more comfortable for us all.
"I wish you all Happy Easter.
"Love Live Ebira Land!
"Long Live Kogi State!
"Long Live Nigeria!".
Send Us News, Gist, more... to citypeopleng@gmail.com | Twitter: @CitypeopleMagz