Kehinde Akintunde-Johnson is the son of veteran journalist, Femi & Ire Akintunde Johnson. He is a young artist. He is a hyper realistic pencil artist, painter and an illustrator. He is a graduate of Visual Arts at the University of Lagos. KAJ drawings and paintings come in various styles from surrealism, impressionism, realism to hyperrealism. The driving force behind the techniques used in creating his works is determined by the dynamic questions he is asked in his discussion with life and its happenings. City Peoples ADEOTAN OSUNYOSADE met with him at the Studio Scout art exhibition where some of his works were also exhibited, and he spoke on his journey and love for Arts.
Can you introduce yourself?
I am Kehinde Akintunde Johnson, also known as KAJ. I am a visual artist. I make paintings and drawings. I recently graduated from Unilag, creative Arts/Visual Arts.
How did you start painting and drawing? Why?
Well, I think I have been drawing since I was really small and I was very competitive when I was small. Still am actually. We use to draw Limousines, Dbanj and different toy cars. I use to compete with my friends on who can draw a Benz so that pushed me. I started focusing on drawing 4 years ago and painting 3 years ago. But I paused my painting a year ago because I had some health issues with the paint, it was conflicting with my health so I had to move straight to drawing so I mostly draw now but I really prefer drawing to painting anyway.
What inspires your creativity?
Different things, different situations in life affect my paintings and drawings. My paintings are mostly surrealistic. You can't believe them because they don't look real, they look like something you see in a dream because I mix different symbols and object to form one thing but to communicate a certain idea. That's surrealism mixing different things. So it's like you are looking into a dream and I have a bold color use, I like shinny colors. I use yellow, a lot of color theory is put in the work and what inspires me is different concept in life, pivotal concept mostly. Things that has to do with religion, pain, happiness and appreciation ofthe black race beauty. There are different styles I employ in my drawing, realism, surrealism and hyperrealism. Though I recently started hyperrealism, it is a style I am really trying to delve into and understand more. I feel like I understood it a bit more with my last piece'Pretty Bird' that was when I fully dive into the pool of hyperrealism. It took me about 2 months to make that piece 280 hours (laughs) you see how many hours working on something, it not only takes a part of you away, it takes your time, gives you something back. You feel like you created something, like you started something from scratch, from nothing, from a blank paper and you built her into creation. In a way you feel like a little god not God exactly but in a way you feel oneness, like you created something. That is why I did this. I did this because I want to make my mark in this world by creating.
I am more comfortable with drawing but when it comes to painting, there must be that shine in it. I like applying dark colors but something will come to light. Like if you look at this piece there, there is darkness around it and then there is light making sweet mixture between both and if you look at some of my painting, some are darker but there must be that ting of light like that illumination that makes it pop.
When you started painting/drawing, how did your parents react? As supposed to the usual you must be a Doctor Parents talk.
Initially they were against it, and it was actually you must be a lawyer talk, and then architect. It became clear to them that it would inevitably have to end up with me reading Visual arts. They are very supportive now and have been for quite a while.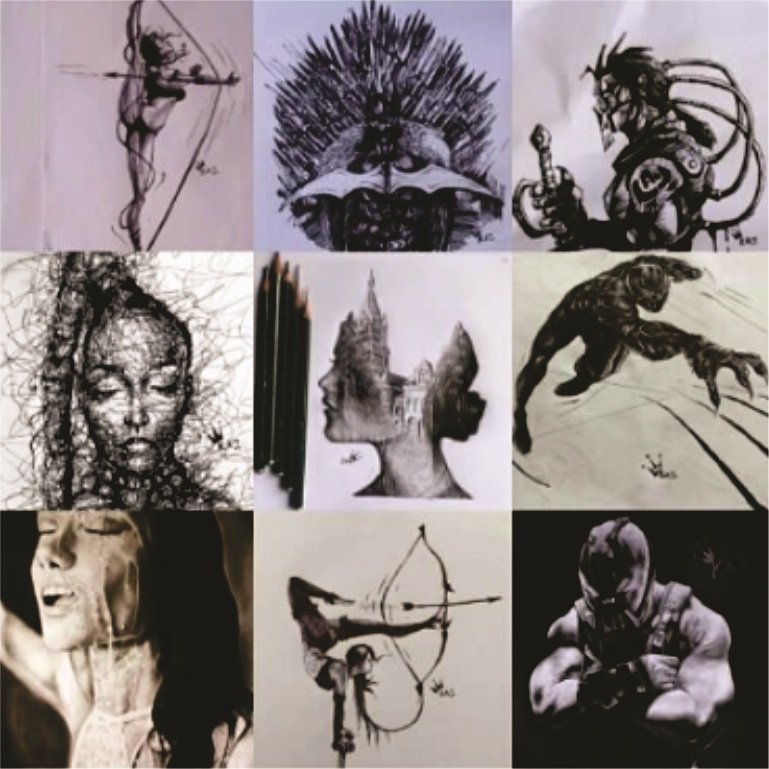 Amongst many artworks you have, which would you say you are most proud of? Why?
Hmmm I have to say the two of them are in right inside the gallery. The 'Seed of Evolution' the only painting up there by me, is one of the paintings I respect most and I feel like I might not get that exact tone or feeling when I created it. I might not get it back because I can't paint as much as I can anymore because I am doing more of drawing. I might not be able to do that anymore. I can't recreate it; there is nothing I can do. And the drawing 'Pretty Bird' though I am obviously going to get better in drawing but that is the peak I reached that I have never reached in drawing before. Basically right now, that's my peak so what I have to do right now is pass it. That's the drawing I respect most.
Being a young man in the Art industry or should I say the Creative industry, what are your challenges?
First of all is exposure and then there is status. Exposure is like how to get your work out there. Who is going to see your work? How do you get clients? Then status is your standing in the art, can you sell your work for this price because when you are starting you can't sell your work for too high. They will just look at you like who is this guy so you have to start humble, start somewhere then grow. Most of us want to jump but we can't jump so we have to start humble.
So how much does a piece of art goes for?
We have one of 200.000 and 250.000. it could go higher depends on the bidding but between 200 to 300 thousand. Also it depends on the sentiments of the artist on how I feel about my work and sometimes the size.
What are your aspirations? In the next five to ten years, what do you hope to become?
I believe I am already becoming. I hope to venture more into painting as I have said. Painting is my true love so I would like to go back to painting. And there is this thing I am trying to explore for the next 2 years. It has to do with activism with women rights, everyday life and the atrocities committed against them. I mostly grow up around women, the only man in my house is my dad and I have 2 sisters and my mum so I guess that's why that theme is kind of close to home. I am a little morbid and a pessimist because I see the bad things in the world more than the good and I have trust issues so I see things. People call me negative but I see raw things happening. I read things in the newspaper, horrible things happening to women that shouldn't. Like rape, taking women organs for rituals. One time I saw a picture of a lady on the internet of her intestines removed out of her, what was left was just the shell of her body. They had already removed everything. They took her organs and used it for what God knows. And I heard about this other girl that was sold to a gang to be raped by her friend in the US. And there is the resounding elephant in the room the Chibok girls. Where are they? Nobody is talking about them. Have they gotten all of them? It's sad that they are forgotten, it feels like they are forgotten. These things are taken for granted so I want to use my work to raise awareness, to remind people that they are not forgotten and that they should remember. I think I am going to use hyperrealism mixed with surrealism to chase that idea, to produce and depict works that have to do with that idea.
Send Us News, Gist, more... to citypeopleng@gmail.com | Twitter: @CitypeopleMagz