BUKKY FAGBUYI FOR VICE CHAIRMAN ACTOR GUILD OF NIGERIA LAGOS CHAPTER
The ebony and beautiful actress cum philanthropist, Bukola Fagbuyi has indeed contributed immensely to the growth of the movie industry, especially in the area of health of the veterans both in the Yoruba and English industry.
So many were not surprised that the very hardworking actress was nominated to run for the post of the Vice Chairman Actor Guild of Nigeria Lagos Chapter. Many are so certain, she will emerge the winner, considering her active, kind and caring nature. And above all that she will take the industry to a greater height.
BABASEUN FASERU TWO HIGHLY ANTICIPATED MOVIE SET TO HIT THE SCREEN SOON
The very young and hardworking actor cum producer, Babaseun Faseru is no doubt one of the finest dude. Currently rocking the movie industry. Many will always remember him for his role as Toyo Baba's boyfriend in Jenifa Diary, and he has been featuring in movies and series back to back.
The actor is set to produce two indigenous movies titled "Dieko" and "Ebiti" and these two movies parades lots of A-list stars in the industry and many are anticipating the great movies considering what he did in his first production titled "PWD".
UCHE ELENDU AND FANS AT WAR OVER HER DAUGHTER'S AGE
All earth was set loose when star actress, Uche Elendu shared a picture of herself and her daughter Sinachi few days ago on Instagram to praise to beautiul girl at her many achievements at her tender age.
And fans were quick to attack her that she has been claiming her daughter is 4 yrs for many years now, and also that the girl looks far older than 4 years.
Uche who didn't like the attack was quick to respond to her trolls, if they were the ones that had the baby for her. Uche Elendu's beautiful daughter is among the few celebrity daughters doing well in the industry with endorsement deals with a brand like Dano Milk.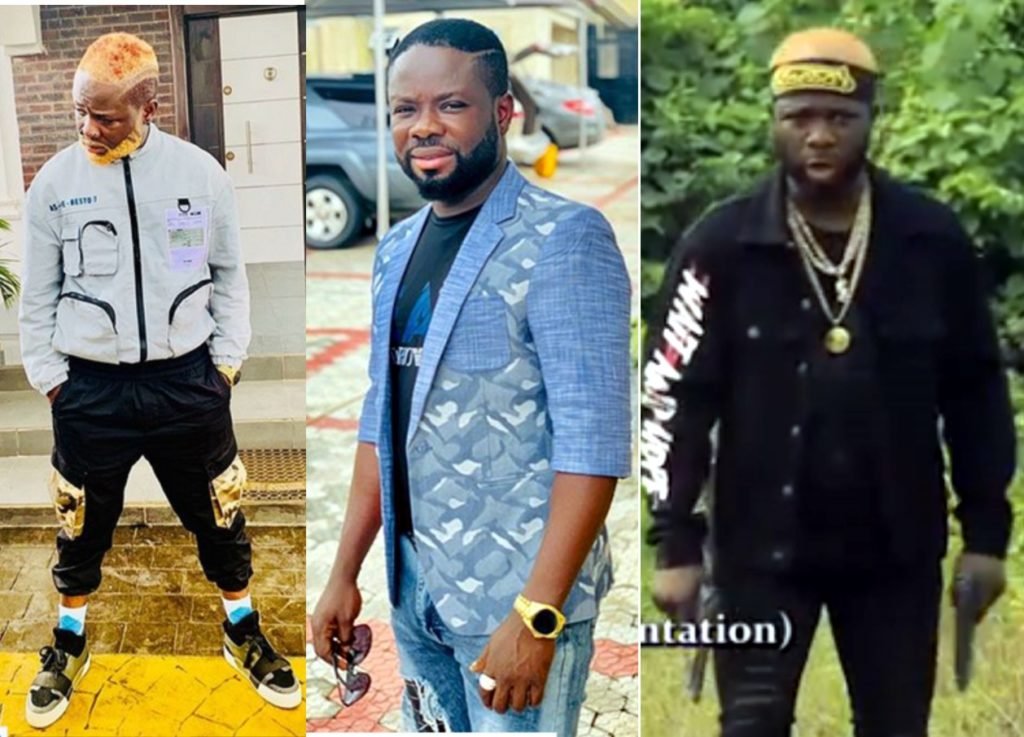 ITELE D ICON CELEBRATE WIFE'S BIRTHDAY IN STYLE
Award winning actor cum producer, Ibrahim Yekini popularly known as Itele d Icon, few days ago celebrates his pretty wife's birthday.
He flooded the Instagram with different video to celebrate her few days before the birthday. He equally shared different message on Instagram to explain what she meant to him, and how she had stood by him, when he had nothing and finally on the D-day he flooded the Instagram with different stunning pictures and videos of special outing they had to celebrate her special day.
The couple are also blessed with a pretty daughter.
MARY & JASON NJOKU UNDER FIRE FOR STAFF SALARY
It's no more news that many sees the social media, as an avenue to settle all scores, most especially with celebrities that celebrate things or very active on social media. That is exactly the case of Iroko TV boss, Jason Njoku, who shared on his Instagram page that he is paying 4.6 million for his child and school fees and to him. It is pretty cheap compared to what is obtainable elsewhere. Trust fans with anger issues while many feels, it is his money and should feel free to spend it how he deem fit.
Others didn't take what he shared likely, they were of the opinion that he could pay so much for a child fee yet pay graduate working under him 35k and 40k monthly as salary. His wife Mary Njoku had to intervene by saying they don't pay anybody.
Such ridiculous amount and if there is anyone with prove of such payment from Iroko TV and Rok TV. She is willing to pay such person 1 million naira. No one has come out yet to prove her wrong.
INI EDO LAUNCH SKINCARE PRODUCT "SECRET OF APRIL"
Pretty movie actress, Ini Edo has officially joined the beauty business. She just launched her one skincare line called "Beauty Secret of April" with the focus to create a skincare line that caters to all skin tones. The actress disclose that her vision had always been to polish and highlight natural skin tone and make people comfortable in their own skin.
Beauty secrets of April contains a rich combination of retino, Vitamin C, Ginseng, Shea Butter, Kaolin Cky, Green Tea, Alow Vera, formulated effectively to reverse both natural aging and photo aging. The first launch includes body lotion, face wash, body wash, face cream and a range of other beauty products.
BUKKY FAGBUYI LAUNCHES COOKING SHOW
Multi-talented actress, Bukola Fagbuyi tends to be extremely busy lately. The hardworking actress latest cooking show tagged "Heathy Pot With Bukky" will be coming up soon on TV 47 Aja.
According to her "talent is cheaper than table salt. What separates the talented individual from the successful one is a lot of hardwork".
And cooking is one talents she is blessed with, so she is ready to share with the world, not just how to cook but cook healthy food.
OYITA BAGS ENDORSEMENT DEAL WITH SHERRY GOLD SKINCARE
Ayobami Oyita is one of the hottest actresses currently rocking the Yoruba movie scene. The tall and ebony complexion actress has featured in lots of movies and produced some as well.
Few days ago, she bagged an endorsement deal with Sherry Gold Skincare. One of the leading skincare brands in Nigeria.
And the beautiful actress definitely will be showcasing their caramel set, which her skin represents.
She took to her Instagram page to announce the good news.
MERCY JOHNSON JOINS JENNY'S GLOW FAMILY
Jenny's glow skincare products is no doubt one of most popular and trusted skincare products in Nigeria. And the brand has worked with lots of A-list celebrities in Nigeria such as Omoni Oboli, Real Warri Pikin, Ngengi Hampston of BB Naija and many others.
The very reputable brand just signed the award winning actress, Mercy Johnson as the newest member of their family. And definitely being a chocolate complexion person, will promoting their Melanin set, and the super mom of four was super excited about the deal.
HIGHLY CONTROVERSIAL MOVIE "OKO RAMOTA" TO BE RELEASED 15TH MARCH
The controversial and highly ancticipated movie "Oko Ramota" will be released on the 15th March, 2021. Produced by Jayzeez, starring Opeyemi Aiyeola, Ramota, Wunmi Toriola , Yinka Quadri, Remi Surutu, Shade Shittu, Aolat Ayonimofe, Jide Awobona amongst others directed by Okiki Afolayan.
Remember this same movie caused a big rift in the Yoruba movie industry between Jazeez and movie veteran Iya Ereko, and it took the elders of the industry and association leaders to settle the differences between the 2 movie stars.
LAIDE BAKARE BECOMES ASIWAJU ADINI HIZBULLAHI WORLD WIDE
Pretty Nollywood actress, Laide Bakare bags an Islamic title as the Asiwaju Adinni Hizbullahi Worldwide. The event is set to take place on the 7th of March 2021 at Abesan Stadium, Lagos.
And music will be supplied by Alhaji Bukola Alayande, while star actor, Saidi Balogun will be the M.C. and Alhaji Abdulrasheed Raliman is the Chief Host.
Send Us News, Gist, more... to citypeopleng@gmail.com | Twitter: @CitypeopleMagz