Delectable Peaceful Iheoma Owoghiri is the Creative Director/CEO of Revamp Your Style Ltd,Designing Outfit based in Port Harcourt for years . She has a  Fashion School called PINEWOOD  where  learning goes on in Spring and Summer or to fit her student's schedule. Pinewood runs a 3 month Courses (Spring),the  next is from September to December teaching Basic Sewing and Pattern Cutting. There is also the Master Class which is weekend s,1  full day on announcement. Peaceful runs Basic Sewing Part Time Classes for Working-Class Women on Saturdays. She is also of Gani International Services Ltd. Peaceful is a Multitasking Influencer in Design and Art.
A Fashion Designer,Consultant and Personal Brand Enthusiast . She is always giving back to Port Harcourt  people with her Shows ,Talks and Lectures. Her brand focuses to reach out and touch the next Woman and Girl who needs validation to discover her Beauty, Creativity, Strength and Uniqueness. City people Business Development Manager, BUNMI DUROJAIYE interviewed Peaceful.
Tell us a bit about yourself.
My name is Peaceful Owoghiri. The Creative Director & CEO of Revamp by Peaceful O and the Proprietor of Pinewood Fashion School.
How would you describe your brand? Who's the REVAMP woman?
REVAMP is a fashion design and styling outfit. We create outstanding apparel for women with discerning taste.Who is the Revamp woman. The Revamp woman is Urban, trendy, confident hard working woman who makes a statement with her fashion style.
What makes REVAMP different?
Our brand aesthetic is eclectic and elegant. Designs are retro-inspired with Afrocentric colours and hues.
For How long have REVAMP been in existence?
REVAMP opened for business in January 2010. It has been 8 years of fun and challenges.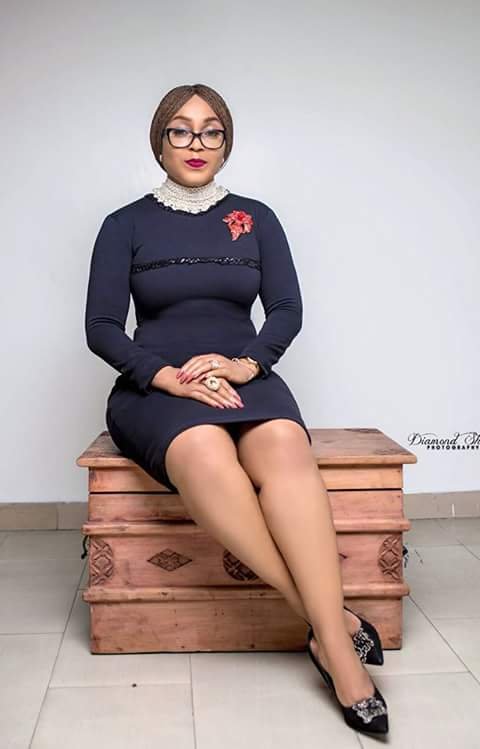 We have noticed your latest collection CHECKERED ILLUSION is a lot simplistic than the usual Revamp retro mainstream designs. Why is that so ?
Checkered illusion is a debut collection for our ready to wear line. It is diffused for more accessibility, to enable aspirational customers tap into the Revamp brand. It is more affordable, smart casual but still have the life and spirit of the brand.
What inspires REVAMP and how do you create?
We are inspired by fabric textures colours, paintings, travels and retro piesces.
Who are your target clienteles for the Diffusion line? 
Young adults and self assured ladies within the age demographic of 20 – 55.
Do you see your brand creating for men as well?
Not in the near future.
When it comes to spending on Fashion, who buys more from you, women themselves or their men?
Women prefer to shop for themselves.  99% of my client are women.
How can young people take advantage of the thriving Fashion business in Nigeria?
Research the industry very well and find where you fit in. Find a niche market. You can't be everything to everybody.
You have a fashion school now?
Yes. Pinewood fashion school was established summer 2017 to train women in the business of fashion. There was need for a standard training centre in this part of the Niger. Our focus is to reach out and touch the next woman and girl who needs validation to discover her beauty creativity, strength and uniqueness. Our school is for profit but we still give back through our sponsorship program. We take girls off the street and train them, one girl at a time.
How long is your Fashion course duration?
We run a 3 months program with 3 modules. It is intensive but it gets the job done. We teach you sewing and pattern drafting skills within the shortest possible time armed with the knowledge that training is a continuity.
How about your fashion course curriculum?: 
Our curriculum is of an international standard based on continuous improvement and research.
Where will Pinewood be in the next 5 years?
We are looking at a robust curriculum that will cater for more sectors of the fashion industry.
What is the simplest way to start fashion in this competitive industry?
Plan. Begin and Focus. Consistency is key after passion. Focus births expertise. Expertise gives you validation and more clientele. Statistics shows that no one designer in Nigeria caters for 1% of the Nigerian population. So we are still scratching the surface. The market is there for any one to cash in.
How have you been successfully creating a niche for yourself?
As soon as you know the market you want to carter for, you focus on it and build your brand around it. That is exactly what I have been doing for 8years.
WHAT ARE WE EXPECTING FROM REVAMP BRAND IN YEARS TO COME?: 
We are restructuring, expanding and building systems to position our brand for a wider reach and of course more growth financially.
Send Us News, Gist, more... to citypeopleng@gmail.com | Twitter: @CitypeopleMagz