Wale Deinde, renowned business trainer has lost his father, CHIEF NOSIRUDEEN AKANBI FUNMILOLA DEINDE after a brief illness at the age of 85.
Wale Deinde, one of the illustrious sons of late baba Deinde, while receiving the Ogun state Governor, Dapo Abiodun, who came on a condolence visit, stated that his late father has left a very good name for them as children, promising not to drag the name in the mud.
Wale Deinde, businessman, business analyst and Revopreneur protagonist in Nigeria. He is the congener of the popular RMCL and the Nigeria Self-Help Group, a capacity building platform based in Nigeria, with business interests and clients across Africa and beyond.
The late statesman was buried on Friday, August 28, 2020 according to Islamic rites. The 8th day Firdaus prayer is billed to hold on Friday, September 4, 2020 at the ancient Ansarudeen Comprehensive College, Opposite Ijamido City Mall, Iganmode Road, Ota, Ogun State.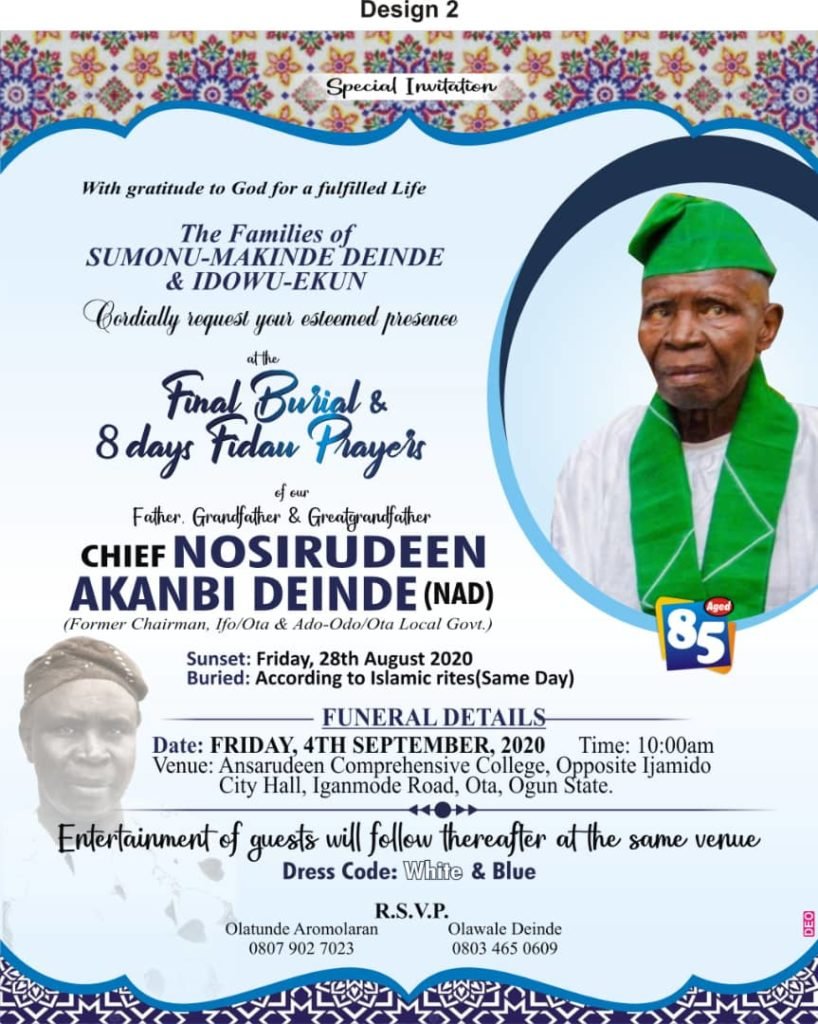 BRIEF HISTORY OF LATE CHIEF NOSIRUDEEN AKANBI FUNMILOLA DEINDE
Chief Nosirdeen Akanbi Deinde was born to the family of Pa. Sumonu Makinde Deinde and Madam Alaba Deinde in 1935 at lgangbo compound of Oruba Quaters in Ota.
Nosiru as he was fondly called, had his primary education at St. James' Primary school, Ota between 1941 and 1946.
His ambition to pursue higher education was disturbed as a result of financial constraints, however with determination, doggedness coupled with his brilliance, he started studying at home for a course in Accountancy. This he did through correspondence as obtainable in those days.
While studying at home, he joined the firm, Massrs Get. B. Ollivant (Nig.) Limited in August, 1952 as an Account Clerk. He resigned and later moved to J. L. Morrison Sons and Jones Nig. Limited in December 1958. Later, he retired as a Chief Accountant in September, 1984.
Chief Nosirudeen, a hardworking and charismatic leader, an organizer of men who has penchant for accounts and finance rose through the ranks from Accounts clerk in 1958, as a result of his high sense of dedication to assistant accountant in 1963; between 1969 and 1977, he became an Accountant, a Senior Accountant in 1978; a position he held till 1980. He was promoted to the position of Chief Accountant in January 1981, a post he occupied till September, 1984 when he voluntarily retired.
Funmilola Deinde, an accomplished accountant was appointed as a Councillor of the then lfo /Ota Local Government in June 1986, no doubt, a star will always glow even in darkness, his faire leadership qualities buoyed by his sense of thoroughness and service to humanity combined to get him the appointment as the defunct Chairman of lfo/Ota Local Government in September 1986. He served in this capacity till October, 1987. Thereafter, he veered into politics to contest for the office of Chairman Ado-odo/ Ota Local Government under the Democratic process of the time, (nonparty politics). He won the election with over 33,000 votes (one of the highest in the state) in December 1987.
Amongst his achievements in the Local Government are the building of the Local Government Hall, the Local Government Library, the Oba T. T. Dada Market, Ota, the erection of blocks of classrooms in the primary schools and the commissioning of Kayero Market Sango Ota garrage to mention a few.
As an Accountant, his high sense of organisation and financial management assisted the Local Government tremendously in their revenue generation.
He will always be in our memory as a proud Awori Son whose leadership as the first Chairman of Ado-Odo/Ota local government was exemplary. During his leadership, the Local Government rated for distinction in 1986 won the best local government in the country in developmental strides.
Chief Deinde has not restricted himself to government activities alone, he has equally participated in various community development and cultural programmes within and outside Ota, and was made Seriki Oruba in 1985, to his credit, both privately and in office, he obtained the following awards amongst others :
Ogun State Government : State recognition September, 1986 to October, 1987
Ado-Odo/Ota Local Government : Award of Merit 1989
Rotaract Club of Ota : Community Service Award 1992
Center for Arts and Culture, Ota : Phillantrophic Award
Iganmode Club Ota : Presidential Award 1990
Iganmode Club : Presidential Award 1991
And many others Awards.
Local Government of the year for lfo/Ota Local Government under his leadership.
One of his notable achievements as the Chairman ifo/Otta Local Government was the construction of the Ojodu-Berger to Ijoko-Sango, the road that opened up the axis for commercial activities till today.
His Successes as the best Local Government Chairman year in year out earned him a new position as a Commissioner in the Local Government Service Commission of the State and he was appointed a member of board of the Nigeria Football Association during the former President Olusegun Obasanjo's regime.
He successfully served as the Chairman of lganmode Day Celebration Committee in 1992 and 1993. He was equally a member of the high flying Lagos Country Club lkeja.
Present Chairman, Management Committee, ljamido City Hall Ota.
May his gentle soul rest in peace. Amen.
Send Us News, Gist, more... to citypeopleng@gmail.com | Twitter: @CitypeopleMagz