Every year, top Muslim Cleric, Amir Nadwat, who is the Shaikh of Lagos usually organises the annual Lateef-Ul-Akbar Spiritual Gathering. This years event took place at The main bowl of Tafawa Balewa Square (race Course) in Lagos. It was under the spiritual Guardianship of Shaikh Abdur Rahman A. Lawal, Phd, The Shaikh of Lagos.
It was an All White Attire dress code. On that day, Sunday, 7th of March, 2021, many believers, both Moslems and Christians trooped to the venue to attend this years annual spiritual gathering, where they come to pray to God for long hours and they believe God will answer all their prayers.
The gathering had a dress code which was white, it was organised by Nadwat ul Ahli, an Islamic Organisation which is at the fore front of propagation and improvement of Islam.

Tagged "Lateeful Akbar", it was a gathering of Devotees seeking Divine and Uncommon Grace. The programme was significant to the organisation and devotees as they believe in the efficacy of the supplications made at the spiritual gathering. This year's edition was the 9th and it was done in grand style as it accommodated devotees home and abroad, via different social media handles that it provided.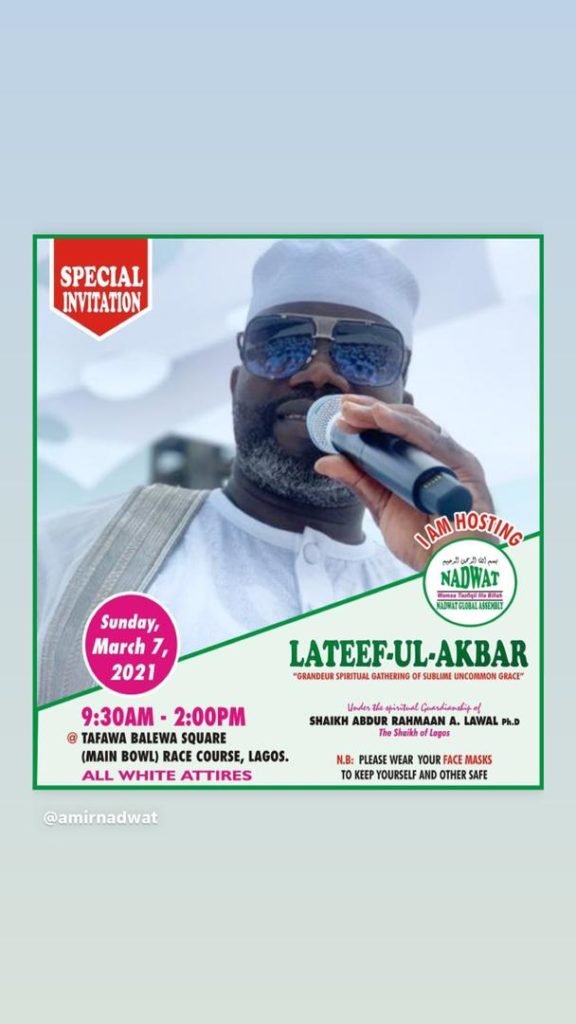 Those who have witnessed the previous editions always look forward to the yearly event. Some even invite friends and business associates who are seeking divine intervention in their affairs to the gathering. Thousands of devotees from home and abroad usually spot white attire, as the code dressof the day.

Testimonies from attendes of the previous editions were quite fascinating. The true picture of things was seen during the thanks giving session at the event as women trooped out with their babies. Some of them were carrying lovely twins. The broad smile on their faces spoke volume on the grace received. They thanked NADWAT for creating such a platform where they could have their prayers answered.

The Chief Missioner and founder of the society, Sheik Dr. Abdur Rahman Adeyanju Lawal said the purpose of the gathering was to seek uncommon grace from God. He said the annual prayer session was meant to attend to the needs of participants.

The gathering was highly spiritual and it was held in a well relaxed atmosphere. It witnessed a variety of prayer sessions such as Asalatu, Lateeful Akbar session, Zikri, Thanksgiving, Modiu Nabbiyy, and showcased over 300 years old Miraculous Quran, which has been doing wonders the years.
The gathering had in attendance many dignitaries from all walks of life. Many travelled down to Lagos to be part of the gathering, while others did from a distance, through the various social media platforms, provided by the organisation.

Notable among the individuals who were physically present are the Executive Chairman of Lagos Island East Local Council Development Area, Comrade Kamaldeen Salau-Bashua, a former Lagos State Commissioner for Home Affairs and Culture; Alh. Muhammad Bello Oyinlomo Danmole, Iya Adinni of NADWAT, Alhaja Femi Sulaimon, Alhaja Shukurat Shine Shine, Alhaja Kuburat Akinyede (Kubitex ), Alhaja Morayo Seriiki (Kadmos Stores), while Nollywood celebs; Fathia Balogun Williams and Mustapha Sholagbade were also seen at the event.
Sheikh Dr. Abdur Rahman Adeyanju Lawal is the Chief Missioner and founder of NADWAT UL AHLI Wolrdwide. He obtained first degree from Al Azhar University in Cairo as well as second and 3rd degree a.B.A in Arabic Language in Mass Communication from University of Lagos. He is highly intellectual in Islamic Theology. A poly Arabic, English and Yoruba Languages. He is also known as Shaikh of Lagos.
Members of the team involved in the propagation of what NADWAT stands for are as follows: Imaam Shakir Olawale, Al-Ameen Missioner, Ikoro Branch, Assalat Praying Ground Beside Narrow Way Primary School, Shagamu Road, Ikorodu, Lagos, Imaam Mubashir Babatunde Tijani, Missioner, Surulere Branch, Abebe Mosque Akerele Extension Surulere Lagos, Imaam Habeebullah Olatunde Akoshile, Missioner, Orile Branch, Orile Car Park, Orile Lagos, Imaam Jamiu Olanrewaju Ali, Missioner, Eti-Osa Branch, Muritala Odofin Shopping Complex Agungi Eti- Osa, Lagos, Imaam Kamaludeen Abdulkareem Aribidesi, Missioner Otto- Ijanikin Branch, Alaso Oke Mosque Ijanikin, Lagos, Imam Aliyu Olayinka Gbamuragaji, Missioner, Ilorin branch, L.G.E.A Primary School Ipata, Ilorin, Imam Mansur Danfulani, Missioner, Ijebu Ode branch, Atitale Opposite Awujale palace, Ijebu Ode Ogun State, Imam Nuhu Jumuat Bashar, Missioner, Ogijo Branch, 10 Omokuku Street Basket Area Ogijo, Ogun state, Imam Lukman Olanrewaju Idris, Missioner, Alawe Plank Market, Pipeline Bus Stop Abaranje Road Ikotun, Lagos, and Imaam Abdulfatahi Daud Bankole, Missioner, Arandagun Branch, Istijaba Mosque, Amuda Bus Stop, Ilado Badagry, Lagos.
Send Us News, Gist, more... to citypeopleng@gmail.com | Twitter: @CitypeopleMagz