Both Talk About Their 5 Year Friendship
They are two good friends, who often travel abroad together. They also attend big parties together in Lagos, Ibadan, Abuja and other states. Prince Kazeem Eletu Odibo and Sunday Igboho, City People can authoritatively tell you have been good friends since 2011.
Let's tell you about the 2 of them Sunday Igboho, is a strong politician and a businessman. He is a human rights activist who doesn't like to see people get cheated. Anywhere Sunday Igboho name is mentioned, it instantly rings a bell of warning to cheaters, fraudsters around. So, he is a human rights defender. His real name is Sunday Adeyemo, born on October 10, 1972. He hails from Igboho, Oke Ogun area of Oyo State. He was popular for his bravery after he favourably intervened in the war between Modakeke/Ife which surfaced between 1997 and 1998 which he was a major defendant of the Modakeke people. He is a friend of the Oyo State Governor, Lam Adesina, they met while trying to defend the rights of the people. He is also a friend of former Oyo Governor, Rasheed Ladoja.
Igboho is also a businessman. He is the Chief Executive Officer of Adesun International Concept Limited, it imports exotic cars from different countries, like Canada, Germany, among others.
How about Prince Kazeem Eletu Odibo? He is real estate tycoon. What comes to mind at the mention of Eletu Odibo, either home or abroad is Prince Kazeem Austin Eletu Odibo, who happens to be the face behind the family name (Eletu Odibo).  Prince Kazeem or Chairman as he is popularly called by friends is the youngest philanthropist in Lagos as we speak. His colleagues call him the Prince of all Princes.
Two weeks ago, he added a new feather to his cap. He was honoured as the "Humanitarian Personality of the year by Nigerian Models Achievers Award, hosted at Oriental Hotel, Victoria Island, Lagos. As if this would be his last award for the year after City People honoured him a few months back, for his contribution to the real estate sector.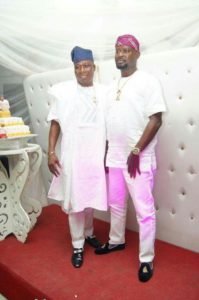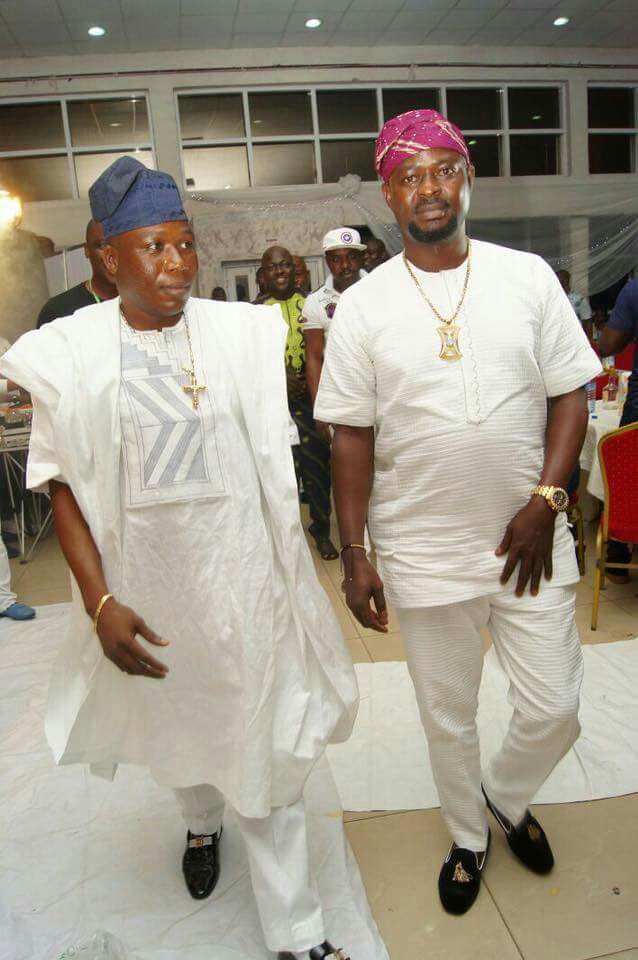 Two weeks ago, Prince Kazeem received another outstanding award at All White Nite Out Awards 2016; The Most Resourceful/Dynamic Entrepreneur 2016.
For those who don't know much about Prince Kazeem Eletu Odibo, he is the Chief Executive Officer of Kazeem Royal Properties Limited. He has developed a lot of Housing Estates in Osapa London, Lekki, Lagos. He singles handily tarred most of the roads in all his estates at Osapa.
His love for exotic and luxury cars is just to show how blessed he is. Three weeks ago, he acquired the latest Rolls Royce Phantom (Black Colour) and presently he is one of the few people with 2 Rolls Royce car in Lagos today.
Many people keep asking how Prince Kazeem Eletu Odibo and Chief Sunday Igboho who has just been conferred  "Akoni Oodua" at All White Nite Out Awards 2016 met.
How did they meet? According to Sunday Igboho, "only God knows how he brings people together. It is God Himself that brought us together and He put love and peace in our midst. When I met Kazeem I knew he was a blessed person. We met in Lagos here, Osapa to be precise. That particular day, Kazeem did a very good thing to someone and the person called me to appreciate Kazeem on his behalf. I was baffled
But when I met Kazeem, I realised that he was a humble and quiet person. Since then, I have realised he's someone to be monitored and supported. May God uphold him for us."
He said further, "There was a time I came here and I saw how people queued to collect money, such person should be supported. Kazeem is a blessed and kind hearted person and he has a bright future. So, that is why I stand by him and I said this one I won't leave him for anything. I will stand by him and I pray God should stand by him also. That's how we met.
Sunday Igboho says further that, Prince Kazeem is so humble and a compassionate person. "He does not like cheating. "Kazeem hates cheating." If he hears such he would react, which I don't like myself, even Kazeem hates it more than I do. Before I can come to someone house and sleep, it will be difficult, because I don't  sleep in someone's house but Kazeem is different. Even as close as I am to Rasheed Ladoja I don't sleep in his house."
"We have travelled together to Europe in a number of occasions. They love Kazeem in Europe more than Nigeria. Kazeem is someone who will be honoured by the European countries soonest. He pays for people's school fees in France, America. So for someone like that who is not a ritualist or a thief should be supported. He helps people from his sweat. I am begging God on his behalf for more prosperity and long life.
This is the third award Prince Kazeem would be winning this year. Igboho replies that they don't just give awards out to people like that. They know he deserves it. I told him that, what he gets now is not even enough, he has just started. "They will give him an award in Europe for his kindness. You remember that was how MKO started his life. That is how Baba Arisekola Alao started, he started getting an award from the age of 25 years. He has been showing kindness to people and God has blessed him since then, and he continues his kindness till he got old. I am so happy for the award given to him (Kazeem). Ooni of Ife has planned to give him the award. Alaafin is also planning to give him the award. When Alaafin called me to ask after Kazeem I was surprised because great people have started noticing his impact in the society.
So, I beg God on his behalf to strengthen him to live longer. "I am very happy for him for the award." I'm happy because of his kindness to people and that we were both honoured together.
Prince Kazeem Eletu also revealed that, since he has met Sunday Igboho, his life has not remained the same. He reveals further that, Sunday Igboho is like a father figure in his life.
–ISAAC ABIMBADE
Send Us News, Gist, more... to citypeopleng@gmail.com | Twitter: @CitypeopleMagz