The burial arrangements of late Rev. Agnes Adeonigbagbe, the beautiful and loving wife of Celica Church of Christ founder, Prophet Adetunji Adeonigbagbe, has been concluded. The invites have been printed and the lovely Ankara for the funeral ceremony is already out. Top clerics from several Christian denominations are expected to attend the occasion. Also expected are top government functionaries who hold the deceased's widower, Prophet Adetunji Adeonigbagbe and the entire Celica Church of Christ in high esteem.
Reverend Agnes Mofoluwake Adeonigbagbe's funeral rites will be a week-long programme. It kicks off on Tuesday 21st December 2021 with the presentation of gifts to the needy in memory of the late Celica mother. Wednesday 23rd December is the Interdenominational Service of Songs. On Thursday 23rd of December, there will be lying in state as well as the Night of Tributes and Artistes night. The Christian Wake holds on Friday, 23rd December while the Funeral Service takes place on the 25th Saturday, December, at the Celica Church of Christ International Headquarters.          
The hugely loved and respected Reverend Agnes Adeonigbagbe passed on to glory last June 28th after a brief illness. The woman widely regarded as the Celica Mother was adored by all and sundry on account of her sparkling Christian virtues and impeccable godliness. All through her life, the late Rev. Agnes loved God unconditionally, loved her husband with every breath in her and loved the church till the moment death closed her eyes. Many will miss her humility, she never carried herself with the arrogance of a founder's wife. With a disarming warmth, she would always give a slight bow to anyone she greeted, it didn't matter to her whether she was older or not. Rev. Agnes Adeonigbagbe always had a smile for everyone.
She would be missed by many, especially by her husband. They were inseparable. Theirs was a union that inspired other young couples. Rev. Agnes brought immense joy to her husband. She was his rock, his shining light and he was profoundly proud of her.
Without a doubt, many will miss this adorable woman. She held the church's female congregation together. She was their rallying point. She was their mother in whom they were all pleased.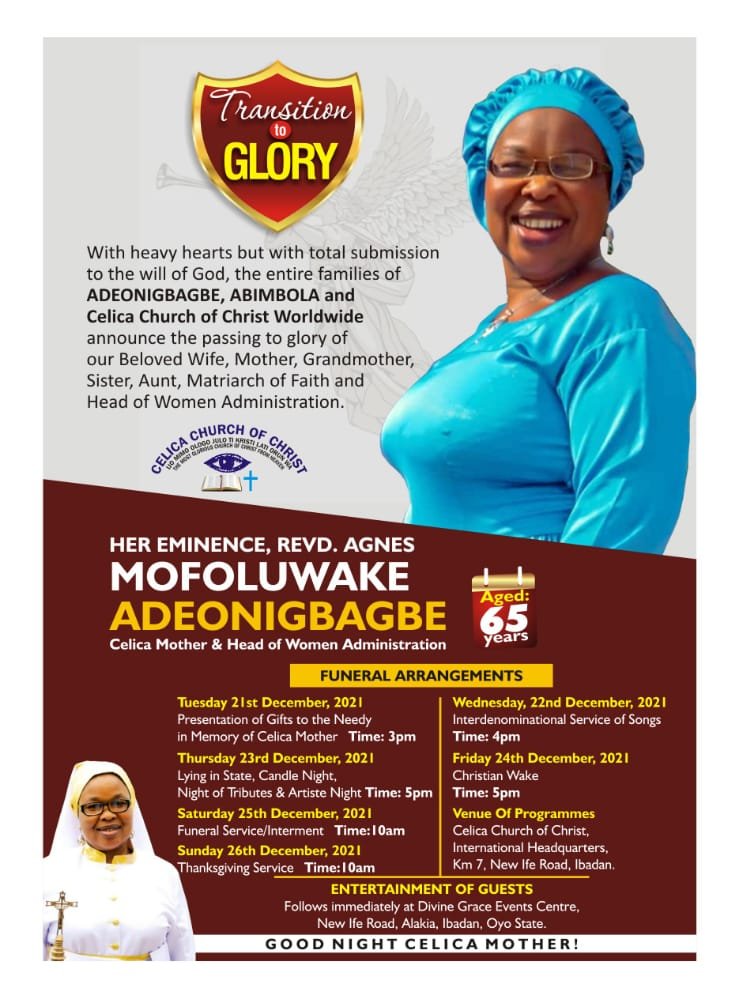 Anointed Mother Reverend Agnes Foluke Adeonigbagbe (Nee Abimbola) was born on April 3, 1956, to the Christian family of Pa. Andrew Abimbola Babayomi and Madam Dorcas Olalonpe Abimbola (Both of blessed memory) at Eesa Onipede's Compound, in the ancient city of Oba-Ile in Olorunda Local Government of Osun State.
She started her Primary School Education at St. Peter's Anglican School, Inisa, Osun State. At the early stage of her life, she developed a lot of interest in reading the Holy Bible. At Primary 1 she could read the Bible in Yoruba fluently. She also went to St. Mary's Anglican School, Osogbo and completed her primary education at United Christian School, Erin Osun. She proceeded to Fakunle Comprehensive High School, Osogbo and Anglican Grammar School, Otan Aiyegbaju for her secondary school education.
She worked at Post Office at Agege and Lagos Island as a Clerk.
She dreamt of becoming a trained and Certified teacher and gained admission to Ibadan Provincial Teachers Training College, Osogbo and finished in 1980.
She improved her education and enrolled at the College of Education, Ikere Ekiti where she got the National Certificate in Education (NCE).
Her teaching career took her through the following schools, IDC Primary School, Lalupon, Army Children Primary School 1, Ojoo, Ibadan, St.Paul's Primary School, Yanbule, Ibadan, Army Children Primary School 4, Iwo Road, Ibadan, S.D.A Primary School 1, Agodi Gate, Ibadan, Ratibi Moslem Primary School 2, Oluyoro, Ibadan, Community Primary School 2, Ayekale, Ibadan & Canon Okuseinde Primary School 1, Aremo, Ibadan where she retired as headmistress in 2015.
She was joined in Holy Matrimony with her husband at MAPO HALL in Ibadan over four decades ago. The marriage is blessed with loving and wonderful children and grandchildren.
She was honoured in her home town Oba-Ile with a Certificate of Merit and Honour in November 2006 at Oba-Ile Day 2006.
Agnes Foluke Adeonigbagbe was the Grand Commander of Order Prophets & Prophetess (GCOP), the Head of Women Administration in the Church Worldwide, President of Good Women Society, Chief Adviser of Peace Spiritual Group and she mobilized women in the church for different developmental projects. Some of their projects include Protection and Welfare House, Maternity Centre, Block of Toilets and presently the women society are embarking on another project,a shelter house for sick people. The good women society also undertook different empowerment programmes and lectures both in the church and outside the church.
She has been through thick and thin in pastoral and evangelistic missions with her husband for the past 4 decades from CCC, Erunmu to CCC, Km.7, New Ife Road, Ibadan and finally Celica Church of Christ. Mama Celica as she is fondly called is very dedicated to the work of God, a prayer warrior, a counsellor, a teacher and preacher of the word of God. Her work in the Church made her to be anointed a Reverend. She is the first and only woman in Celica Church of Christ to attain that rank.
She is a mother indeed, stabilizer and the strongest pillar of support for her husband's spiritual and evangelical missions.
She is a woman that is clothed with strength and dignity, as she followed her husband, Reverend Adetunji Adeonigbagbe doggedly to all important ceremonies; Television & Radio Programmes where she is always reading the Bible for public sermons & teachings and public functions to partake in programmes or to add colour to such occasions.
Here is a woman who was always submissive to the dictates of her husband to the greatest degree.
She is a woman of inestimable value to her husband, family, friends the church and anyone who has ever come in contact with her.
She is a spiritual amazon and no one will be able to fill the shoes she left behind. May the beautiful soul of this angelic woman and mother to the entire Celica Church of Christ, nationwide, rest in perfect peace.
Send Us News, Gist, more... to citypeopleng@gmail.com | Twitter: @CitypeopleMagz