Steve Babaeko is an unusual guy. He also runs an unusual advertising agency. This is because everything about Steve and the agency is unusual, check out the name. It is called Extreme Ideas. But its spelt X3M. The agency is noted for the unusual way they do Advertising. Steve and his team believe that advertising should be represented differently.
That is the gospel at their Opebi, Ikeja office in Lagos. City People Publisher, SEYE KEHINDE was his guest a few weeks back and he picked up some vital lessons from the dreadlocked MD of this new generation agency.
How did Steve Babaeko evolve?
I have always wanted to be a creative person from when I was young. There was never a time when I was growing up that I said I wanted to be an entrepreneur or set up a business I have always wanted to be a creative person. So I started my life and career been a creative person from Ads, to creating concepts I have always been creating  Ads and Advertising.
So when the time  came for me to decide whether to be on the Creative Side or go on the Entrepreneurial Side I had to take a decision that maybe it is not impossible. Some guys just came up in the game and said as a Creative person you cannot be a businessman. I didn't really like that. I thought that is limiting the scope of what a Creative person can do. So we decided to give it a shot and see how it goes.
Since 1995 the only thing I have done apart from, a bit of the music business, is creative business, advertising business, I started my career with MC & A in 1995 to about 2000.  They were at Shonibare estate then. In 2001, I started with Prima Garnet till 2005.
Mr. Lolu Akinwunmi moved me to One 4 One as Creative Director in 2005 and I was there till 2012. So its been just working for other people within the creative space.
Since you started, has there been time your creative juice didn't flow?
It has to flow. I keep remembering that I have my wife and 3 kids to take care of. I have bills to pay, salaries to pay. That is enough inspiration.
When you were starting out what was the idea? What were the things you set out to do differently?
I just always thought that as far as this game is concerned if you come to town and you don't have a fresh idea and you want to do exactly what others are doing you will be wasting your time. We needed to offer a unique differentiation, something that is going to set you apart, you will be lost in the crowd.
So, I felt attacking creativity from a totally different angle, slightly refreshing, would set us apart. And in any case our entire outlook, the youthful nature of the outlook, the youthful nature of the team, will help us to continuously turn things around and still be able to deliver quality creative work. That has been our mission statement from day one.
Why the name Extreme ideas? Why did you turn around the name from Extreme to 3XM?
Sometimes you choose a name that sets standards for yourself. Your name already sets the agenda for the company. So, we can't be called Extreme Ideas and we are constantly creating famous and safe ideas. No way . So our name already sets an agenda for us and we try to live up to that name.
A fried of mine Suleman Momoh designed the Logo for us. For 2 years we didnt do anything with the name. I just used it as a screen saver on my laptop. So every time I switched on my laptop the logo looks at me and still reminds me that I still have a project to be done.
How has the last 4 years been?
Its been challenging and its also been very interesting because we were  able to find a little niche that we have created for ourselves. We feel very confident and privileged and also to be able to find the quality of clients that have trusted us with their work is also a thing to be grateful for.
But, in terms of been able to manage all the resources, human, material and financial resources, its difficult. I am proud that one has the opportunity to do this country.
As tough and difficult as this country may appear to be I don't know of any country where we would have been given these kind of opportunities to do what we do now and not regret it really.
Its difficult trying to break into the Advertising sector abroad you can't get in. Its difficult because the gate keepers there are so fierce about not letting you in.
Its not like that here. In this country you wake-up one morning and you say key I want to set up a business and you do just that. And 4 years later you are alive to tell the story. In terms of all the olds we face, we still feel like we are creating jobs, we are adding value to the lives of other Nigerians.
What has kept you going?
I think I am very passionate about creating jobs. I am very passionate about youth development. I am doing this on behalf of  many families who rely on the value we create here. We have so many other feeder businesses that feeds off the value we are creating here. From the person supplying the diesel, from the cleaner, from the security company, from the people that supply us stationeries  even from the publications that we give adverts too. The value chain is huge. That is why in other countries it is companies like X3M that becomes the backbone of the economy. All these is being able to add value and create wealth in a country like ours that will benefit our people. That is why no matter how difficult it gets, you just can't stop. Its not about you. Its bigger than you.
Your name is unusual. I know people must find it a big difficult to pronounce it well. And it gives the impression that you are an old man.
Yes. People say that a lot. They think I am one old man. Others wonder whether it is my real name or nick name. Its my grandfathers name. Actually is his last name. It is the name that the family now adopted as a family name. I think my children are the 4thh generation. I am from Kogi State. I am from Kabba.
Where was growing up?
I grew up in a couple of places. Mostly between my home town, Owerri and Kaduna. I was born in Kaduna, in between then I came back to Kabba to have a bit of schooling. My dad was in the Army and we were in Owerri as well. I learnt to do so many things. For instance I learnt to speak Hausa language whilst we were in Owerri. When we were in Kaduna, I did not really learn to speak Huasa that much. I learnt to speak it because my dad was in the  Army and we lived in the Barracks on Orlu Road for the people who were with us in the Barracks, Hausa was the Lingua Franca. I learnt to speak Yoruba in Kaduna. Because my neighbours are from Ogbomosho. We were like family. So I can speak Yoruba and Hausa fluently.
What effect has all these influences had on you?
It has made me to be first and foremost in Nigeria.  While most people who will revert to where they come from.  I am Yoruba, I am Middle Belt, I am Igbo. Luckily for us, I am from the Middle Belt. We are neither here no  there.
That has given me  a much more freer mind . 90% of the people who work here. I don't know where they are from. This place is like a mini United nation.
It has given that broader sense of nation hood and nationalism  that enables us accommodate and embrace anybody from anywhere.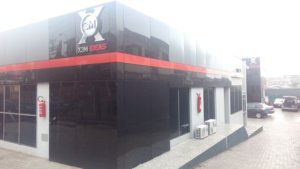 Lets talk about your work environment. The ambience looks very unusual, very friendly… Did you deliberately design it that way?
I always tell people there is nothing you can't communicate with. You can't be X3M ideas and you have a building that is just basic, because the branding is both intrinsic and extrinsic, both the inside and outside. The first thing that strikes, people when they come here is : Wow! This building is different. We wanted it like that. It was deliberate from day one.
The architect, Jide Craig that designed it for us, we pushed him hard and he designed something fantastic. And we worked hard at making sure we realize the vision.
What kind of person is Steve Babaeko?
It's a little complex. I am still trying to understand myself. On one hand I am really, really free. One the other hand, people don't understand me. There are some people when I tell them I am a shy person they don't believe it. I can be very introvertive and extrovertive I am open. I want to have fun, but I love my job. I really love working. Work is the only thing that really keeps me alive. I am a serial entrepreneur. I like taking up opportunities. I always give opportunities a good shot I have been thinking of starting a farm for instance.
But I just don't want to start a farm I have been looking at how to apply Technology to it, how I can use Technology to drive agriculture.
I know you work with a lot of young people. Each time you interact with them, what usually do you say to them? What's usually your message to them?
My message is always very clear and succinct.
They are brilliant people. You will be shocked what they know. They already have so much in them, what they need is just little inspiration that will bring out what they already have inside.
There are 2 kinds of people in this world today, the guy who lives on the negative side of town and the guys who live on the positive side of town.
I live on the positive side of town.
We need to work so hard to get young people to see that it pays on this side of town and that there is a way you can live your life in a positive way and achieve results and make a huge difference for yourself and for this country. That's my message to young people all the time.
What services do you offer clients at X3M ideas?
Its basically Branding,  Advertising services, creative strategies, our focus is excellence in conceptualization and excellence in execution.
Those are the 2 areas.
If you look back at the last 4 years how far have you been able to deliver your service and achieve your set goals and targets?
If I look at some of the brands we have been fortunate to handle like Etisalat, Oando, Dangote Cement, Access Bank, and I see the growth, that has happened to those brand I feel over joyed and priviledged.
Yes. We've done quite well. But we have to keep going. We have to regenerate those ideas and make them even more contemporary. But we are not there yet. We have to retool and re strategize and retain our people to do more work.
When you look at the Advertising industry today how do you feel about its growth and development?
Its growing. I am excited because new agencies are coming up. If you look at the landscape today, there has been like a major shift between the old generation agencies and the new generation agencies.
Before, it used to be that the old generation agencies were like the gate keepers and they control every where but now, this new generation agencies, like ours, are coming out and we are coming out from a different angle and making the client see that there are other values that the new guys can offer. The Old must give way to the new. That's the order of nature. And once that is happening it means Growth. It means that there is a growth in the industry.
Send Us News, Gist, more... to citypeopleng@gmail.com | Twitter: @CitypeopleMagz