A few days back, leading real estate company, Arc- View Investments Ltd held its end-of-year party at its Ikorodu Road, Anthony Bustop, office in Lagos.

It was a huge gathering of all the staff, Realtors, Consultants and well-wishers of the company.
Even the CEOs of other real estate companies attended to celebrate with Mr Olusegun Oshundairo, the CEO of
Arc-View Investments Limited who was on his feet all through receiving guests
The company is a customer-focused Real Estate company providing affordable housing through a flexible payment system in a unique and serene environment.
It is committed to providing its customers with exceptional service while offering employees the best training and a working environment in which they can excel.
This company's focus has been in place for 11 years now.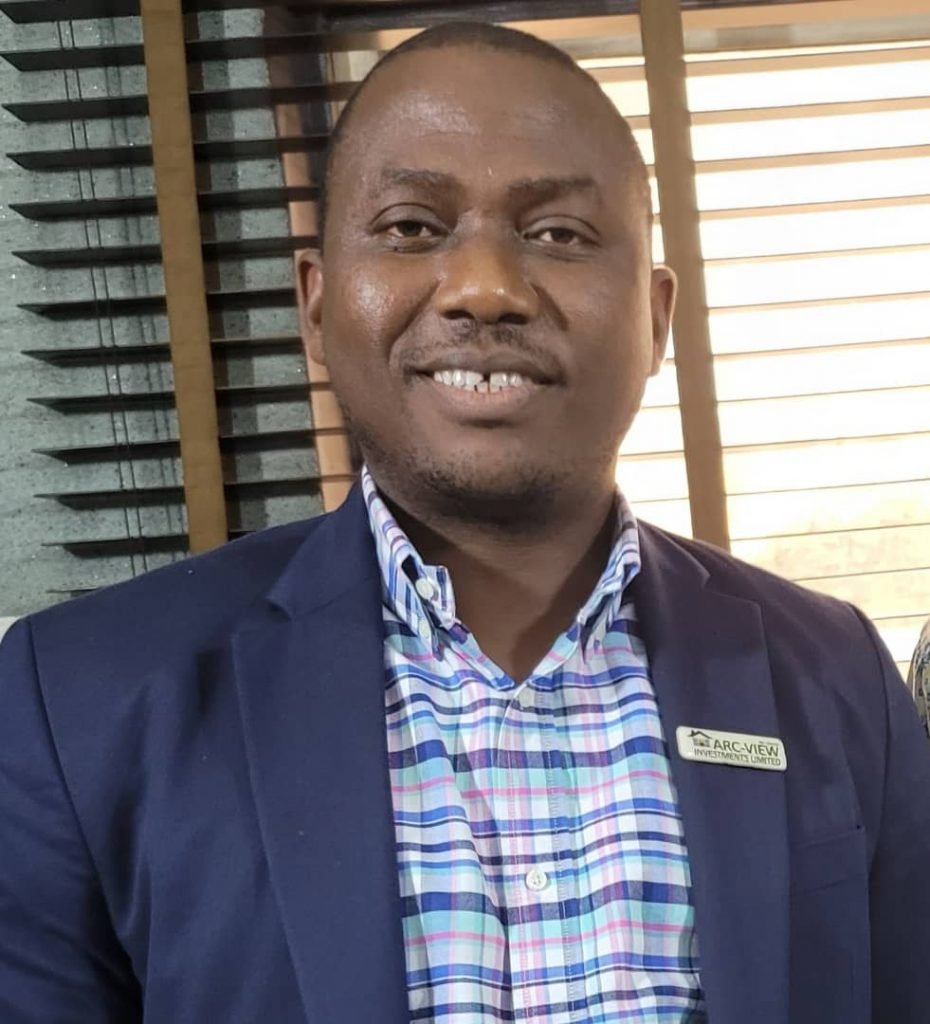 The venue was the spacious office of Arc-View Investments Ltd Office compound, 314 Ikorodu Road, Anthony Bus Stop in Lagos. A huge white canopy was erected outside and a lot of exotic cars and jeeps were parked outside.
Considering the nature and style of the event, there couldn't have been a better venue. The road network was very explanatory and direct.
THE RED CARPET
The Red Carpet started at exactly 1 pm as stated on the invitation card. The Green colour, mixed with white changed the look of the venue and the entire atmosphere was oozing the beauty of nature in Green.
THE PLAYRITE WENT BAAD
While the red carpet was busy with "selfies' and camera shots, the Playrite Singers took to the stage and wowed the seated guests. The band took over the arena and brought down the heavens with high praise and worship in modern style.
AND THE CEO WALKS IN
The mood at the venue suddenly came alive when the CEO, of Arc-View Investments Ltd, Olusegun Oshundairo, walked in wearing a snow-white Agbada. He looked dashing on his table of eminent guests, made up of his friends.
GUEST ARTISTES PERFORM
You don't need to be told that Arc-View Investments Ltd is the best company you can ever think of. A lot of upcoming artistes were given time to showcase their talents. This include, the likes of Paso Jesu, Mr Justice, Carole, Tblaq Aforodo and many more. They all did wonderfully well.
DJ CHIDEX THRILLED GUESTS
DJ Chidex thrilled guests with lovely oldies and modern songs from the beginning of the event till the end.
WHY WE ARE HERE BY FUHAD SAHEED.
Mr Fuhad Saheed explained all we need to know about Arc- View Investments Ltd. He congratulated the CEO/MD/Mama Rainbow/Staff members and consultants of the company.
THOSE WHO ALSO CAME
We cannot but mention the presence of those who came in groups to support the CEO and the brand for what it stands for. The GMD of Revolutionplus Property, Dr Bamidele Onalaja, Executive Chairman, Odi-Olowo Ojuwoye LCDA, Honourable Rasaq Olusola Ajala, Mama Rainbow, City People Publisher, Dr. Seye Kehinde, Fuhad Saheed, Papa and Mama Oshundairo, the parents of Arc-View Investments Ltd boss, Mr Uche, Mr Adebowale Olatunbosun, Mr Olumuyiwa, Mr Emmanuel Bamgboye, and other great men and women of repute.
MAMA RAINBOW DAZZLED
Veteran Actress, Mama Rainbow was present at the event. Mama, at 79 years, was looking like 20. She really looked good in her shirt and trouser with a black face cap.
Speaking at the event, Mama said she has been a brand ambassador to Arc-View Investments for over 4 years. She said the CEO has been a loving son to her. She explained that he does not just see her as the brand ambassador, but, he has taken her as a mother. She said that is why he encouraged her to hold her recent 79th birthday in Dubai.They all just returned from Dubai a few weeks ago and they have started planning her 80th birthday,to come up in 2022.
She encouraged everyone to patronise Arc-View Investments Ltd and explained that they have properties almost everywhere in Nigeria and said they are reliable.
" Once you pay them for land/property, it will surely be allocated to you.
THE BEST LG BOSS IN LAGOS CAME
There was a standing ovation for the Executive Chairman, Odi/Olowo Ojuwoye LCDA, Hon Rasaq Olusola Ajala. The moment he walked into the venue the MC announced his arrival and the atmosphere changed.
The CEO of Arc-View Investments Ltd, Mr Segun Oshundairo took up the microphone to explain how Honourable Rasaq has been consistently paying student bursaries in Odi/Olowo Ojuwoye LCDA.
Speaking at the event, the Chairman, Odi/Olowo Ojuwoye LCDA said Mr Olusegun Oshundairo is his good friend and he has his business located in his constituency. He explained that he has always known him to be a straightforward person and a person to reckon with. He said he has also created job opportunities for people, where people can work and make money, So, that is why he had to make out time to grace the event.
CEOs SPEECH
Speaking with City People Magazine, Mr Olusegun Oshundairo said Arc- View Investments Ltd is also into loans. "We give affordable loans to Nigerians, we have been in existence for the past 11 years. We are into property development, real estate investment, real estate consultants, project management and hospitality.

He explained that Mama Rainbow is not just a mother/ambassador to Arc- View Investments Ltd, Mama is our spiritual mother." I could remember when we chose her as the brand ambassador, Mama said we should give her 7 days to pray about it. She prayed about it and today, we have never regretted choosing Mama as our brand ambassador. I am talking of 4 years ago. She has been our ambassador for 4 years now and since then, there has never been a court or legal case, no assault or harassment.'
"We believe everything is not work, work, work, so, once in a year, we take our clients, and consultants to have fun in Dubai and we just came back a few weeks ago. I wish our clients/Consultants and everyone Merry Christmas and Happy New Year in advance."
THE MD ALSO SPOKE.
The MD of the company, Mr Idowu Okegbenro also spoke to City People. He explained how Arc-View has been doing well and making sure they work harder to give their clients the best.
He explained how Mama Rainbow has been a voice to reckon with. He said," Mama measured up with what Arc-View Investments Ltd was looking for because Arc-View is all about integrity. We look at profiles, checked who we can use as our ambassador and we realised Mama Rainbow measured up with our standards and we are happy Mama is our ambassador today."
He also explained how clients can pay on instalments to get loans/properties with them and that there are plans/structures for instalment payment and our clients have never had any cause to regret.
MRS OSHUNDAIRO WAS ALSO PRESENT
The CEO, Arc-View Investments Ltd, Mr. Oshundairo's wife spoke to City People. She explained how her husband has been able to effectively manage the home and his business. She said her husband loves his family so much that his business has never affected their home and she encouraged clients to please partronise their business more than ever before and she showered prayers on all their clients, consultants, an ambassador as she wished everyone Merry Christmas and Happy New Year in advance.
By Titi Oshunlalu
Send Us News, Gist, more... to citypeopleng@gmail.com | Twitter: @CitypeopleMagz