There are a set of celebrity women who are doing well in their respective fields, while some are always in the news, some are hardly talked about . They are respected celebrity women that other women warm up to. In no particular order, City People's Society Editor, TAYO OYEDIJI chronicles the lives of these women who are celebrities in their own right.
Ever since the former Lagos Deputy Governor (during Gov. Babatunde Raji Fashola's tenure), Princess Sarah Adebisi Sosan left power, not much is being heard about her. She has remained active on the social scene, but she is not regularly being talked about. She is the beautiful princess who got married to Engr. Seyi Sosan.
Trained as a teacher, she served as the principal education officer of the Lagos Ministry of Education from 1990 until 1999. She was appointed as deputy governor in 2007.
What of ace broadcaster, Bimbo Oloyede? She also makes our list. A tube gal, she held sway at the NTA and Channels TV for several years. She currently runs the Strictly Speaking Academy and hosts a TV show by the same name. She is in her 60s and a grandmother several times over. She has over 40 years of experience as a broadcaster.
Let's not forget Omoyeni Anikulapo-Kuti, the eldest daughter of the late Fela dynasty. She is the matriarch of the family and the MD of the New Africa Shrine. She is bubbly and the life of parties. A trained journalist and administrator, she appears on "YOUR VIEW", Mondays to Fridays with Morayo Afolabi-Brown and the crew.
Where is Abuja celebrity, woman, Tokunbo Adeola? In those good old days, she was very popular in Abuja where she was the Special Adviser to Vice-President Atiku Abubakar. This beautiful lady of style, who is now born again, was born to an Egba father and a Jewish mother. She is now 65. Right now, she is serving God. She is more dedicated to the service of the Lord.
Where is stunning beauty, Funmi Goka? She is ageing gracefully. In those days, when she reigned, she was a top Executive at AGIP. She was in her 40s then. Funmi is the daughter of late Trade Union Leader, Lawyer, and former Federal Minister, Chief H.O. Davies.
There is also Lagos celebrity woman, Chief (Mrs.) Moji Dokpesi. She was always in the news in those days. This is because each time the list of Nigeria's stylish women got drawn up, her name always appeared on it. Chief (Mrs.) Moji Dokpesi is the lovely wife of Daar Communications, boss, chief Aleogho Dokpesi. She is a woman of great style. She is ageing gracefully now.
We can't also forget Ngozi Christy Nkoloenyi, the top society woman and fashion designer/ fabric merchant. She owns Bloomingdale, her fashion house which was then on Toyin Street, Ikeja, Lagos. Over the years, this very elegant and highly graceful lady has worked her way to the top as the lady whose shop celebrity women go to for exclusive lace fabrics.Not only did she stock them, but she also made these fabrics into exquisite designs. She is now ageing gracefully. Another society woman is Ibadan female high chief, Olanrewaju Adedeji-Otiti. Popularly called Lanre Otiti, she has always been glamorous, exquisite, and has the ability to stand out with her style.Her poise, carriage, elegance, sartorial taste are all enhanced by her well-shaped physique.In those good old days, in the Ibadan social establishment, wherever she found herself, she stole the show!
Yoyin Makanjuola is in her 60s but the beautiful woman, who is ageing gracefully does not looks it. She is the wife of top bizman and Caverton Helicopters boss, Chief Adeniyi Makanjuola. Mutiat Ladoja is the wife of former Oyo Governor, Rasheed Ladoja. She also has many friends across all geopolitical zones. She is also ageing gracefully.
QUINCY, the Herbal Slimmer, Chief (Mrs.) Quincy Ayodele is also ageing gracefully in her 60s. She operated from her 16 Awolowo Road, Federal Civil Service Club, Ikoyi office for many years. She was into General Herbal Slimming, Burst Reduction, Bust Firming/Enhancement, Losing 4kg in 6 hours, all treatments with natural herbs without side effects. She is today the No 1 Herbal Slimmer & many more. Simi Onabanjo is the beautiful woman behind Stop Centre, around Opebi/Allen/Toyin Street Roundabout. She is married to Dipo Onabanjo, a real estate guru.
Jumoke Akinjide is the beautiful daughter of late Chief Richard Akinjide, the Minister of Justice during Shagari's regime. She is a lawyer like her late dad and used to run her dad's Akinjide & Co. She used to be married to Stephen Balogun, the son of Chief Kola Balogun in Ibadan. Both of them were lawyers in the same firm before they went their separate ways.
Toyin Fagbayi is the daughter of late Civil Engineer, Chief Modin Fagbayi, who was a close associate of top Yoruba politicians like late Senator Abraham Adesanya, in his lifetime. She rose from being an ordinary member of the Alliance for Democracy to be the National Welfare Officer of the AD. She was seen as the political daughter of Senator Abraham Adesanya.
Bimbo Cardoso is the wife of Yemi Cardoso, veteran Banker and former Lagos Commissioner. She is the daughter of late Otunba T.O.S Benson. Pelebo Banigo is the lovely wife of Chief Ebitimi Banigo, the then Minister of Science & Technology. In her hay days, she always looked stunning. Now, she is in her late 60s. She is an extremely beautiful Cross River woman, blessed with lovely large eyeballs, that are alluring.
Hon. Dr. Mrs. Abike Kafayat Oluwatoyin Dabiri-Erewa (OON) is one of the leading female politicians in APC. She is the Chairman & CEO of Nigerians in Diaspora Commission. The big news is that she turned 60 few weeks back and that coincided with the day she was honoured by President Muhammadu Buhari, with a national honour.
Beauty personified, that is how the wife of the late governor of Oyo State, Otunba Adebayo Alao-Akala, Chief (Mrs.) Kemi can best be described. Apart from her beauty, she is also blessed with a good stature, tall, and straight. Her entry into any party is always grand, coupled with the fact that she doesn't attend social functions alone. As a leader, it must be with a powerful entourage! Her time as First Lady was felt by all and sundry and even up till now, nothing has changed about her personality as a mentor and a cheerful giver.
One of NIMASA's ex-top shots, Lami Tumaka is also on this list. She is really ageing gracefully. Pretty wife of Dr. Abayomi Ajayi, Nordica Fertility boss, Tola Ajayi is also our style crush, if you are her regular follower, you will notice she does not leave her house without posting what she is wearing. She always gives us good vibes with her lovely combination of outfits. Foremost queen, Helen Prest Ajayi was crowned Miss Nigeria in 1979 and over 40 years after, she is still as cute as ever, She's over 60. She is very pretty and active on Instagram, especially when it comes to activities of her pet project, HELP which is geared towards educating young children. Funmi Osunsade makes this list too. The pretty woman is the cousin of Mike Adenuga, the Globacom boss. She is not often talked about because she is a very private woman. Celebrity Aso Oke maker, Bisbod boss, Kehinde Oduyale gives us numerous vibes too on her stylish aso-oke creations which she rocks to events.Her brand speaks louder than her. She is also not always being talked about like her brand.
Alhaja Peju Muraina is the C.E.O., Mauve 21 Event Centre and Hotel and wife of the late retired General, Alhaji Muraino, former Chief of Accounts and Budget of the Nigerian Army. She is a woman of style. She locked Ibadan down when her son got married few months ago. She is also very reserved.
Mrs Debola Osibogun is an accomplished banker, a loving mother, and the wife of a prominent socialite and Chairman, Space F.M, Otunba Deji Osibogun. She has got beauty and brains. At 66, she looks very dazzling. The first female VC of Unilag, Prof. Folasade Ogunsola is very reserved. Though she is in the academia, she is always in the news because her job.
Nana Yakubu is another celebrity woman who loves to live quietly, but a sight of her at any party will tell you she is a pleasant woman. Ola Aladesuru, who runs one of the popular hotels in Amuwo- Odofin area of Lagos, is very quiet too. Yetunde Adesanya is a socialite per excellence. Always ready to support her friends, Yetunde has really changed by looking less her age and more beautiful that you will mistake her for a young lady. She has been talked about in a long time. Also is Labisi Ojo, another celebrity woman in her 60s who never looks her age. She is also doing very well as a business woman.
Popularly called Affordable by her teaming friends, the Iyalaje Oodua Market, Lara Akinsanya is a popular Lagos society woman who sits atop Affordable Shopping Mall. She is also a big-time fabric merchant and runs a catering company too. She will be throwing a classy 60th birthday in the next few weeks. Mrs. Folashade Omobola Ashafa (nee Edun), the wife of Senator Olugbenga Bareehu Ashafa is in her 60s as well. She has been happily married to Senator Ashafa since 1979. She is a seasoned administrator, who retired as an Assistant-Director at the Federal Ministry of Information and Communication in 2005, after 23 years of service.
Olori Olubunmi Taibat Akinloye, the pretty wife of HRM Oba Tijani Akinloye, the Ojomu of Ajiranland in Lagos also marked her 60th birthday in grand style few weeks back. One striking thing about her is that she does not look 60. She looks refreshingly young. She is also a very stylish woman.
In the Skincare industry today, everyone respects Alhaja Shine Shine. In the beauty sector, her name rings a bell. She is regarded as one of the pioneers of Skincare business in Lagos. And, she is still very much active. She is as big as they come. She started off by importing creams from abroad and distributing them. Today, she has become so big that she has her own label.So big is Alhaja Shine Shine that she is often regarded as Nigeria's Queen of Cosmetics. Her real name is Alhaja Modupeola Shukurat Abimbola Sanni. She is one of the leaders in the Skin & Beauty sector. She stocks a lot of Cosmetics that she imports from abroad and she also makes her own products. Those that are also in the age bracket and shining is top business woman, Funmi Fagbola. She recently clocked 60. TV gal, Eugenia Abu was one of the beautiful voices who glued our attention to the TV in the 90s. She is turning 60 in a few weeks as well. Popular celebrity caterer, Tuwo Pama known for her expertise in Amala delicacy wowed everyone few days back, when she threw a classy 60th birthday in Lagos. Other celebrity women in their 60s whom we hardly talk about but are  doing well in their respective fields are Angela Aneke, Foluke Aina, Apostle Obi Harry, and Dr Odaga.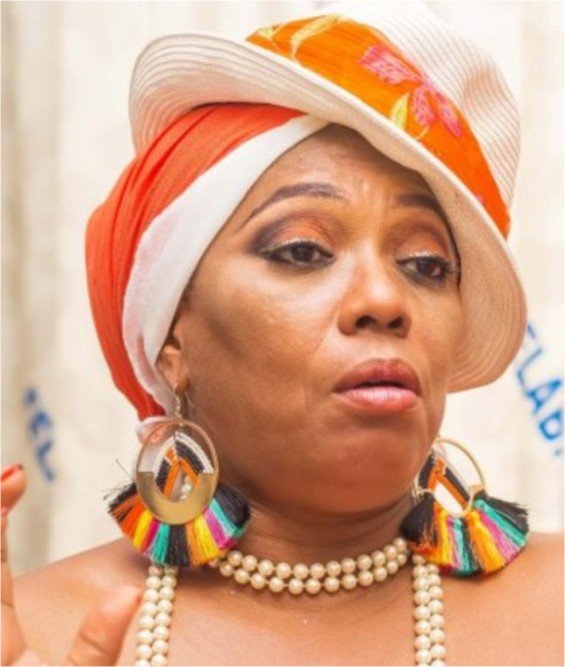 Send Us News, Gist, more... to citypeopleng@gmail.com | Twitter: @CitypeopleMagz