At the end of every year, City People usually reveals a list of top celebrity women who rocked the party scene, in the course of that year.
As 2022 gradually comes to an end, we have again put together a new list of celebrity women who dominated the party scene this year. It is a long and endless list of beautiful celebrity women who pay attention to their good looks and dress well to parties.
Let's start with Iyalaje Oodua Toyin Kolade. She attended so many parties this year, from Lagos to Ife to Abeokuta to Ondo, Ekiti and Ota. She likes to be there for everybody.
She has a set of celebrity women who attends parties with her. Over the last one year, she has stepped up her fashion style. And she has a strong sense of presence. Once she arrives at a party, you will know. She has arrived, as she usually does, in a big way.
Chief (Mrs) Sade Adesoye, the Jewellery merchant is another celebrity woman who dominated the social scene in a big way this year. She has a way of turning heads with her grand entry. She graced so many events and parties this year and trust her, she rocked so many dainty jewellery pieces. She rocks strictly Diamonds.
Yeye Joke Ojo is another celebrity woman who sparkled at parties this year. She is a show stopper anyday, anytime. There are others like Aso Oke Queen, Chief Mrs. Iyabode Ninalowo, Ambassador Morunranti Asabi and Olori Azezzat Abisola Elegushi.
Olori Sekinat Elegushi also rocked a lot of parties this year, along with her husband Oba Saidi Elegushi, always looking gorgeously dressed. She loves to compliment her husband who is also a good dresser.
She is the most invited queen to Owambe parties. Olori Aramide Elegushi fondly called Queen Gushi, is a ladies' delight. She is very fashionable and knows what fits her. There are no events she gets to and does not turn heads. Olori Elegushi is a lover of Gold and diamonds and she never hesitates to flaunt them.
Another celebrity lady who dazzled this year on the social scene is Chief (Mrs.) Folashade Okoya, the pretty wife of Eleganza Chairman. She forever looks stunning, from her choice of outfits, bags, shoes and exquisite jewelry, she is simply unmatchable.
What of Olori Bolanle Ogunsanwo? The pretty Olori of Oba Olufolarin Olukayode Ogunsanwo, the Alara of Ilara surely knows how to look good. She has also been seen at many classy parties in Lagos. She is a powerful dresser who loves to look good all the time. Her combination is always superb. She runs one of the most sought after fabric store, Fabrique Plus in Lagos. There is also, the duo of Joko Adeusi, the CEO of Eve Extra and her very good friend, Bimbo who runs Bim Gold jewelries. They also make this list. One person you will see with Joko Adewusi is Alhaja Kuburat, popularly called Alhaja Akube. There is hardly any major party in Lagos that they don't attend. Lara Aduwo also makes the list. She is the celebrity lady behind Aso-Ebi by Laviva Fabric Store. Lara Aduwo is a party delight as well. She dresses well when you see her at any party. What of celebrity caterer, Tade Ayeni? She is the popular as her brand, Party Chef. She is also one of the party queens around. You will always see her with her pal, Folashade Bencash. Folashade is also a dazzler on the party scene. How about Olori Mariam Lawal, the Queen of Iru Kingdom. She also made this list.
There is another celebrity woman called Top Mum Ashabi, Erelu Ashabi Adesina the wife of Wale Saranda. She has her clique of friends like Olori Akamo and Erelu Folani Animashaun. are friends who party together. You will always see them together at events. They are also very stylish.
Top society woman, Chief Mrs. Comfort Obamuyiwa is a party delight. She makes fashion statements with her jewellery pieces and luxury laces. Mrs Funke Akinyera is also not missing on this list. She has been the CEO of Strictly Brides. She is very prominent on the social scene. Alhaja Wazeelah popularly known as Posh Gbemmy is an Owambe Queen. She also rocked the party scene in 2022. On this list is Radek Boutique boss, Radeke Kupoluyi. She is one of the celebrity women who adds finnesse to any party. She looks gorgeous all the time. The likes of Adenike Animashaun, Tola Osifeso, Lara Dende, Alhaja Tai Okesanjo-Elemoso popularly known as Montai are all party queens. Hardly will you not find them at A-list events. There is also Nana Yakubu who is Montai's best friend. They go to events together. There is also Princess Faridah. Phareedah of Phareedah Cosmetics is also not left out of this list is
Lardiva Clothing Line boss, Omolara Shobowale is another party delight who parties together with Doyin Sweet Fabric CEO, Doyin Akinrinola, the pretty lady who turned 40 few years back.
K1's new wife, Emmanuella Ropo who runs Party Dreams store is another pretty face on the social scene. Olabisi's Ajikanju Babalola runs Bisban Jewelry. She is also one of the close pals of Doyin Sweet Fabric. The face behind popular Bukateria, Ile Alamala, Tosin Osinowo is another fine face who qualifies as an Owambe Queen. She loves to look beautiful always. Olubunmi Fadugbagbe who is the face behind bmi fad adornments is not missing on this list. What of Motunde of Motties Foods? This big time business woman, is a party delight anytime. We can't do without mentioning Elsie Fabric boss, Jumoke Animashaun. She is another pretty face who parties well. One of her very good friends is Abidemi Oreagba of Cynosure Metals. She is solid on the party scene too.
There is also Swallow it CEO, Bukky, Nike of Giggles, Khadijat Lola Peppe who are musicians delight. The trio are also party delights.
The CEO of Jewelry Affairs, Otunba Shade Alesh, Morkals Fabric CEO, Morufat Kalejaiye are on this list as well. They made the 2022 social scene colourful.
We can't also forget this set of celebrity ladies, Bukkie Oshiyemi popularly called Bukky Moschino, CEO Fab Accessories, Bimbola, CEO of Meravibyabby, Queen Lbk Diva, the pretty and gorgeous Mrs Balogun popularly called Elebalo. She is the CEO of PI immigration Consultancy. What of Titilayo Chinedu, Folake of Flakies Kiddies Store in Anthony, Maryland, Aisha's Keshinro Ajiboye popularly called Keshbaby, Nike of Nikky coverings, and Kike of Style by savvy? All these beautiful ladies are party dazzlers.
Let us also mention Alhaja Bola Ologburo, fabric and gold merchant big babe, Okunola Bisi and Bismid boss, Bunmi Agbeni. Party is never complete without them.
Let's give it to another celebrity lady Bisola Munis. You can never see her and not appreciate her look. She is extremely beautiful. She is well loved by many of her friends and steps out at parties often adorning expensive outfit with her make up on fleek, OIA Fabric boss, Olamide Akinruntan, Kike of Stylebysavvy Couture, Tinu of Lores Couture, Bose Adegunwa of Lawiza Creation are also on this list. The Iyaloja General, Folashade Ojo has also stepped up her party game. She has been seen at many parties. What of cosmetic duo who are also friends?, Alhaja Dupe Shine Shine and Yeyeoge Lanre Batlan? They are party queens.
Another celeb lady is Labollies known as Abolanle Sunmola Oluwole, she is a fashion lover too despite being a Biochemist who works as a Public Health Practitioner. Her face has been made up severally by Demi Williams. Jewelry Merchant, Branella Gems made the list. She is another big babe in the beauty sector. Late Oba Oyekan's daughter, Lara Oyekan Olumegbon who is also married to a king is on this list. She is popularly known as Royalty Bunny on Instagram. Her shape is killing coupled with her beautiful face.
On this list is jewelry merchant known as Bimcey closet, she is also a dazzler anytime.. Alimat Abike is another beautiful lady. No wonder she prides herself as black and beautiful. She is on this list as well.
What of Mrs Mary Edgal? This is one woman after God's heart but she loves to look good. Cosmetic guru, Ayoka Mariam who runs the popular beauty store, Reesh Cosmetics is also popular within the social scene. On this list with their popular pages in IG are Iamdivanista, Rukayahxzx, Olatokunbo Olaloko known as poshdatoks, jewelry merchant, Quincybabe, and some others.
Not forgetting another celeb lady, Bola, the CEO of Uptown Store, Mezeron Shoes and Bags. She is beauty personified. She knows how to always combine her accessories and her expertise in matching shoes and bags always.
What of popular fabric merchant, Lara Alfred of Rinimisville? She is not a very loud person but when you see her dressed up with her make up, you can tell she has got style. For someone who makes brides look beautiful in Aso-Oke, what do you expect when she dresses up, that is Bimpe of Bimps Martelle design. Her store is a one store shop for Bridal Aso-Oke.
CEO of Budding Blue Boutique is not left out. She preaches what she does and has a beautiful face to go with it. Other party queens are Tiwalade Adegbite Taylor, Home of Beauty Wears boss, Dollie with the sauce, Dotrik Empire boss and the likes.
Others are Tito, a development economist whose Instagram handle is Teetop, Lagos hotelier, Adeshina Okanlomo wife, Alhaja Rukayat Okanlomo, CEO of Korad Closet, Mrs Oloto, wife of Lagos property player, Fuad Oloto, founder of Blue Sapphire Hub, Maryam Lawan, Tee Glass, Mrs Doherty, Abiodun Alabi, Titi the Real Stunner, Adesola Okiji Oremosu, Adetutu, Luxury Fashion Store boss in Lekki, Abby who runs Meravi are all on this list.
What of the pretty wives of head of the Lagos State Motor Parks, MC Oluomo? The 3 of them attend parties.
Many others are Abidemi Arike, Hajia Baseerah, Jewelry Merchant, Gaffur Ganiyat Abisola known as Bisgold4real! Khadijat Bello, the brain behind Rewa Woods, popular beauty expert, Swallow It Catering boss, Omojolade Ayoka, Jadesola of Fabric by Jadesh, Ronke Keshinro Ajiboye popularly known as Kingkeshbaby, Obi Gorgeous, Olaide Gold of Larush Jewelry and Fabric, Yinkus05, Nike Ajiwe, the CEO of Fabric Rush, Folashade Enitilo, the CEO of Folworld Supermart, Mrs Tayo Fakorede, the pretty wife of Aare Bashiru Fakorede, Alhaja Kudi Muritala, Abbylicious on IG, Kemi Arekemase, Hajia Tinu Ayorinde, Lara of Larritts Shoes, Alhaja Kudi Jewelries and many others.
Some actresses also fall into this category. They are the likes of Iyabo Ojo, Bisi Ibidapo Obe, Eniola Badmus, Fathia Balogun, Bimbo Thomas, Kemi Korede,Tayo Odueke popularly called Sikiratu Sindodo,Tayo Sotayo, Biodun Okeowo, Bimbo Thomas, Fathia Balogun, Madam Saje, Doyin Kukoyi, Mercy Aigbe and others. They are very prominent on the Owambe scene.
On this list also are Adunni Temitope, Simisola Batola, Taiwo Larryshine, Mojisola Ololade Abass, Rashidat of Jimrash, Bisi Balogun, Fabric4elite CEO, Talabi Wuraola, Khadijat Ajala, Aramite Catering boss, Taiwo Alawode, Bimdos fabric CEO, Alhaja Bimbo Dosunmu, Ruka Onabanjo, Macauly Jumoke, Abimbola Jolade, Olaitan Abeke of Zeena Fabrics, Oloye Morounranti Ashabi popularly called Ashabi fash, Kenny Rhoda, Mojisola Alimi of Monimons Jewelries, Bolaji Balogun of Bee Jay Blings, Opeyemi Abdul of Oppy Fabrics. The 3 Ooni sisters are also not left out, they have always been attending parties too.
What of the SAS textile sisters? They also choose the parties they attend. Jummhy Fabrics is being run by Mrs. Jumoke Oyeneyin. She is another beautiful Lagos fabric merchant who rock parties. Alhaja Olorunwa is another woman who rocks parties. She is the CEO of Fabric4 Elites. Some other women on this list are Nike Busari, Pwetty Textiles by Omolola Popoola, and then Fabric Rush owned by Nike Ajiwe. It is a clothing brand. She sells beautiful fabrics. She deals in Aso-Ebi. She sells in vogue Ankara, men's swiss Atiku and polish laces. Stepoutlaces is another one owned by Tito Oyinkansola Makinde. She sells lots of beautiful fabric and jewellery for the modern-day fashionista.
How about Havila Fabrics a fabric store that stocks Ankara fabric and Aso-Oke. It deals in wholesale and retail. She has a sister company Havila creations which deals in Autogele, Aso-Oke and fascinator.
There is Tanwa Ajibade & Tanwafabrics, the popular Shogunro Sisters: Kafila Sogunro &stylenetworking, Jadesola Tomisin, Fagbeni runs Jaderon Aso-Oke, Alhaja Risi Amori Odumosu of Ricciheritage fabrics.
There is also Gbodesherry Fabrics at Idumota, equally rocking party is Alhaja Modinat Akinola @MotikfabricsNgold. There is also Mrs. Tolani Balogun. She owns Tolly Bee Fabrics. Others CEOs are, Bunnie Bees Fabrics, Aso-Ebi Lounge, Nicoliviaclothings, Princess Fabrics, Alfatia Exclusive fabrics, Aso-Ebi Mall, Dainty Fabrics, Nickycoverings, Kiks Fabrics, Laboudoir Fabrics, Stitches Fabrics, Kwamuhle Fabrics, Shukkys Fabrics, Morkal Fabrics, Sassy Fabrics, Aso Asiko Fabrics, Fabrics By Jadesh,Glitz Allure Fabrics, Fabric Central, Lalaco Fabrics owned by the Iyaloja General of Tinubu Market in Lagos. There is also Tifah Fabrics owned by Latifat Olaribigbe Isikalu, Dumas Fabrics, Fabric Elite, Kubis Fabrics and Checkers Fabrics.
Hajia Aisha Bolarinwa,Olajumoke Popoola, Moji Sanusi, Joke Yusuf, Bimbola,Titi Yakubu, Latifat, CEO of Tifah Fabrics, Arinola Adetutu, Olubukola Ola, Atinuke Alabi, Mogaji Omolola, CEO of LBS makeover, Sekinat Adigun, Toyosi Soboyede, Alhaji Rukayat Abubarka who sells shoe in Ibadan, Bimbo Giwa, Olawunmi Opadoyin, Bisola Munis, Olori WESCO, Amori Saidat, Olori Balquis, Veronica Sunday, Abdulkareem Olajumoke Rukayat, Bolaji Giwa, Mona Fadil, Alhaji Kuburat, Bukky Kenedeth, Abibat Odumbaku, Wuraola Talabi, Temilola Fasola, Mrs Kasumu, Rukayat Omoniyi, Alhaja Kudirat Lawal,Taiwo Oyinoye, Olori Ashabi Odutayo,Toyin Folarin Balogun,,hon Idayat, Adenike Balogun, Omowunmi Alabi, Funmilayo Lola, Remilekun Omotoso, Oyindamola Olanrewaju, Omotosho Mariam, Alhaja Eeqmat Mogaji, Ireti, Maryam Igbira,Olawunmi Opadoyin, Abeke Bamidele, Olori Yetunde Onisemo, Kafayat Adewusi, Olori Agbeje Olabisi,Akande Motunrayo, Morufat Peters, Alhaja Omowunmi Fagbenro, Rofiat, Temitope Abobarin, Ajiboye Temitope, Lawal Idera, Omowaye Kafayat, Olori Azizat Elegushi, Bukky Kanadel, Pela of Pels International Skincare, Dabota Lawson of Dabota Vosmetics Empire, Kachi of House of Chin Collection, Yeast of Loucam Hair, Rebecca Shobanjo, Dupe Yakubu who sells gold, Lagos Event Vendor, Biola Bakare Marilyn, Uche of Marigold Fabrics, Tosin Osinowo, Omowunmi Eletu Odibo, Yewande Kofoworola, Afolashade Fajobi, Funke Etti, Idowu Elegushi, Shade Ben Cash, Bisola Bashorun, Oyin Oshinkanlu, Lagos Caterer, Yemi of cuisine and chops. Dupe Yakubu, Biola Bakare, Omowunmi Alabi, Adenike Balogun, Kemi Ojomu, Abiola Onigbade, Ajilola morenike, Tumininu Odukoya, Olori Onisemo, Kafayat, Animashaun Rasheedat, Afolashade Fajobi, Shola Fayemi, Oyediran Abiodun, Gafar Taiwo, Ottun Mopelola, Bisi Ajibola, Olamide Onifades, Dayo Amusa, Iyabo Ojo, Alhaja Aramide Atobajeun and so many others.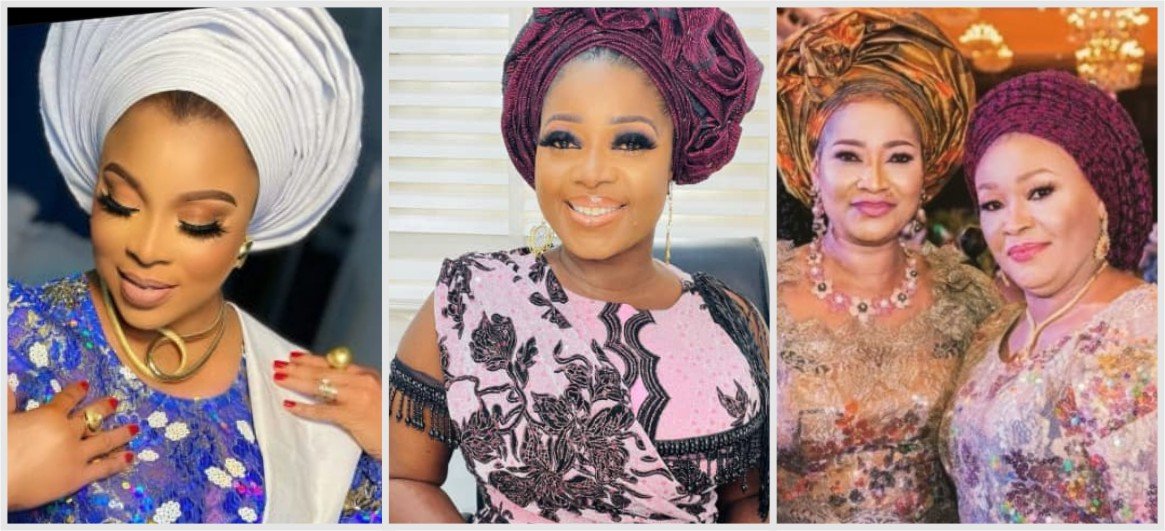 Let's now go to celebrity women who are a bit older in age.
Let's start with the new entrants into the 60s club. Few weeks back, Lagos fabric merchant, Lara Akinsanya turned 60. She had a very colourful party in Lagos where lots of Lagos society women mostly who are fabric merchants attended. She is one of the popular society women who rock Lagos parties. She is the CEO of Affordable Fabrics and she is also the Iyalaje of Oodua Market in Lagos.
On this list is the popular Lagos caterer, Alhaja Tuwo Pama, she is one of the women rocking the party scene. There is practically no party that is complete without Tuwo Pama. She is well connected within the rich. She recently celebrated her 60th birthday too.
In their 60s as well is Mrs Jumoke Odulaja popularly called Sisi Oge. She is the brain behind Sisi Oge Aso-Oke. She is a catalogue of what she preaches. She is very stylish and also turned 60 few days back.
On this new entrant into the 60s club is Mrs Sade Olatilo, the pretty wife of Prince Bisi Olatilo. She is one of the beautiful faces we see at A-list parties in Lagos. In her early 60s are Quincy Ayodele, the Queen of herbal medicine in Nigeria. She is well revered on the party scene. So also is popular. NPA topshot, Nana Yakubu. Though retired, she is also one of the beautiful faces we see on the social scene, she turned 60 about 2 years ago. What of Alhaja Shine Shine, the popular cosmetic guru, she is also very prominent on the social scene. She is in her 60s.
Olori Taiba Akinloye shut down the Island in Lagos when she turned 60 few months back. It was a party that was well attended by many prominent personalities. She is also very sociable.
2 weeks back, the SA to President Buhari on SDG, a former deputy governor of Lagos, Orelope Adejoke Adefulire staged a big wedding for her daughter, and it was attended by who is who in Lagos and beyond, this testifies to the fact that she is also very sociable and loves to attend her friends party. Another visible face on the social scene is Honourable Abike Dabiri, she is very sociable and has been attending many events back to back.She recently turned 60 as well.
Send Us News, Gist, more... to citypeopleng@gmail.com | Twitter: @CitypeopleMagz