• What He Did In Housing Sector
• How He Transformed Roads Across NIGERIA
• How He Created Many Jobs
Every year, City People Magazine usually comes out with Man of The Year. It is usually an outstanding personality whose activities and efforts, in the course of that year, impacts positively on the vast majority of Nigerians.
This year, Mr. Babatunde Raji Fashola, (SAN) the Minister of Works & Housing has emerged as the 2022 City People Man Of The Year, for his remarkable and outstanding performance in the running of the 2 portfolios he has handled to date. Truth be told, he has played a critical role in the infrastructural upgrades witnessed, during the Buhari administration's 8 year term. He has been adjudged by very many people, as The best performing Minister in the cabinet.
Of all the Ministers who have served under Buhari, he has been the only one who has been consistently consistent in his pursuit and implementation of the promises the Buhari administration made when it came in, especially in the areas of Road Construction and Housing. And wait for this! Not only did he just promise to deliver, in those sectors, many of the projects he embarked on came to fruition last year, 2022. One of it is the successful completition of the 2nd Niger Bridge, which many felt would not work out.
One of the things BRF has also done is to boost the local economies of all the areas where all the projects are situated, across Nigeria. As a matter of policy, all the Contractors were mandated to make use of local workmen and artisans. They were also to source for their materials from their immediate environment. All those helped to boost the local economies across Nigeria.
In the following reports, we present to you, the inspiring story of the sterling performance of BRF in the areas of Road Construction and Housing sectors of the economy and why City People picked on him as the Man Of The Year.
Did you know that Mr. Babatunde Raji Fashola (SAN), (CON), the Hon. Minister of Works & Housing has done a lot on Roads under the Buhari regime? If you didn't, let's quickly tell you what City People found out recently. Over the last few months, City People had gone out to found out what he has been doing about the Road situation across Nigeria. And we discovered a lot.
At what stage is Mr. Babatunde Raji Fashola's efforts in terms of Road Construction & Rehabilitation? "It is the Season of completion for him. In terms of Infrasctructure, it is completion stage. Recently at the 28th Meeting Of The National Council On Works held in Kano, Fashola revealed what he has been able to do in terms of Roads in the last 7 years. At that event he started by taking the audience on a journey to "where we were" on Tuesday, 8 December 2015 "at our inaugural media briefing, to then set the Agenda for delivering Change. He revealed that as the records show from previous budgets, the last time Nigeria budgeted over N200 billion in a year's budget for roads was in 2002. "It seems that as our income from Oil prices increased over the last decade, our spending on roads decreased".
"As far as status reports go, the federal government budgeted N18.132 billion in 2015 and the Ministry of Works got N13 billion for all roads and highways in 2015, although it already had contracts for 206 roads, covering over 6,000km contract price of over N2 trillion.
Our ability to achieve connectivity of roads depends on capital spending in 2016 to pay contractors and get them back to work".
What did Fashiola do to enable him achieve his objectives? The results was achieved through enhanced resources: FMWH Budgetary Expansion & Alternative Sources of Funding which include: (a) Presidential Infrastructure Development Fund (PIDF) (b) Sukuk Fund (c) Road Infrastructure Tax Credit Scheme (RITCS) (d) Multi-lateral Loans/Grants and (e) Collaboration with other Government Agencies e.g. The North East-Development Commission.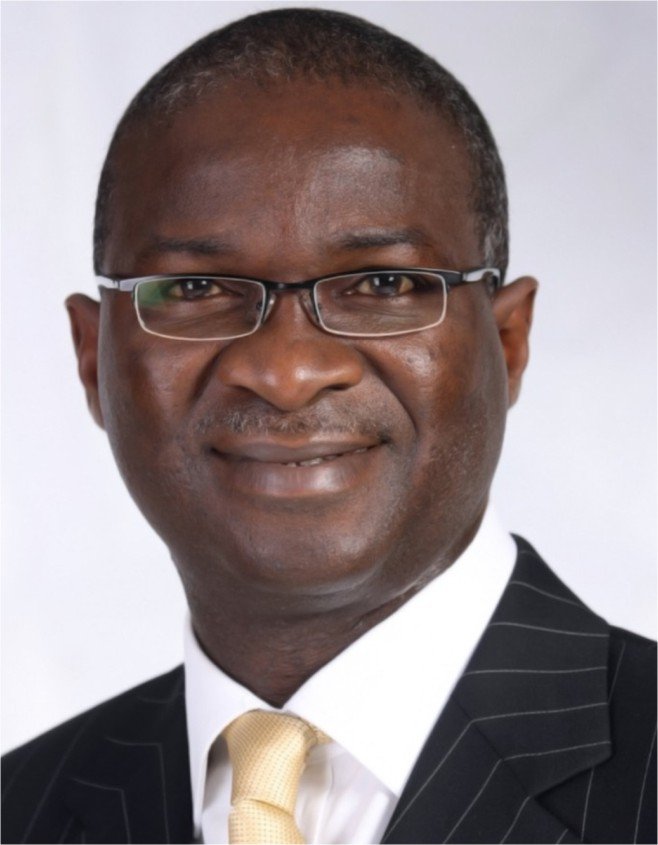 Funds from all these alternative sources was spent on massive road construction across Nigeria. The PIDF funds was put into the Rehabilitation, Construction & Expansion of Lagos-Shagamu-Ibadan Dual Carriageway, Construction of 2nd Niger Bridge Linking Anambra & Delta States, Rehabilitation of Abuja-Kaduna-Zaria-Kano Dual Carriageway.
Then, the Road Infrastructure Tax Credit Scheme helped fund the (1) Construction & Rehabilitation of Lokoja-Obajana-Kabba-Ilorin Road (2) Reconstruction of Apapa-Wharf Road in Lagos State (3) Construction of Apapa-Oworonshoki-Ojota Expressway and (4) Construction of Bodo-Bonny Road with a Bridge across the Opobo Channel in Rivers State.
There are some roads funded by NNPC under the Infrastructure Tax Credit Scheme and there are roads funded under Multi-lateral Loans/Grants. And then, the collaboration with other government agencies like the North-East Development Commission which saw to the construction of 3 Bridges, along Moraraba-Mubi-Michika-Madagali Road in Adamawa State.
All these project from 2016-2022 resulted in Road Transport Infrastructure, including huge job created, more roads construction. It also had a huge impact in Travel time, reduction in Travel time and Travel cost. It also had a huge impact on job creation both Direct & Indirect.
It also had a great impact on the high quality of Basic Materials used like Bituman, Laterite, Diesel, Sand, Cement & Reinforcement.
Send Us News, Gist, more... to citypeopleng@gmail.com | Twitter: @CitypeopleMagz