He is one of the strong contenders for the Ogun East Senate seat Hon. Wale Okunniyi is contesting for that Senate seat in Ogun State and the race is being keenly contested for. He is running on the platform of Peoples Trust. And his political phrase is ESOJI 2019. He is to face other contestants like Senator Mustapha (APC candidate), Otunba Sosanwo (PDP) and Eng. Deji Ashiru of ADC. Okunniyi was a distinguished member of the last National Confab of Nigeria inaugurated by President Goodluck Jonathan in March 2014.
Esoji was a major voice at the Confab, who canvassed the creation of Ijebu State for our Ijebu people and even canvased Ago Iwoye  as Capital of the Ijebu State both within the Yoruba caucus at the Confab and before the Awujale during its 80th Birthday in his palace in company of Otunba Kunle Ogunade of Ijebu Ode. Okunniyi as an indomitable political activist of significant repute in Nigeria is currently the Convener of the third force movement and Director General of Nigeria Intervention Movement, NIM. He has worked directly at various times with Elderststesman, Anthony Enahoro of blessed memory, Nobel Laureate, Wole Soyinka, the irrepressible Senior Advocate of the Masses, Gani Fawehinmi, SAN, Eminent Jurist, Ben Nwabueze SAN, Human Rights Icon, Olisa Agbakoba SAN among other political and constitutional Irokos of our land.
It is also worthy of note that Okunniyi has initiated and championed many political struggles and civil rights activism for the Nigerian peoples; this is from being the Students Union President of Lagos State University, to one of the very few Field Commanders of the NADECO struggles for the restoration of our current fledgling Democracy, to being Spokesperson of PRONACO under the leadership of Enahoro and Soyinka, to National Secretary and Head of Secretariat of Project Nigeria Movement, a platform for eminent leaders of thought in Nigeria jointly led by Prof Ben Nwabueze SAN, Alhaji Yusuf Maitama Sule and Mallam Adamu Ciroma both of blessed memory and presently the Director General of NIM.
In 2011 Okunniyi was elected in Ogun State as Governorship Candidate and State Leader of the defunct CPC led by General Muhammadu Buhari. In 2015, it is on record that Okunniyi was the only visible Governorship Aspirant within APC running against the incumbent Governor Amosun before the National leadership of APC decided against primary elections wherever the party had incumbent Governor, which led to a major division in the party at that time.
However in 2016, Okunniyi was appointed by President Muhammadu Buhari into Presidential Committee on the Reform of the Nigerian Constitution and Electoral laws led by former Senate President, Ken Nnamani and later appointed by PMB into the Federal Board of the Nigerian Press Council, NPC.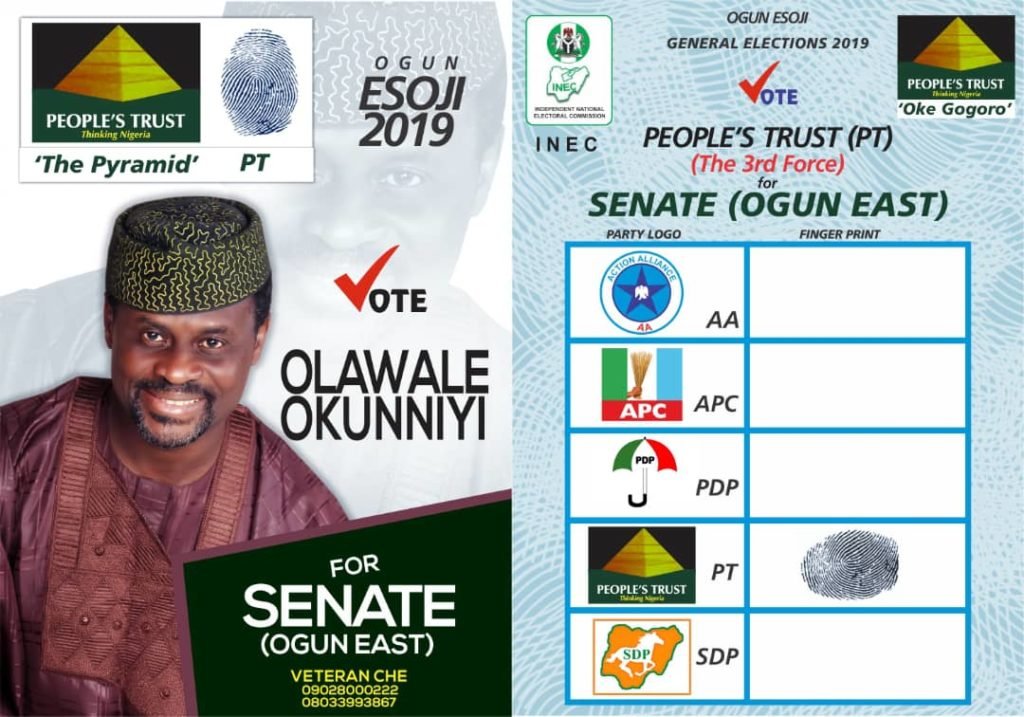 Okunniyi Olawale is presently the BOT Secretary and Ogun East, senatorial Candidate of the third force consensus party in Nigeria known as the People Trust PT. The Director General of Nigeria Intervention Movement NIM and convener of the third force movement in Nigeria, Sir Olawale Okunniyi is set to take over Ogun East Senatorial seat currently occupied by Senator Buruji Kashamu, who is also vying for Ogun State Governorship seat on the platform of the People's Democratic Party PDP in Ogun State.
In his round off rally in Ago Iwoye, Ijebu, on Thursday, Okunniyi, the Candidate of an emergent freshbreed political party, Peoples Trust PT, whose logo and symbol is a yellow pyramid on a green platform, admonished his teeming supporters who converged at Ayegbami axis of Ago Iwoye that they should try and summon more courage to resist vote buying and violence which are the bane of credible elections and good governance in the country
Okunniyi, a frontline member of the 2014 national confab and former governorship Candidate of the defunct Congress for Progressive Change CPC also tasked the people of Ijebu land and Remo of his Senatorial district to troop out enmasse to vote for competent consultative representation and credible Alternative to the old corrupt order, which he represents on Saturday. Okunniyi who received the endorsements of aggrieved factions in major political parties in the State last week however tasked INEC to do their best in ensuring a free, fair and credible elections on Saturday and advised voters not to be discouraged by previous Postponement but to come out on Saturday to vote for PT, recently adopted by the third force in Nigeria.
Speaking further on the state of the country, Okunniyi, a Veteran political activist, warned that the fight against corruption in Nigeria maybe illusive if the country is not restructured via a democratic referendum of the Nigerian peoples as it is wrong to decree a country into existence. He also decried a situation where due process and rule of law is being daily circumvented by operators of State.
Send Us News, Gist, more... to citypeopleng@gmail.com | Twitter: @CitypeopleMagz