•MC OLUOMO Reveals A Lot
In the last few months, one name that keeps reocurring on the lips of many political associates or loyalists of the APC Presidential Candidate, Asiwaju Tinubu is that of popular Ex-NURTW boss, MC Oluomo's name. He has put himself in a vantage position as the 2023 election comes forth. He has also practically become the rallying point of many campaign groups in Lagos for Asiwaju Tinubu. Saying MC Oluomo is close to Asiwaju is simply stating the obvious because he has been a regular and ardent supporter of Asiwaju. He has also not hide the fact that he is a true and staunch loyalist of Asiwaju.
Give it to MC, he has mastered the game over a short period of time and he is currently playing it out big time. For any group or movement that wants to stage any campaign for Asiwaju Tinubu, they always want to carry him along because they know what they tend to gain, in terms of support, connection, financial gain and in all massive mobilization people. MC has practically become the toasts of many party stalwarts and loyalists within a short period of time. Infact everyone wants to become his friend now. He does not just coordinate, he participates in all the programmes lined up for any campaign.
He is everywhere. Any political gathering or rally in Lagos at this time would probably not be complete without the involvement of MC Oluomo. He has become one of Asiwaju's most dependable political allies in Lagos. This Lagos big boy not only has the entire commercial bus operators in Lagos under his grip but also the entire league of big boys and babes in Lagos. He has equally served as a bridge between Asiwaju and some sector of the public as a whole. He is always at the fore front of any political campaign and well recognized at that.
With his alliance with Asiwaju and rise in the transportation sector, that has soared him away and has now become friends with the top elites that ordinary will not come to mind. For someone who has come from a very humble beginning and just a common Motor Boy who has now become the toast of many to people, it is because of Asiwaju's influence on him.
No gain saying, MC Oluomo is very close to Asiwaju and it is obvious. Many may have been wondering how did their path crossed? How did Asiwaju Bola Tinubu, a former senator, former governor and noOwO presidential candidate of APC find MC Oluomo and threw his doors open to him?…How did their friendship of almost 20 years begin. Who was MC before he became what he is today? He once revealed his grass to grace story. City People can give you the gist for free.
When he was young did he ever think he was going to be this successful and popular? MC revealed, "Yes and No," he says. When I was young, the story my mother told me was that whenever I am coming back from school my school mates will follow me home and that is where they will all eat lunch before they then disperse to go to their various homes.
Even my first wife, Alhaja Modinat Adunni Akinsanya and I met in Primary School when we were very young. Then, we would hold ourselves. She went to Methodist Primary School. I went to Afolabi Primary School. And she is still my wife till today. My mum used to tell me that people always gather round me,
that they always wanted to stay with me, to play with me and we would play with sand. She will be selling her wares in front of the house on Oshodi Road in those days. She said also when I was in Primary 5 in Abeokuta; my school mates also liked me then. But I never thought it will turn out this way. When I got to Primary 6, I now realized that my mum could not pay my way any longer through school, so I became a Conductor then at Adatan. They used to call it Interstate then. We would sit on the bonnet. I used to hang around those boys at that Adatan Filling Station. Once I get there a lot of boys will gather round me.
But despite the fact that I grew up on the street, as a Conductor till now I never joined my contemporaries to smoke Indian Hemp or even Cigarette, or take alcohol. Many people are always surprised. They are always shocked to hear this."Why? How did he achieve this feat?
"Because I used to pity my mum, and I appreciate her efforts. And I didn't want to get her worked up or get her worried. It just didn't go with my philosophy of life. I never smoked or drank alcohol. I didn't even taste it for once. If they take me to the doctor now to test my blood, smoking, drugs or alcohol would not be found, nothing. I take only water or malt.
Even the Chelsea drink I don't take. No, no, no. And I don't joke with my 5 times prayers daily because I believe there is nothing greater than God. It is God who saw me to this stage in life. It is by His power. It is by His design, not by mine." He is known to be very close to APC leader, Asiwaju Bola Ahmed Tinubu. How did their relationship start?
For how long have they been close? "We've been close for years," he explains. " He accepted me because he discovered that I am straight-forward. Asiwaju does not like people who tell lies. He can't stand anybody who is not straight-forward.
Number 2, in those days, when Asiwaju contested to be a Senator, we were very young then. We were inside Oshodi then. Then, when Asiwaju contested to be Governor the first time, I was with one of my daddy's friends then. I used to hope and pray that someday I will get close to Asiwaju, that I will meet him one-on-one. Because, when he did his rally then distributing and throwing out to people Wasiu Ayinde's tapes freely, I was one of those who used to run after him in Oshodi then.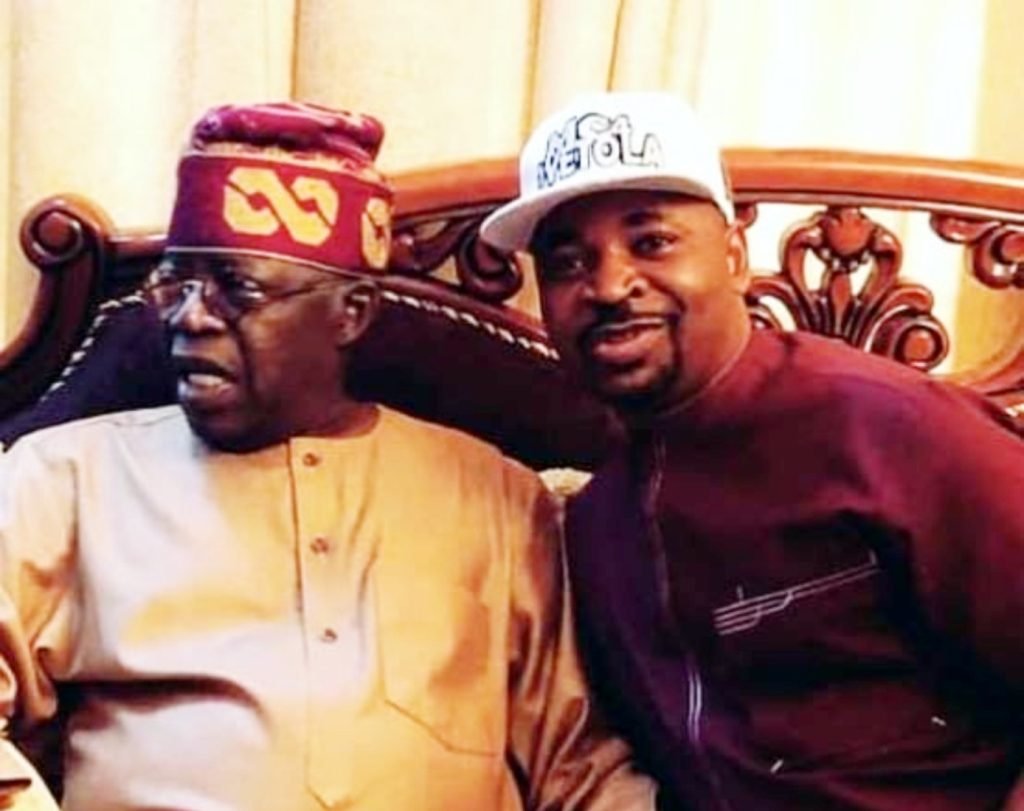 He was instrumental to my return to Nigeria then when I left for London. It was Asiwaju who asked me to return to Nigeria then. Since then, I have been with Asiwaju. I have never lied to him. I won't even lie to him. I have been very loyal to him. I go anywhere he goes. I follow him all over the place. That is how I met him." How does he relax? "I travel a lot," he says. "If I realize I have a free time, I can decide to travel to London or stay at home with my family and friends. I am a Chelsea fan. Chelsea for life. But I don't watch most of the matches live because I can't stand the noise that comes with watching live matches. But you will see me wearing the club jersey.How about his kids? Has anyone of them taken after him? Will he want them to? ''It is God that designs a man's path. There is no job anyone can't do. Anything they decide to do, I will support them. It is God who uplifts. He will decide for them. As long as it is on the right path. I pray for them to be very successful. Many of my children live abroad. They have become "Aje Butters". When they are on holiday they come home or I travel abroad to go and visit them in school.''
When they are at home, they are usually reading their books, or they go to Shoprite in Ikeja or Ozone in Yaba to watch a movie. Once they go and come back they go back into their rooms. They are closer to their mum than me. My own is to make sure they are ok, and pay their school fees and see to their general welfare.''
-TAYO OYEDIJI
(08111811219)
Send Us News, Gist, more... to citypeopleng@gmail.com | Twitter: @CitypeopleMagz