•What He Told City People As He Marks 65th Birthday
The sleepy town of Joga Orile, in Yewa North, in Ogun State came alive last week, when Oba Adeyemi Adekeye, the Abepa of Joga Orile held a 2-in-1 celebration, to mark his 20th coronation anniversary and his 65th birthday.
The celebrations spanned 7-days, as there were different events slated for different days. For the 7-days, Oba Adekeye was able to drag a lot of celebrities to Joga Orile to celebrate with him. He also brought King Sunny Ade (KSA) and Fuji King (K1) to Joga Orile on different days to thrill guests.
Many of the guests were pleasantly surprised at the major transformation that Joga Orile had witnessed in the last 20 years especially how Oba Adekeye had awaken the potentials in the community.
How did he do it? How did he achieve this we asked him recently. "I think it is the Grace of God", he explained. "I am one Oba that always calls himself, A fe ni yan mi mo soro.
That is what I call myself. The development that you see today in Joga Orile were done by different people. There is no doubt that I knew a lot of people both within Nigeria and abroad. So, I always invite them to come here and invest and help us develop Joga Orile. You can believe that some of the developments you see in Joga Orile were done by different people, by some of those I don't really know. They started doing something. They will say Kabiyeesi, we are here ooo, trying to do this and that."
"Let's take our hotels here in Joga Orile. When I first came, there was no hotel. Then, the owner came to come and pay homage and I told him that hey, you are not going, no where, any more that we are going to stay here together and build Joga Orile. He said Kabiyeesi. Haaa. Nooo. I can stay back. To God be the Glory, he lives here in Joga Orile now. He has a Hotel. He has a block industry. He has a Nursery school, now. He has set up everything."
"There are many, many people like him here now at Joga Orile. Lets take another person, Abothera Foundation."
"It is a foundation that has hotel, sports facilities such as Golf, Squash, Lawn Tennis."
"It is what you can se. If you go there, you will be shocked at what you will find happening there. We have Federal Medical Centre. We made that happen to, because we had an hospital there before.
But because its old nobody was using it again. We contribute money together from everyone of us and we renovated the building and FMC in Abeokuta partnered with us and we made it happen."
"Many won't believe it that there is Federal Medical Centre (FMC) here in Joga Orile."
"Everything happening at Federal Medical Centre in Abeokuta happens here. Every unit is here in Joga Orile."
"We have a Police Station that was not there 20 years ago. We have different, different things that you will be shocked when you see it that is this Joga Orile that we know 20 years ago. Because then when I first came, all my friends abroad, any time they visit Nigeria, they always come to Nigeria to see me here in Joga Orile and they use to wonder how I will survive. They come to see whether it is true or not. One of them is now Oba, at a very close community to me. He is the Aboro of Iboroland."
"He too is now 5 years on the throne."
"We are all very happy that we all came back home and made it happen in our community. Things like that makes me to be very, very happy for this 20 years on the throne celebration".
How will Kabiyeesi celebrate the 20 years on the throne? "We would go to Mosque, Jumat service, church service. chieftaincy titles, football match, Reception, Healthcare Activities, then Grand Finale where K1 the king of Fuji will perform on the bandstand."
Why did Kabiyeesi combine the 2 events together? Why did he choose a 2-in-1 event? "My anniversary is December 21 of every year. My birthday is January 18th. So, my friends said they can't come to Joga Orile twice in the spate of one month. And many of them plan to fly in from the US to celebrate with me. My friends said why don't you do it at the same time. I did that before, for my 15th year anniversary and my 60th. This time around we are marking the 2 together again. My friends are coming from all over the world".
Are there new developmental projects that he is planning for Joga Orile? "A lot, but it is n ot my planning. Its Gods plan. A lot will be happening in Joga Orile soon. There are a l ot of things we are expecting that will happen in Joga Orile such as, Fuel Station, standard and beautiful nursery school, our Golf Course will be 9 Holes, more is coming. Many people like to leave the congestion in Lagos and go to places like Joga Orile to enjoy themselves. Its peaceful out here. It is Quiet."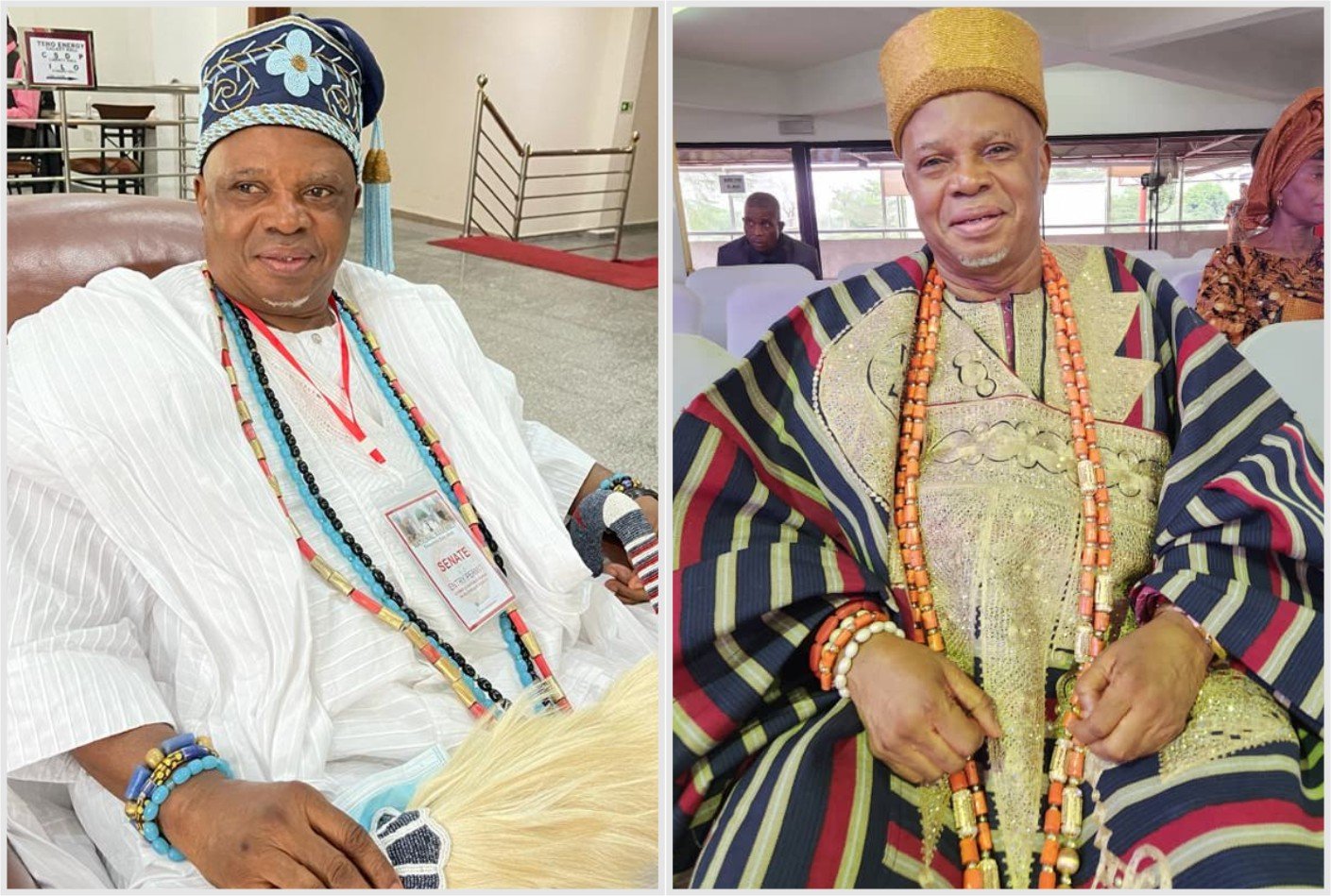 How does Kabiyeesi cope with the quiet and sombre nature of Joga Orile? How did a man who relocated from the hustle and bustle of America adjust to the dry life in Joga Orile? "Really, I don't know how I cope. 1st year it was tough. then 2nd year, 3rd I was shuttling between Joga Orile and Lagos every time.
After the 4th and 5th year, I adjusted. I stopped going to Lagos all the time. I started enjoying Joga Orile. Now, even if I go to a party outside Joga, I usually come back to sleep in Joga. Like they say, a place is what you make of it or what you make it to be. I always enjoy being with my people and with my people being around me. We enjoy ourselves here in Joga Orile. Now, Joga Orile is no more boring.
Now, Joga Orile is no more boring. Boring kee? Noo. You have people who you've known long, long time ago. They are always with you. The Kabiyeesi in Iboro to is an American born, he is an American returnee. He is always here with me and I also go and meet him. We always find someting to do here everytime. So, nothing like been bored.
Send Us News, Gist, more... to citypeopleng@gmail.com | Twitter: @CitypeopleMagz