As the lockdown lightens day after day, owambe parties are gradually returning. If you are someone who loves a good makeover or you are a party lover, you know an owambe outfit is never complete without a good makeover, even if it is a soft glam.
Below is the list of 30 makeup artists making headlines you may want to try out in the beauty industry.
ANITA BROWS
Adetola Anita Adetoye is the Creative Director of Anita Brows Beauty. She has created an award-winning brand in the beauty industry single-handedly with over 7 years of experience.
One cannot overemphasize the appeal of a well formed brow. Anita Adetoye is without doubt the queen of the eye. She is also the best friend of the celebrities because it is difficult to overrule her artistry. In an industry where most make-up artists make brows look os heavy and unnatural, Anita Brows effortlessly blow minds away with her light-looking, natural brows that perfectly frame the face. Anita Adetoye is Toke Makinwa's personal makeup artist and of course, we all know what that means without mincing words.
BM/PRO
Without the ever-classic Bimpe Onakoya who has touched nearly every prominent face in Nigeria with her magical hands, you can't talk about the makeup industry. Surely her talent and prestige precedes her.
Bimpe of BMPro is the first foreign makeup artist based in Africa to ever work for the New York Fashion Week and the Makeup Artistic Director Maybelline New York Nigeria. Even she was the head of Makeup for the week of Lagos Fashion & Design. She works with top designers including Lacoste, Mara Hoffman, Suno, J Mendel and high-profile models such as Alek Wek, Jourdan Dunn and Agbani Darego. She reportedly has a massive 1.1 million loyal fans number on Instagram.
Oshewa Beauty
Oshewa Olubunmi is an award-winning celebrity makeup artist with a jaw dropping amount of 373k Instagram followers. She is well-known for the timeless and distinct looks she makes. We've seen her work on her Instagram page and a flawless look is one thing you can count on.
JIDE OF STOLA
Okerayi Olajide Davidis an international! celebrity beauty artist based in Abuja with followers whooping 205k on instagram. He has spent 12 years in the industry. In a female dominated industry, we have to give it to a male causing too many waves. His flawless works were felt on famous faces, such as top government officials, foreign artists and local artists.
FLAWLESS FACESBY JANE
Jane Ogu is a talented Lagos-based make-up artist with over 11 years of industry experience and an Instagram followed by 153k loyal fans. She is well known for the sleek and dewy finish on her clients' skin. Star actresses, Genevieve Nnaji, Beverly Naya and Media Personality Mimi Onalaja are among so many celebrities who have become so fond of her soft glam signature that screams perfection. She currently partners with Nuban Beauty CEO to launch an affordable range of Nigerian beauty products. We absolutely cannot take our eyes off her impeccable plays.
OTENIARA MAKEOVERS
Oteniara Makeovers CEO, Adetokunbo Adelegan is an Amazing, Talent winning makeup artist and trainer based in Ibadan, Nigeria. She's been 8 years in the cosmetics industry and she's still raving. She is a strong favorite among celebrities and socialites in Ibadan.
In recent times, she has been one of the most sought-after makeup artists. Teni has mastered her craft very well, and one of the finest qualities that separate her from others is her special way of blending colors and gele artistry. She's already built up a stellar industry reputation.
ARIYIKE MUA
Everybody would rather like a brush of Ariyike on their faces. Ariyike is a professional makeup artist and beauty trainer. Her makeup beats are still super clean and have a surprise color pop. You're guaranteed to shine from inside out with her blending skills and her skillful use of highlighter.
With an impressive number of 145k followers on Instagram, there's something she's doing excellently right that it's very clear. Ariyike excels with the completely stunning, nude, super glossy sexy lips and yet a great natural look. We are betting you couldn't ask for more.
JOYCE JACOB BEAUTY
Joyce has a 70.6k follow-up on Instagram. She is well known for her classic makeup. Joyce has collaborated with high-profile clients including Mo Abudu, Idia Isien and our favorite African music sensation Tiwa Savage as Africa's leading award winning MUA.
Joyce has a flair for stunning yet elegant make-up looks and her signature style leaves her unique customers feeling different and confident while always looking like their best selves.
MAKEUPBYASHABEE
Abisola Akintunde is an internationally renowned beauty artist, she has been featured in Forbes' Under 30. This melanin beauty believes that less is enough and that is apparent on every look of her makeup. She opts for enhancement and not transformation, allowing her clients to shine through their true beauty. Her skin work is so beautiful and after her magic, one of the key things we can't keep our eyes off is the amazing glow that reflects off her customers faces. Her looks are totally beautiful and subtle! Abisola has really made her way through her beautiful arts with 182k instagram followers evidence.
EDENS GLAM
Eden is a talented makeup artist who, thanks to her winning ability, has made a name for herself in the industry to bring out the best in every single client and transform them into glamazons. Whether it's soft or bold glam, there's no denying her signature fire skills. She has worked with many celebrities including Toyin Abraham, Anita Joseph, Bimbo Afolayan. You want to look as if you were a classic baby doll? Edens Glam is ready to go! You could spot an Eden woman from a mile away. She has a plethora of 154k Instagram followers.
D'ARTISTE BY DODOS
Dodo Uvieghara is one of the best surrounding makeup artists who doubles up as a beauty vlogger. She also runs a Beauty Academy. Dodo is always proud to honor the skin you are in and specializes in making up skin rich in melanin. Second to none is her matching tone, her skin work is flawless. She has accumulated 100,000 followers on instagram so far.
BEAUTY AND THE BEHOLDER MAKEOVER
Ngozi Atinuke Oni is accredited by London Makeup Institute and is unquestionably one of Nigerian Makeup Industry's hottest makeup artists ruling and rocking. She understands deeply how important it is to look good and make customers beautiful with the help of scintillating makeup which she always provides with premium professional service. With 146k Instagram followers, she is also raving.
MEKKYAI_FANDY
This Nigerian beautician is renowned for painting the faces: of stunning Northern brides and has risen to be one of Kana's most sought after celebrity makeup artists through her hardwork. Under her belt, she has a fair selection of celebrity clients. She really do have an incredible run with a 151k fan base Instagram following.
TENNYCOCO
Her full name is Kashaam Teniola. Tennycoco is a makeup artist who entered the spotlight due to a bit of controversy. She revealed she had bleached her skin for years but stopped because she had actually realized that the way she is, is perfect. Now she advocates self-love and acceptance.
Teniola is one person who allows the glam to do all the talk.
_FIRENZE_
The incredible identity behind Firenze is Florence Kennedy. She is a makeup artist based in Lagos who is known for her smooth, glamorous and radiant makeup looks…
She's always been in high demand and she won't take the back seat very soon.
ARTISTRYBYTOLANI
Tolani has been collaborating with a lot of well-known celebrities like Tiwa Savage, Sophia Momodu, Yemi Alade and Waje. She was currently the makeup artist for the newest music video from Tiwa Savage, Koroba. She is the velvetlash company co-owner.
Her art on Instagram won her 12.2k fan base.
BAJMAJIC BEAUTY ARTISTRY
Odunayo Ogunsanwo, the 25-year-old lady (CEO Bajmajic) is a high-profile Nigerian makeup artist. She graduated with a B.Sc from Babcock University in 2015 in the field of computer science. The famous makeup artist learned makeup art during her NYSC, and since then she's been making waves in the makeup industry.
DORANNE BEAUTY
Doranne is also a Lagos based beauty artist. The brand, which has existed for more than seven years, has rapidly become a favorite of many celebrities, including the recent winner of Big Brother Naija, Mercy "Lambo" Eke.
B.E.A.U.T.I.F.I.E.D
Okere Chisom is the beautiful character behind the brand "beautified". She is based in Yaba, Lagos. With more than 118k followers on her Instagram, she is mainly known for bridal make-up. She is a beauty trainer, who frequently shares videos about her method of transformation. She is certainly fantastic at what she does.
B. AND.HH
Kasumu Aisha is a Nigerian Bridal Makeup artist as well as a Lagos-based beauty teacher. Some of our favorite aspect about her makeup is that she is a proof that beauty is not monotonous as she shows this aspect on large numbers of Muslims on her page through her artistry. We're sure her well over 81,000 followers on Instagram are just totally in love with the glow she's creating.
BREGHA
Bisola Omoregha is well known for her daring bold presence. She also has the ability to go from easy to elegant looks. She is currently collaborating with one of the world's leading international beauty brand where she's showing some of her amazing skills and artistry. Her art is the ideal example of glamour and intense. We are sure that her 42.2k followers are still astounded.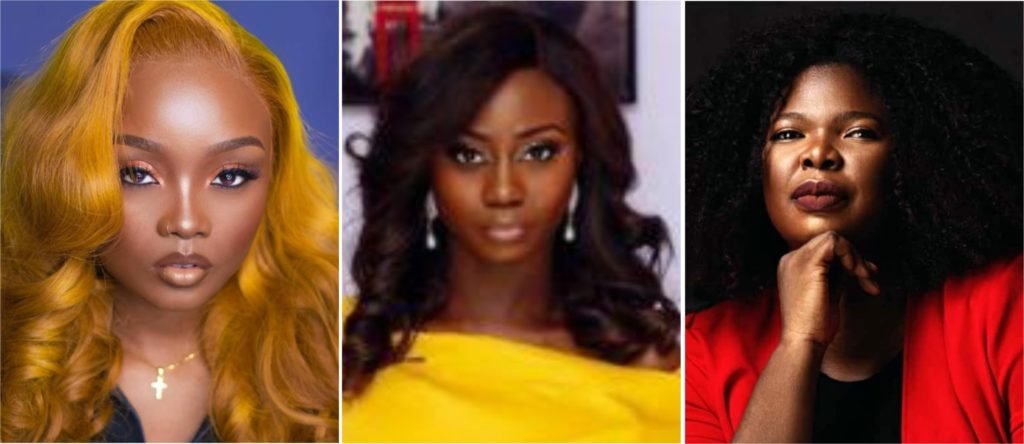 MAMZA BEAUTY
Fati Mamza is a Make-up artist from Abuja who inspires a life of wholistic beauty and complete well-being. She has worked on so many beauty queens in the north. She has well over 197k Instagram followers, including Mrs. 2MBI (Zahra M Buhari Indimi) who are loyal to her craft.
JOJOS TOUCH
Jojo is a professional Make-up artist and Jojos Touch Academy Director. You can't ignore her beautifully airbrushed look as every woman only wants the dewy finish of Jojo. With 297k followers glued to her page, she often shares short videos of her academy and her works.
TMTBYLAYINKA
Layinka is one of the best, youngest and imaginative makeup artists in Nigeria, with a 35.1k fan base on Instagram. When it comes to making up, she has proved to be a power to reckon with.
MAKEUP BY CHINNY
Chinny has spent a number of years delivering premium Makeup services in the beauty industry. She specializes in stunning natural looks, and has an Instagram fan base of over 43k.
DEBBYSEZ
She is a professional Lagos based Editorial/Bridal Makeup Artist. She's also a celebrity makeup artist as many times she's worked with several big babes in Nigeria in the likes of Nancy Isime, Chika Ike and others. She's vast in both plain and daring looks. She has more than 27.4k fans.
MAKEUP BY SHEEDA
With her special artistry in the way she paints her clients' faces, Sheeda is really making waves in the makeup industry. The end result gives one a shiny sultry lips that no-one can forget. She has also been in this business for many years and it is no secret that she is really a boss in this makeup industry who knows her onions. She has 23.2k Instagram followers.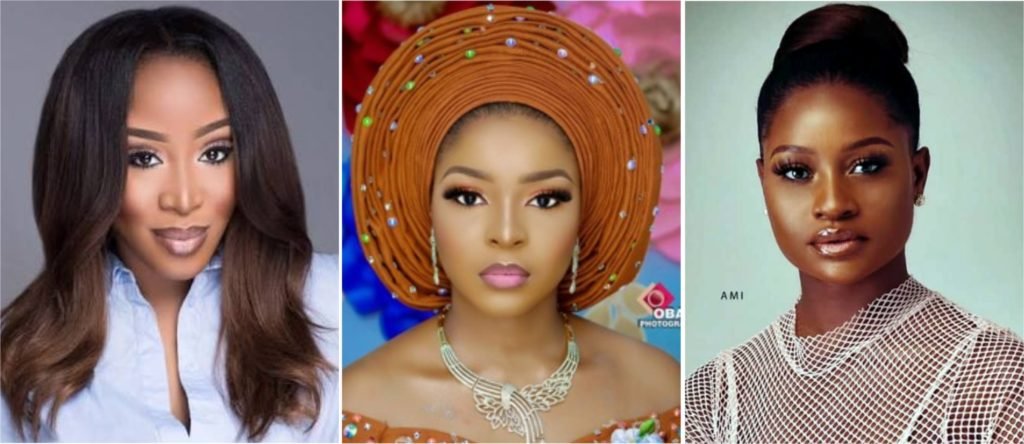 LAYEFA BEAUTY
Layefa Ebitonmo is a popular high-profile Make-up artist who is deeply rooted in culture as she depicts her love of culture in numerous photo-shoots via her talent portraying vibrant Nigerian bridal culture. She is also a beauty influencer on YouTube with over 180k loyal viewers watching her channel and 154k followers on Instagram.
T. ALAMODEBEAUTY Tito Madu in the Makeup Industry is sure a big dawg. Without including her, the list will not be complete. She has so many people who are dedicated to her art and she is brilliant at what she does. Tito became a personal favorite of celebrity Adesua Etomi who in turn became one of her well-known faces and has always shared her lasting love for the brand
Send Us News, Gist, more... to citypeopleng@gmail.com | Twitter: @CitypeopleMagz