"Behind every successful man there is a woman" by popular saying. Real estate business in the last century was dominated by the males and it was generally believed that the sector is strictly for men. Recently, women are beginning to take their stands in the business (real estate), more especially in Nigeria. In the other hand, it has now become a norm for every lady who married to real estate/property players to play the key role in their husbands firms. Majority of these women are directly, indirectly run companies with their husbands and they have created niche for themselves in that regard. While we also have those who are doing their separate businesses. Below are 20 beautiful wives of top real estate players, compiled by Isaac Abimbade
CHIEF(MRS) ABIMBOLA ADEYINKA
Chief (Mrs.) Abimbola Adeyinka is the pretty wife of Chief Toyin Adeyinka, CEO/Chairman of Sparklight Groups. Chief (Mrs) Abimbola Adeyinka is directly involved in the running of Sparklight, In fact, she is the Managing Director of Lapade Furniture Company Ltd. Chief Abimbola is a mother of 3, and she has created a niche for herself.
SADE GBADAMOSI
Mrs. Sade Gbadamosi is the Financial Director at amen estate. She personally handles the core aspect of the estate and she is the face of the company, Amen Estate. While her husband, Babatunde Gbadamosi, is the Chairman of Redbricks Homes International Limited, Developer of Amen Estate. Mrs Sade handles day to day activities of the firm.
MRS RONKE EMMANUEL KING
Mrs. Ronke Emmanuel is the beautiful woman of top Lagos property player, Oba Adetola Emmanuel King, CEO/Chairman of Adron Homes and Properties. This lady is always in the company of her husband. They party together and also go out to function together, in Lagos and beyond. Though, she may not directly involved in the running of the firm but she makes sure she attends every of the company's function.
VIVIAN MBAGWU
Mrs Vivian is one of the most active women in the real estate. She is directly involved in the running of Mr Kelechukwu Mbagwu's firm, CMB Building Maintenance Investment & Co. Ltd. The beautiful lady is down to earth and she holds a very key area in the company.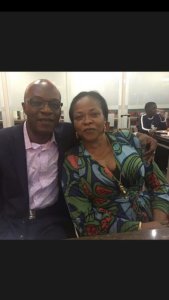 TOLULOPE ONALAJA
Tolulope Onalaja is the Executive Director at her husband real estate firm, called Revolution Plus Property Development Company Ltd. The beautiful, young and vibrant lady, celebrated her birthday few weeks back. We can confidently tell you that, she co-runs the company with her caring husband, Mr Bamidele Onalaja, who is the CEO/Chairman of the company.
OLUWADAMILOLA RUTH AJIBOYE
Mrs Oluwadamilola Ajiboye is the pretty lady behind the running of Efficacy Groups of companies. They are into construction and real estate. This young and pretty woman is very much involved in the running of the firm, Efficacy Homes.
CHIEF AYOTUNDE LAWAL
Chief Ayotunde Lawal is the wife of Chief Yemi Lawal, one of the biggest property players in Lagos. Chief Yemi Lawal is the CEO/Chairman of Seagle Properties Development Company Limited. He has transformed the face of Oniru axis to a world standard environment. This company is directly running with his amiable wife, Chief Ayotunde Lawal. Although, She runs her business but she still come back to help her husband.
CHUKWUNONSO ONNY-EZEH
Chukwunonso, popularly called Nonso is a top real estate player in the built sector. She is the CEO/Chairman of Assist-2-sell Properties Limited. She is one of the most sought after when it comes to real estate/property talks. This beautiful lady weds recently in the US to Sir Clement Ezeh, who runs a big Property company in the USA. Sir Clement is an architect by training. Presently, both of them are in Nigeria doing what they know how to do best.
OMOWUNMI ODUTOLA
Mrs. Omowunmi Odutola is the wife of a renowned property player, Damilola Odutola. Chief Damilola is the owner of Queens Drive Estate,Queens Park Hall and so on. Though, she runs her own business but she is indirectly involved in the running of her husband real estate empire. She was conferred the Yeye Fibiwogba of Ijebuland recently along with her husband.
KATE ELETU
Much as not been heard or said since this beautiful woman married. Kate Eletu is the pretty wife of Prince Kazeem Eletu Odibo. She relocated to France few years ago. The mother of two is very much in charge in the running of her husband properties in France. Her husband is the CEO of Kazeem Royal Properties Limited. This lady singlehandedly runs day to day activities of her husband property business in France.
ICHECHI OKONKWO
Mrs Ichechi Okonkwo is the wife of Mr Kennedy Okonkwo, CEO/Chairman of Nedcomoaks Properties. The company is one of the top real estate developers in Lagos. It has built and sold a lot of housing units in the few years of operation. Apart from the laundry business she runs, this beautiful lady also contributes her quota in the running of the firm. She holds a strong position in the company.
DESIREE OSUNSINA
Talk of properties firms that has invested heavily in the property sector over the years in the Lagos axis and Ibadan. It is Megamound. Her husband, Olumide Osunsina is the CEO/Chairman of Megamound Properties Development Company. We can confirm that, he runs the company with his beautiful wife, Desiree. Recently, Alake of Egbaland,Oba Aremu Gbadebo, installed Mr &Mrs Osunsina as Asiwaju Bobagunwa of  Egbaland and Yeye Asiwaju Bobagunwa of the kingdom respectively.
SUSAN ISAAC
Susan Isaac is the wife of Mr. Ifeanyi Isaac, CEO/Chairman of Ifitech Properties. Susan is not only involved in the running of the company, she is also the General Manager of the firm. This pretty and fair in complexion woman is very vibrant when it comes to running her husband business.
BERTHE CHAGOURY
Berthe is the pretty wife of Ronald Chagoury of Eko Atlantic project. This two have been together for a while. Berthe is the daughter of Blanche Eduard Awad. They are blessed with two children.
MRS LIZZY SHONEKAN
In 2010, Dr. Lanre and Mrs. Lizzy Shonekan started Lashone Links Limited, with a subsidiary in real estate called Lashone Links Properties Limited. Both of them serve as GMD/CEO  and SHRM respectively, after been shoved off real estate development and strategy. But we can authoritatively confirm to you that this pretty lady, Lizzy is always on top of her game. She represents the company when her husband is unavailable and they take crucial decisions together.
JOKE OKEOWO
Joke is the beautiful wife of Chief Olu Okeowo, CEO/Chairman of Gilbraltar Construction, a real estate that focuses on high-brow area for development. Recently, with the help of this woman, Joke, Chief Okeowo completed his 6 Billion naira dream home in Parkview, Ikoyi. We can tell you that both of them run the company hand in hand.
ADEBUNMI JAIYESIMI
Adebunmi Jaiyesimi is the beautiful wife of Mr Owolabi Jaiyesimi, CEO/Chairman at Legacy Properties Limited. Though, Mrs Jaiyesimi is a banker but that did not stop this wonderful lady to contribute her quota, she is indirectly involved in the running of Legacy Properties Limited with her amiable husband.
Send Us News, Gist, more... to citypeopleng@gmail.com | Twitter: @CitypeopleMagz