Before his death last year, Primate Emmanuel Omolaja Aremu Olorunwo had started work on his Biography. The book has just been completed. It is a 150-page book, that has a Foreward written by Chief Olusegun Obasanjo, who was a close friend and associate of Primate Olorunwo. They are both from Owu. According to OBJ, Primate Emmanuel Omolaja Aremu Olorunwo, the Prophet, was a man of honour and worthy to be honoured.
"This book, "The Life and Times of a Prophet", is a testament to the magnitude of the impact of mission and work.
"Primate Emmanuel Omolaja Aremu Olorunwo did not fail to epitomize wisdom, reliance, supportiveness, nativity and true African culture of a Yoruba thorough-bred. Though tenacious in character, he remained emphathetic and consistently showed the attributes of both a compassionate leader and a spiritual and social builder. He was a great community builder as evidenced in his role within Owu community of which I am the Balogun, Prime Minister."
"Primate Omolaja spread not only happiness and hope, but he made significant contributions wherever he went and wherever he was."
"He was a very good family man and his family can at least say that he was an indefatigable and dedicated builder-teacher, guiding and helping them to be the best that they could be. Beyond his family, God used him tremendously to transform the lives of others through Christian virtues and spirituallity. God always answered his prayers and petitions, which always brought peace, equanimity and great rewards. We have evidence in his Church, the Olorunwo Cathedral Church, his community, the Owu community and in the lives of men and women, old and young, that associated with him. He left a legacy of a fulfilled Christian life in the service of humanity and God."
"This book is meant to give the background of the man and how God empowered him to be what he was and to achieve what he did achieve. It is a book to give glory to God for the life and work of Prophet Omolaja Olorunwo."
"His attributes of humility, forgiveness, integrity, hospitality, kindness, and hardwork distinguished him and set him apart and made him an extraordinary man. 'The development and contributing factors to good character is the continual process of understanding the components and actions of love, faith and selfless commitment". These are components and virtues that provide the guidance for his life of compassion, integrity and total submission to the will and commandment of God."
"All men and women of faith must live lives that make what they find better when they leave than when they meet them. That was Primate Olorunwo's life and work sketched here. He lived to uplift others."
Let's tell you more about Primate Emmanuel Omolaja Olorunwo, a prophet who God used to heal many people, prayed for several people and they received their miracles, and brought life to dying souls,
all through the power of God. In addition, he was a highly esteemed husband, father, grandfather, brother, uncle and friend.
Sometimes, when he encountered someone whose situation seemed hopeless, he did everything in his power to ensure the person received help, and also prayed for advancement in their life. A High Court judge lost her sense of speech and couldn't talk to adjudicate on any case. To the glory of God, Primate prayed for her and she regained her speech. A Superintendent of Police close to
retirement received the grace for promotion when Primate (badura) prophesied that she would become a commissioner of Police, and to the glory of God, she retired as a Commissioner of Police. There are many stories to tell from his life, but more importantly, many lessons to learn. He would be overjoyed to see that his life has become a legacy, not only impacting people while he lived, but also transforming lives after his demise.
As you read through, you will find something that Primate would want you to learn and emulate: a belief, a behaviour or a truth.
There are so many examples of Primate Olorunwo extra-ordinary powers, like the day Baba Primate Olorunwo was having fun with his family, at home and a call came in on a landline. Well, there was no mobile phone then, it was the national carrier, Nigerian Telecommunications Limited, and Baba had to go and pick the phone. The family noticed that the expression on Baba's face changed and he went straight inside his prayer room. When Baba came out of his prayer room, he explained what the phone call was about. Baba mentioned the name of a particular church member, and said "won ni ko ma le ri ran mo"-meaning that she is blind. Baba proceeded to the hospital with some anointing Oil and special water from his prayer room to visit and pray for the afflicted church member.
The member on hearing Baba's voice started crying, "Baba, I can't see again and diagnosis reveals there is no solution for the optical condition". Baba's words to the woman was "fi okan bale"-meaning relax and be calm, Baba prayed for her and gave her and the people around her instructions on how to use the spiritual water and the anointing oil he brought for her. Baba Primate (B'adura) emphatically said to her that before he (Baba) slept that night they would call him that God has restored her sight. Anxiously, the family was waiting for the call while B'adura was calm. To the glory of God, the phone rang like never before and the husband of the afflicted woman who lost her sight glorified God that his wife could see again. This testimony was soul-lifting to other worshippers, family, and friends of the woman who regained her vision.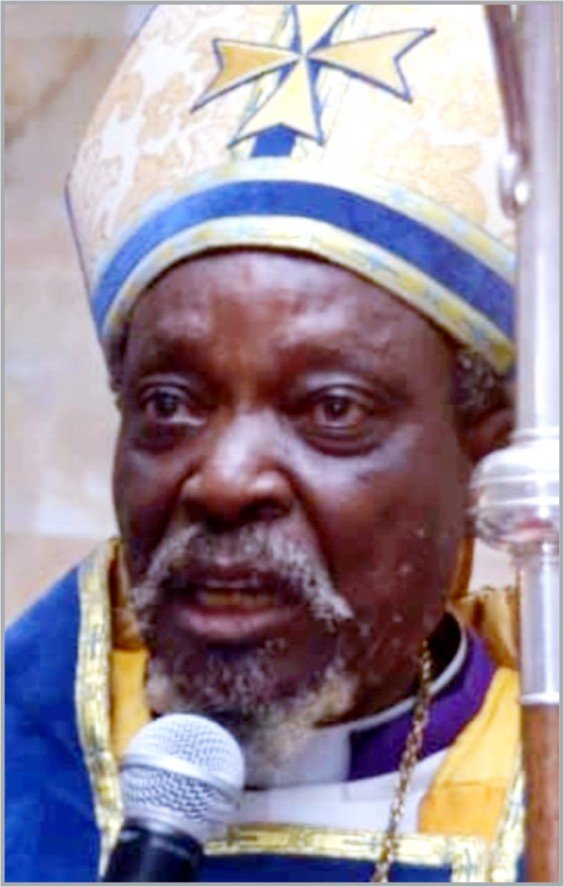 In his lifetime, Primate Omolaja Olorunwo had 10 Care Life Values worth emulating:
(1) FAITH
The several miracles documented in this book prove that Baba had an undaunted belief in the power of God. Baba exhibited a l ife of an uncompromising faith in God.
(2) HONESTY
Baba was an open-hearted man. he lived a visible and accessible life. There was no act of immorality found in him. Indeed, he lived an exemplary life, in and out.
(3) FORGIVENESS
This is one thing Baba was known for, he forgave wholeheartedly. After forgiving, he embraced his offender and showed he still cared.
(4) CLEANLINESS
As it has always been told that cleanliness is next to godliness, Baba lived with a pure heart and clean hands. Little wonder he was never stranded.
(5) RESPECT
He never abused any of his access or privileges. He was disciplined, and he ensured to set boundaries in order to live a worthy life.
(6) LOYALTY
Primate was a loyal man to God and everyone he had encounter with. He was loyal to the duties given him; not because of the reward, but that was his character.
(7) INTEGRITY
Baba was an incorruptible, and firm man. He was diligent; he never allowed fame or popularity get into him or even made him misuse power or honour.
(8) CONTENTMENT
He lived within his means. He lived a life of satisfaction despite the great privileges he was exposed to.
(9) HUMILITY
Baba was a humble man to the core. He never raised himself high after any miracle was done. He lived a life of total submission to God in humility.
(10) FAMILY
As a family man, he ensured that his family and those around him never lacked, and that the church of God was not left to suffer.
Send Us News, Gist, more... to citypeopleng@gmail.com | Twitter: @CitypeopleMagz