This column is doing the unusual today, as it will, for the first time, endorse a candidate in an election. For the years that this column has been running, I've refrained from publicly supporting any candidate due to a plethora of reasons. But this is being jettisoned because of Gboyega Nasir Isiaka, who is contesting to become the Ogun State governor under the platform of African Democratic Congress (ADC).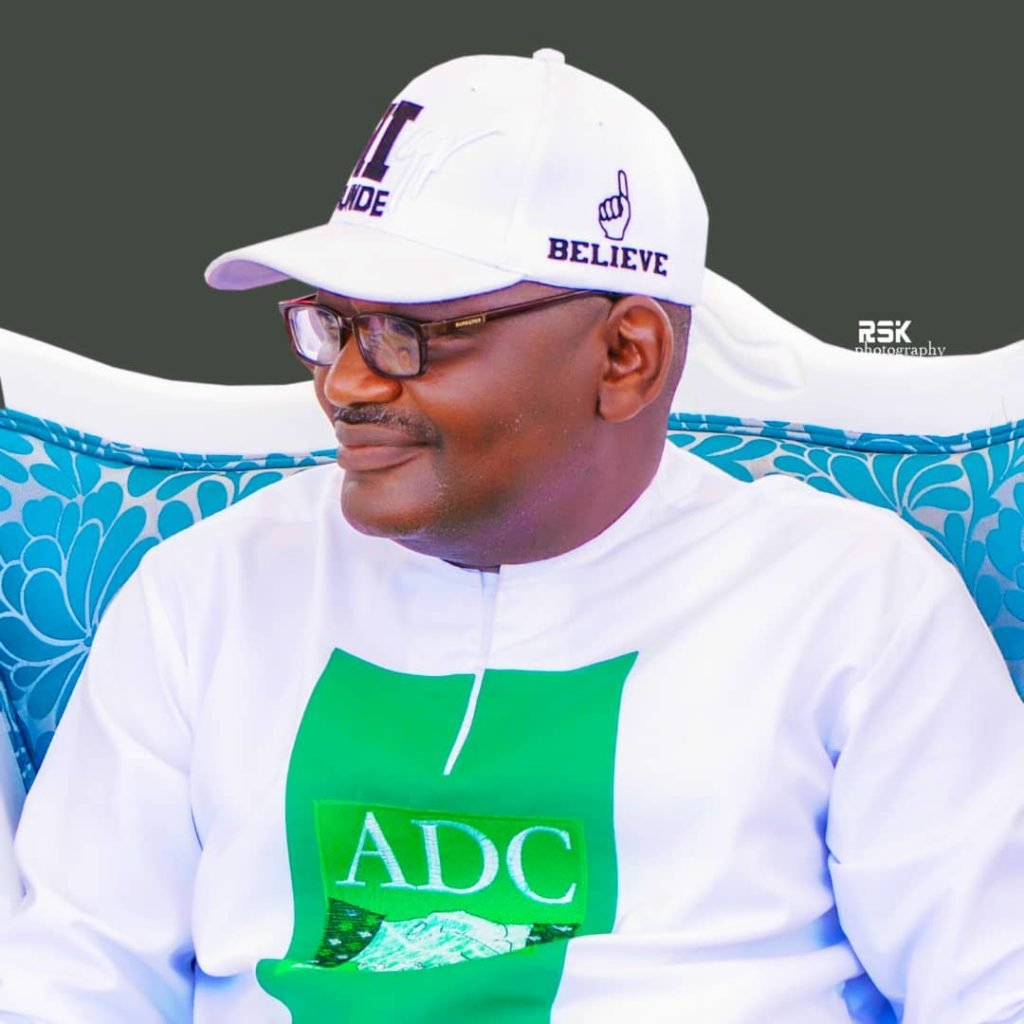 As regular readers of this column know, Ogun State issues have been the focus for a while now and it was so for different factors. One of such is the panjandrum of a governor the state is saddled with whose major offerings remain vapid especially in the last four years. He fought everybody and had to wait till the leadership of labour unions in the country threatened to shut down the state before signing an agreement earlier this week.
Pray, how does one trust a candidate propped up and anointed by an outgoing governor who deducted money from civil servants' salaries and failed to remit such to their cooperative societies for 105 months just as their contributory pension? Staff of Tai Solarin University of Education seemed to have been forgotten permanently as only God knows when last they received salaries and yet after eight years, the onifila gogoro still want to install a stooge as governor?
But Ogun citizens have a choice, a man who is willing and ready to serve in Gboyega Nasir Isiaka, GNI. An accountant who is reticent as most accountants are, spending time with him in his Isheri and Abeokuta homes last December revealed a person who knows not only what ail his home state, but also what ought to be done to take it out of the woods.
As a regular visitor to the state in the last five years, I've visited Ogun at least once a month apart from whenever I'm outside the country, I can attest to the fact that the last four years have not been the best for the state whichever angle one chooses to look at it. The strife and acrimony, which culminated in stoning President Muhammadu Buhari at a campaign rally was not a surprise to those who can discern well. The personalization of state power with all the apparatus therein is reflected in skewed development across the state. Many areas have been forgotten in the so-called renewal efforts of the outgoing government.
It is curious too that a people as sophisticated as Ogun people could also parade a candidate whose educational attainment is shrouded in opacity as a candidate in Saturday's election. Someone who lies brazenly about his certificates and refuses to clear the air seeking refuge under the usual legal lingo of "the matter is in court" when asked to explain the issue cannot be trusted with the affairs of Ogun State. Another candidate is said to be seeking the governorship office solely to escape prosecution from drug-related offences, so much for the race to occupy OkeMosan government house.
A state, which in the last eight years failed spectacularly in taking advantage of its contiguity to Lagos, needs someone who can think outside the box to lead it going forward. Isiaka's plan for the state is contained in a manifesto he presented on Saturday, December 1, 2018 which is christened "7 Steps to Abundance" wherein he says, "In my view, the fundamental aim of governance is about development, and I believe it is about creating an environment in which people can develop their full potentials and live a healthy, happy and productive lives in accordance with their belief and interests; but this can only be sustained if it meets the needs of the present, without compromising the ability of future generations to meet their own needs."
"With an external debt overhang of $107.5 million as at December 2017 (up from $103.4 million in 2016) coupled with an increase in domestic debt that rose from N58.38 billion in 2013 to N106.53 billion in 2017 (totaling N140 billion as at 2018), Ogun State's debt servicing costs will create big dent in future revenue prospects and may hamper future developmental plans because domestic debt servicing is accelerating at 18% every year.
What this indicate is unsustainably high executive financial mismanagement." The seven steps to abundance are: Excellence in Education, Healthcare, Water and Sanitation, Employment Opportunity and Social Security, Agriculture and Rural Development, Infrastructure including Power, Rapid Development of our Border Towns and Cities and Good Governance and Value Re-orientation.
Beyond sloganeering, GNI offers a workable plan devoid of grandiose promises but clear pathways to achieving them. A first class 1986 accounting graduate of the then University of Ife, he was an investment banker before appointment by Governor Gbenga Daniel as special assistant on investments in November 2003. He became pioneer chief executive of Gateway Holdings Limited, the investment company of Ogun State, in April 2004.
Isiaka, who is from Imeko in Imeko Afon local government, contested in 2011 and 2015 for the governorship office and has never lost sight of his humble background. Hopefully, Ogun citizens will do the needful on Saturday and enthrone a new administration free from the locust years of the outgoing administration
Send Us News, Gist, more... to citypeopleng@gmail.com | Twitter: @CitypeopleMagz