Nigeria's young and vibrant leading economist, Paul Alaje has bagged the highly revered OFM award in grand style. The resolute and articulate crusader, who was nominated by one of the Nigerian young entrepreneurs, Kolawole Olaleye, bagged the award on Wednesday, May 9, 2018 at the Lagos State Chambers of Commerce after a fleshy presentation at an economic summit held in Lagos.
From the brief on his life and attainments, there is no denying the fact that Paul Alaje belongs in the class of Nigeria's very bests. He is an asset of invaluable candour to Nigeria at large. He is one of the finest specie of economic geniuses in Nigeria with a humility that defies simple logic.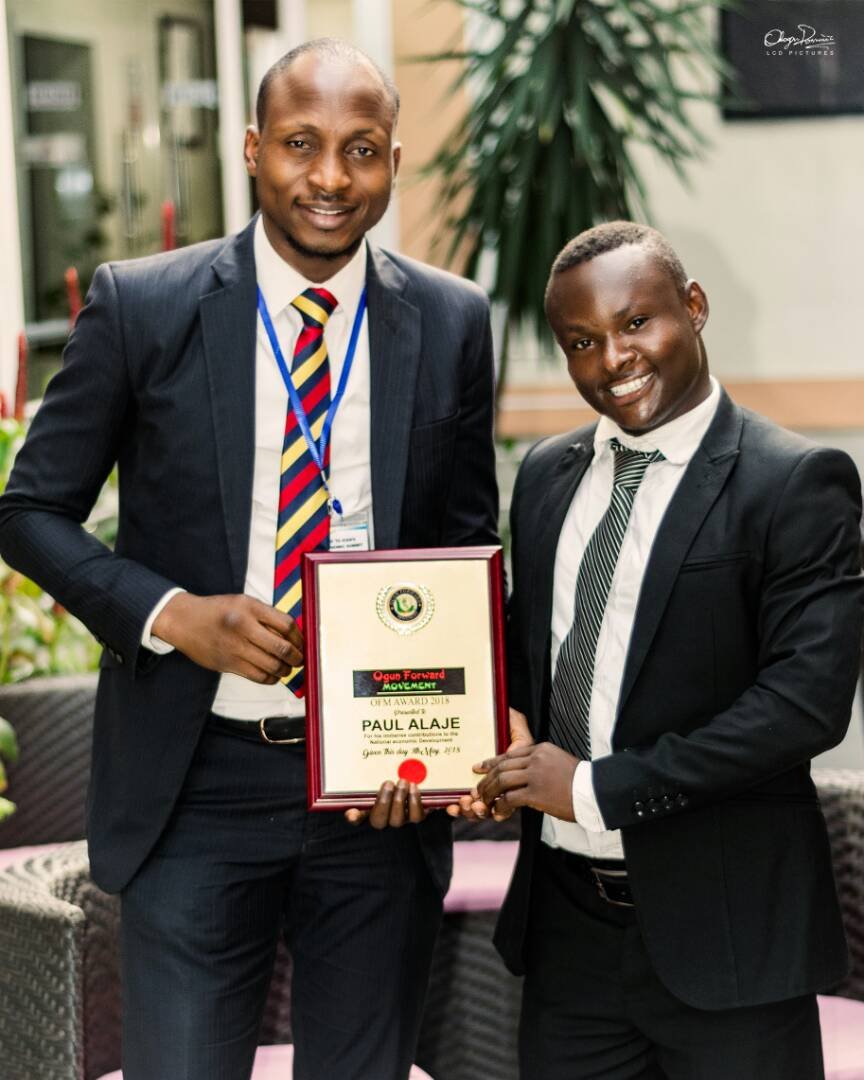 While thanking the body which deemed him fit for the award, Paul advised Nigerian youth to eschew all the pseudo-modern vices that distract them these days, and by consequence, threatens the future of Nigerian economy.
He advised the youths to equip themselves academically and vocationally so as to fit into the existing system and the progressive future we all look forward to.
Paul has through his academic proficiency cultivated a world of graduates who are doing excellently well in various shades of human endeavours. His contribution to shaping the economic policies of government of nations all over the world is a testimony to his innate endowments.
He is such a huge assets to Nigeria that one can safely conclude that it is a rare privilege to have a man of his academic and business proficiency take time off to offer his invaluable experiences to serve his people by taking governance to greater heights through practical involvements, which he began while he was an undergraduate student of the prestigious Obafemi Awolowo University, Ile-Ife.
Paul Alaje is a Senior Economist with SPM Professionals, Fellow of International Management Consultants Board (FIMCB), USA. He is also a Fellow of Institute of Economists (fce), Nigeria. Paul is a business, financial and economic development consultant. He is a professional speaker, systems development for peak performance and total business success expert. As an unrepentant entrepreneur, he operates in media independent, outdoor advertising as well as creative media, pharmaceuticals, financial services and professionals services. He is on board of several companies. Paul is an author and a teacher.
Currently, Paul is undoubtedly Nigeria's leading Business Developer. Between 2012 and 2017, Paul and his team developed and transformed more than 4000 businesses (85% of which are MSMEs). He achieved this with the support of several government agencies such as AEA, CBN and many others.
Paul is touching lives and destinies with his teaching and development tools via different media- Radio, Television, social media, conferences and events.
He is one of the highest contributors to national economic development in Nigeria. He is at the forefront of this discussion and economic thinking. No wonder, he was awarded the Economist of the year by the of Institute of Economists – 2016, Distinguished Entrepreneurship Award of the Year 2017 by National Association of Technical and Vocational School proprietors of Nigeria and NABTEB. He was also award Nigerian Meritorious Award in Community Action in 2016.
Paul and his team have chosen professional services, economic development, revenue generation, media, health insurance, finance and investment, pharmaceutical, real estate, manufacturing and aeronautics as sectors of interest to better human lives.
Paul has a background in economics, Media, Management and Finance. He has also consulted for governments at various levels, Financial Institutions, Aviation Firms, Manufacturing Companies, MDA's, Corporations locally and abroad.
It is in this vein that OFM, singled him out of many, to honour him with an award of excellence for his immense contribution to National Economic Development
Send Us News, Gist, more... to citypeopleng@gmail.com | Twitter: @CitypeopleMagz