Renowned Life coach, Ambassador Solomon Adedayo has received a well-deserving award from the popular Crystal Edge Professional Services. He is recognised as an influential business strategist, leadership expert, brand influencer and motivational speaker. He speaks at various management and leadership retreats within and outside Nigeria.
Receiving the award, he took to his social media handle to pen down emotional and inspiring note to encourage Nigerians on the need to be diligent and dedicated..
He wrote:
UNIQUE AWARD
On the 23rd of September I receive a letter from Crystal Edge Professional Services (Crystal Edge Professional services has 2 online school namely PCD Academy and My Branding Academy where we train individuals on personal development and branding respectively.
Please visit our website for more info on what we do www.crystaledgeprofessionals.com
I was elated because I have been doing a lot of training online via WhatsApp and Facebook Live respectively.
I receive the letter that I was nominated for an Award as Coach Of The Year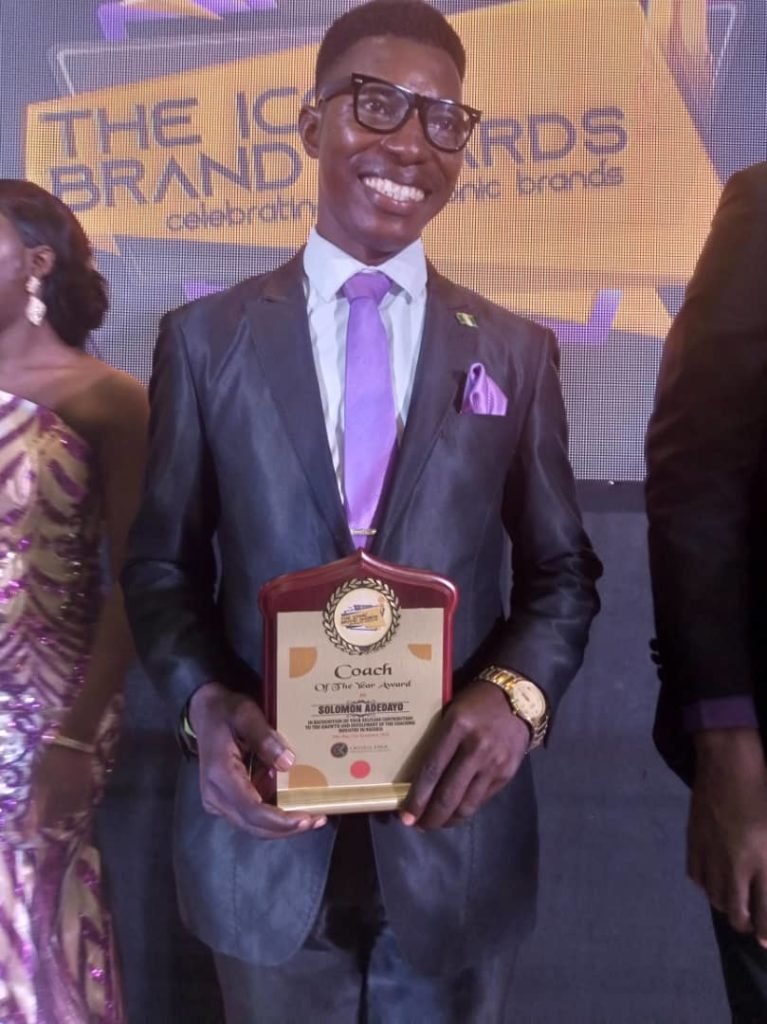 𝐘𝐨𝐮𝐫 𝐥𝐢𝐟𝐞 𝐢𝐬 𝐲𝐨𝐮𝐫 𝐆𝐎𝐀𝐋, 𝐢𝐟 𝐲𝐨𝐮 𝐝𝐨𝐧'𝐭 𝐬𝐜𝐨𝐫𝐞 𝐢𝐧 𝐭𝐡𝐞 𝐩𝐨𝐬𝐭 𝐨𝐟 𝐲𝐨𝐮𝐫 𝐚𝐬𝐬𝐢𝐠𝐧𝐦𝐞𝐧𝐭 𝐧𝐨𝐛𝐨𝐝𝐲 𝐰𝐢𝐥𝐥 𝐡𝐞𝐥𝐩 𝐲𝐨𝐮 𝐭𝐨 𝐝𝐨 𝐢𝐭 𝐞𝐱𝐜𝐞𝐩𝐭 𝐲𝐨𝐮𝐫𝐬𝐞𝐥𝐟 𝐚𝐥𝐨𝐧𝐞
— Solomon Adedayo
Before the day, I was ask to pay for ticket to the event, but I was very rich, for almost three week I was unable to raise 35k ticket for table of 3 person.
After my program on Facebook Live on Wednesday, the spirit just prompt me on Thursday to talk to the Organizer of the Award which is 2 days to the event.
I send a voice note to her on WhatsApp that I don't have money for now, but by Monday I will try to pay the ticket fee to the dinner award
But before then I told her that I can't afford a table for 3 that only me will come to the event, she ask me to pay for VIP ticket which is 25k
Fast Forward to the 21st of November which is the award day, I was late to the event center
To my amazement the MC have call the last Awardee on the list before the next thing on the list, I went out to snap picture with some colleague at the red carpet.
Coming back to my seat, it was raffle draw time, just because my ticket is VIP ticket it comes with raffle ticket to win a plot of land.
During the raffle draw a girl of 7 year old was standing to pick the raffle draw to my amazement the number on my ticket was pick and I become a Land owner in Ibeju Lekki.
Then the Organizer remember that I have not even receive my Award and my award was given to me before the presentation of the document for the Land.
The Organizer is the Ambassador to the Real Estate Company, The Land was courtesy of KingsBuilder Marketing and Properties Ltd(Orisun Estate)
I give all thanks to God, because I was dumbfounded in the first place as I was been celebrated and everyone is hugging me and giving hand shake as well.
This is one the gift of the year that come with unique testimony.
I celebrate and value everyone, both my fans and follower across the Globe.
Ambassador Solomon Adedayo.
S.Y.S.T.E.M Coach
Send Us News, Gist, more... to citypeopleng@gmail.com | Twitter: @CitypeopleMagz