•As He Holds A Show-Stopping 40th Birthday
•Dazzles In N20 Million Outfits
If you do an internet search for the best celebrated birthday of 2018 in Lagos, the result will give you Prince Kazeem Eletu-Odibo's 40th birthday celebration held on 17th February at the Civic Centre, Victoria Island, Lagos. It was also the day he officially unveiled his Prince Kazeem Eletu-Odibo Foundation to help humanity.
City People Senior Reporter, Isaac Abimbade, was present to give you hot gist from the event.
Prince Kazeem Eletu-Odibo, was born on the 14th of February, so this year's celebration fell on a Wednesday and he had to postpone it to the 17th of February to celebrate it in a massive way.
Prince Kazeem is from the royal Eletu Odibo family which historically serves as the Chief Kingmaker who crowns the Oba of Lagos. His family inherited over 250,000 hectares of land from their late father, Chief Bamidele Gbadamosi Eletu-Odibo, which makes them one of the biggest land owners in Lagos. Prince Kazeem Eletu Odibo is the last son of their father but he had a rough start.
He grew up in Ajegunle and he started life as a scavenger. He was doing this to make ends meet while growing up. He later worked at a car wash, where he helped them to wash vehicles. From there, he was introduced to a bus conductor job while he was still in Primary school. He moved on to become a danfo driver later. He was a bus conductor for 3 years and drove Danfo for 9 years. He became a danfo driver when he was in secondary school. This Prince loves to remind those who care to listen that, he has been through it all in life.
One of the unforgettable moments was when his mum had to fight his then 'Oga' to desist from taking him out as a bus conductor. Prince Kazeem Eletu-Odibo had many times slept inside buses and under the bridge in Ajegunle. His mum, Mrs. Janet Eletu-Odibo, worked at a local restaurant; where she would pack all the remnants to feed her children at home. She had also sold groundnuts to survive. So, after years of struggle and hustle, Prince Kazeem was reintroduced to his family in Osapa, where he got to know a lot about himself.
Few years after he started selling land, he became very rich. He started his first business in Bogije town, where he started a car wash. After then, he built his first house and before he could complete it, it had all been taken. That was when he knew he would fulfill his purpose in that area.
A few years back this young man decided to trace his root back to Benin where his forefather (Eletu-Odibo) originated from in order to resurrect the legacy his father left behind. So, his first assignment was to visit Benin. He met with Esama of Benin and later met the new Oba of Benin, Oba Ewuare II. He was well received and also got royal blessings for remembering his family root.
He has, since then visited and met a lot of highly placed Nigerians and he has been celebrated over and over for his kindness and philanthropic projects. He likes to put smiles on people's faces irrespective of their tribe, ethnicity, and language.
He has built and constructed many roads and drainages in Osapa London. Today his name is synonymous with Osapa. He has become the carrier and the face behind the name Eletu-Odibo.
His popularity and kindness has earned him lots of awards in Nigeria and overseas, such as; ECOWAS Youth Organisation, the Yoruba Council, and the Nigerian Youths, just to mention a few. He recently was awarded an Honorary Doctorate Degree and United Nations Ambassador honour in Washington DC, USA on November 18, 2017.
PRINCE KAZEEM ELETU-ODIBO GETS BLESSINGS FROM MUM
It was a very special day at Civic Centre when Prince Kazeem had his birthday celebration and the unveiling of his foundation. The pride of Eletu-Odibo family (Prince Kazeem), arrived the venue in his white Rolls Royce car along with his entourage; he was a cynosure of all eyes, as he appeared in a white outfit called "Saudi Prince". His mother, Madam Janet Eletu-Odibo, was the first to receive him where she prayed for him.
HAVE YOU MET PRINCE KAZEEM'S MOTHER BEFORE?
Her name is Mrs Janet Eletu-Odibo. She is quiet, easy going and a prayer warrior. She is the pillar behind the success of her son, Prince Kazeem.
Before the commencement of her son's birthday, she was approached by Journalists and she opened up to them. She said "my son has never let me lack anything; he takes good care of me. God will keep and guide him from every evil eyes".
Mrs. Janet was beautifully dressed in an expensive off-white gown outfit, called "Senator's Wife" which cost 500 thousand naira. It was a beautiful gown embellished with dazzling stones.
PRINCE KAZEEM ELETU-ODIBO DAZZLES IN 20 MILLION NAIRA OUTFITS
It was the moment of joy for this Lagos Prince at 40. Shortly after his mum prayed for him, he went back inside his car and later stepped out where he spoke briefly to the media about his mission and desire in life. He said he would continue to give to the less privileged in the society and his love for humanity is unquantifiable.
He also spoke about his new foundation, Prince Kazeem Eletu-Odibo Foundation, how he intends to use it to empower the vulnerable in the society.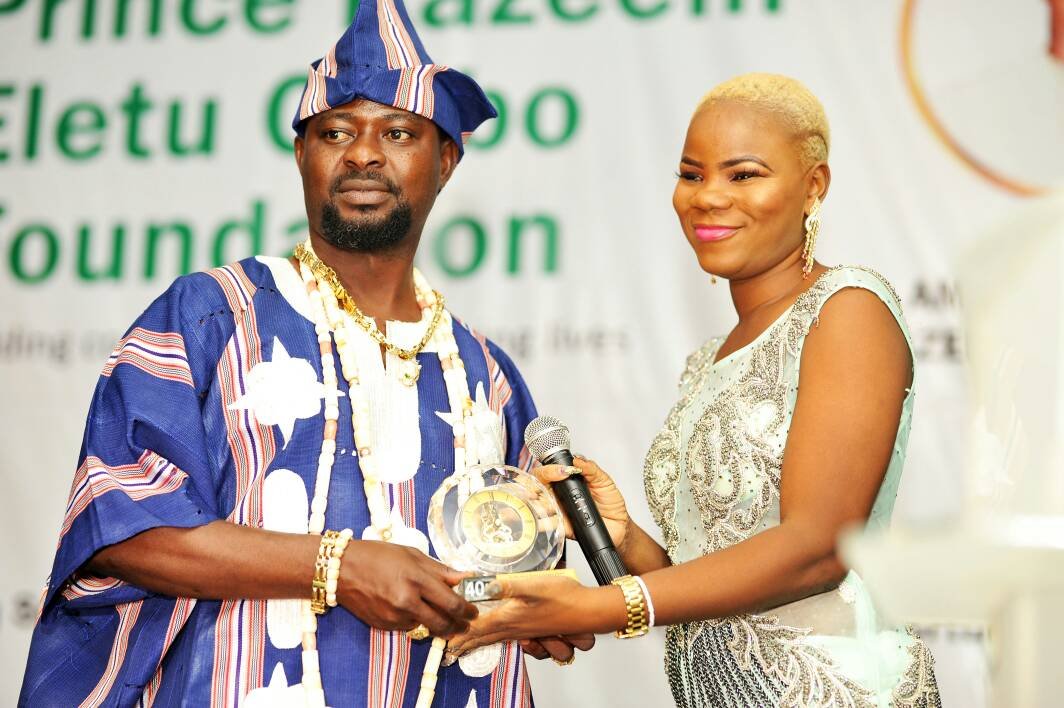 Shortly after that, he was led to the main hall, where his fans, staff, well wishers, friends, family and his newly launched foundation beneficiaries were waiting for his arrival. Though, he didn't disappoint them when he arrived; he made sure he greeted almost everybody on their seats and his arrival officially kicked off the event.. Soon after, he changed his outfit to a white and simple agbada, called 'His Excellency'. Few minutes after, he changed to 'Sanyan', a Yoruba traditional outfit and later changed to corporate outfits. And he complemented each outfit with matching Shoe gold-chains and wristwatchs. Altogether, these outfits did cost 20 million according to the popular Yoruba actress, Liz Anjorin, (Liz Anjorin Clothing) who supplied all the outfits.
AGIDIGBO BAND WAS ON BANDSTAND
To the surprise of many attendees who were expecting to see top artistes perform, Prince Kazeem preferred to rock his 40th birthday with Agidigbo musical display. They gave good account of themselves; It was a typical African display from the band.
There was also another performance from a group called Gelede Dancing Group. It was a cultural dance group and they got many eyes turned. Gelede dancing is synonymous to Eletu Odibo family.
WHO IS AMBASSADOR NURAIN ABAYOMI?
Amb. Nurain Abayomi is an uncle to Prince Kazeem, and he's like a father to him as well. They have been very close for a long time. He was the special guest of honour on that day.
ADEDOYIN KUKOYI ANCHORS THE EVENT
Popular Gbajumo Osere TV host, Doyin Kukoyi was the host. The beautiful and dynamic lady added glamour and razzmatazz to the programme. She was beautifully dressed in a green outfit, she contributed brilliantly to the success of the programme.
OMOBOLANLE ADEBAYO WAS EVERYWHERE
This beautiful socialite lady did a very brilliant job. She was coordinating; making sure things were well done, from the start to the end. Mrs. Omobolanle is one of the close aides of Prince Kazeem.
PRINCE KAZEEM ELETU-ODIBO FOUNDATION WAS UNVEILED
The foundation to help humanity and those in need was officially unveiled. Amb. Nurain Abayomi launched it with 2 million naira, Chief Waheed Eletu-Odibo, Alhaji Mudashiru Eletu-Odibo and Prince Ademola Eletu-Odibo gave 1 million each. Also, Prince Kazeem's childhood friend, Pastoryoma contributed, he gave the foundation 4 hundred thousand naira. And many others too contributed.
Over 40 beneficiaries were empowered in their various professions with instrument of work.
LIZ ANJORIN DAZZLES IN 700 THOUSAND NAIRA GOWN
One of the high points of the event was the outfits and appearance of popular Yoruba actress, Liz Anjorin. It was a beautiful gown and many were lobbying to take pictures with her. The beautiful gown she called Oh-Baby cost her 700 thousand naira. Don't forget, she supplied all the outfits used by the celebrant and she herself donated over 100 giant wall clocks.
ALHAJA WASHILAT ELETU-ODIBO DID WELL
She's a big sister and No 1 fan of Prince Kazeem Eletu-Odibo. She was one of the most joyous attendees on that day. She was everywhere making sure everybody was well attended to.
Also present were Bisi Olatilo, Daddy Showkey, Otunba Rotimi Paseda (Ogun State Governorship Aspirant), Pastor Ajayi, Mr. Joshua Okeowo, Madam Bisi Adeola, Seyi Joseph, Barrister Dotun Hassan, Akogun Laolu Onadipe, Bukky Ademuluyi, Dr. Jhail Tafawa Balewa, Shina Peller.
Send Us News, Gist, more... to citypeopleng@gmail.com | Twitter: @CitypeopleMagz