•What He Told City People
Afrobeat Crown Prince, SeunKuti clocked 40 on Wednesday, January 11th, 2023 and was so excited about it! Apart from marking the day with some uniquephotographscaptured by celebrity photographer, KelechiAmadi-Obi, Seun revealed his earnest desire tobecome an African elder that the upcomingones can emulate.
In an Instagram post to mark the day, Seun wrote: "Happy birthday to me, the goal is to become an African elder, i.e, one that has aged with grace and dignity that the young ones can emulate. I'm happy to make it to 40! The journey continues."
In her own post, Yetunde, his wife, wrote:"I always have so much to say every year! Because you never stop rocking my world. But I am making it simple! Life is more fun with you by my side baby."
"You are one of a kind! Rare asf! You are my rock! And we are going to keep rocking each other's world! Thanks for all the priceless memories we've made together!! I pray that the ancestors continue to guide you through the right parts. I wish nothing but the best for you."
"Thank you for all you are, not only to me and our daughter but also to the world! There's no one I'd rather have by my side as we go through the highs and lows of life together. Happy Birthday, husband."
If you didn't know, we can authoritatively confirm that Seun and Yetunde tied the knot in October 2020 and welcomed their baby girl in 2013.
So, who's Seun Kuti? And, what's his performance like? We can tell you for free as we were opportune to watch his rehearsal live at the Kalakuta Musuem in ikeja! The date was March 10th, 2022 and it was a splendid experience in all respects. And, his mastery of his songs and command of the band left no one in doubt that he was really in charge.
If you've ever watched Seun's performance or rehearsal, you'd also notice he's infused a lot of vibes into his songs. He's also inserted some touch of modernity into some old Afrobeat songs!
Welcome to the world of OluseunAnikulapo-Kuti, the youngest son of the late FelaAnikulapo-Kuti. Since he stepped into his father's shoes as the leader of the Egypt 80 band, the younger Kuti has done well for himself. He has carved a niche for himself and done his bit to sustain the legacies of the AbamiEda.
In this interview with City People's Contributing Editor, IYABO OYAWALE (08033564055), Seun talks about his life, music, and family. Enjoy excerpts of this interview conducted before he clocked 40!
You were barely 15 when Fela died. Am I right?
Yes.
But you took up the role of leading the Egypt 80 band, how were you able to do that considering your age?
I was already in the band, that's why. I started playing with the band when I was 8. Some people say "took over", some say "inherited", but it does not really tell the story accurately. I was in the band since I was 8 so when my father died, it wasn't like I took over the band, we just kept playing. What happened was that the band had an option. Either they kept playing or the band broke up after my dad died. And I said I'd rather keep playing with the band. And my brother said.
Which of your brothers?
My eldest brother, Femi. And my eldest Uncle, Uncle Koye said "but you know the family cannot support the band." And my brother said "so if you keep playing, you have to keep what you make." So, I said I keep what I make? "Keep what you make." Deal! Let's make this happen (laughs).
How is your relationship with the elderly members of the band?
It's okay. One of the rules in Kalakuta is that there's no seniority. We always related to ourselves in the band as brothers and sisters. There's mutual and cordial respect.
In 2018, "Black Times" was nominated for the Grammys.
In 2019.
2019 Sorry. How did you feel about that nomination?
It was okay. When people ask me about the Grammy Nomination, I tell them what was most alarming was that there are over a thousand award categories in Africa for music every year. May be15 big award shows and not a single one nominated that same album in any category, not a single nomination. That for me eclipsed any kind of joy the Grammy nomination would have given me. Because for me, not being recognized in Africa is painful. The pain of that is greater than the joy of being nominated for the Grammys.
So, how many albums do you have in your kitty now?
Studio records?
Yes.
I have 4 records. Remixes and projects put together, maybe I have 8 or 9. I'm probably releasing another project I'm doing with an artiste called Black Thought. We have Vector on it. We have Akala on it. And that would come out let's say in 6 weeks or something.
I follow you on Instagram and you talk a lot about family, your daughter ad your wife. Can you talk a bit about your family?
Well, I'm married. My wife's name is Yetunde. I have a daughter, my daughter's name is Adara. My wife is a chef.
How many instruments do you play now?
I play the piano, I play the saxophone. So, when I say I play, that means I can play. I know about a lot of instruments but I wouldn't say I play them because I don't play them but I write for them so I have to have knowledge of them. But my main instruments are the piano, I play the sax. Like every African man, I can play the conga. Don't downgrade, the conga is a complicated instrument.
As a political activist…
No.
You're not?
How can I be a political activist? I'm the pro-term chairman of the Movement of the People (MOP).
That's the question I was going to ask.
I'm not an activist. I'm a revolutionary politician, not just any kind of politician.
So, what are your plans to resuscitate the Movement of the People?
The plans are ongoing. We're on the final stage. Right now, we're asking ourselves a very important question. I can't ask it publicly in the organization but other than that, we're organizing quite effectively and nationally as well. Which is the most important and try and get everybody onboard to understand what needs to be done. I'm very proud of the work a lot of people are putting into the MOP. These days, all I have to do is to just show up. I don't really do much. The organization basically runs itself. Through the passion and dedication of its members, the Admin members and the state excos and state chapters, everybody is doing a great job.
Would members of the Movement of the People consider taking up elective positions in the future?
Well, in the nearest future, yes, but what is more important than us vying for political office is to make sure that Nigerian people begin to understand what political offices are. It's our duty to first and foremost politicize the people. The people of Nigeria have no political enemies. Only personal enemies. And because we exist in the frame where we have personal enmity and personal distrust, it's difficult for us to have the solidarity that we need to defeat our very organized oppressors. We cannot defeat our oppressors if they're more organized than us. Our level of organization and consciousness is the level of our nation and if our oppressors are more organized, they'll definitely win all the time. So, we at MOP believe we must first politicize the people of Nigeria. Make them see who their true enemies are. That for me is more important that vying for political offices. In doing that, we'll be able to inspire the politicians from within the communities that we're organizing and enlightening. It is important that we understand that this is the job of the professionals in Nigeria. We in Nigeria that have been able to find some confort within oppression. The ancestors have been able to give us this opportunity and we're supposed to use our resources to build a bridge to our people that have been locked out of the system so that together we can begin to upend this system of domination but many professionals in Nigeria are in line with the oppressors: we're in banks laundering money, we're in oil sector bastardizing and polluting the environment and stealing oil money, we're in construction demolishing people's houses and building homes that poor people cannot afford. People can afford it but not the poor people or working class of Nigeria. Most people that work in Lagos now live in the outskirts of Lagos and have to commute for hours. We have engineers that are not building bridges: just designing homes for rich men. We need to change this mindset as the professionals of Nigeria and we need the government to invest in the social development of Nigeria. Without this, there'll be no inspiration. Nobody is commissioning architects to design public housing for African people. Imagine the innovation and ideas that will come out of designing homes for our people. Things like that moves humanity forward. We have to create opportunities for the potentials of our people to be fulfilled. These are the pertinent questions in Nigeria, not politicians.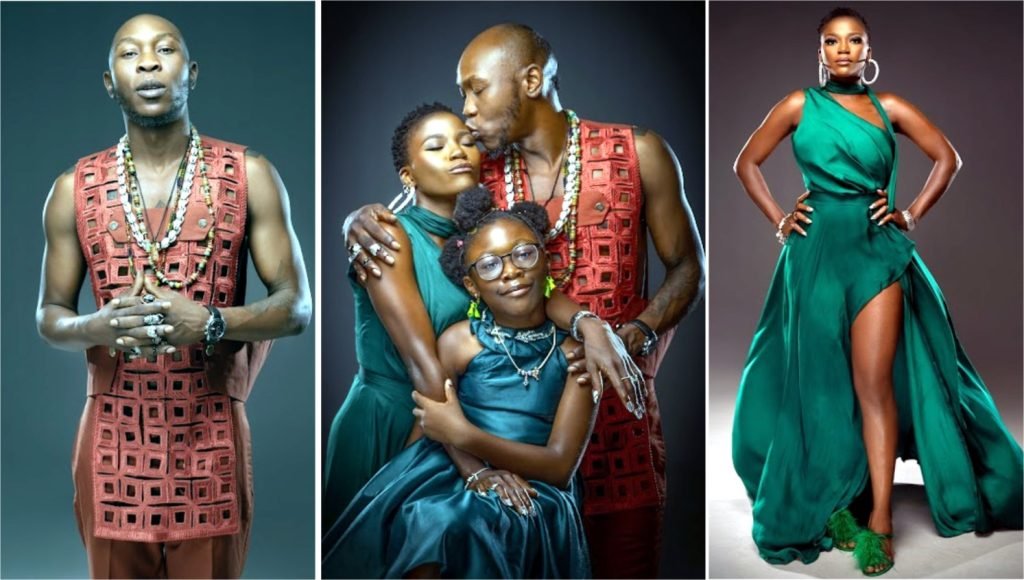 How have you been able to preserve the legacies of the late Fela?
Fela did something that is quite unique for an individual. He secured his legacy by himself. I always say to my brothers and sisters, even if we all do not exist, Fela would still be Fela. His name would still be his name. That is who the man is. So, I wouldn't sit down here to tell you this is what I'm doing to preserve Fela's legacy.
He secured it himself.
Yes, but what we do is trying our best not to diminish it, not to tarnish it, not to betray it. In that aspect, I think I play my own part.
The Egypt 80 band still retains ¾ of its members.
Well, we've lost a couple more this past through COVID. Egypt 80 is becoming a new band, in terms of personnel. My band leader died on New Year 's Eve 2020 into 2021.
So, how is your relationship with your siblings: Femi, Yeni, Kunle, Shalewa, etc.
I would say my relationship with my eldest siblings: Femi and Yeni are quite close. We're as close as can be for siblings that are 20 years apart. Many people expect to see me and Femi always walking down the street together, gisting, and hanging out but people forget that he's old enough to be my father. He is 21 years my senior. We don't have the same interests, his friends are different from mine, and he's old school. But, we're really close and my eldest sister is really loving. She is really kind. And, she is the glue that holds the family. She does so much. We're all lazy because of our music. Me and Bro. Femi, we're musicians, so, we're quite lazy in the social aspect of life. She does all that for the family and we really appreciate that.
You've tried.
What do you mean I've tried? I'm always trying.
You've done well for yourself.
Well, I'm my own biggest critic. If you had said this in 2019, I would have been like yeah but Corona held back my plans but I believe I'll still get there.
Send Us News, Gist, more... to citypeopleng@gmail.com | Twitter: @CitypeopleMagz