•What Band Manager, BABA ANI Revealed!
The history of the Afrobeat movement in Nigeria will be incomplete without a mention of Pa Tajudeen Olalekan Animashaun (Baba Ani), the baritone sax player, vocalist, composer, and former band leader of Fela's Egypt 80 Band, which he served for 51 years. In this interview with The Guardian, Baba Ani, on his 85th birthday a year ago, he spoke on his sojourn into music, working with Fela Anikulapo Kuti and the global recognition of Afrobeat.
For those who may not know, who is Baba Ani?
WELL, Baba Ani is Tajudeen Olalekan Animashaun, and I'm a musician, baritone sax player, vocalist and former bandleader of Fela Anikulapo Kuti's Egypt 80 Band. I was born on August 18, 1936, in Isale Eko, Lagos Island. I grew up partly in Osogbo where I attended all Saints Primary School before I came to Lagos for my secondary school at Bethel Secondary School, Lagos and National High School Ebute-Metta, Lagos.
At 85, what are your thoughts about life?
Life for me is not a matter of doing or die; I always take things easy and as they come. I am very happy to experience my 85th birthday and I give the Almighty Allah, my creator the glory to witness this day, particularly for the fact that I have good health and I am living in my own personal house. I cannot remember when I went to the hospital for any health challenge. So, all of these are enough to give thanks to Allah.
I try everything humanly possible to abide by the teachings of the Holy Book (Quran), and I try to do things in moderation — food, drinks, women or drugs and stuffs like that. But I don't do drugs; all I take is Nigerian natural grass, according to Fela, which is a natural herb. It's very useful for many purposes. The oyinbo (white) people are using it for many things, including medicine.
At your age, you are still very active, what is the secret behind your agility and youthfulness?
First off, it is the grace of the Almighty Allah my creator, because He created us all with different body metabolism, characters, shape, looks, colours and things like that. Secondly, as I said earlier, I don't take life as a do or die. I do what I can do and leave the rest; I don't overdo things. Again, I will attribute it to peace of mind; I eat what I like not what I see. So, to turn 85 with all these that Allah has done for me, I am very happy and grateful to him for all his blessings on my family and me.
Also, my profession has contributed to it because when you are playing music, you are doing a lot of exercise. I remember one day, a journalist asked Fela how he was so agile and strong without engaging in physical exercise. Fela responded by saying: 'My profession is enough exercise for me.'
For the kind of music that we do, you play the horn, trumpet, saxophone and other musical instruments; it's a sort of exercise. Again, each time you are on stage, you are moving, dancing and all that. So, these are some of the things that have kept me agile and youthful in your words.
Let's go back to the beginning, how did you encounter music, how and when did it start for you?
My elder brother, late Waheed Williams, who was a musician told a story that as a kid, there were times I would hold his hand and he will be following me like a sheep and when we got to a spot, I would suggest that we sit down and I would be singing songs for him. When I was in secondary school in 1959, he was then in England and he happened to be a friend of my teacher, the late Pa Chris Ajilo, whose music ruled the airwaves in the 1950s and 1980s. They were in England together, but Pa Ajilo came back before my brother.
So, I wrote to my brother about my desire to do music the proper way. He sent two musical instruments to me — a baritone sax and a trumpet, accompanied with a letter of introduction to Pa Ajilo. I went to Pa Ajilo and presented the letter; he went through it and then took me in as one of his students. So, it was Pa Ajilo that exposed me to music. He taught me the practicals and theory of music.
When Pa Ajilo discovered that I was competent enough to play in a band, he admitted me into his band, the Chris Ajilo and the Cubanos. The band was the resident band at the Federal Palace Hotel, Victoria Island then. From there, I joined the defunct Nigerian Broadcasting Corporation (NBC) Dance Orchestra, under the directorship of late Pa Fela Sowande.
So, at what point did you begin to work with Fela?
That was in 1964. But before then, I was working as Sanitation Officer (Wole Wole) with Lagos State at the Lagos Town Council, and after the close of work, I used to play at the National Broadcasting Corporation (NBC) Dance Orchestra. It was while playing with the orchestra that I met Fela. They were having rehearsal at the NBC Studio. Benson Idonije, who at the time was a sound engineering assistant at the studio, introduced me to him.
I remember it was at the reception, as I made my way to the restaurant. A day earlier, I learnt of Fela's plans to form a highlife band, which was named Koola Lobitos; I told him my intention to be part of his new band. He gave me his address and fortunately that evening, they were going to have a rehearsal session. So, I went to the house at 14A Agege Motor Road where I met others like Tony Allen, who was also recruited. Benson Idonijie was there too.
At the rehearsal, Fela gave me my music part and I set up my instrument. As I was performing, Fela just tapped Idonijie saying, 'I will take him.' That was how I joined Fela in February 1965. We started the Koola Lobitos, which metamorphosed into Nigeria 70, then Africa 70 and later Egypt 80.
You worked with Fela for 32 years and upon his demise, you continued holding the Egypt 80 band as a leader for another 19 years. How would you describe your working relationship with Fela?
Fela was a God sent messiah, because, throughout his lifetime, he refused to be money hungry. He wouldn't and never took contracts from the powers that be. Instead, he used his entire wealth in fighting on the side of the poor people, not only in Nigeria but also across the globe. We travelled wide around the world, and there is nowhere you will not find some poor people. So, he was on the side of the poor people in Nigeria and all over the world.
If there is anything Fela detested most, it is lies, injustice, stealing and cheating. He was a very straightforward somebody and the hardest working musician I have ever seen. Him no dey tell lies. To me, he was a prophet on a mission and the way he went about it made me stay that long with him. It's not as if I couldn't compose my music; I have songs recorded and unrecorded. Also, it is not that I cannot form a band of my own, rather I saw him as a God sent somebody; he was a prophet on a mission and that mission was to open the eyes and minds of people to things happening around us so that people can think, reason appropriately and take actions for their own betterment. There was never a prophet in the history of mankind without a disciple. So, I consider myself Fela's disciple.
When Fela was alive, he never forced anybody to do anything. As a member of the band and later the bandleader, if you decide to leave the band and still return, you are free. When you return, he will always welcome you back, but you will not get your earlier position because someone must have taken over. Fela, I will say, was a great force of influence and to date, his music is still of great influence. There were some of us who copied everything about him, and there were people like us who did things in moderation as I said earlier. As a disciple, the only thing I took part in is the smoking of Nigerian natural grass (Igbo), which I said earlier is a natural herb.
My grandmother had a song that we use to sing '… Ibibaku si e wi, Ibibaku si e wi, enikan seun rere ko ma ku si bi nkan.' The literal meaning of the song is that no one in this world is without one or two blemishes, which we as humans consider blemishes. But to the Almighty Allah, it may not be. Even in the holy book, it is said that all that Allah created are good things. Let me tell you, fucking (sex) is part of life. So, if people say he (Fela) was over doing these things, God knows best.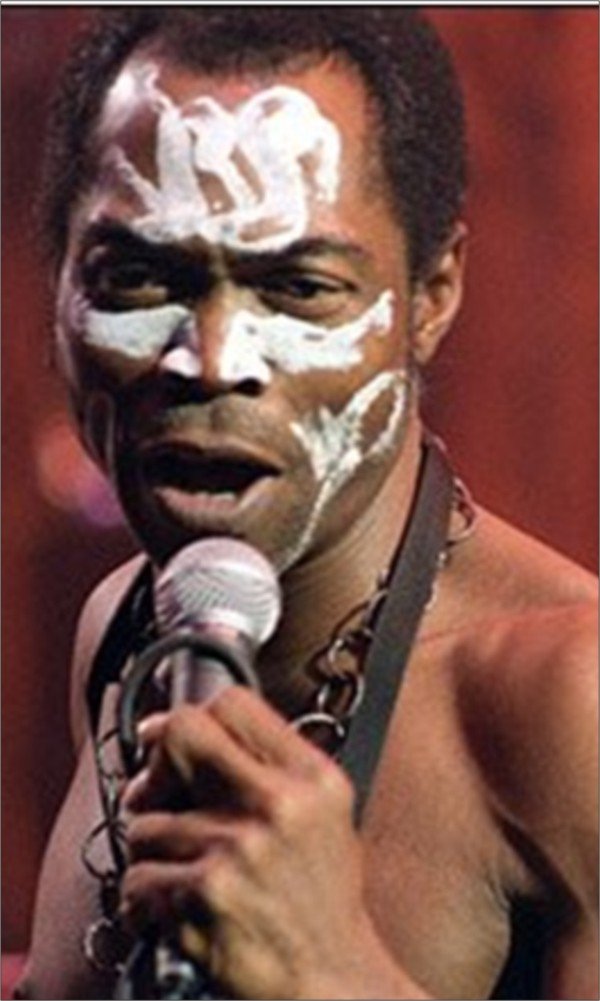 Talking about your working relationship with Fela, was there a point in time you disagreed to agree?
There were; I recall some time in the early 70s or thereabout when the band started making some money. Fela bought three cars; one for his wife, another one for his girlfriend, Iya Mari and the third one for his friend, late J.K Braimoh. This was a time when other musicians like Sunny Ade bought some cars for some of his band men. Ebenezer Obey did the same thing also for some of his men if not all.
So, we all went on strike and his mother, Mama Olufunmilayo had to come down to Lagos from Abeokuta to resolve the issue; she sent some emissaries to me. At first, I refused, but after a second visit by the emissaries, I went to see her. But before then, I had asked the emissaries who were there and they said Tony Allen, Henry Koffi and some other members of the band were at the house, 14A Agege Motor Road. Mama was as old as my mother, if not older than her; so, I decided to go and she settled the matter.
Another occasion was after the burning of the house at 14A Agege Motor Road and Fela moved to Kalakuta Republic at Gbemisola Street, Ikeja; they had raided the premises and taken everybody but released them after a while. I decided to pay a visit to the house; I met some women selling their stuff, including natural grass. I went straight to his room because he was not in the sitting room at the time. I was one of the very few people he allowed access into his bedroom.
When I got there, he was lying in bed and I said, 'Fela, with all these wahala by the Police, I still see these women selling grass.' He jumped up angrily from the bed and said, 'Baba Ani, so you want me to be afraid of the government? He went on and on, yabbing me, but I didn't utter a word. After the yabis, he then asked me what I want to take and I told him my usual — Guinness Stout. So, he called one of the boys and sent for my drinks. We thereafter talked and I left the place. I use to tell him what I feel about issues, not minding his reactions.
Was there a time you thought of taking the bold step of walking away?
No, and I had my reasons. When Fela died, after some time, we had a meeting with some of his family members and the spokesperson at that meeting, which held the Kalakuta Republic, was the late Prof. Olikoye Ransome Kuti; Beko's daughter, Nike was also at the meeting. Prof. Olikoye told us that now that Fela, who is the founder of the band had gone, there was no one in the family to continue running the band. Hence, they were of the opinion that we disband.
Before that meeting, we members of the band, including Seun's mother, had agreed that we are going to stay together. Seun at the time was very young. So, we told them that if there were nobody in the family to finance the band, we would continue playing. Our major concern was to keep Fela's flag flying, and they said if that is what we want, whatever we make, we take and run the band.
But one of the family members, whose name I will not mention for obvious reason, because my interview with Arise TV caused a lot of commotion, but that was the truth. And I'm saying the truth regardless of whatever reactions now. The person, a female said in Yoruba: 'ti e ba bere si ni wa garri mu, kaluku a wa bi gba lo…' meaning, 'When we start starving and it's dawn on us, everyone will find his or her way.' But thanks be to the Olodumare, Almighty Allah, who used me to carry Fela's flag flying and sustain the tempo of the band for another 19 years after my 32 years with him while alive.
Would it be right to say that Fela, as a prophet like you said, foresaw Seun leading the Egypt 80 Band as he's doing now?
Well, it may not be far from it, and as I said earlier, Fela was a prophet. Sometimes, he goes into the spirit and says things that are not within the space. We are all witness to the fact that Seun is doing well with the band today.
When we restarted after Fela's burial, it got to a stage that five members of the Egypt 80 Band left to join Femi and the Positive Force. Do you know what it means to lose five men out of a 14-man workforce? We didn't stop, we continued playing and that was the time I took in Show Boy to join the band. Today, I'm very happy in the sense that Seun is not disappointing Fela and me. I retired from the band in December 2016, after a tour of the United States. The band is waxing strong and I believe the band will continue to wax stronger.
Was your retirement forcefully induced or voluntary?
No, it was voluntary. Like the proverbial saying: 'It is better to quit the stage when the ovation is loudest.' I believe I left the band at the right time and in good hands. Don't forget that I had worked with the band for 51 years of my life and it's necessary I retire and take the back seat to give room for the younger generation to also thrive. The band, as I said, is doing well and I'm proud of what they are doing.
What is your relationship with Seun now?
Cordial, he has not abandoned me. I still perform with the band occasionally at Freedom Park.
You experienced Nigeria before Independence, at Independence and post-Independence. What is your view, what has changed over time?
The difference is very clear, although there was never a period that people were not complaining. They have always been complaining because it is difficult to satisfy human beings materially. But then, life in those days was very easy and smooth. I can remember during the years of Koola Lobitos, Nigeria 70, Africa 70, a dollar was being exchanged for N50 or thereabout. Maybe because the oyinbos just left us; because they laid the foundation for the easygoing life that we were living at that time. So, the value of naira at the time was very high.
Also, at that time, we had many manufacturing companies with factories in the country that were functioning. They were producing things for the good of the people at affordable prices. So, by their functionality, they were contributing to the country's economy. But today, if you look around, those companies have left Nigeria and relocated to some other countries even within our West African sub-region.
Today, things have deteriorated and still deteriorating. Is it our educational system, it has deteriorated.
Presently, there is a dispute between the lecturers and the government, and the government is giving a warning that they will begin the implementation of 'no work, no pay'. The same thing is happening in the health sector; Nigerians are made to pay for everything. Even when you want to buy from the hospital pharmacy, they don't have to; you have to go to the one outside. Prices of everything are going up on a daily basis. Even now, the Federal Government wants to increase the pump price of petroleum products. All of these are making life very difficult for the poor masses.
Again, most parents are shying away from their responsibilities in bringing up their children and today we have a lot of people that are into crimes and other social vices such as yahoo yahoo (cyber crime or internet scam) and prostitution. As a matter of fact, the girls have joined in the yahoo yahoo and we now have yahoo girls, just as we have yahoo boys.
Do you think the government has done enough to ameliorate the sufferings of the ordinary Nigerians, considering the promises they usually make whenever they want to come to power?
In my own view, they have not done quarter needless say enough. The political leaders are more concerned about their pockets. When they award contracts, they do so to their cronies; people who know little or nothing about the project they want to embark upon. But just because they are friends of the political leader or the man in office, they are awarded the contract.
They all are jeun jeun soke… won jeun si apo ara won ni. Police dey take bribe, Magistrate dey take bribe, even Justice sef dey take bribe. People in government are stealing money. Sometimes, nemesis catches up with some of them and we hear about them in the media — newspapers, TV and radio being arraigned by the Economic and Financial Crimes Commission (EFCC). Sometimes, we hear the arraignment and at the end of the day, nothing again; the so-called culprits are let off the hook. So, the government is not doing enough.
The only thing the government is good at doing to impress people is the rehabilitation of roads. And where they do, it is the major roads; they abandon the roads passing through the houses of the common people. Go to their privately owned estates; all the roads are tarred with good drainages and there is adequate power supply. But look at the road that leads to your house, it is nothing to write home about. Look at Abaranje Road; it was recently that the government began its reconstruction.
In 2016, a tenant occupying a flat of three-bedroom left my house. When he left, it took a year and four months to get another tenant to occupy the apartment. Those that came for the apartment, left after checking and never came back simply because the road is in a terrible state.
Every year, the government will bring Land Use Charge, which I have never failed to pay and I pay income tax. But the benefit due to me as a tax-compliant citizen and resident of the state is not being given to me. The current state of the country, particularly the issues of insecurity, armed banditry and armed herdsmen are of serious concern to anybody.
Growing up, the only thing wey I know say herdsmen dey carry na sanda…big stick. But today they go about with AK47 rifles. Where did they get them? Who is sponsoring them? Who is paying for the arms and ammunition? Where did they get the money to buy the arms? These myriads of questions are seeking answers, particularly from the government. They are raping, killing people all over the place. As matter of fact, they have prevented the traditional farmers from going to their farms, and this has necessitated the hike in the cost of the farm produce.
A loaf of bread I used to buy for N300 is today N500. To cook now is a big challenge to ordinary Nigerians, judging by the cost of pepper and other condiments – meat, fish. So, looking at all these, it is crystal clear that the government is not doing enough, as things are worsening at the break of each new day. We still have a long way to go; what we need is a better government.
You have consistently mentioned Allah and it can be adduced that you are a Muslim. One of the five pillars of Islam is a visit to Mecca, which every devoted Muslim must perform. Have you performed this holy injunction?
No, I have not.
Is it a deliberate decision?
Well, it's not deliberate as such. For me, I see that Holy Quran came from the Arabs, while the Bible came from the Europeans. The adherents of each of the two dominant religions — Islam and Christianity — have come dabaru our brains. Like in one of Fela's songs, North and South, one Muslim the other one Christian. These religions have put black Africans into total confusion.
Travelling is a good experience. So, I don't condemn going to perform Hajj in Mecca, but what I see is that these countries — Saudi Arabia and Israel are making money from visits to the holy lands. For me, what I have now is to just feed my family and myself, and live as comfortably as possible. So, I don't have luxury resources to go and spend in Arab countries.
What if someone decides to foot the bill for your pilgrimage?
I will go and perform the holy injunction; there is nothing bad about that. But I don't have that kind of money now. The cost of a flight alone no be small. So, it's not a deliberate action that I have not gone on a holy pilgrimage to perform Hajj.
What is that one gift you desire from Nigerians, especially Afrobeat lovers as you celebrate?
Well, there are lots, but I will be glad if my foundation, Lekan Animashaun Foundation, which was unveiled on Wednesday, which is the date I actually clocked 85, is supported to actualise the objectives of its establishment. The essence of the foundation is to have a recording studio, which has started, as well as a school of music for indigent students at little or no cost.
-Culled from The Guardian
Send Us News, Gist, more... to citypeopleng@gmail.com | Twitter: @CitypeopleMagz