Ado-Odo is an ancient Awori town in Yorubland, with a rich history, splendid culture and enviable tradition and heritages.
Ado, as it is popularly called, can be conveniently described as the confluence of Old Ife and Benin traditions. Oral history and documented articles from well-preserved archive revealed that it came to existence as a result of the amalgamation among various settlements of its early founders and forebears.
IIe-lfe, the origin of the Yorubas, is the ancestral home of the good people of Ado-Odo. According to impeccable historical facts, the people of this Awori Kingdom are direct descendants of Oduduwa, the progenitor of Yoruba race. It was founded in the year 1045. Ado-Odo history is replete with expedition and exploratory sojourn. No wonder the people of Ado origin are found in all spheres of life. From lie Ife, it was an exodus of groups of different people, at almost the same time, moving southward towards the direction of the coastal area. According to If a divination, these migrating people would have their final place of settlement in an abode where their plates were bound to have sunk (the source of the name – Awori). Various groups left lie Ife at different time, migrated from lie Ife far before the advent of Olofin Ogunfunminire group, the most prominent of these groups was the Oranmiyan group led by Olofin Adimula Ojaja corrupted as OJEJE the son of Oranmiyan. On their journey, they travelled on the riverways to Ago-Ide (now referred to as Isheri) which was unoccupied by people as at that period where their sacrificial plate (Awo funfun with other items prescribed by Oracle (Ifa) first sunk (Awori) for nine days, Oracle (Ifa) was consulted to confirm if the place is their ordained settlement in search of but Oracle (Ifa) revealed to them that their future homeland was still far away and prescribed the route for them to follow. The plate reappeared from the river on the 9th days. Then they proceeded to follow the plate into Lagos Lagoon and stopped at a Rivershore now called Oto Ido, moved southwards towards Dahormey stopped briefly co another place now known as Owode Apa and later travelled to Ito River behind Ado-Odo Palace which is an extension of Yewa River where plate finally sunk and never reappeared. The group, therefore, settled at the shore of Ito River at the present-day Ado Odo. Olofin Ojeje group did not meet anybody on all the soil or places the plate went through and sank temporarily.
The leaders of another groups were Bajomu Oyiti Ateludo and his wife Ebunni, Alapa popopo Onitako and Asawo-Owun-Adaludo, Asode Onirunmi Jaqude Ekun, which were purported to have travelled by same route. Other groups were Obalumu Kuseku Oloyin Agba afi awo ekun seso, Alamuwa, Obo Ora/Orufe group which were purported to have travelled by hunting wide animals, as well as Alawe/Aasejo/Omarun and Osolo group. Each group settled in their fortresses, which later metamorphosed to Ado Kingdom. All these groups settled at different locations around the present day Ado Odo. Bajomu Oyiti ,Alapapopo and Onitako group was said to have settled at IIemu. Other groups settled at Igbonla, Onirumi Jagude Ekun, Obalumu Kuseku Oloyin settled at Megu. All these groups who earlier settled at different locations came to realize the presence of one and others living in a close proximity and decide to move towards Bajomo Oyiti/Onitako group and live together, hence Onitako was generally accepted as the founder of Ado Odo.
Summarily, after a long and adventurous voyage, the place was eventually found, where 'plates sunk' (Awori). Consequently, upon settling in this Ifa-ordained location, the itinerant Ados became the early settlers in what is known today as Ado-Odo and the foundation of Awori subethnic group. All the various group came with their traditions, power and distinct deities or goddess from Ife and Benin, hence, they are all the Custodians of their shrines and heads of their quarters except Olofin Adimula Ojeje – the leader of Oranmiyan group that came with his father's beaded crown from Ife and the forebearer of Olofin Adimula Oodua royal dynasty in Ado Odo.
Olofin Adimula Ojeje, the Son of Oranmiyan left Ile-Ife with his 2-Sons, Asalu Oreje and Iranje with the beaded Crown from his father and other followers and guards. Short while after arrival at Ito River shore, Olofin Adimula Ojeje departed the mortal earth to join his ancestors. Hence, Asalu Oreje, being the first son became the head of Oramiyan Group and was latter crowned as the first Olofin Adimula Oodua of Ado Odo or Oba of Ado.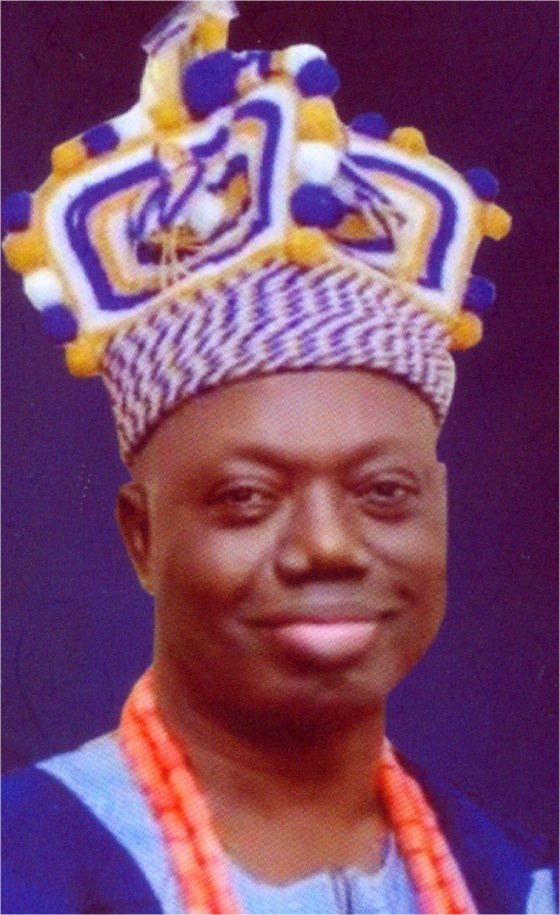 ADO-ODO: AN UNCONQUERED TERRITORY
Ado-Odo was at no time subservient or vassal to any bigger territory. From inception, it has been autonomous, and it prides itself as an unconquerable and unconquered territory. Furthermore, Ado-Odo Kingdom remains an Awori town that was never conquered or captured. During the Egba and Dahomey wars, warriors of the Town provided fortress and protection for the Town against invasion. They were able to repel the aggression of the advancing enemies. To gain free access to the hinterlands from Badagry, the Church Missionary Society (CMS) led by Henry Townsend had to persuade Oba Aike (Akesile 1) the reigning Olofin Adimula Of Ado Odo with the assurance that they are for peace and to initiate the process of ending the Yoruba civil wars of the nineteenth century. Though seldomly seen in the public then, he as the Olofin of Ado kingdom agreed to the peace deal negotiation promoted by the Christian Missionaries between Ado and Fagba in 1853 at the place now known as Onibuku. It was through this peace deal (recorded as exemplary and the first of its kind in this part of Africa) that made the route between Badagry and the hinterlands more secured and safer for free movement of people and goods cum prosperous trade. (NAI: Christian Missionary papers CA/031).
Furthermore, the unconquered history of Ado Odo made it a place of refuge for all and sundry in the event of war in the adjoining town especially during Egba-Dohomey war that disrupted and scattered most of the town between present day Abeokuta and Ado Odo. Up to present day, Ado-Odo is a home to all tribes and ethic nationalities. The comely dispositions of the indigenes have drawn an array of non-indigenes, from far and near, to the ancient Town. In Ado-Odo, non-indigenes and foreigners are integrated, given clemency to grow, prosper and deploy their God-given talents for the socio-economic growth of the Town. This rare opportunity has offered them the privilege and leverage to be property owners in the Land of the Aworis without an iota of hindrance. Indeed, Ado-Odo is a home away from home and an investment destination to all non-indigenes who are resident in the Town. A visit to Ado-Odo will surely convince you.
ADO-ODO KINGMAKERS
Principally, 4 groups constitute the core indigenous people of Ado presently identified as the Awori indigenes of Ado-Odo. They occupy the 2 components of Osi and Ogona, which were sub-divided to the 4 quarters of Oke-Osi, Odo-Osi, Odojana and Okejana. These quarters
form the basis of cultural interaction, land ownership and Chieftaincy institution in Ado Kingdom. Kingmakers of Ado Odo in accordance with Ado Igbesa Chieftaincy declaration of 1958 (1) Osolo of Ado Odo (2) Bajomo of Ado Odo (3) Aro of Ado Odo (4) lra of Ado Odo (5) Oga-Ilu Odo-Ijana (6) Oga -llu Odo Osi (7) Oga-llu Oke Ijana (8) Oga -llu Oke Osi.
Each of these quarters constitutes the traditional chiefs, who are kingmakers and assigned to perform specific role in the Town. Bajomu, Osolo, Ira, Aro are the head of fore core indigenous Awori Quarters and also the custodians of the shrines in their quarters. These four kingmakers are traditionally empowered to elect the king (Oba) for the Town.
List of incumbent Kingmakers in Ado Odo.
Chief Mufutau Agbogunlori, Chief Isiaka Musibau Adekunjo, Chief Timothy Adedire Bankole, ChiefTajudeen Adekunjo, Chief Osolo of Ado Odo, Chief Bajomo of Ado Odo, Chief Ira of Ado Odo, Oga-Ilu Oke Osi.
ADO-ODO KINGDOM AND RULING HOUSES
According to the 1956 Western Nigeria Government official gazette, four ruling houses are recognized in Ado-Odo. They are: (1) Igboro Ruling House (2) Idose Ruling House (3) Idobarun Ruling House (4) Okewaye Ruling House.
These are families who are entitled to the ancestral stool of the Olofin Adimula of Ado-Odo Kingdom. The Kingmakers, after due consultation, appoint who is next in succession to the mantle of leadership as an oba in this ancient and foremost Awori Kingdom.The first Olofin Adimula Oodua was installed in 1050, which was about five years after the town was founded.
LIST OF PAST AND MODERN-DAY OBAS OF ADO-ODO KINGDOM (OLOFIN ADIMULA
OODUA OF ADO-ODO)
(1) Oba Olofin Asalu Iranje Ojeje (2) Oba Olofin Erin (3) Oba Olofin Ojiganlori Oye (4) Oba lranje (First Son of Asalu Ojeje) (5) Oba Olofin Atepojoye
(6) Olofin Asagbejoye (7) Oba Atuyagba Lori Ade (8) Oba Elumu Liwaye (9) Oba Serere Gbele Kekere Jojolo (10) ObaObanla (11) Oba Etigbejibojoye (12) Oba Obalumu Kuseku Olimegu (13) Oba Asoesi Lipeti (14) Oba Bewaji Amororolagbo (15) Oba Osoja Abosajoye-(1379-1402) (16) Oba Adetogu Atuyangba (1403-1430) (17) Oba Adeluyi Oyigudujoye-(1432-1461) (18) Oba Asade Atepawoga-(1461) he died at Ipebi (19) Oba Agbogunjoye-(1462-1493) (20) Oba Iroke-(1495-1530) (21) Oba Afogbinjoye-(1531-1549) (22) Oba Ero Gbewara-(1550-1584) (23) Oba Osangandewu (Osan Egan Diyewu)-(1585-1610) (24) Oba Asunsun joye-(1611-1636).
Send Us News, Gist, more... to citypeopleng@gmail.com | Twitter: @CitypeopleMagz