•The Story Of Special Apostle, Prince SAMUEL ADEOBA LATILO
On Friday, 5th February 2021, the remains of Special Apostle, Prince Samuel Adeoba Latilo was laid to rest. He was aged 73. Burial & Interment service was held at the Cherubim & Seraphim Movement Church, Land of Blessing Branch (Liberty District), Ogo Oluwa Bus Stop, Airport Road, Alakia, Ibadan. It was a well attended event. Let's tell you about the late Prince Samuel Adeoba Latilo who was born on Sunday, August 15, 1948 in Kano into the family of Pa Adeponle Latilo and Mrs. Mariam Foyeke Latilo of blessed memory of Ile Agbojuomi compound in Boluwaduro LGA of Osun State.
Prince Samuel Adeoba Latilo had his elementary education in Kano and Ibadan from 1955 to 1960 and Kiriji Memorial College from 1961 to 1965 (West African School Certificate, G.C.E 'A' level).
He was an alumnus of the prestigious University of Ife (now Obafemi Awolowo University) where he obtained his B. Sc Econs (bias Accountancy 1970-1973). He was among the first set to participate in the National Youth Service Corps programme in 1973.
He started his career with United Bank for Africa (UBA) as an Organisation & Methods Officer in 1974. He later joined the Nigerian Tobacco Company, Zaria as the Financial Accountant, Management Accountant and Internal Auditor. He moved to the North Brewery, Kano as a Senior Accountant, Purchasing Manager, Finance Manager, Chief Accountant, AGM (Finance & Admin).
He returned to Ibadan in 1988 to join the University of Ibadan Ventures as the Managing Director/CFO until he retired in 1994 after a successful and fulfilling career to venture into private business among other things. His interests spread across the country in real estate, agriculture, hospitality (Chairman Dynasty Hotels) and Logistics.
He received several awards, honours and fellowships for his dedication, contribution and outstanding performance. He was involved in several humanitarian and socio-cultural organisations including Paul Harris Fellow Rotary Club of Nigeria (Agbowo Chapter), Fellow. Institute of Administrative Accounting, Member Governing Council Igbajo Polytechnic (first community polytechnic in Nigeria), Igbajo Development Association (IDA) President 2001 – 2003.
He was an active member of the Cherubim and Seraphim Movement Church and was ordained a Special Apostle.
Prince Samuel Adeoba Latilo was married to his heartthrob of over 45 years, Iyabo Latilo (Nee Afolabi). They are blessed with four children; Aderonke Babs Ogunmefun, Adegoke Latilo, Oluwabanwo Latilo and Oluwatosin Odulaja and many grandchildren.
He was an incredible role model, of tremendous influence on many (young and old) within and outside his family. Prince Adeoba lived a fulfilled life and was a leading light in the community. Below are excerpts of the tributes from his family members.
SAM LATILO,
MY BROTHER
I expect that many people will extol Samuel Adeoba Latilo's successes in life, his generosity, and his firm ethical principles. Those qualities were out there for anyone who knew him. I just want to talk about bro Sam, Baba Ronke, my dear brother.
I knew Bro Sam through his junior brother, Demola, with whom I have formed a close friendship with since our youth. Bro Sam immediately took, and really treated, me as his younger brother since then. This was even before he got married to his amiable and dutiful wife and became Baba Ronke. Perhaps, the following will explain better.
In Kano, where I lived in his house in Nasarawa, while doing a job that he helped me to secure, we were that close and were seen so much together that my second name became aburo Sam, or Sam's younger brother to non-Yoruba language speakers. It did not end there. On those occasions that Demola came to Kano, some would introduce him as the guy from Lagos visiting Sam's brother, me.
In 1998, after a period of about 6 years that we had not seen each other, I went to-visit Baba Ronke at Dynasty Guest House, the hotel that he built. Perhaps because I had put on much weight, he did not recognise me immediately, but when Mama Ronke said it was Uncle Timi, my brother went for me, grabbed me, squeezed me with such force for such a long time that I thought my ribs would break, as he kept calling my name over and again. I have never felt more loved.
Once as Bro Sam, and another as Baba Ronke, he had felt the need to have a heart-to-heart discussion with me and advise me about certain directions of my life. I remember the two occasions precisely because of the genuine love and concern displayed.
Your death is very painful, Baba Ronke, but I thank God for your exemplary life and for knowing you. The tears are coming. I have been able to keep them away until now. Bye bye my dear brother.
Timi Adebowale
Kent, England
I am struggling with the reality that my brother has indeed, gone to meet his creator!
My late brother's life journey which started in Kano 73 years ago ended quietly in a ward of the University College Hospital in Ibadan on Friday, January 29, 2021, during a long battle with illness. Painful and shocking as the news of his exit was to me, I encouraged myself in the Lord that he lived a good life full of service to God and humanity.
So many tributes have been written to acknowledge his contributions in many areas. I take consolation that he lived a life of love, devotion, generosity to all and sundry. His legendary generosity did not come as a surprise as he went through the tutelage of our father, Oba Isaac Adelani Famodun II, the late Owa of Igbajo, who joined his ancestors on the 15thAugust, 1988, the day my brother clocked 40.
As a family man, he ruled his house well, giving proper leadership to his wife and educating his four children very well. My brother saw me through University, established me in the banking career through the instrumentality of his connections and supported me while my family was being set up. He extended his love for me to my dear friend, Timi Adebowale, who he treated as his own brother. I know that he extended his largesse to so many friends and associates, while he was in the North Brewery, Kana, Nigeria Tobacco Company, Zaria and VI Ventures, Ibadan and when he engaged in private business.
He was a gentleman to the core, highly principled, disciplined, and respectful of others.
Despite gap in age, he discussed with me as a colleague. Rather than calling me Demola, he called me Teacher. Even when we had divergent views over any subject, the respect was still there. That I appreciate very much.
He took accountability to the highest level in finances, administration, and any other form of services he rendered.
He was a thinker, a dreamer, astute negotiator, and devoted Christian.
He would always think through any project and give a wonderful project plan. He had gift for dream. He saw many things in the dream, which he shared with me.
He took the gospel message so seriously that his residence housed one of the parishes of his church.
He was close to several people throughout his life. One of them is brother Tunde Fagbenle, his childhood friend. They used to communicate by whistling. His first cousin, who he called F.D. ALLo esquire also missed him dearly.
Today and everyday, I remember your love for me and your positive contributions to my progress and establishment. To say that I will miss you is an understatement. My prayer is that God will bless all that you left behind and may your memory continue to be a sweet one, Amen.
Philip Ademola Latilo
Special Apostle, Prince Samuel Adeoba Latilo, was a perfect gentleman, quiet and humble. He was always ready to go out of his way to help. He always sought how to assist to make others happy. His life was a blessing, his memory a treasure. You are loved beyond words and missed beyond measure. His life was a testimony of a great man with good heart. A loving uncle, tender and kind, what a beautiful memory you left behind. May your soul rest in peace.
Prince Bayo Famodun
To a man of few words, great compassion and open wallet.
We can tell stories after stories of how daddy showed up with one surprise after the other especially in the early part of our marriage. He spoke few words that had a great weight and always kept his ears opened to hear from us. He was firm, but had respect for other people's opinions and never felt too big to ask for same.
He loved discussing politics and how to move Nigeria forward, but his first love was his devotion to his God. Daddy always wanted to understand and have clearer understanding of how systems worked and was particularly interested in knowing how other churches were run to see if he could learn a thing or two that could be applicable to his C&S Movement, a Church he cherished till he passed to glory. He was just not a loving father, but also an exceptional husband whose relationship with mum was something we cherished as a young couple. To say we would miss him is a gross understatement, but we have enough fond memories of him to last a lifetime.
OLIVIA and Olaoluwa are most definitely going to miss their grandpa and the many war stories he told them. Adieu Daddy.
Babalola & Aderonke Ogunmefun
Adieu Uncle …. what else can one say? You eased away ever so quietly just the way you were in life … easy, quiet, dignified and like the real gentleman you were. I will miss you so much. Guess you didn't even know how much you and your wife, my dear sister, kept me sane to accept what life threw at me at many stages of my existence. For this and many more, I will remain grateful and thankful to the good Lord for the 'short' time I had the privilege of being in your orbit. E seun. Rest well and don't forget those you left behind to carry on the torch of your
legacy. You will not be forgotten. Sleep well oh sweet Prince of Igbajo. My Adisa has lost a bosom friend to the angels in heaven. Who will reply to that whistle 'Ajaji ……' now? But, it is well. Rest easy, rest well uncle; till we all meet to part no more. Once again, o digba!
Buki Tunde-Fagbenle
Uncle Sam (fondly called Baba Ronke), I find it expedient to celebrate you for who you were, while with us. I thank God for the rather short, but eventful life you lived among us.
Uncle, where do I start to write about you?
Is it the way you accepted us as members of your family and never treated us as your in-laws and most people never knew us as your amiable wife's family?
Uncle, you left us without an inkling of your demise and I have remained inconsolable.
Uncle Sam, to say your death left a vacuum is to belittle the impact you had on people's lives.
The special jovial way you attended to us can never be erased from our memories. Continue to rest in the bosom of your maker my dear uncle, counselor et El. members of our family,
Afolabi's , Ajibade's and the Shittu's families bid you good bye and everyone who had the good fortune of coming your way bid you good bye.
Even though it is hard to say it, we all say – 'Fare Thee Well!' We will never, ever, forget you, but when we look back, we have nothing to say other than saying thank you LORD. Uncle SAM sun re o … !
Engr. Tajudeen Shittu
Sam Gone To Rest
He is Sam. He is Deoba. And I call him both names interchangeably and whimsically. My friend and brother of 60 years!
Yes, that's how long we've known and bonded, since our first year at Kiriji Memorial College, Igbajo in 1961. Though, he was a day student and I was a boarder and in general there was not much room for bonding between day students and boarders, he lived in the Owa's palace where my aunty (Gboyega Famodun's mother) was the Olori (wife) of the king, Oba Adelani Famodun), and that might have deepened our further closeness. In addition, our mothers were close friends.
We knew that, to our amazement, when Sam & I went to visit his mother on one of my outing days and the old woman took a long look at me and asked: "E omo Eli reni?" – Isn't that Eli's (Elizabeth) son? Sam & I recalled that all the time with glee! She then told us stories of the two mothers who strengthened our fraternal relationship.
If I have to write about Sam and me I'll write a whole book. This tribute cannot enjoy that.
There is too much to talk about, memories of times shared, fun had, pranks played, dreams pursued, achievements attained, marriages enjoyed, children raised, pains endured, pleasures enjoyed: through 5 years of high school to his working & studying years in Lagos before university; to National Youth Service year in Kano; to his years as Accountant with the North Brewery; to his relocation to south and management of U.I Ventures; to all of his life – Sam and I were together. It's incredible how fate always ensured that. Even in my time in England, Sam came visiting me a couple of times with his darling wife, Iyabo, and I recall they gave birth to their first son, Goke (Ronke's younger brother) in London on one of such occasion! Deoba wasn't one to pull or keep friends, so it was a privilege for me to be counted as one, an abiding one, till, alas, the cruel hand of death took him away. We were two different personalities, yet we were two sides of the same coin, inseparable & totally trusted each other.
Those who knew Deoba and I closely – members of our families – marvelled at how we call out to each other at all times and occasions, by our special and inimitable call-and-response whistling; long & endearing whistles, which Sam & I created from humorous stories of our Kiriji days that became our signatures and bond till my bosom friend and brother breathed his last!
When Sam was most sick and hardly could talk only our whistles would bring life back to him; he never failed to find the strength to whisper a whistling response. Iyabo, the wife in a million that suffered the pains with him and bore it with grace and faith till the very end, looked forward to my phone calls and the whistles as literally the "revival dose" for when all else had failed!
Now with death taking my Deoba away, our whistles have stopped. "Ajaji mi", rest in peace!
Tunde Fagbenle
I, Prince Joseph Adebisi Alani Latilo, pays final Respects to my late elder brother, Elder Prince Samuel Adeoba Latilo.
First, we give glory to God Almighty for the most exemplary, God-fearing, very impactful life lived by Elder Prince Samuel Adeoba Latilo.
He was the one who had the most stricking resemblance with our father, Prince James Adeponle Atunlute, bi eni te ifa of blessed memories.
On hindsight, one will recollect that Elder Prince Samuel Adeoba Latilo was our father in many ways, like our father, he (Prince Adeoba) was kind to a fault, very accommodating and communually spirited, making impact on lives of millions around the world known and known to him.
The late Elder Prince Samuel Adeoba Latilo's mantra, which he interpreted to a logical conclusion throughout his lifetime was to turn Adversity to prosperity for all those he came across.
Testimonies abound every where among members of our family and a huge number of others about how Elder Prince Samuel Adeoba Latilo singlehanded turned their lives round positively by giving them the Desired Mentorship and putting them in the Right Direction that changed their lives for ever.
I, Prince Bisi Latilo, has a confession and testimony to make here of how Broda Deoba's involvement in my life at a point when I almost threw all caution to the winds and was spraying musicians with reckless abandon at a time when I could have utilized those funds to build houses and properly position my standing in the society.
Alas! I was just spending without any direction, as soon as Broda Deoba was tipped about this very ugly anomally,he quickly ordered my wife to look for land anywhere in Lagos to build a house and that was how we were able to build our first house at Alagbado in the early Nineties, though I was still working with the federal Radio Corporation of Nigeria FRCN.
Today, I own my buisness where people from different parts of the country and beyond are employed.
I pay a well deserved homage to Broda Deoba's consistent constructive advices and suggestions to me on how to be the best in the broacasting and Media space, so that the Latilo family can rule the global media landscape before too long.
My family and I, love and celebrate you My dear egbon who was very generous with life-changing ideas for life.
You were, indeed, a very great and worthy ambassador of the Latilo family of whom we are all very proud.
May God rest your beautiful soul as you continue to guide the family, our dear guardian angel.
–Prince Bisi Latilo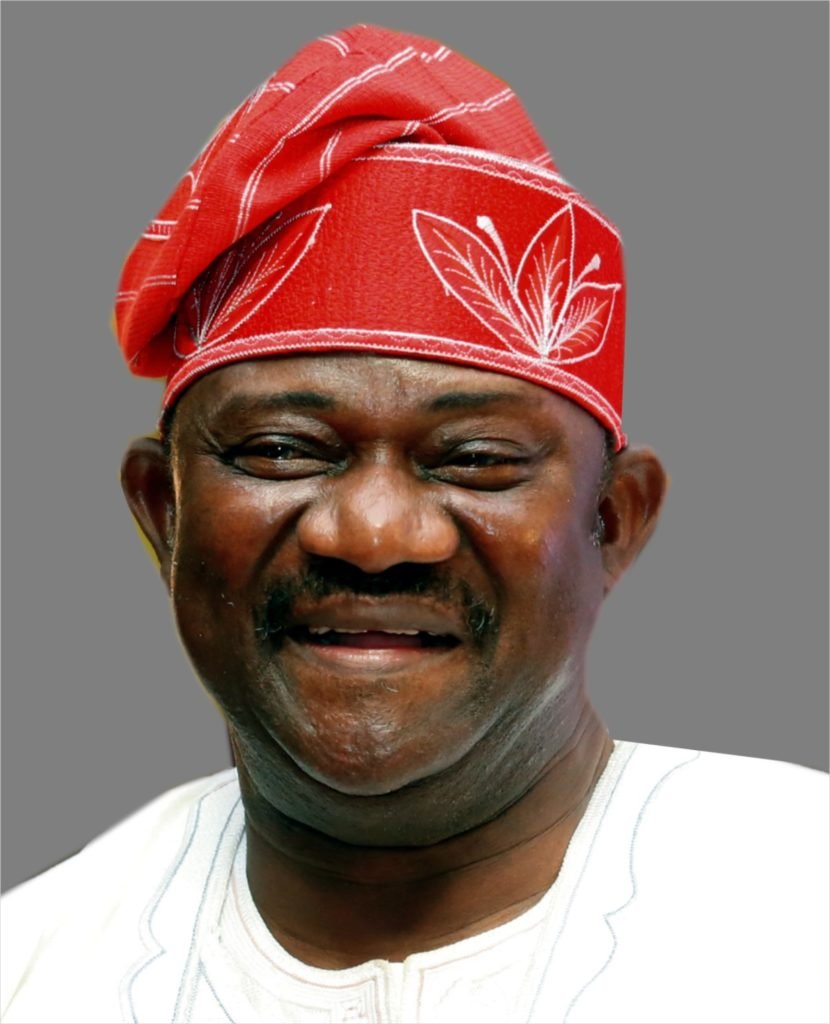 Send Us News, Gist, more... to citypeopleng@gmail.com | Twitter: @CitypeopleMagz