•All The Intrigues Revealed
As you read this, the ranks of Afenifere, the Pan-Yoruba Socio-Cultural group is sharply divided, over the issue of the recent support of Pa Fasoranti for Asiwaju Bola Tinubu's 2023 Presidential ambition.
City People gathered the Tinubu's visit to Akure last week shocked many members of the group loyal to Papa Ayo Adebanjo. City People gathered that most of the members of Afenifere are in support of Tinubu, whilst only a sprinkle are against his candidacy, for one reason or the other.
Many of those who support Tinubu are of the opinion that the Pan-Yoruba socio-cultural group should throw its weight behind their son, and member, who is running for Presidency. But Papa Adebanjo and some of his loyalists feel Afenifere should continue to support Peter Obi..
It is this same issue that has caused a major disagreement between Chief Ayo Adebanjo, who is the acting leader of Afenifere & Pa Fasoranti who is the substantive Afenifere leader. Adebanjo supports Peter Obi of Labour Party. This because he says for the purporse of Equity, Justice and Faireness the next President should come from the South-East.
But many Afenifere members don't agree with him. They feel this is the chance of the South-West and Asiwaju Bola Tinubu stands a grood chance to clinch the much coveted prize. But Chief Ayo Adebanjo does not agree with them. City People gathered that after exhausting their moral persuasion on Papa Adebanjo to see reason with them, they persuaded Pa Fasoranti to bless Asiwaju Tinubu, which he did in Akure last week.
Tinubu visited Pa Fashoranti and got the old man's blessing. Since that scenario played out, the ranks of Afenifere has been divided between those for and against Tinubu. While some feel that Pa Fasoranti shouldn't have endorsed Asiwaju Bola Tinubu the way he did, because of Chief Adebanjo's position of supporting Peter Obi, there are those who have explained that Chief Adebanjo's support for the South East is personal and not a popular decision. Some have even argued that at no time was a decision taken by Afenifere to support Peter Obi.
There are those who see Papa Adebanjo's decision to support Peter Obi as a merely personal decision. They also feel Papa Adebanjo's opposition to Tinubu is also personal. They trace Baba's opposition to Tinubu to the latters decision to break away from the AD in those good old days. Then Afenifere elders felt betrayed. Since then Tinubu had made ammends and reached out to the leadership of Afenifere but Papa Adebanjo has refused to support him.
There is also the agelong disagreements among Afenifere, especially between Chief Olusegun Osoba and Papa Ayo Adebanjo who are not on talking terms. Recently, the former Ogun Governor and Akinrogun of Egbaland, Chief Olusegun Osoba lambasted Pa Ayo Adebanjo, describing him as an inconsistent leader in the Progressive camp. Osoba berated the Afenifere leader because of his stance against his person and the National Leader of the All Progressives Congress (APC), Asiwaju Bola Ahmed Tinubu.
"He has always been antagonistic to anybody who rose to governance within the progressives' family. He was antagonistic to the UPN governors when they reached out to the PRP governors in the Second Republic. He led the crusade against the governors and told Awolowo that the UPN governors had sold out."
"When Papa (Awolowo) got exasperated he called a meeting of the UPN leaders at Eko Hotel. I recalled Chief Onabanjo speaking on behalf of the governors and telling Chief Awolowo that "all the people shouting are not more loyal to you than we are, that if the party must win at the federal level, the party must relate with others outside Western Region".
"At the end, Chief Awolowo said the governors should continue with their association but they should report regularly to the National Executive Committee of the party. They then expanded their association to 12 governors. That was the group that led Awolowo into signing an agreement with Dr Azikiwe in Benin ahead of the 1983 presidential election which Awolowo actually won. Their reaching out was very helpful. It was that same progressive association that helped us when we moved to the Third Republic SDP that produced the late Chief MKO Abiola as presidential candidate."
"My argument is that Adebanjo has never been comfortable with any governor either in UPN or in AD. That is what is manifesting now in his attack on Asiwaju Tinubu, Chief Akande and Niyi Adebayo who walked out on them in 2003. He bragged that he made us governors.
"Who among us did not have political experience before we became governors in 1999? Lam Adesina as Oyo governor was, as far back as 1979, a House of Reps member in the National Assembly dominated by the late Chief Abraham Adesanya and co.The late Chief Adefarati as Ondo Governor was a Commissioner under Ajasin. Akande in Osun was deputy to the late Chief Bola Ige as old Oyo governor. So he is making a cheap statement by saying we are not consistent.
"The point is that Adebanjo has never contested any election. I challenge him to test his popularity. He should pick anywhere in Ogun, let the two of us walk around. There is no village in Ogun State that I will not call out three or four families.
For example, in his dictatorial way, he says he has now zoned the presidency to the Igbo. Who is he to zone the Yoruba race out of the 2023 presidential race? "Where did we meet as Yoruba? Awolowo will not behave like that. There will be a meeting where there will be consensus. Of course the Igbo have the right to contest in 2023 just as I as a Yoruba man also have the right to contest.
Only Ayo Adebanjo understands his interpretation of Consistency. Here is a man who, when we were rigged out, was the first to jump on the PDP vehicle of Gbenga Daniel in Ogun State. Till tomorrow, he is the godfather of Gbenga Daniel. He moved from Gbenga Daniel to Olusegun Mimiko in Ondo under the Labour Party. And he went to pronounce Mimiko as the greatest of those executing Awolowo's philosophy, that Mimiko's free education was the best. "He moved from there to PDP in Osun to praise Olagunsoye Oyinlola and today he is with PDP's Seyi Makinde in Oyo."
"That is his interpretation of consistency. He said we sold out to Fulani, when he campaigned for former VP Atiku for presidency, he forgot that Atiku is a Fulani man too. When they hobnobbed with former President Jonathan, that is Consistency. Awolowo will never jump from one party to another. And Awolowo, if alive, would never hobnob with PDP….."
Sola Lawal, a journalist, Public Commentator wrote an article titled: Pa Adebanjo: Why Is Tinubu Different, SIR?
"I wept as I watched Chief Ayo Adebanjo speaking on Channels Television barely 24 hours after Akure played host to Yoruba leaders across ideological lines."
"Apart from the colourful presence of leaders of the Yoruba socio-political organization, Afenifere, other notable leaders of Oodua land were present including Archbishop Ayo Ladigbolu and Dr Kunle Olajide were present at the event, hosted by Afenifere leader, Pa Reuben Fashoranti.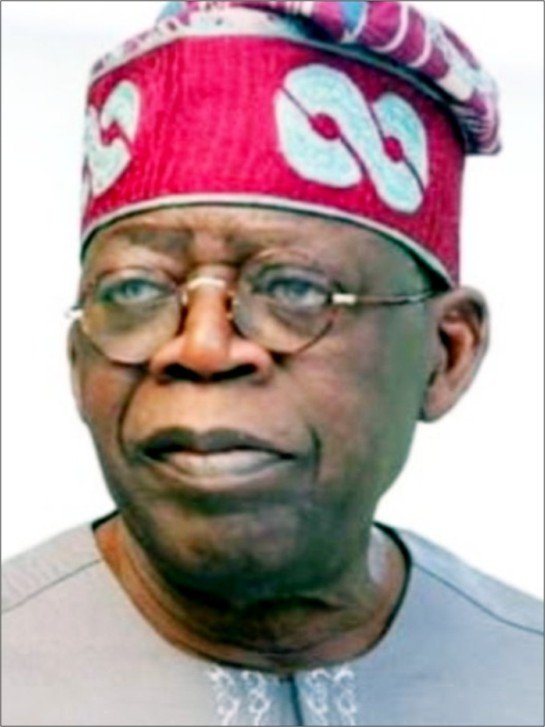 On national television, Pa Adebanjo sought to pull the rug from under the unanimous decision of the gathering convened by his leader. Bola Ahmed Tinubu, All Progressives Congress presidential candidate, got the nod of support in the 2023 number one race."
"While holding divergent opinions within the Afenifere is not uncommon, going public with such is unheard of. But this time it got disturbing and disgraceful for such differences to be dragged into public space. Papa Adebanjo took his animosity against Tinubu to an unyoruba-like phase.
In my over 30 years of voyage with Afenifere, I have not come across the sort of heist that currently plays out within the organization. For sure, I've served the group in quite several positions including Personal Assistant to its erstwhile leader, Pa Abraham Adesanya. I've also served as and still serving as a member of its caucus."
"The times must be indeed perilous that conflicting views have emanated from the group on the same issue. This is particularly irksome because this difference in opinion came from the two main leaders of the group."
"The issue in contention is which of the 2 candidates in the 2023 Presidential election – Peter Obi of the Labour Party and Tinubu of All Progressives Congress- enjoys Afenifere's support. While the Adebanjo camp of mostly new recruits to the fold travels with the former, Pa Reuben Fashoranti, the current leader of the group, leading old tested and accomplished warhorses of the group, prefers the latter. To the dismay of many, this disagreement has gone public. And this is where it is disturbing."
"What happened to the well-known Afenifere reliable mechanism for crisis management? In the recent past, handling of two major, almost catastrophic crises, attests to the group's resilience in taming divergent views within the group."
"Following the 1998 contentious gubernatorial primaries of the then Alliance for Democracy in Lagos State, the group convulsed under the weight of conflicting preferences of the leadership to support late Funso Williams by Alhaji Ganiyu Daodu who was then Lagos Chairman of Afenifere and AD in the state while other leaders of the group preferred Tinubu who eventually became governor in Lagos state."
"This face-off did not go public. Not long after this, the question of whether or not the late Chief Bola Ige, the group's Deputy Leader should be part of the Obasanjo government sharply divided the organization down the middle. This also was resolved quietly without externalization of the crisis. The Ige turbulence was so potentially damaging that many highly placed stalwarts of the group openly, at meetings, pressed for the deputy leader's expulsion from the fold. It is gratifying to note that in none of these quakes and many others was any public trading of words between leaders happened. By the same token, no follower of any leader insulted any other leader. Now in the ongoing Tinubu matter, it does appear that opposing flanks are beginning to recruit fighters."
"It is in this light that the statement credited to Mogaji Gboyega Adejumo, a new entrant into the group, is most unfortunate. Among others, Adejumo carpets leaders of Afenifere gathered in Akure where Tinubu was endorsed as retired, inactive and inconsequential. He belongs to the Adebanjo camp. Now, who are the leaders being called out here? The list consists of Chief Olu Falae, Chief Cornelius Adebayo, Chief Bisi Akande and General Alani Akinrinade among others too numerous to be mentioned including Prince Dayo Adeyeye and I ."
"Like every organization in a constant process of rebirth and rejuvenation, Afenifere has expectedly opened its doors to a flurry of new entrants. It is to the discredit of the organization that, however, there is, to date, no orientation process specifying dos and don'ts in place particularly for fresh recruits."
"In the past, ranging from the tenure of Chief Obafemi Awolowo through Chief Adekunle Ajasin to Pa Abraham Adesanya as leaders, responsibilities, even if unwritten, were systematically spelt out and a code of conduct binding every member up to the leader himself were clearly in place. This arrangement was so comprehensive that even at meetings strictly enforced sitting order prevailed."
"My generation of Afenifere leaders was admitted into the caucus, the highest decision-making organ of the group, 24 years ago in 1998. Monday caucus meetings then held at 3 Ore Close, Surulere home of late Pa Solanke Onasanya. Then it was later moved to 6 Jibowu Street, Yaba."
"On the ladder of leadership at caucus meetings were three tiers. Ours was the lowest. Among us were Young Turks such as Jimi Agbaje, Dayo Adeyeye, Yinka Odumakin, Popoola Ajayi, Gbenga Kaka and recently deceased, Funminiyi Afuye and the duo of deeply audacious Chief Mrs Kofo Akerele Bucknor and Toyin Fagbayi who was Afenifere National Welfare Officer, among others. Quite frequently, Kole Omololu would dash in from his London base where he served as Chairman of Afenifere in Europe. Ahead of us but next to the first line of leadership were Chief CO Adebayo, Chief Olu Falae, Professor Bolaji Akinyemi, General Alani Akinrinade, Dr Fredrick Fashaun, Dr Amos Akingba and late Otunba Tade Ismail among others."
"Every discerning operative within Afenifere would understand why an Adejumo would rob mud on the faces of respected leaders of the group. He neither knew Ore Close nor Jibowu. Also, neither did he know 15 Duala Street, Apapa, nor 12 Simpson Street, Igbosere, Lagos. These are epochal landmarks without which the story of modern Afenifere would not be completed. He never worked with the leaders he so mindlessly disparaged. These are leaders grindingly tested in the crucible of Afenifere ethos and Yoruba nationalism which, if Adejumo must know, accounted for why they would embark on the torturous trip on unsafe Nigerian roads to converge on Akure to give vent to Yoruba dictum of " omo eni o se'di bebere, k'afi ileke si'di omo elomiran meaning (However unsightly the buttocks of one's child is, it does not excuse adorning another's child with beads)."
"Going by the avowed principle of Afenifere, the Akure gathering did what it ought to do. In experience, preparedness and progressive profile, Tinubu remains the best of the pack jostling for the number one position in 2023. Added to his credential is the fact that his present struggle is a Yoruba project, which all true Oodua descendants must embrace."
For those who may not know, at every critical junction in the politics of Nigeria when a Yoruba man is a major player in contention for leadership, the region has always stood by her own irrespective of past affiliations. Late Moshood Abiola enjoyed this when he struggled against the Nigerian state after winning the 1993 presidential election."
"Afenifere spearheaded the formation of the National Democratic Coalition NADECO to fight his cause. Earlier in his political foray, Abiola had not only held opposing views from Afenifere since the time of its erstwhile leader, the sage, Chief Obafemi Awolowo. Similarly, when Sanni Abacha and his deadly goons went after General Oladipo Diya, Afenifere led the cry to free him from the hangman's noose. The group took this Oodua- centric position even though Diya had, before then, helped in hounding Afenifere leaders in NADECO. Why must Bola Tinubu be treated differently?
Where has all these disagreements left Afenifere? Opinion is divided. Dr. Doyin Okupe feels Afenifere will come out of it stronger. Some don't agree. However, some senior members of Afenifere have stepped in, to reconcile Papa Adebanjo & Papa Fasoranti. City People gathered that the rift would have been escalated by now if not for the timely intervention of ther elders to make peace between 2 highly respected and coveted leaders and fathers. Many Afenifere members are of the opinion that the followers should let the 2 foremost leaders be, with their integrity intact to the very end and mutual respect for their opinions and convictions.
Interestingly, many don't know that it was Pa Ayo Adebanjo who was at the forefront with other colleagues of there who nominated Pa Fasoranti into the leadership then, without advance notice, but with fait accompli acceptance.
Ironincally, Pa Fasoranti, also along with other colleagues nominated Pa Adebanjo into the same leadership. Interestingly, Adesanya still insists that Afenifere's decision to endorse Peter Obi is still sancrosant and based on not inkept.
Adedapo Abiola, the Personal Assistant to Chief R.F Fasoranti recently issued a statement to douse tension. It reads: "It has come to Papa R.F. Fasonranti's knowledge that some sections of the media, especially the social media, have been ascribing to him false statements designed to cause confusion and polarize Afenifere."
"I have Papa's permission to say that he has not said that Chief Ayo Adebanjo is no longer the acting leader of Afenifere or that all future Afenifere meetings should henceforth be held at his residence in Akure."
"Papa's main concern is the interest of the Yoruba in the complex political situation in Nigeria. It is also his concern that Afenifere should survive in dignity and remain a purveyor of the interest of the Yoruba race."
There are those who don't like Adebanjo's allegedly domination of the group without carrying along all shades of opinion. For the past few years Afenifere has been run by Adebanjo, he has been holding/heading all the executive meetings, that is the primary issue.
Many of those who support Adebanjo's support of Peter Obi argue that Awolowo once support Pa Okoli, during the Okoli-Akinsanya affair years back. The Secretary General of Afenifere, Chief Sola Ebiseni, wrote in a recent post that:
"A lot of people are yet to appreciate that history is repeating itself in Yorubaland. The Action Group crisis was premised on the conflict of the two principal schools of thought. The core group which insisted on the coalition of diverse nationalities exemplified in the different political parties for a true federation and the other group which believed power was more easily achievable by a Yoruba/Fulani coalition in a possible rotational perpetuity.
This latter view, derided as 'Demo' philosophy again resonated undisguisedly by the ACN/CPC alliance in 2015 which gave the Fulani partner the first shot.
'Yoruba lo kan' is simply a reminder of the term of the alliance and why the ticket was conceded by the northern Governors predominantly Fulani and ambitious heir apparent after the Yoruba. All the noise against Muslim/Muslim ticket which is more vociferous in the north is no more than the fear that at the end of the Yoruba tenure, it is certainly going back north to the Fulani just like all elected Presidents of northern origin, Shagari, Yaradua and Buhari have been Fulani.
While the new brokers of the 'Demo' alliance insist on the fruit of their labour, the declaration of Afenifere for Peter Obi is also in furtherance of its historic philosophy that this country can only be better and peacefully governed as a federation where all the nationalities would have a genuine sense of belonging in the assurance of equal access to power. It is a struggle between the Afenifere and its unrelenting 'Demo' faction." And to his sound submission, my philosophical treatise: Succinctly put….1962 AG/Afenifere crisis being repeated in 2022, however this time farsely, mediocrely, disingenuously.
|What is this Okoli-Akinsanya affair? Ikoli-Akinsanya crisis was the internal party conflict that led to the demise of one of the earliest national political groups in Nigeria. The party never recovered from the crisis, which pitched its leaders against one another. While this internal party conflict is considered by some historians as the genesis of tribalism in Nigerian politics, it is more admissibly a contributing factor to the era of cultural nationalism that followed.
Some of those who support Tinubu's candidacy within Afenifere argue that only a political novice will agree that Tinubu should be sacrificed for Obi who has no commendable track record of performance or relationship with the Yoruba Nation. It is an arguable fact that neither Obi nor Atiku Presidency could be of better benefit than Tinubu Presidency to the Yoruba Nation.
They argue that Chief Adebanjo cannot claim to be more Afenifere than the distinguished Yoruba leaders who assembled in Akure a few days ago. Wrote an analyst, he was appointed by Fasoranti to act on his behalf. Fasoranti has now sacked Adebanjo for crossing the line.
Tinubu's loyalists are of the opinion that it is some of the guys around Pa Adebanjo that are responsible for his actions. And they are said to be in the minority.
There is another group that has come out to counsel against pitching the Yoruba against the Igbo, because of the age long Yoruba/Igbo rivalry.
Dr. Doyin Okupe says Afenifere will survive this because the Yorubas have an inelastic endurance for issues like this. He says Afenifere is at the Transformation Stage. Okupe has called for calm.
Send Us News, Gist, more... to citypeopleng@gmail.com | Twitter: @CitypeopleMagz