•LAGOS-Born Performance Artist, Prince JELILI ATIKU
Prince Jelili Atiku is a Lagos-born and bred world renowned Performance-Artist who is known for his uniqueness and colourful display of indigenous costumes to project the Yoruba culture and its values to the world. His performance with drawings, photography, installation sculpture, video and live performance have made him one of the most recognized performance artists from Nigeria. In his work, he uses Yoruba symbols and traditions of his local community to contribution to world discuss.
Through his numerous performances he has earned a lot of accolades home and abroad making him referred to as "the father of Nigerian contemporary performance art.
In a recent exclusive chat with City People's JAMIU ABUBAKAR, he spoke about his humble beginning, why he ventured into Performance art, why he uses his body as an object of his work and many other things he talked about. Below are excerpts of the interview.
Who is Prince Jelili Atiku?
My name is Jelili Atiku. I was born in September 27th, 1968 here in Ejigbo. I grew up here and my formative years were all here. When I was growing up, it was like a small kind of community that's green. You could imagine it like a village. So I had my primary school here. it was Ejigbo Model School, my secondary school at that time it was called Ejigbo Community Community High School. before we graduated it was changed to Ejigbo High School. After that I went to have my BA in Fine Art at the Ahmadu Bello University, Zaria where I graduated and I also had my Master Degree in University of Lagos. So I trained as an artiste, I'm a scholar. I teach art and I also teach performance. I'm a community development practitioner and I'm also a community leader. Above all I'm an "Oniseese" which is a Yoruba traditional practitioner.
Tell us about your growing up experience?
My growing up experience was simple just like life of kids in other village settings. Unfortunately, my father died during the civil war. He was a soldier. His name is Badiu Olorunfunmi. I grew up with my grandparents who gave me love that they would give a grandchild because I was their first grandchild. They trained me like to become a disciplined person. Immediately when I come back from school I use to follow my grandfather to the farm. He was a big farmer and he was the head of the community here. He was training me to be independent on my own and for me to be more focused about life, about myself and about the future. And because he was a community leader, I was being trained about community leadership, about what is the essence of life, why are you living in the community, what is the expectation of the people from you. Growing up as a child, my grandfather was a Muslim and he groomed me as an Arab person until I began to feel as a human being that I need to go further than what they trained me of and what I need to be and being who I am as a Yoruba person. The community has contributed to my growing up because I lived a communal way of life throughout. My neighbours were part of my family who also would be looking at you. If you do anything wrong, they would have to punish you for that. So the community love has been there.
What informed your decision of going into Art?
I actually have a storyline to go with it. Initially as a kid, you aspire to have practiced these big professions like Law, Medicine and all that. That's especially what the society projects to you. At the beginning I believed that I would become a lawyer. And at that time my classmates have started calling me; "My lawyer! My lawyer" But not until a day we were on the assembly ground in my secondary school when we were in form three. I am very good at drawing from the beginning. I draw in my class and everybody acknowledged that. So one of them now said my lawyer and the other one said; don't mind him jare, which kind of lawyer do you want to? You that know how to draw, you are a good artist o. so that was how that moment which was like sacred moment to me helped me made the decision of becoming an artist. Even when I told some of my uncles my decision that were making mockery of me saying am I a dullard? Since I was determined at that time nothing had changed my decision to become an artist.
What led you into performance art despite the availability of other genres of arts?
Like I said earlier, I lived with my grandparent who was a Muslim and who trained me in an Arab way. I went to Quranic School where I was a Mukadam. Everybody called me an Alfa. But along the line, at a point I was asking a pertinent question to me that why will I be praying to God another person's language. Why will I use Arabic to pray to God and why wouldn't I have that confidence of using my own language. That becomes a point of protest to me. I realized at a point that my Language is important to me. When I got into the university, I began to probe into how a Yoruba person could practice Arts, I call it self -decolonization.
I felt uncomfortable with some process that have been going on in my life and that made me to begin to ask. If God is actually omnipresent and omniscient as the Arab made us to know. That means that my language is also important to me. That led me to probe more when I got into the university. How would a Yoruba person practise Art for example? I called it later on by using a vocabulary to say self-decolonization where I say my practice as it is in Yoruba is performance. So I now begin to domiciled it that this is how it could be done, my great, great grand fathers were doing it like that. I want to do it like that. So that's how I became a performance artist. In science when you look at it deeply, Art in Africa is an integral part to the whole of our own existence; our own reality, religion is put into that, social is put into that, everything is put into that. And then that's why I put the body as the wearer of the Art itself. So my body becomes the medium, becomes the Art work. That's why anytime I create I put it on my body and I put action into that. That makes me a performance artist.
How would you describe your experience on travelling around the world to showcase the indigenous Yoruba brand of arts?
The world has its own special definition of everything. That's one thing that I have come to know. In my own locality, what I describe as a particular object may not necessary be the same. Each country defines its values. So when they create their values and they work it out and try to leave it. It now became points that which values are we projecting. Like the Western world define their values, define their politics, define everything and they've been selling it for us. At the beginning they forced us to accept and we accepted it. And we are not defining our own the way it's supposed to be. Now let's take for example, Nigeria was colonized by the British and when they were going they gave us the name Nigeria. Have you ever defined that name; The Nigger Area. The derogatory of which they called us and we accepted that. They defined it for us. We accepted it. We have not sat down to redefine it ourselves; no this name. Let's get a new name. Do every country, every nation defines its values and describes it and adopts it and uses it. In defining it they define their laws. They define their regulations and they also define the vocabularies which they use to call you.
They called us Nigger Americans rejected it; we accepted it and still carry it. So it's like a trauma to me when the name they gave us which is the definition they gave us. Some of us still carry it. And that's why I say sometimes when they say a national leader, I don't accept any national leader from Nigeria because for you to have accepted to use the word Nigger and call yourself that Nigger and haven't defined the way it's supposed to be then it's problematic and that's why you are seeing how our national values are eroded that way when we are carrying that derogatory definition of white supremacists.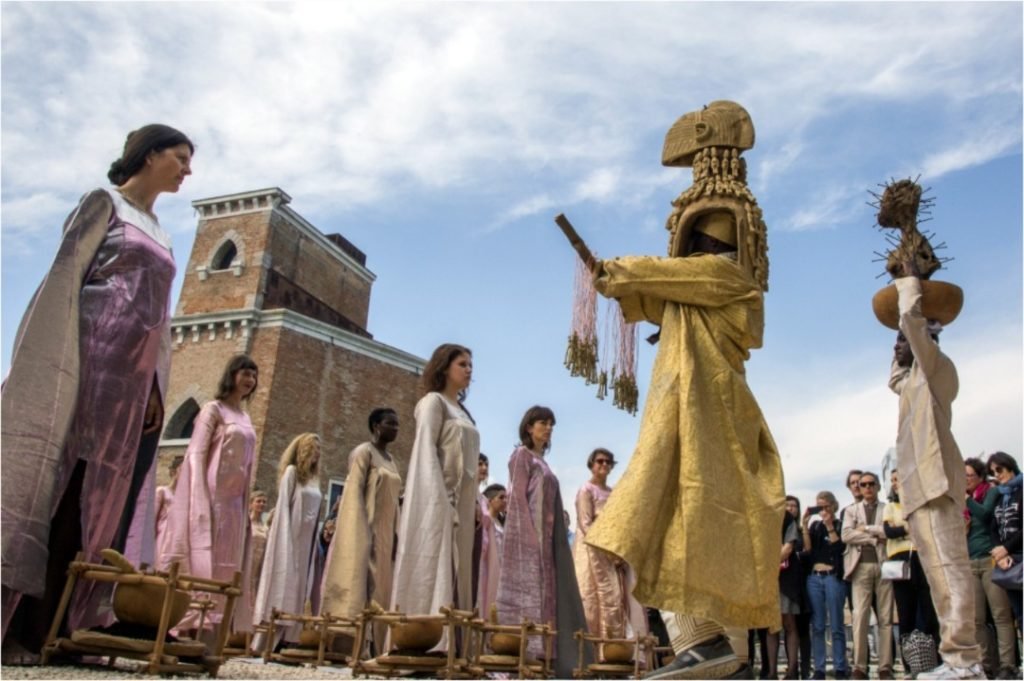 Your brand of exhibitions marvels many who observed them and they wonder what could be your inspiration with such displays?
My Art actually is to increase the sensitivity of the beholder. It's for them to begin to feel like human being where they have the opportunity to dialogue within themselves and understand the forms, the imagery which the work is created, the poetic language which the work is created and the context which the work is created, and to be able to take that your own action, your own decision based on the vocabularies we are trying to create. So it means that I'm trying to increase the consciousness of my beholders.
You did a performance in 2016 which almost got you into troubles; Can you tell us how it all went?
It's called "Aramango Must Rid This Land Of Terrorism. There was a horrible experience that happened here in Ejigbo which went viral and was titled "The Ejigbo Market Sodomy" That was in 2014 and which they from the public. We don't know anything about it until 2016 when it came into public knowledge. It became really painful. The experience was really traumatised.
Considering what I told you about using my Art work to increase the sensitivity of my environment and the people around me. So I created that work to open up discussion about domestic terrorism. And because that time, that thing that happened was the aftermath of the domestic terrorism that's happening in Ejigbo which was still continuing and to me the centre figure of that action is the king of my community who's accidently my uncle. So I put him into the context and I researched deeply into instances of what he had been doing. I collated it and I created a kind of a prayer booklet which I called my own personal OFO for the performance. So that was exactly what happened and at the end of it all there was a cut case on it. I went to prison along with some other 5people. It's a kind of text ground for Art and society which like a struggle between the two energies; the Art and The Society but at the end the Art won.
Send Us News, Gist, more... to citypeopleng@gmail.com | Twitter: @CitypeopleMagz