•Veteran Actor, Baba SAMU
Veteran Yoruba movie actor, Alhaji Abdulazeez Akanni Bello popularly called Baba Samu has made known his intention to see musician, King Sunny Ade, who he says he has known back in the day.
Alh. Abdulazeez Akanni Bello is one of the very few veteran actors who are still very active in the movie industry today. He is part of the golden era who are the fore-runners of today's generations of movie stars. At the mention of his stage name "Alhaji Samu" those who are conversant with screen play in the 60s and 70s would vividly recollect plays like Feyikogbon where the actor starred and made his name.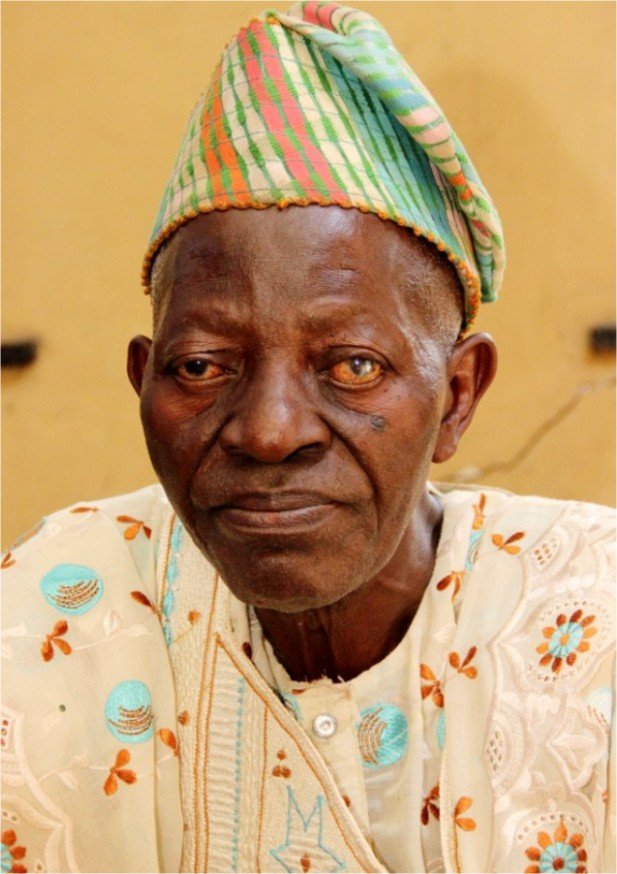 Recently, the actor who is well known as Alhaji Samu in the popular TV series of the 80s, Feyikongbon paid a visit to the head office of City People in Gbagada, Lagos. During an interview with the magazine, the actor revealed his age-long relationship with KSA and that he would love to see him again. He also took time to appreciate some actors and actresses who have been taking care of him.
"I got to know KSA when I was in Osogbo. Then I was learning photography. Sunny Ade was also learning painting. He used to visit my boss, that was how we met. We left Osogbo before me and since then we haven't met each other. When I got to Lagos, I got to know he has become very popular. I was happy for him and hoped that we would definitely meet one day. In 2001, I met Sunny Ade at a location at Ibatekun in Idi Iroko. When he saw me, we greeted and embraced each other. And he said; 'Baba Oshogbo' that's what he fondly calls me. He then gave me his card that I should visit him in his office in Yaba. During that time, I took it for granted and besides I was so busy that I didn't have a chance to go to his office. At one point, I noticed that I was being called to movies. Later I thought that I had to go in search of him. I could see how he has been helping people in industry.
"there was a day I went in search of him in Ikorodu when I heard he wanted to play. His manager asked me to wait but when he got on stage, he started playing immediately and I wasn't able to see him again. I waited for him to finish playing but he played till day break. That was how I slept off and we didn't see each other then.
"What I am just trying to say is that I am looking for someone that can bring us together. If he sees me, he would also be happy because he wants to see me too. He made a promise to me that he would help me. What is left is for me to see him so that he can fulfil his promise he made to me.
In addition, he acknowledged the cordial relationship he has with the younger generation artists and how they have cared for him over the years.
" Notable among the younger artists who I can say are very close to me are Yinka Quadri, Ajala Jalingo, Foluke Daramola and Toyosi. I had known Yinka Quadri before he became popular. We have been together for a very long time. He is still very close to me. Another popular actor who I am close to is Ajala Jalingo. Foluke Daramola is a wonderful person. She takes me as a father. She has never left me. Ever since Covid19, this lady would bring food herself to my house with money. She would say "my father, my father". It shall be well with her. She will reap the fruits of her labour. She has been taking care of me and she is still taking care of me. All the prayers rendered upon her shall come to pass.
Send Us News, Gist, more... to citypeopleng@gmail.com | Twitter: @CitypeopleMagz