•KOSOFE APC House Of Reps Candidate, KAFILAT OGBARA
She is beautiful. She is gorgeous. She is also very brilliant and a seasoned politician too. Her name is Honourable Kafilat Ogbara, one of the emerging political power houses flying the flag of the ruling party, APC. Pretty looking Kafilat Ogbara is the APC House of Reps candidate hoping to win the Kosofe federal constituency seat come next year. She is extremely confident the election is as good as won for her. And she knows exactly what she's talking about. Kafilat Ogbara is no green horn in politics. She has been around for well over twenty years ago. She started with PDP before crossing over to the APC. Right now, within and outside Kosofe, the name on the lips of everyone at this time is Kafilat Ogbara. She is a fighter, a very determined woman who never let obstacles thrown her way deter her from actualizing her dream of becoming a distinguished member of the Federal House of Representatives. Kafilat Ogbara knows what she wants and is fiercely focused on her target. She has surprised everyone, rising through the ranks and emerging as one of the brightest political minds in the Lagos APC caucus. Without a doubt, she is one of those the leadership of the party would be counting on to keep the flag of the party flying in a few years time when it is time for them to take a bow from the center stage. This hugely popular grass root politician is currently the National Coordinator, Women In Nigeria Asiwaju For Bola Ahmed Tinubu (WIN4 ABAT) and the Lagos State Secretary, South-West Agenda for Asiwaju Bola Tinubu (SWAGA'23). Let us tell you more about this remarkable woman.
Before venturing into politics, Mrs. Kafilat Ogbara started her career in Property and Facility Management in the Family Business. She had a background in the prints and Electronic Media as a Television Presenter on NTA on the programme 'Faces and Events'. She was also the Managing Director/CEO of National Mirror Newspaper and the Publisher of Today's Prime News.
A thorough bred Politician and Woman Right Activist, she was the House of Representative Candidate (PDP) for Elections in Kosofe Federal Constituency in 2003 and 2007 respectively. She also contested the Gubernatorial Elections in 2011 in Ogun State. It was much later that she dumped the PDP for the APC.
She was a member of different Gubernatorial and Presidential Campaigns in Nigeria. She worked as a special Assistant on Trade and Investment and Technical Aid Corps at the Ministry of Foreign Affairs 2011-2013.
She has served at different Parastatal as a Member, Board of Directors at the National Centre for Women Development at the Ministry Of Women Affairs, Abuja. She was one of the Board of Directors at Horticultural Research Institute in the Ministry of Agriculture. She was also a Member, Board of Directors of the Nigeria Television Authority Abuja. A graduate of English Language and Literature from the University of Lagos, she also acquired her Masters Degree in International Law and Diplomacy and another Masters Degree in Public Administration all from the University of Lagos.
At the recently held City People's Award for Excellence, Kafilat Ogbara was recognised for her contributions to politics. She spoke to City People's Senior Editor, WALE LAWAL (08037209290) about her preparations for the coming House of Reps. elections. Enjoy the excerpts.
We are honoured to have you here with us at the City People Awards for Excellence. How do you feel about the award you just received here tonight?
Well, I am humbled. I m elated. I'm very glad and happy to be honoured. It shows that people see what we do.
Share with us, ma, your optimism going into the elections next year, what is the mood of your camp at this time?
Already, we believe that we have won our election because we have not left any stone unturned. We started work even before we did our primaries. And I have been around for a while, this is not my first time of contesting in Kosofe federal constituency. So, I know the nitty-gritties, I know the nooks and crannies. My people have been on ground, they have been loyal, they have been dedicated, they have been committed, so they were just waiting for this moment and everybody is set.
So, what should your constituents be expecting from you if you win the election and become a member of the federal house of representatives?
By the grace of God, I'm going to be influencing a lot of bills and laws that will affect the lives of the physically challenged, women, children and of course the young people because in my constituency we have a little bit of challenge with our young people. You see a lot of rival gangs fighting and clashing in Mile 12, Ajegunle and all of those axis, killing themselves in the process. We are going to be looking for a way to make sure we create an enabling environment where everybody, young or old, will have equal opportunities to maximize their potentials, so that everybody, no matter how insignificant, will be able to make use of their own lives and be gainfully employed, and if not employed, become self employed in their own way. So, these are some of the things that are lacking. Most of the times, some of our good boys, you will find out that we have a lot of them, some of them are in my constituency as well and this is something that is giving me a lot of concern. I am looking at a way of ensuring that we embrace them like a family, work with them and ensure that we look at the issues on ground and see how they can be brought on board to be gainfully occupied so that there will be less incidents of rancour and killings in our local government.
As a grassroots politician, ma, what has been your biggest challenge so far getting your political career to this point?
Well, so far, you know the men usually don't want to give women the opportunity, this has been a major issue. But for me, I have been very consistent. I have been very loyal to the party, and I've been very hard working and focused as well with what I wanted, which is the House of Reps ticket. I've been at it since 1999, and by the grace of God, I was candidate twice. I contested in PDP before I came to APC. And when I got here too, I mean APC, I was recognized, my efforts were seen and my people, everybody in the local government said, no, Emi Lo Kan, and by the grace of God, I have the ticket today and I'm very, very optimistic that by the grace of God, we are going to win the elections. Whatever the challenges are, we are looking at ways to ensure that we continue to mentor our women, continue to sensitise them, educate them and empower them as well. You know, when women are not empowered, they will have the challenge of even saying they want to contest elections or they want to participate in politics. So, from girl childhood, we have to ensure that our girl children go to school. Every girl child must be in school at school hours. There is no reason for any girl child to be anywhere, whether selling anything or being at home doing nothing or begging or whatever it is, there's no reason for any girl child to be left behind. So, this is one of the targets and we are going to work towards ensuring that challenges of such that affect women will be properly looked into.
As a woman flying the flag of women in politics, how much support have you been able to get from your fellow women, especially in your constituency?
It's been fantastic. I have hundred percent support from women. They have been wonderful. They have been there for me. They are the ones that have clamoured that a woman must be their representative in Kosofe federal constituency. In fact, they have gone all out to do banners, T-shirts, faze caps, posters, all on their own to support this campaign and they have been a very big pillar in my campaign. The women have been very supportive and I'm proud of them and by the grace of God, I will not disappoint them.
I know you're a strong supporter of the APC national leader and presidential candidate, Asiwaju Bola Ahmed Tinubu, how do you think he will be able to turn the country around if elected president?
Asiwaju is our leader. He is our mentor. Asiwaju has everything we need a president to have to turn things around in this country and I have no single doubt in my mind that he will indeed turn things around. Asiwaju has the experience. We all can see what he did when he was governor of Lagos. He is highly competent. Asiwaju Bola Tinubu will bring his leadership skill to bear in running the affairs of the country if elected president. Take it or leave it, of all the presidential candidates running for presidency, Bola Tinubu is the most qualified to rule this country. He is the one with the experience, knowledge and capacity to take Nigeria to the promise land that everyone is desirous of. Asiwaju has the political will to break all barriers standing against the progress of this country. He knows and understands the dynamics of running a country like Nigeria and he is very prepared to turn our situation around for good and take us to the next level. And everyone is prepared to help him win the election and to help him succeed as well. My humble self and other millions of women out there are working round the clock to ensure that Asiwaju becomes the next president of Nigeria. We are leaving no stone unturned to see that Bola Tinubu becomes president and we are confident he will perform beyond expectations because he has what it takes to do exactly that.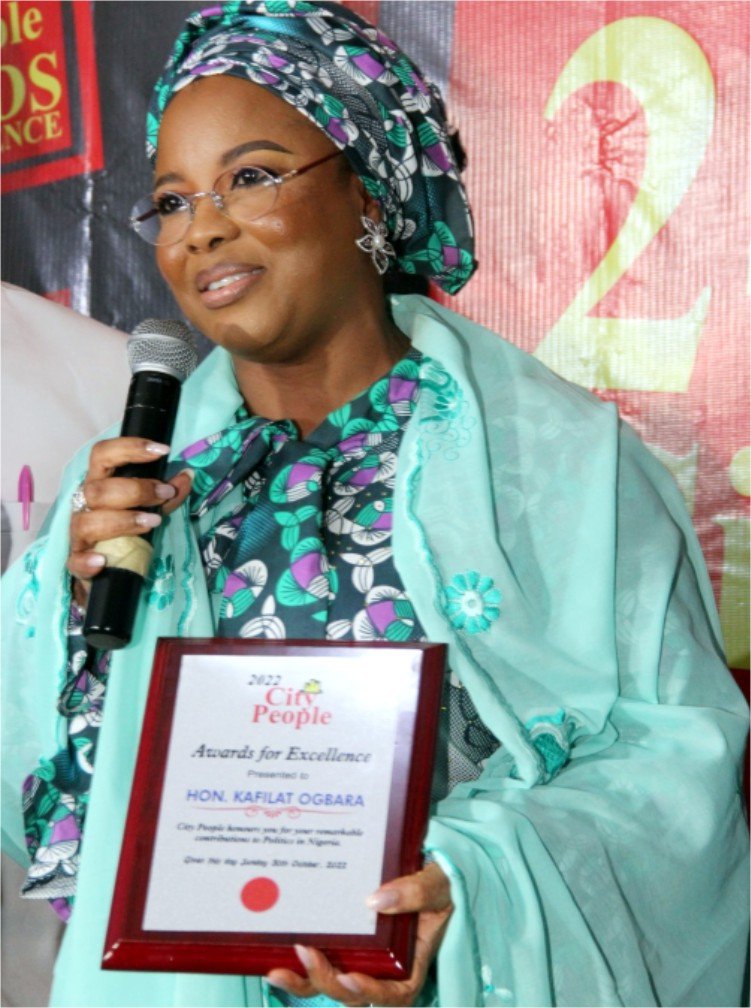 Send Us News, Gist, more... to citypeopleng@gmail.com | Twitter: @CitypeopleMagz