She is as popular as her brand, Dayo Benjamins-Laniyi aka DBL is in a class of her own. As a media entrepreneur, she is often profiled as Nigeria's No.1 female Master of Ceremony. Her spontaneity of language and expository style of delivery have earned her the highest commendations in the industry and seen her host some of the most distinguished events in Africa and abroad.Dayo is a singular persona brand whose speakership extends to advocacy with youth, women, politics, the faith arena and Sustainable Development Goal (SDG) initiatives.
She is a politician, yes, she is running for FCT Senator seat come 2023 and also a Pastor. She is the wife of the pastor Tunde Benjamins Laniyi, the lead pastor of Redeemed Christian Church of God, Throneroom Parish in Abuja. She belongs to the All Progressives Congress Party, APC. She is well loved amongst her contemporaries and has become a model mentor fir aspiring young women who want to dominate their space hence become a voice in whatever they do. This pretty woman was in Lagos at the just concluded Arise Women Conference where she came to represent Senator Remi Tinubu, the Wife of the APC Presidential Candidate, Asiwaju Bola Tinubu. She brought the good tidings from the stable of Senator Remi Tinubu and was received with a loud applaud as she mounted the stage to deliver Senator Remi Tinubu's goodwill message. Pretty, vivacious and articulate are words used to best describe this woman of value who not only came to represent Senator Remi Tinubu but also in Lagos to support her friend, her sister and co Arise Woman who is the founder of Arise Women, Dr Siju Iluyomade.
For Senator Tinubu to be represented by Dayo Benjamins Laniyi strikes a cord of close friendship between the two. We scooped that there is a robust relationship between the duo, they are also pastors in the same church, RCCG. While senator Remi Tinubu has been at the senate for many years, Dayo Ben Laniyi who is also a politician has been a card carrying member of same party and she is also close to the corridors powers having lived all her life in Abuja. These and more have drawn them closer.
Dayo Benjamins Laniyi who has been a politician for a long time though not registered with a party then is now the new face to be seen in the senate come 2023 if she pulls through at the election. She has joined the FCT senatorial race. She is a major force when it comes to gathering of people and no wonder she has been shutting down many political gatherings with what she knows how to do best. This has further solidify the relationship she has with senator Remi Tinubu because they are both pursuing same course of seeing the party pulls to victory at the forthcoming 2023 polls.
She terms herself as a voice which must be heard in many areas. In one of her interviews, she spoke about her life and why she went into politics, in quote, "Rather than a vast array of experiences that have brought me to this place, it is really a realization (Eureka) for me. I've been in politics for so long, but I've never been a registered member of a political party. This is not a quantum experience but a quantum realization. My life in Abuja over the past 30 years has prepared me for this. I believe I was destined for this. I love Abuja. I have always viewed myself as the human City Gate of Abuja. My Abuja projects have always come from the heart of my desire to use the opportunities Abuja gave me to create opportunities for others in Abuja.Abuja is me and I am Abuja. In so many ways, Abuja has blessed me and this is my turn to be a blessing. My representation of Nigeria at global fronts such as Davos and the United Nations is a collateral dividend of being trained in Abuja. I want to become a visible voice for voices speaking. Violence Against Women (VAW) is very real. In politics, there's Violence Against Women in Politics (VAWiP). In school, there is sexual harassment of female students at all levels – primary, secondary and tertiary. The Bill by Sen. Omo-Agege, Deputy Senate President, on sexual harassment in tertiary institutions is a welcome development. We note that the Gender Equality Bill has been rejected thrice! More Bills need to come on board for the protection of disadvantaged groups – women, children, PLWDs and the aged".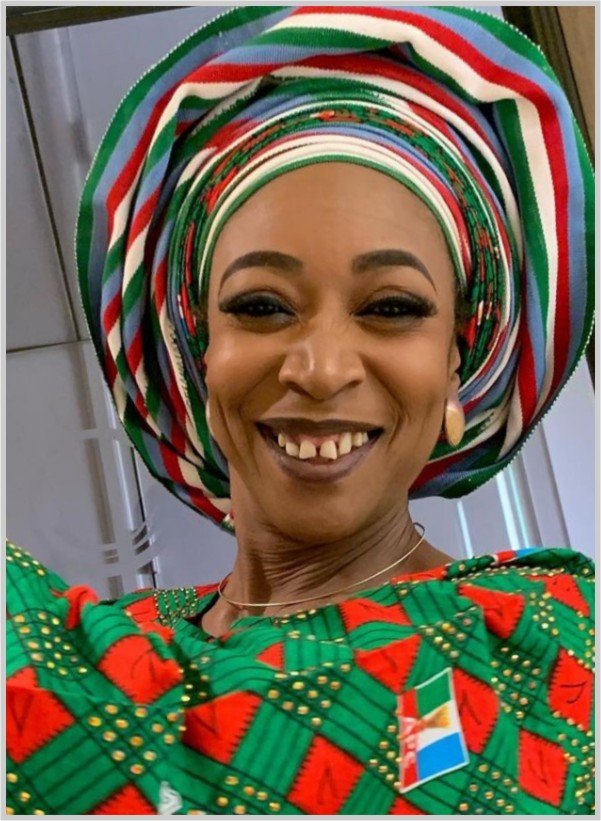 Dayo Benjamins-Laniyi who describes herself as a "Voice", distinctive, dynamic and entrepreneurial, is an enterprise Communicator, a Celebrity Communication Personality and a brand personality straddling both the events and media marketplace as well as Faith based platforms and Social enterprises for Youth, Women and Nations. Dayo Benjamins-Laniyi can be referred to as the bright star of Event Management in Nigeria, has excelled amongst her equals, illuminating every occasion and celebration with her unique style, crisp diction and her elegant –afro-centric blend of clothes that accentuate her vibrant, effervescent personality, bringing joy to every event she comperes as Master of Ceremony (MC).
She is a Voice, Media entrepreneur and an event-profiled global Enterprise Communicator who is the Executive Director of DOXA GROUP- (Doxa Digital Nig.,Doxa Conference Management Bureau, Doxa Prints & DBL/DOXACEO Brand); Nigeria's foremost complete corporate brand that is tested and proven in the market place providing total event design, management and sequencing, conference hall design, configuration and installations of technical and innovative enterprise for prestigious occasions and ceremonials of various government, social, diplomatic and corporate reference; both National and International. She is an ordained Deaconess and the wife of Pastor Tunde Benjamins-Laniyi of the THRONEROOM RCCG Abuja that meets at Transcorp Hilton.
An English [Honors] graduate of the University of Ibadan is a public speaking entity and an experiential consultant who has honed a reputation as one of Nigeria's most recognized and sought-after Master of Ceremony (MC), with a stellar background spanning Media, Entertainment, Events design & architecture, Hospitality, Culture/Tourism and CEO branding.
DBL celebrity compere has planned and masterfully executed a significant number of high-profile events, both locally & internationally.DBL is Fellow of the Institute of Chartered Management Consultants and Certified Management Consultant.
The African Culture Transformation (ACT) Initiative is an NGO/Cultural rejuvenation engine, which she has initiated to restore, strengthen and redefine African pedigree for women advocacy and entrepreneurship. Dayo is also working on an Agro-Transformation project for African Women. This project is primarily concerned with the integration of African women as global 'Agro-preneurs'. She is a relationship and entrepreneurship mentor/counselor to youth and women of all ages, and the host of a popularly known TV series with Christian Broadcasting Network (CBN) called Ask Aunty D on Living The Life Series.
She is the CEO of the annual DBL Bold & Beautiful that celebrates women in commemoration of the International Women's Day (IWD). The program is an intentional initiative that inspires a vibrant networking and mentorship platform for women across all ages, race, experiences, purpose and pursuits – using the power of personal stories.
DreamGirlsAfrica (DBL-DGA) is the inspired initiative and African Girlchild advocacy of its founder and convener 'Dayo Benjamins-Laniyi (DBL). It is dedicated to the global empowerment of the girl child in Africa, through a project-based appraisal of her academic, physical, psychological, and emotional vulnerabilities; using the founder's home nation, Nigeria as it's geopolitical Polaris. Through creativity and innovation, DBL DreamGirlsAfrica provides mentorship, guidance, support, global leadership and entrepreneurship skill sets which radically transform the emotional profile and mindset of the African girlchild and positioning her in strength and happiness for the future she truly deserves.
Dayo is an outstanding toastmaster, and a patron to a number of foundations.Dayo is the brand ambassador for The Nigeria Social Media Summit and the Vice-Chair of the Nigeria-Trinidad & Tobago Chamber of Commerce, Abuja Nigeria. She is happily married with four children. Dayo a.k.a. DBL is indeed an Enterprise Communicator and a true African Queen.
-TAYO OYEDIJI
(08111811219)
Send Us News, Gist, more... to citypeopleng@gmail.com | Twitter: @CitypeopleMagz