Apomu is the headquarters of Isokan Local Government in the state of Osun, it was one of the earliest towns that made up the historical Old Oyo Empire. Apomu was founded about early 16th Century.

Some authors even put its founding in an earlier date.

Dr. Oluremi Obateru in his book, The Yoruba City In History: 11th Century To The Present – Penthouse Publications (Nig), 2003 on page 120 to 122, put its date in the 12th or 13th Century.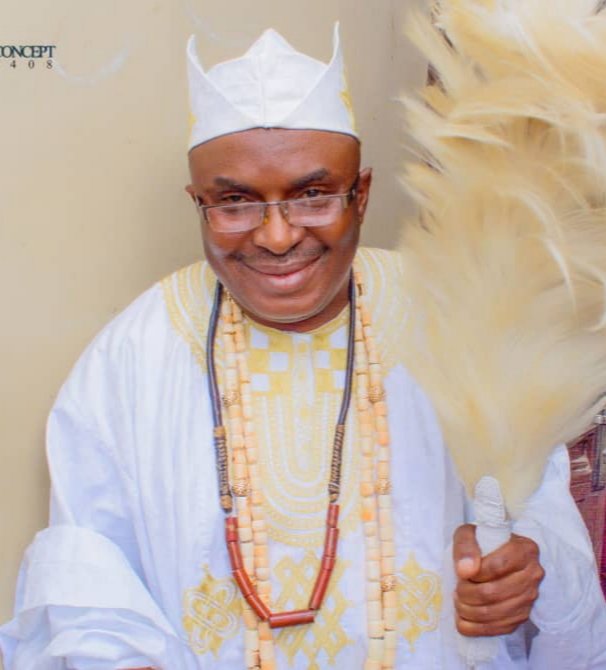 In a publication entitled: "Ede In Yoruba History" obtained during the coronation of the present Timi of Ede, HRM Oba Muniru Lawal Laminisal, a few years ago, it was stated as follows: "though Ede is an ancient Yoruba town, it is certainly not as old as Ile-Ife, Ila Orangun, Oyo, Owu, Awo, Ara, Ojo, Iragberi, Apomu and Ibokun among others, however, it's certinaly older than Ilesa, Ogbomoso and Osogbo" Therefore, that Apomu is an ancient Yoruba town cannot be disputed.

Just like many other Yoruba towns that were founded through adventures, Prince Olaarode, who founded Apomu town, was a Crown Prince from Gbegba Aje Royal family of Ile-Ife. He was also a courageous and fearless hunter. He contested the throne of Ile-Ife and lost to one of his brothers.
To console himself and according to Yoruba tradition and custom, Olaarode had to leave the town for his brother, who was made the Ooni of Ife.
He consequently embarked upon hunting expedition, which led him to the present site of Apomu.
A gigantic elephant was Olaarode's first target that he shot at Oke-Olaberinjo Orik Oloke, but finally died at a place known as Idi Ogun, which is opposite the town's Central Mosque. He was said to have met no single inhabitant on his arrival at the present day site of Apomu.
In compliance with a section of his people's tradition, Olaarode hurried back to Ile-Ife to announce that he had single- handed killed an elephant.
There was jubilation all over Ile-Ife as a result of the announcement. This feat encouraged some of his brothers like Prince Olaremilekun, Prince Atoyebi and a few others to accompany him back to the site of his feat where they decided to settle with their brother.
He saw a stream very near the place where the elephant fell and he named it after the cam-wood (Osun) which he saw by the side of the stream. The stream is called Odo Osun (Osun stream) till today.

Prince Olaarode did not want to settle permanently at his new abode as he still nursed the ambition to go back to Ile-Ife to become Ooni of Ife, the cradle of Yoruba.
However, he could not achieve that objective. He reigned peacefully in Apomu as the first Oba of the town for several years before he died.

He was succeeded by his brother, Olaremilekun. Prince Olaremilekun had the honour as the King who built the popular Apomu market situated in front of the palace in accordance with Yoruba culture.
The market at Apomu later became one of the most important commercial centres in Yorubaland where the people of Ife, Oyo, Ijebu and Owu met for commercial transactions in the ancient period. The Ooni of Ife later gave a sword to Oba Olaremilekun for administering justice to those who misbehaved in the market place at Apomu. The sword is known as "I d a Olaremilekun" (Olaremilekun's sword) has since then been passed on to each succeeding Oba of Apomu.
HOW APOMU GOT ITS NAME
In due course, many people from Ife, Ijebu, Oyo and Owu began to trade in different articles such as bush meat, elephant tusks, alligator pepper and many other useful articles in the market of Apomu.
The settlement readily became a popular cross road to Oyo, Owu, Ife and Ijebu. Apomu was arrived at as a result of a soup "GBEGIRI" or "OMU" usually prepared by one of a wives (Olori) of Olaremilekun.
The preparation of yam flour (OKA) and "omu" or gbegiri by that Olori became known everywhere in Yorubaland and the woman became popular and associated with her cooking prowess.
Most traveler's and tourists remark on the soup then was ((I will not eat until I arrive at the settlement where OMU SOUP is well prepared (ibi ti won ti npo omu didun).
The woman was consequently named "APO OMU". It was later shortened to Apomu, which the town bears today.
OLAARODE'S DYNASTY
Twelve monarchs have sat on the throne of Apomu before HRM Oba Lasisi Olasiyan Afolabi.
All of them including HRM Oba Afolabi were descendants of Olaarode and his brothers.
They are: (1.) OLAARODE: The founder of Apomu (2.) OLAREMILEKUN: Olaarode's brother who established the famous Apomu market. (3.) ATOYEBI: Olaarode's brother (4.) OSIKITI: Son to Olaremilekun. (5.) OLANIYONU: Son to Olaremilekun. He was reputed to have dug a ditch round of his domain for defensive purpose (6.) OGUNWUSI: Son to Olaremilekun (7.) EWUOLA: Son to Olaremilekun (8.) OJUIRI: Son of Atoyebi (9.) OJO: Grand son to Olaarode
(10.) OYELEVE: Son to Ewuola (11.) ADENIJI: Son to Ewuola (12.) OYETUNJI: Great grandson to Olaarode. He built the palace. The popular Owode market was established during his reign. The Nigeria Police got to town during his time as Oba.
(13.) LASISI ASIVAN AFOLABI: The first literate Oba and also the first king to wear beaded crown with fringes. Pertinent at this point to say that Oba Olaarode did not intend to make his hunting settlement a permanent home. He was still nursing ambition of returning to Ile-Ife to become the Oba after the death of his brother, before he died (Olaarode). He therefore did not claim his own share of his ancestors numerous original beaded crowns from Ile-Ife, which HRM Oba Afolabi successfully did after asserting his right.
According to Oyo State of Nigeria Gazette No 31, Vol 3, 27th July 1978 (Chiefs Law).
Alapomu of Apomu was among other eight Obas conferred with first class status and authority to wear Beaded Crown.
Others in the list are: 1. The Timi of Ede. 2. The Akirun of Ikirun. 3. The Iba of Kishi. 4. The Onjo of Okeho. 5. The Ogboni of Ibokun. 6. The Ogboni of Ijebu-Jesha. 7. The Apetu of Ipetu-Jesha. 8. The Apetumodu of Ipetumodu.
RULING HOUSES: As years rolled by, the throne became a rotation among the descendants of Olaarode, his brothers and their sons. They are now arranged into five ruling houses: ATINLOLA, OLANIYONU, ATOYEBI, EWUOLA , AYEYE.
HRM Oba Lasis Olasiyan Afolabi hails from Ayeye Ruling house. Only descendants on the MALE line can however become Oba.
HIGH CHIEFS: The high Chiefs are arranged according to a definite order whenever the Monarch appears publicly on the throne. There are twelve principal Chiefs. Six are on the right while six are also on the left.
Those on the right are: 1. Asalu. 2. Ajilo. 3. Onilete. 4. Ayope. 5. Mokuajo. 6. Moluberin. Those on the left are: 1. Oosa or Olisa. 2. Odofin. 3. Aro. 4. Ejemu. 5. Osolo. 6. Baase
RELIGION AND FESTIVALS: The indigenes of Apomu are mostly Muslims and Christians. There are however some who still embrace the traditional religion.
The traditional festivals are observed as follows. 1. Oro (March/April). 2. Egungun (June/August). 3. Oluka/Mole (July/August). 4. Soponna (August/September) and 5. Orisa Oko (September).
Send Us News, Gist, more... to citypeopleng@gmail.com | Twitter: @CitypeopleMagz