Dr. Bamidele Onalaja is the MD/CEO of RevolutionPlus Property Development Company, one of the leading real estate companies in Nigeria. He floated the property company 5 years ago to provide affordable homes for Nigerians, both at home and in the diaspora.
On Tuesday 21st May, 2019 this real estate guru will be celebrating his 45th birthday in grandstyle. But the celebration has been shifted to 26th May, 2019. We can confirm that the prestigious Oriental Hotel in Lekki, Lagos has been fully booked for the celebration Top artistes have been billed to perform.
Few days back, City People Publisher, SEYE KEHINDE and Head of Real Estate Desk ISAAC ABIMBADE, paid him a courtesy visit at his Lekki office. He told us why he had to celebrate this his 45th birthday and why he didn't celebrate his 40th. He revealed a lot of shocking details of what he has gone through in life to be where he is today. For instance, he revealed how he served as a CocaCola Truck Boy. How he sold Computers & very many other things to break even.
He told us about his new new foundation, Chris Bamidele Onalaja Foundation and a whole lot about the story of his life. Below are excerpts.
Let's start by asking you to share with us your story; how you started off. Where were you born, your growing up years and the school you attended.
I was born into the family of late Snr. Apostle General Timothy Olusegun Onalaja of Isonyin, a town under Ijebu-Ode. It's under Ijebu North-East Local Government. My mum, unfortunately is late. I lost my mum immediately I finished my University Education, over 20 years ago. Her name is Mrs. Christiana Aduke Onalaja. She was from Ago-Iwoye in Ijebu, Ogun State.
Growing up, I grew up in Lagos. I was born in Surulere. At a particular time, we moved to Agege. I attended Karaole Primary School, Ifako Agege. Thereafter, my father moved all of us back to Ijebu for our Senior Secondary School Education. I attended Odopotu Community Grammar School, Odopotu Ijebu.
Thereafter, we moved back to Lagos. I wanted to read Science but my father insisted I must become a Medical Doctor, myself and my brothers. But unfortunately, I failed Physics twice. So, I couldn't realise the desired results. So I moved to Lagos.
I had a resit; I attended Awori Anglican Comprehensive High School, Ipaja and I still didn't make Physics. Eventually, I crossed to Commercial class. I did JAMB. I passed after 2 to 3 attempts; and it wasn't as if I didn't pass JAMB but anytime I pass, I was always told I must have connection to be admitted into the University.
My father had 10 children; 5 boys, 5 girls. Eventually, I gained admission to Lagos State University to study Economics. So, I studied Economics in LASU. I finished from LASU in the year 2000 and I had my B.Sc. degree in Economics. After a few years, I went back to the same University to do my Master's. I did my MBA in Marketing. I then proceeded to the University of Lagos (UNILAG), to do Project Management Certificate.
Before all these ones, I have been working. I used to sell telephones on the streets of Lagos, as a marketer. It was land phone then in one company called GTE in Gbagada Estate. That was the first place I worked. I was paid 10,000 naira per month there. I used to walk the streets of Lagos, looking for customers. I Waka! And while I was marketing that phone I met my wife.
I went to her aunty's shop. She just finished her University education from University of Ibadan (UI). I went to her aunty's shop (opposite Lagos State Government Secretariat), there was a mini market there. So, I went to market there and I entered the shop. I saw this young and beautiful woman. I asked her about her aunty because her aunty had promised to buy phone from me and she said she wasn't around. I asked about her name and all that. She was so reluctant; she didn't want to talk to me.
So, she was reading a book, titled "Join This Chariot". It was a book by my Pastor, Pastor Chris. And I said that is my Pastor. She responded too that he was her Pastor.
Fortunately, that was how we got 'hooked' because of the church, she got interested. Eventually, I brought her into my company to work. She also sold phones because when she was working for her Aunty she was searching for job. I told her to send us her CV because I was close to the management at that time and she did.
In this Lagos! I had worked as a truck boy for Coca-Cola bus. I used to offload Coca-Cola crates for customers. I have a mark on my lap; I was injured by a broken bottle. It went deep into my tissue. Before I gained admission to LASU, I did all sorts of jobs, and that was when I joined Coca-Cola bus in Ikeja, as a truck boy. It was very rough growing up because I didn't come from a rich home, but my father wanted all his children to succeed.
I have another mother who also plays a very important role in my life. I don't call her my step mum but she is one of the people that brought me up. My biological mother is late.
My dad is late. She is the only one alive. She is over 75 years now. She has retired as Matron at Igbobi. I always sneaked to see her from University to ask her for food. She would give me whatever she has. She didn't say you are not my son and she is reaping that today. She was very good to us when we were growing up; myself and my siblings.
How did you now transit from that job to the new business you went into?
When I was Marketing Telephone, I said let me search for another job. Fortunately, one of my friends introduced me to Agbara Estate Company. The company started 1979, and that was the first organised estate in Nigeria, located in Agbara. That was my first experience with real estate. They employed me as the company's Marketing Manager. I spent about 2 years there.
Then, I moved on to work with a Mortgage Bank. I loved real estate because of my first encounter and I said I must provide affordable homes to people. I got involved with Refuge Mortgage Bank in Opebi, Ikeja. I was their Project Manager.
That was where I learnt all the tricks about real estate, and what we do now. I started two beautiful projects for Refuge Mortgage; one is in Mowe and another in Simawa. I also worked closely with the state government and Omo-Onile, while working there.
Three years after, I joined Cornerstone Mortgage Bank in Adeniyi Jones. I have always been working for Mortgage Bank. I spent about 2 years at Cornerstone. I went to join Sterling Mortgage Bank, now called Safe-Trust Mortgage Bank. I was the Branch Manager for Ikeja branch for few years. It was while working with that bank I decided I that have garnered much experience, I want to start my own company.
And that was how my wife and I put heads together to float RevolutionPlus Property Development Company. We were praying one day and the Holy Spirit just gave us the name Revolution. So, we searched CAC, but we realised the name had been taken, so we now added Plus to make RevolutionPlus and that was how we arrived at the name.
How has it been since that time?
It is been very challenging. I remember how I would wake up in the middle of the night and I would start crying, because for over 6 months to a year, nothing was happening.
We needed money to start the company because I left the bank broke but I had made up my mind I won't go for any paid employment again, that I want to be an enterpreneur. I want to provide affordable homes for people. There was a particular land they showed us in Mowe but we were told we must provide 5 million naira to start.
So, there was a particular day my wife said, let's go and see one of her Uncles in Lagos maybe he would help us to buy. It was a very thick bush then but the Uncle believed in the project. That is our Royal Heaven Estate in Mowe. That is our first estate. The man bought one hectare of land. He paid for documentation and everything. That money gave birth to our company, RevolutionPlus property.
At a particular time, we wanted to expand but there was no money. We needed 10 million naira to extend to Lekki-Ibeju axis. We approached 2 banks but they denied us, despite the fact we have been doing transactions with them. Though, our Turn-Over wasn't that much then, but we were consistent.
We requested for just 5 million naira. But because we were determined to start the Ibeju-Lekki project, we gave out our cars to money lenders. My wife and I trekked for 2 weeks. There was no car to move around. And that was how we started Ibeju Lekki property. And since then, cash flow has been consistent and more money came in.
We are now extending and doing business in a bigger volume. From that one project in Ibeju Lekki, we now have over 15 projects in around Ibeju Lekki, and Lekki itself.
We just launched Ibadan housing estate 2 weeks back. We are thinking of other two projects.
We have been getting calls from friends in the diaspora to extend to Ibadan. Some of them would say don't you have land in Ibadan; the one they said they have in Ibadan aren't trustworthy? So, it was base on demand. We went to Ibadan for expansion and also demand. We also went there to provide affordable homes, because that is our focus. And ever since we opened Ibadan the response has been good. We are becoming known in Ibadan now.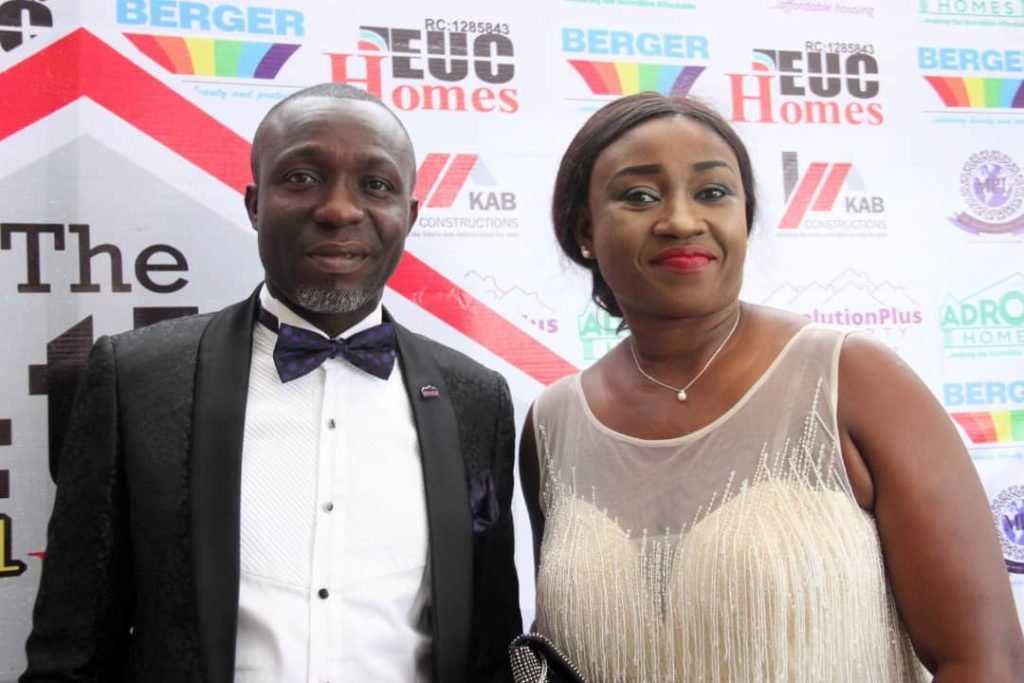 Why did you decide to celebrate your birthday this big and what comes to your mind whenever you remember your birthday is coming up in few days time?
One of the reasons I decided to mark this birthday was because, when I was 40, I didn't have money to celebrate it. I was 40 years, I was broke. 40 is a landmark for any young man. Even though you don't celebrate it big, you can still celebrate it with your friends, family, go to church and do a small party for God to have kept you alive. But God has given the opportunity now to be able to celebrate it. God has been so good to me. I feel good, I feel grateful and to be able to do more.
Were you told you would become this big and influential?
I can't remember being told I would become somebody influential or big.
In my final year in school, my younger brother invited me to Christ Embassy. I met Pastor Chris and I can say today that Pastor Chris made me who I am (apart from God). Because of his messages, his teachings. My Pastor's message is different from every other Pastors.
I just housing to provide affordable house to people. I also wanted to live comfortably and make money but God just blew it beyond my imagination.
I am a Deacon in the Ministry. I am a leader in the church. One of the things that help my wife and I is our corporate exposure. I was an ex-Banker. I worked in a real estate sector for 13 years. My wife worked for about 10 years. All those corporate exposure helped us. And I thank God that the expansion anointing is working in my business.
People are suffering. I have gone through a lot while growing up. As a young boy I could remember there won't be food at home to eat. I know what my father went through in a rented apartment, and I don't want people to go through such ordeal.
We just launched Chris Bamidele Onalaja Foundation, which gives scholarship to vulnerable people in the society. We have been going to hospitals to help people. During the opening of our Ibadan regional office, we gave 2 scholarships to two children, from secondary level to University levels, from the Chris Bamidele Onalaja Foundation. Because I have been through a lot in the past. I have done bricklayers job to survive.
–
Send Us News, Gist, more... to citypeopleng@gmail.com | Twitter: @CitypeopleMagz