A black American billionaire, Robert Smith, has said that he will sponsor the education of 24 girls from Chibok Community, including the 21 recently rescued Chibok schoolgirls.
Garba Shehu, the Senior Special Assistant on Media and Publicity to the President, made this known to State House correspondents in Abuja on Tuesday.
He said beneficiaries of the scheme included the first set of escapees from Boko Haram insurgents.
According to him, the girls will be admitted through negotiation at the American University of Nigeria (AUN), Yola.
"Smith has offered to pay for the education of the 21 released through negotiations and is offering to take responsibility for all the others who will hopefully be eventually set free. The Murtala Mohammed Foundation in the country is equally interested,'' he added.
On the welfare of the recently-released 21 Chibok Girls, Garba said "they are being treated as adoptees of the Federal Government but there is a lot of local and international interest in the future plans of the girls.''
However, some of the parents of the 21 Chibok Girls complained that they did not have enough room for interactions with their daughters brought home for Christmas by the Department of State Services (DSS).
Reacting, Shehu admitted that there were some hitches arising from a lack of understanding of the objective of the trip on the part of some security operatives.
He, however, stated that following the receipt of this complaint, a directive had been given from the headquarters for the access by the parents to be eased.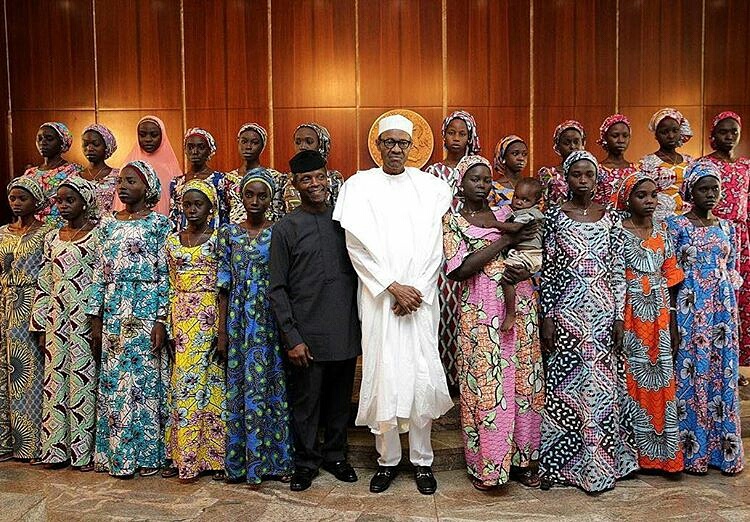 President Buhari, Vice President Yemi Osinbajo, and the 21 Released Chibok Girls
"If the situation persists, please let us know so that the higher authorities will make a further intercession," he said.
Smith is a 54 year-old businessman, who attended Cornell and Columbia universities. At Cornell, he picked a Bachelor of Science in Chemical Engineering and an MBA at Columbia. He lives in Austin, Texas.
He is the CEO of Vista Equity Partners, an investment firm with over $26 billion in assets as of September 2016, according to Wikipedia.
According to a short bio written on him by Forbes, he was the son of Ph.D holders and was bused across town to his school in the early days of desegregation.
"He later convinced Bell Labs when he was in high school to give him an internship typically only available to college upperclassman by calling them weekly for five months. Smith quit Goldman Sachs to open his own private equity shop, Vista Equity Partners, in 2000. Neuberger Berman bought a stake in the $16.9 billion (assets) Austin, Texas firm, best known for fixing up enterprise software outfits, in July 2015. That same month, Smith married 2010 Playboy Playmate of the Year Hope Dworaczyk in Italy," Forbes reported.
Forbes listed him as the 274th richest man in the United States as at 27 December, with a net worth of $2.5 billion. He is ranked 688th in the world. Some other reports put his net worth at $3billion.
He is a self-made man, who made his money in private equity investments. And before then, he struggled early to get what he wanted.
According to his story, as a junior at Denver's East High School in the 1970s, he showed a fascination for the geekiest subject there – Computer science.
"The transistor held particular wonder for him. This small device, a crucial valve controlling the flow of electrons within a computer, had been invented at Bell Labs. Bell had a nearby office. Maybe he should work at Bell, too.
After securing the number, Smith phoned and inquired about a summer internship. Yes, Bell did have one, he learned, but only college upperclassmen could apply. Smith had straight As in math and computer science. Would that count? 'No', Bell said, it would not. Undaunted by this initial rejection, Smith called back every day for two weeks—HR stopped answering after Day 2—and then cut back on how often he called …to every Monday for five months. Eventually, he was rewarded for his doggedness. After an MIT student didn't show up in June, Bell called Smith if he could come in for an interview.
"I ran my own race. I knew what I wanted, and my persistence paid off, and I came in and interviewed. They liked me, and I got the internship," Smith said in a commencement address at American University in 2015.
"In fact, I worked there for the next four years during summer and winter breaks," he added.
After leaving Cornell, he worked at Kraft General Foods, where he earned two United States and two European patents.
He then attended Columbia Business School, where he graduated with honours. From 1994-2000, he joined Goldman Sachs in tech investment banking, first in New York and then in Silicon Valley.
"As Co-Head of Enterprise Systems and Storage, he executed and advised on over $50B in merger and acquisition activity with companies such as Apple, Microsoft, Texas Instruments, eBay and Yahoo. He was the first person at Goldman Sachs to focus solely on Tech M&A and foreign countries," the report stated.
In January 2015, based on its performance over the last 10 years, Vista Equity Partners was named the world's Number One performing private equity firm, according to the HEC-Dow Jones annual ranking conducted by Professor Oliver Gottschalg.
Preqin, a consulting firm that tracks the industry, reported that Vista's third fund returned $2.46 for every dollar invested, better than every other big fund raised between 2006 and 2010, the boom years for private equity.
In October 2014, Vista closed its Fund V at $5.8 billion, its largest fund to date.
As a successful African-American, Smith has been generous.
In January this year, he announced a $50 million gift to his alma mater Cornell University, which renamed its school of chemical and bio-engineering after him. In June he was named chairman of Carnegie Hall.
In September, he donated $20million to the National Museum of African American History and Culture. His private gift, as reported by Washington Post was the second largest behind Oprah Winfrey, the richest African-American, who gave $21 million.
Smith has received the Reginald F. Lewis Achievement Award, the Humanitarian of the Year Award from the Robert Toigo Foundation, and the Ripple of Hope Award from Robert F. Kennedy Human Rights.
Smith was also awarded an honorary Doctorate of International Affairs from American University's School of International Service. He founded Project Realize– termed "Free Market Philanthropy"– in order to combine the best elements of the American free enterprise system with the core American ideals of giving back and lifting others up.
No wonder, he is willing to lift the Chibok schoolgirls out of their predicament and give them a dream education.
–
–
Source: Bellanaija
Send Us News, Gist, more... to citypeopleng@gmail.com | Twitter: @CitypeopleMagz