On Tuesday, 21st of May, 2019, was Dance hall star, Patoranking's Album listening party. And it was a blast. Everyone who mattered in the industry was there. If truth be told, the listening party was like a mini concert, only that the galaxy of stars present were strictly A-list stars. Born Patrick NnaemekaOkorie, but better known by his stage name Patoranking,this talented singer is a Nigerian Reggae Dancehall singer and songwriter.
He had his Album listening party last weekand it was one listening party never seen before. A lot of entertainment industry big shots were present. This is his second listening party at the 12 Temple Ikoyi. He calls the album Wilmer and it consists of 12 nice tracks. The event kicked off at 8.00 when Patoarrived the event center with a Lamborghini.
He granted interviews on the red carpet with all the press men available. The crowd at the event was one of a kind, at a point people forgot it was not a listening party because the number of press that were present, plus the A and B list of stars and guests that attended was mouthwatering. From the Red carpet,Pato went inside and thanked everyone who came out to support him and also stressed that all the people in the room hearing the Album for the first time meant a lot to him and he will keep making them proud.Then the Album was played one track after the other.
Pato also took time to tell hisguests that he spent 2 years to plan the whole Album and he was grateful it came out well in the end. He did a totally different vibe on this Album because it had mostly foreign artistes on the tracks and we can bet they made it worth the 2 years of planning. There was enough to eat and drink at the party, meals were not served until the arrival of Pato when he came to have a taste of all the foods.
There was cocktail, Hennessy, and other fruit drinks at the party. The arrangement of the party was one of a kind, it was not like it had reserved space for stars and celebrity guests, everyone sat where they liked.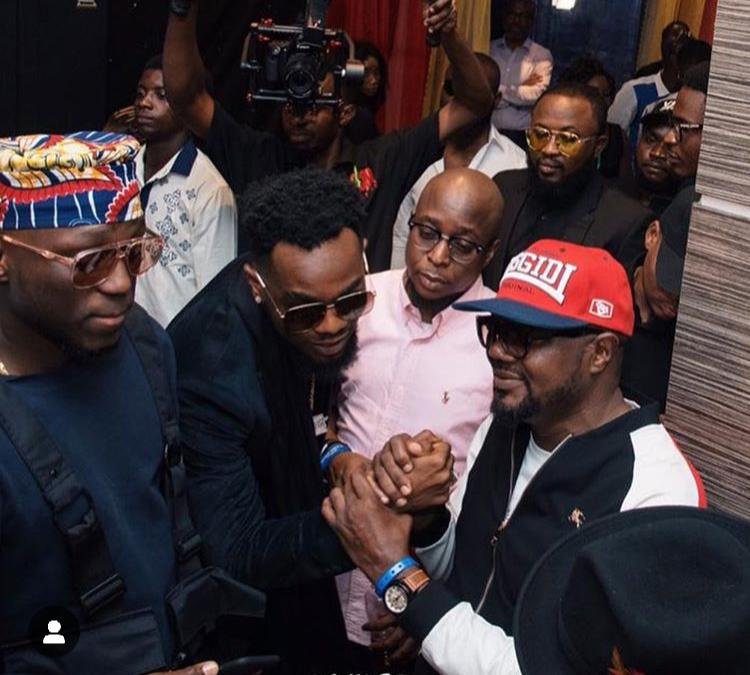 After a while, Patoranking went round, thanking his entire guests for coming around to celebrate with him. He was vibing and dancing with his guests and friends. So many A-list artistes were available at the event. DJ Spinal and Ehiz the Dada boy came to the event together. Spinal was rushed by the press to grant interviews.
Larry Gaga came for the event and just stood at one corner, preferring to be unnoticed. It was strange to see how he is in person a really cool guy, he really didn't sound or look mean like the Larry Gaaga we see on TV.He gave attention to all the press men that came to talk to him. If you don't know him very well, you would not even know it's a celebrity standing next to you. Don Jazzy came around but didn't attend to Press, he only took pictures with his fans.
Cobhams was also out to support Patoranking, he also exchanged pleasantries with the guests.TimiDankolo came too, he was also trying to avoid the press but he had no choice but to speak with them. You know how the press can pressure you. Ycee was at the event with his manager and friendLow key with a drink. Magnito, the "If I get money," crooner came out to support.Sheyi Shay stormed the event with her manager and friends looking all beautiful.YemiAlade came into the event on a low key but she was still noticed by the press and crowd.
Tiwa Savage stormed the event and the whole crowd was surprised and shocked to see her present.The moment she appeared, the DJstarted playing her songs, and she was dancing and smiling with so much joy.So many people rushed to where she sat just to make videos of her.
Moments later, Patoranking stepped out and fans thought he was leaving already no one knew he went out to welcome the legendary Wizkid.He stepped in with Wizkidand the whole crowd started screaming like it was Wizkid's party.They were so happy that Wizkid turned up for Pato. Wizkid took his time doing his thing, and hugged Tiwa, greeted other celebrities and press men around.
Dbanj also came out with his wife, Sami Walsh and a friend to the party and was being rushed by fans. 2Face came in with his wife looking all take away. Victor Ad, Dj Neptune, Dj Jimmy Jatt also came through to support him. Omawumi was also at the event. Other artistes like RicHannis, IDLY music. Ex BBN housemates likeBassey, Khole and Kemen came to support too.  Phyno was also at the event, he came in on a low-key, Runtown was also at the party. Denrele stormed the event in style as you know anywhere you find Derele, there is no dull moment with him. He went around hugging and exchanging pleasantries s with his colleagues and fans around.
Lagos big Boys and babes were also at the party to support Pato, and even though there was enough to eat and drink for free, they still bought from the bar. The DJ was another hot stuff, he slammed all the latest jams, especially hit jams of the big shots that stormed the event in grand style. It is really not a regular thing to see so many big faces in one event but Ranking broke the record by pulling such a big assemblage of stars under one roof, in one night, to support him.
This event was at no point boring because there was enough to eat and drink, and the DJ was serving good music to the guests. Most of the guests had to chill outside because there was no space inside to contain the large crowd. Patoranking really did justice to the listening party and his fans will be expecting more from him.
Send Us News, Gist, more... to citypeopleng@gmail.com | Twitter: @CitypeopleMagz