…Don't Joke With
•How They Shut Down In LAGOS
These celebrity ladies are bigbabes in all ramifications. They all live abroad, most especially U.K and US. As they are popular within the social scene abroad so also are they popular here in Lagos. They simply make statements wherever they are. They don't make noise but anytime they beat the drum, many bigbabes are ready to dance. This particular 5 ladies have friends in common. That is why whenever they put up a party, same circle of celebrity women show up. Though we have many women who live abroad and have come to have their parties in Naija but these 5 ladies, not only come to Lagos to stage parties, anytime they come around, legions of women from different countries and states follow them. People love them in terms of connection, the circle of friends they pull, their outfits and all. One synonymous thing about these 5 is that they are all fashionistas and they have 90 percent love for k1 's music. Infact many women in Nigeria invited them to their parties even though they are based abroad and they all honoured the invitation.
One of them who commands respect within the Lagos social scene is Sai Achabi, popularly called Aralamo Ashabi, the CEO of JAMOND Jewelries. She is a Jewelry merchant. Though she stays abroad, she has many friends in Naija especially in Lagos. She is known as a crowd puller, she carries crowd wherever she is. Many society women and bigbabes love her because of her nature. Very friendly and highly receptive of people. She was one of the bigbabes who came to Nigeria to celebrate her birthday and practically shut down the social scene.
Many of those who attended the 50th birthday party of London Gold Merchant, Hajia Aralamo Ashabi are still talking about the birthday bash, which was grand in all ramifications. It saw about 500 London based Naija celebrity ladies flying into Lagos to celebrate with this beautiful lady who is the CEO of Jamond Jewellery, based in London. She lives in London, where she is the No 1 Gold Merchant. Close to 2,000 guests attended that event with 70% coming from London. Of course, it was her birthday several months back, but she chose Friday 30th July to celebrate it in a big way. It has been described as the mother of all parties, as Hajia Saidat Yetunde Aralamo Ashabi Balogun shut down Lagos.
Tagged SAI @ 50, it was a party that took 7 months to plan. From early January 2021, Aralamo and her clique of friends (made up of successful celebrity ladies based in the U.K) sent out #SAI@50 Save the date promos to friends across the world. It read Save The Date 30th July 2021. The Aso-Ebi was in different shades & grades ranging from N250,000 to N350,000. And many of the women gladly paid. No one wanted to be left out of the action.
Friday 2nd, July 2021 was actually her birthday but she chose to hold her party on Friday 30th July because this particular birthday is a landmark birthday. She left no stone unturned as she unplugged all the stops. First of all, she chose Whitestone Place, the newly opened event centre.She also chose K1, as the artiste of the day. She likes K1's music and she is in fact a great fan of the Fuji King.
One of the reasons it was difficult to control the demand for invitation cards was because of the kind of job she does. She is a Gold Merchant who has clients all over the world, especially in Nigeria, where she hails from. This made her to decide to choose Lagos as the location for the party.
Many like her so much and she is fondly called SAI which is a short form of SAIDAT, her name. Many of the women made Style statements. The celebrant herself looked regal and radiant.
She changed thrice. She looked stunning in her different H.O.H laces. She looked sizzling in her designer outfits. Many Lagos based celebrity ladies like Emmanuella, K1's wife came and over 2000 celeb ladies. Insiders reveal that Aralamo attracted such a huge attendance because of her amiable and magnetic personality. Everybody describes her as a nice lady with a heart of gold. Many of the guests told City People that they attended because she also attends their events.They revealed that she would go to any extent to honour her friends. They added that despite her success story, she is very respectful.
This list will also not be complete without mentioning Nike Shittu. She is also popular within the social scene. She is a crowd puller as well. Anytime she is staging any party, she goes all out and most of her friends from all over troop to the country to celebrate with her. We can remember when she turned 50 few years back, she shut down Chicago. Many celebrity ladies flew into the city to celebrate with her. What about when she came home recently to bury her late Dad, the popular Aiyepe lace merchant in Ijebu, Baba Shittu. It was a party that shut down a Ijebu on that day.All roads that led to Aiyepe-Ijebu in Ogun State when the Shittu family held a Grand Final Party in honour of their dad, and patriarch, Alhaji (Prince) Shafi Mobolaji Shittu, the great Aiyepe-Ijebu industrialist who produced the famous Aiyepe Lace in those good old days were busy.
Fondly called Nikki Shittu, the beautiful daughter of Alhaji Shafi Shittu hosted a classy party that attracted the attendance of many dignitaries. A lot of celebrity women stormed the grand party which had K1 on the bandstand.It was indeed a big party as many Ijebu-Aiyepe indigenes came out to honour Alhaji (Prince) Shafi Mobolaji Shittu, for a life well spent and for having helped many people across Ogun State.
It was not only a beautiful party, Nike Shittu stole the show at her Dads Burial Party. She stood out distinctly looking stunning in her outfits with her friends. She made fashion statements, as she appeared in two different outfits. She also dragged many of their celebrity friends from London, the US and Nigeria to the party.Over 100 Celebrity Big Babes made fashion statements at the classy party.The Ankara Fabrics looked simple, but many of the celebrity ladies turned it into beautiful outfits.Some of their friends who made fashion statements were, Alhaja Shile Sobowale, Alhaja Morayo Balogun (MS), Ayo Lamina-Abu, Mrs Shittu Olayemi, Bola Omobola (Espanol), Fola Ola, Yeye Asiwaju Rabiu Oluwa, Yeye Tola Oluwa, Olasumbo Ilori (Symbolic Exclusive Fabric), Olori Fayinyola Danmole-Abdul, Mrs. Adejoke Biobaku, Sholape Kaffo, Efunwunmi Alfeed, Alli Balogun Lojede, Tutu Boston, Alhaja Kafilat Ogbara and many other celebrity ladies.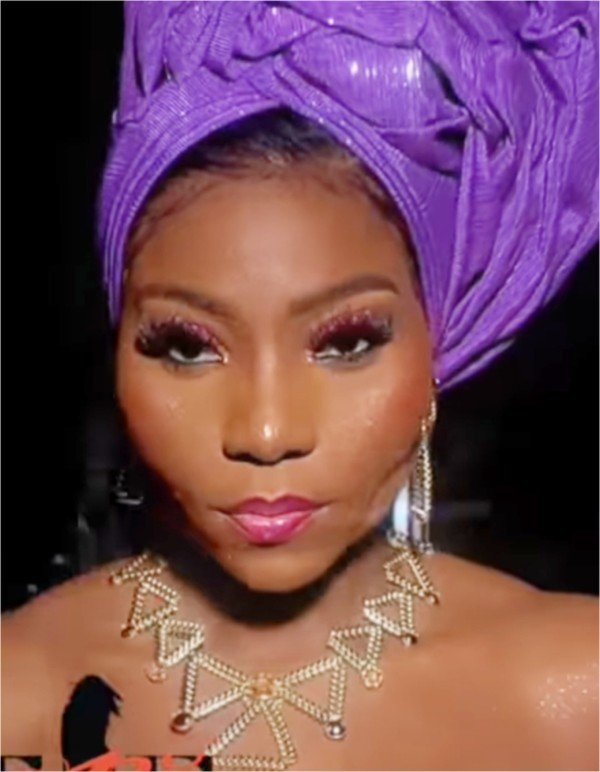 She is well loved by many people and this was conspicuously seen at the party as the hall was filled to the brim. The party was lit and bigger boys and babes added colour to the fun. Nike's party was one that was on the lips of many people for that weekend because everyone prepared well for the 2 days.At the party were numerous big boys and babes who not only came to celebrate with Nike but also to support her. Many of her friends who flew in from different countries have been her friends for over 30 years. Some attended the same school.
One of the big parties that rounded up year 2022 was Abidemi Oreagbas 50th birthday party. Abidemi Oreagba is a top Jewelry Merchant in London. She recently celebrated her birthday and everyone celebrated her. She is specifically into gold. She sells nothing but 18 carat gold. She is a nice woman. She is an easygoing and is always there for her friends and customers. This was put to bear at the party as many of her friends, from all over the country and beyond flew in to celebrate with her. She shut down the social scene for that day. She looked beautiful in all her three expensive outfits,. The Aso-Ebi sold for the party was worn by 99% of th guests especially the women. They looked so great with their neck doing all the talkings. Abidemi Oreagba is not a small fry in London. She is the CEO of Cynosure Metals in London. And we must add that she is doing so well. Cynosure metals is very popular on the Nigerian social scene as well. This is because Mrs Abidemi, a London-based nurse has also registered her brand in the minds of many rich Nigerians. She is fashionable and also has a good customer relationship. She is happily married to Otunba Wale Oreagba, a businessman who shuttles abroad and Nigeria.
Nigbayilolamisesebere is one of bigbabes in the US. She stays in Chicago precisely. She also has huge followership. She has friends across board.The tall and slim pretty lady staged a big party months back. Many bigbabes from all walks of lives, flew in to give her mum a befitting burial.
It was a show of class as she dazzled in expensive outfits for the burial. She is also doing very well in the U.S. And also popular as well. She was in Nigeria with a retinue of friends from all over to bury her mum. The burial was so huge. The burial party held at The Grandeur Event centre and it was on a lock down. Despite being the only child of her mum, her party was lit. It was a party that shook Lagos.
What of Dr Teeglam? Fondly called Drtee by her teeming fans, Dr Toyin Iseyemi, a medical expert who sits atop Spark Psychiatry clinic in Texas with branches in Minnesota and Arizona, US is another celebrity big babe who lives abroad. But she comes to Nigeria regularly, In fact she was one of the bigbabes who stormed Lagos a week ago for the 50th birthday party of her friend, Abidemi Oreagba. She is one lady who has friends across board. She has been seen in Lagos many times in year 2022 attending one party or the other. She also staged a grand burial for her Dad in Nigeria where many celebrity ladies flew in from different countries. She is known to be rich and this can also be seen in her way of dressing, her outfits, shoes, bags and jewelries which are always very exquisite and expensive.Though she is in the medical field but many ladies respect her choice of Owanbe setting. Despite that she pulls the crowd within the social scene, she also commands a lot of respect as a Doctor. The certified psychiatric/mental health nurse practitioner is a graduate of Houston Baptist University. She had masters of nursing degree and Doctor of Nursing from the University of South Alabama, US. She trended Online at Abidemi Oreagba's party when she sprayed her dollars endlessly.
– TAYO OYEDIJI
08111811219
Send Us News, Gist, more... to citypeopleng@gmail.com | Twitter: @CitypeopleMagz