These are multi-talented movie stars many look up to in the industry. They feature in blockbuster movies back to back, but many don't know they went through pain in life to get to where they are today. Their stories will inspire you. They have become role models to lots of young movie stars who look up to them in the industry. Lots of people just admire them as super stars but are not familiar with rough patches they have been through in life and how they eventually made it to the top of their career, through determination, dedication and hardwork.
The first person on our list is Mercy Macjoe, an award winning actress, producer and entrepreneur. She is the CEO of Beauty By Macjoe. She is the 6th child of her parents. Mercy's father was a soldier. He died when she was still a child, so her mum raised her. Her journey into the movie industry started in 2011 when she was selected from a talent hunt competition. Later on, she made up her mind to start taking acting seriously and she started going from one audition to another.
In one of her interviews, she revealed what she went through before she became a star. According to her, I grew up with my mum. I lost my dad at a very young age, so it was just my mum who took care of me and my other siblings. I am the 6th in a family of 8. I assisted my mum in her buying and selling business. I sold so many things. I remember selling oranges and some other things with my mum helping my mum and siblings to survive. Today, Mercy is one of the most successful fast rising movie stars in the industry, with different endorsement deal with reputable companies and has also featured in lots of oustanding movies.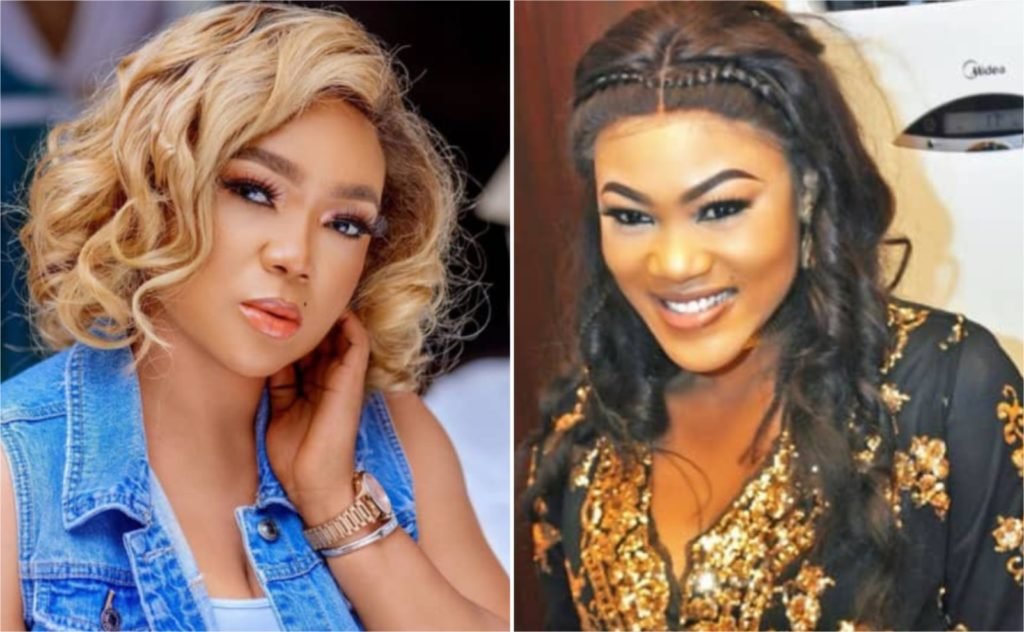 Pretty and highly talented actress Recheal Okonkwo, has a similar story with Mercy Macjoe. This petite actress is fondly refered to as the queen of East. She started her journey in the industry as a dancer before joining the movie industry. She faced lots of discrimination, but due to her determination she kept trying until she succeeded. Many admire her and her success in the industry, but don't really know what she has gone through in life becoming the super star today. She lost her father at age 13, and being the first child from the family of 6, she had to take responsibility of taking care of her pregnant mother and her siblings according to her, she hawked to help her pregnant mother out. Today, Recheal is one of the richest and most influential actresses in the industry.
Delectable screen diva, Toyin Abraham, popularly known as "World Best" is one actress that is more than ready to tell whoever cares to listen the many ordeal she went through in life, from selling and hawking plantain chips. She always derives joy in telling her story to inspire upcoming actresses in the industry. She is from a poor family and due to this, she had to hawk as a child to support her family.
Toyin, never had it all smooth journey in the movie industry. She went through a lot of ups and downs and didn't become successful until after 13 years in the industry, but she is presently one of the most celebrated actresses in Africa, especially with her recent award as the Best Actress in West Africa at the just concluded AMVCA.
Besides being one of the highest paid actresses in the industry, you can hardly see any blockbuster movie that won't feature Toyin Abraham.
Bisola Aiyeola is an actress cum singer. She emerged the first runner up of the 2017 BB Naija Reality Television Show. This talented beautiful mother of one once revealed that she had to hawk Macaroni on the street for survival which came as a shock to many because one can easily conclude she was born with a silverspoon. According to her "I hawked on the street. I have sold jewelleries, make up and others. I was 21 years when it happened. It wasn't a fun experience".
Bisola is presently a brand ambassador to lots of reputable companies and she is also a successful actress cum musician.
Award winning actress, Mercy Johnson is no doubt the true definition of grace. Her journey has not been rosy and stressfree the beautiful mother of four once hawked sachet water, live in an uncompleted building before making it big in the industry. Mercy is from a humble background but she was determined to change the story of her life through determination and hardwork, which she eventually achieved. She is currently one of the most celebrated stars in the industry and the way, she has been able to build her family is another thing many love about Mercy Johnson.
Multi-talented actor, Chidozie "Sambass" Nzeribe is an award winning actor who bagged Best Supporting Actor AMVCA 2015. He is one super star who has been through tough times in life before making it big in the movie industry. He grew up in Isolo and lost both his parents at a very young age. In his interviews, he revealed how he hawked virtually everything to make ends meet according to him "I hawked vegetables, fufu and puff puff on the streets of Isolo. My mother was a drama teacher and choir instructor at our parish St. Mary Catholic Church, Isolo and I was a part of the drama and music group. it was there I developed love for music and drama, but sadly she died of fibroid related issues when I was rounding off my secondary school education. Thank God the Catholic Women Organisation (CWO) took up the responsibility of training me and my siblings via their orphans scholarship scheme; they saw me through secondary school after I wrote Jamb and gained admission to study Creative Arts in UNILAG".
One can't talk about the highly talented and wave-making actors in the industry and Sambassa's name won't come up.
– Biodun Alao
Send Us News, Gist, more... to citypeopleng@gmail.com | Twitter: @CitypeopleMagz