Days after the event, everyone is still talking about it. This is because the recently held 2021 Citypeople Movie Awards is one event that will remain indelible in the hearts of many movie lovers for a long time, especially all the stakeholders in the Movie Industry.
The event was held at the Marquee of the prestigious Olusegun Obasanjo Presidential Library,(OOPL),in Abeokuta, Ogun State on Sunday, 29 August 2021. The event featured the presence of the high and mighty in the movie industry, from all the regions of the country. The movie veterans, who rarely attend events, shocked many as they stormed the event in grand style.
It was an evening of celebrities, as movie stars strolled in and out, in great numbers.
The event was anchored by popular event compere and OAP, Jimi Jairo and celebrity woman, Hajjia Adenike Nofisat Ajoke Balogun.They both did a brilliant job of it.The Royal father of the day was the Abepa of Jogaland, Oba Adeyemi Adekeye,who was one of the early callers.He stormed the event with his royal entourage. He chaired the event and was actively involved in the award presentation.
Iya Awero Looked Ever So Young
Movie Icon, Mrs Lanre Hassan, popularly called Iya Awero was another early caller at the event. She was looking as young and agile as ever. She rocked the same elegant brown lace with her friend,who came with her. Both Iya Awero and her friend were ushered to the front role as other younger actors and her colleagues came to greet her at intervals.The ovation that Mama Awero received showed that she has been more like mother to many in the industry. She bagged a Lifetime Achievement Award.
Mama Ereko Is Such a Lovable Woman
Mama Ereko was there also and she received such a warm hospitality that is usually given to king mothers. The deafening applause she received is because she has indeed paid her dues, as far as Yoruba movie industry is concerned. The veteran actress also bagged a Lifetime Achievement Award.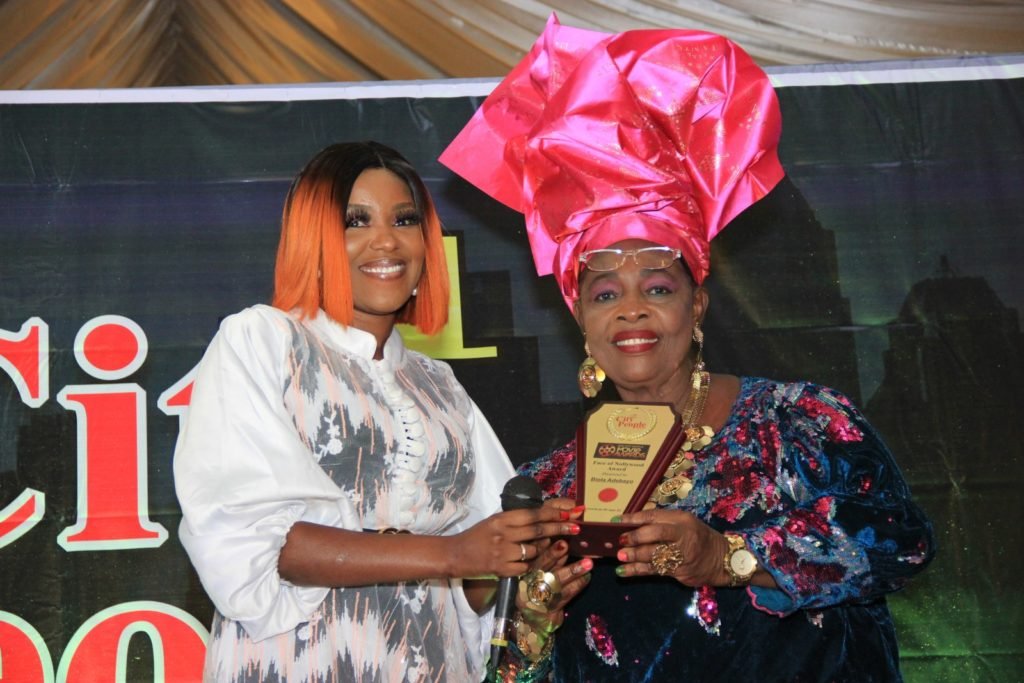 Madam Kofo Still Looking Ageless
Madam Kofo is one socialite that has been breathing life into social events for many decades and she is not hanging her shoes anytime soon. Madam Kofo, who bagged Special recognition at the event, caused envious stare when she was called up for her award. She insisted that the DJ play her favorite Ayinla Omoruwa track to get her on her feet. It was such a lively moment, as a lot of movie veterans escorted her to the stage to receive her award.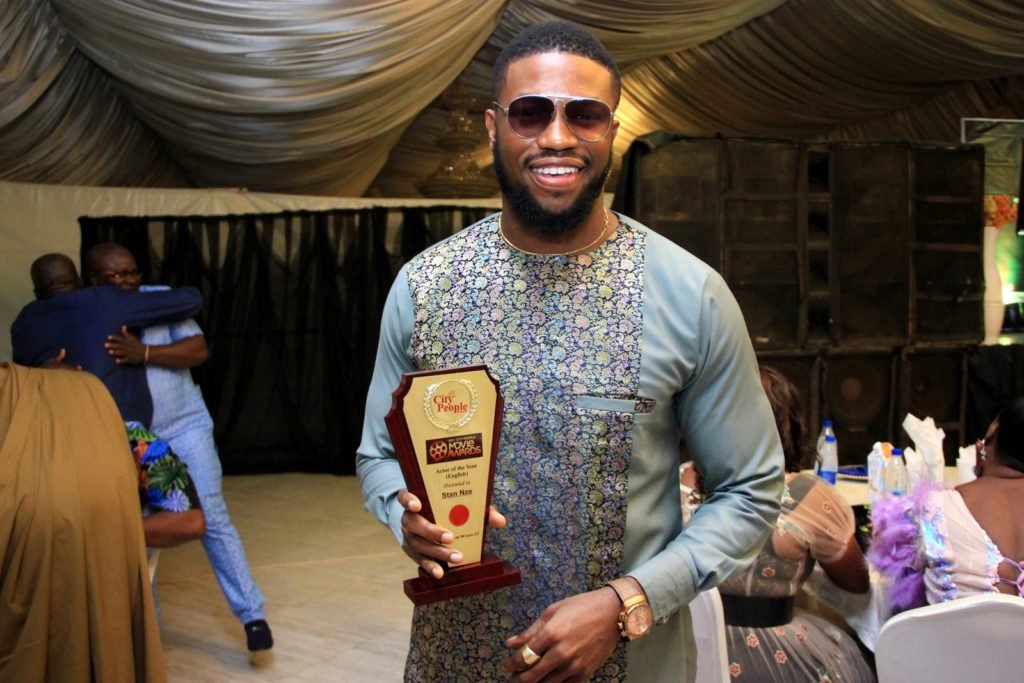 Stan Nze, Best Actor English
Stan Nze is the next big thing in the movie industry and he's got the backing with his versatility, class and style. He bagged the best actor of the year award and the applaud he received when his name was mentioned proved it. He came in company of his contemporaries in the industry.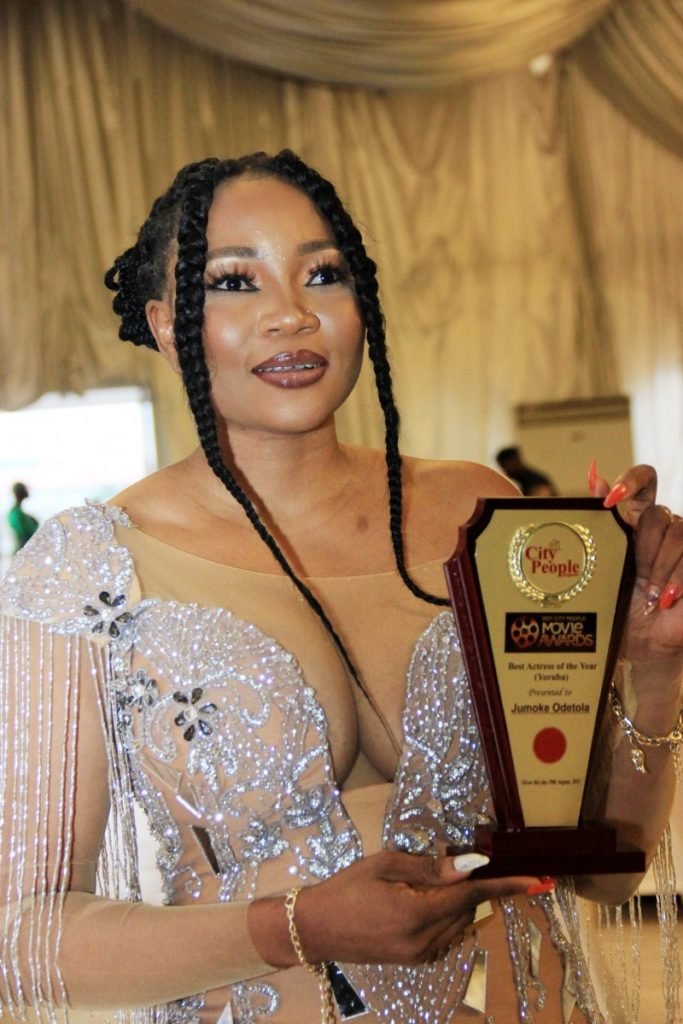 Jumoke Odetola's eye-popping outfit.
Nollywood goddess, Jumoke Odetola looked very sexy in her outfit.She was the cynosure of all eyes when she stormed the event. Her classy short gold-gown made heads turn at the event. The love and encomium showered upon her confirms that she has paid her dues in the industry. She emerged the Best Actress of the year (Yoruba)category.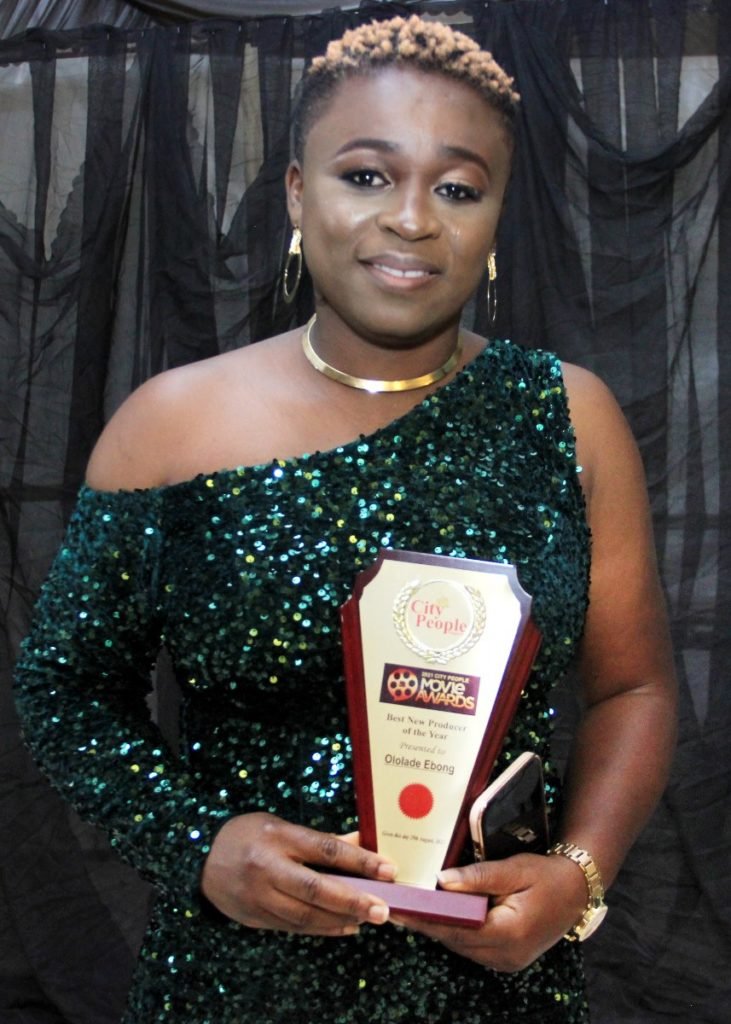 Lolade Ebong & Hubby Storm Event
Popular Movie Director, Lolade Ebong showed up with her good looking husband and colleague. She rocked her low-cut hairstyle and glowing gown, as she sat elegantly on the front row with her heartthrob. She bagged the Director Of the year award ,at the event.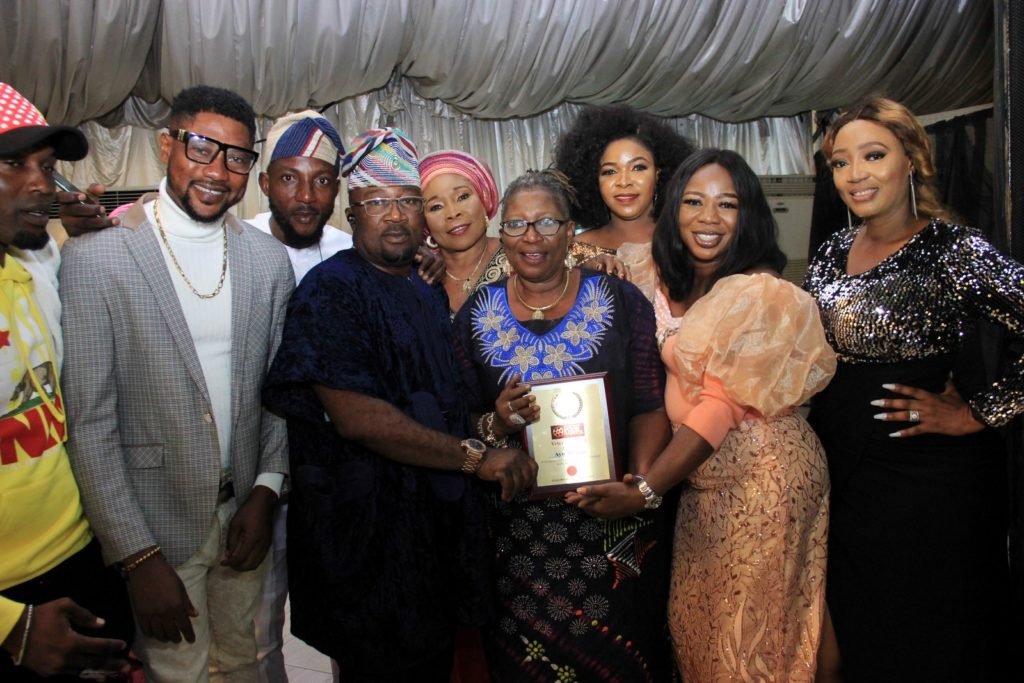 About Ayo Mogaji's Grand Entry
Veteran movie actress, Binta Ayo Mogaji is a woman of class,no doubt. She is rarely seen at parties. This is why her grand entry was greeted with loud ovation when the MC recognized her presence. She was later called up to receive her Movie Veteran award. The award was hinged on her immense contribution to the movie industry for over thirty years.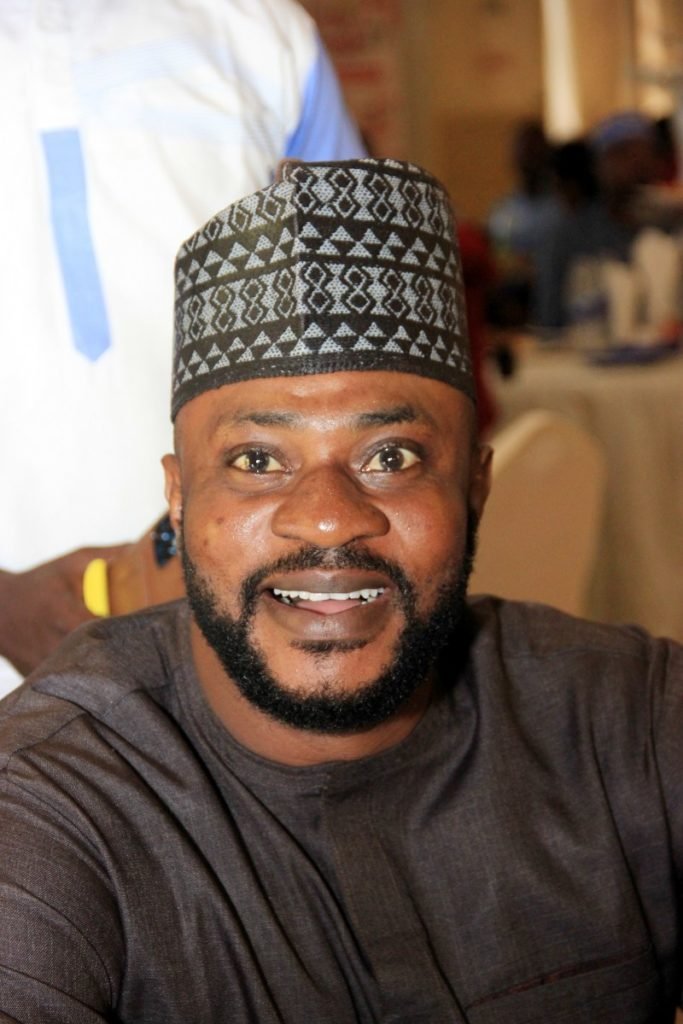 Odunlade Adekola's show-stopping entrance with Saamu Alajo theatre group
It is no longer news that star actor, Odunlade Adekola gives life to parties whenever he's spotted at any event. Odunlade did not come to the event alone this time. He came with his team of Saamu Alajo cast,and crew, numbering about 20 top cast from the series. Saamu Alajo bagged the Online Movie Series of The Year and all the cast and crew came up to the stage with Odunlade to receive the award. The anthem Saamu Alajo was also sang on stage as other guests sang along.
Odunlade was to later stay back on stage to present several awards to other recipients.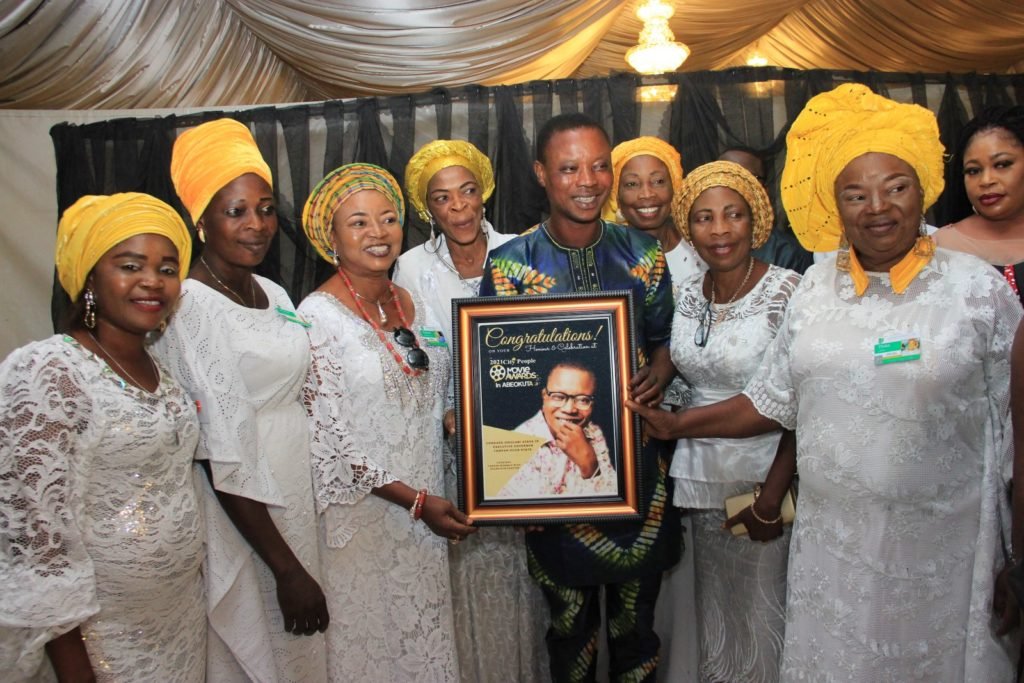 The Women "Witch"Came Too
The Witch women as they were usually referred to, also were on ground. They wore all-white and they looked more friendly and lively unlike when they shoot in movies as "witches". They also joined other celebrity actors on the stage to support them.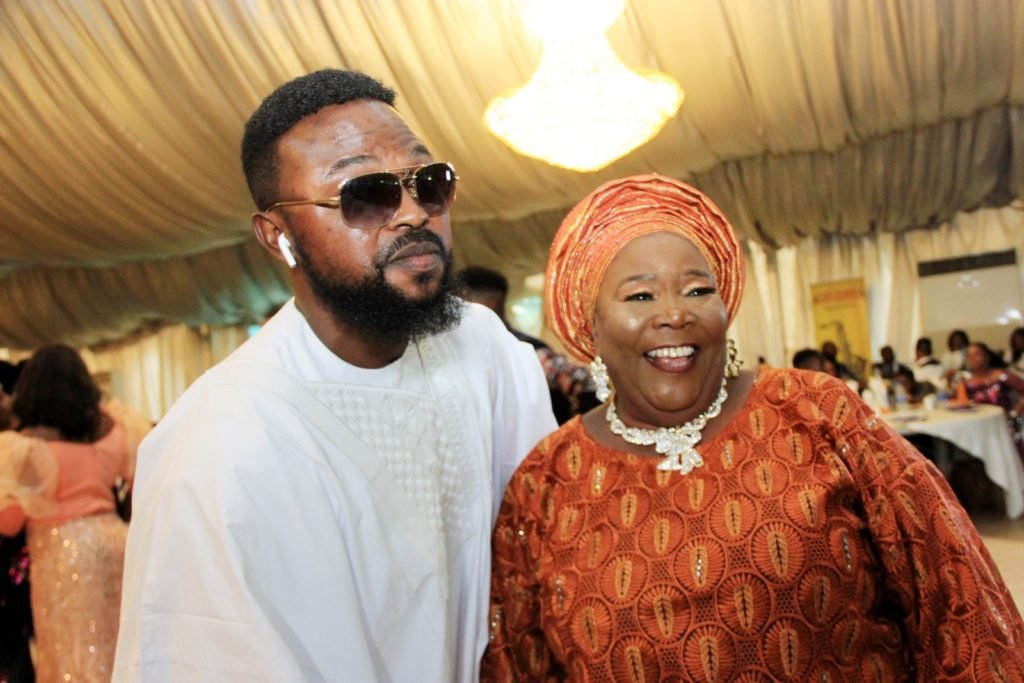 Kola Ajeyemi Stood For Wife, Toyin Abraham Ajeyemi
They are one of the hottest couples in the movie industry,right now. The chemistry between the 2 big actors has been so closely knitted that no one gets in-between. Kolawole Ajeyemi, a.k.a Awilo showed up on behalf of his wife to receive her Movie Iconic Award, as presented by Odunlade Adekola.
Akorede Okunnu Storms Event
For the very first time, Akorede Okunnu attended Citypeople Movie Awards. He looked happy to meet many of his colleagues on seat, as they cheered him up to receive his Best Comic Actor of the Year Award. He exchanged comic banters with Odunlade, who presented the award to him and thanked the organisers for the honour.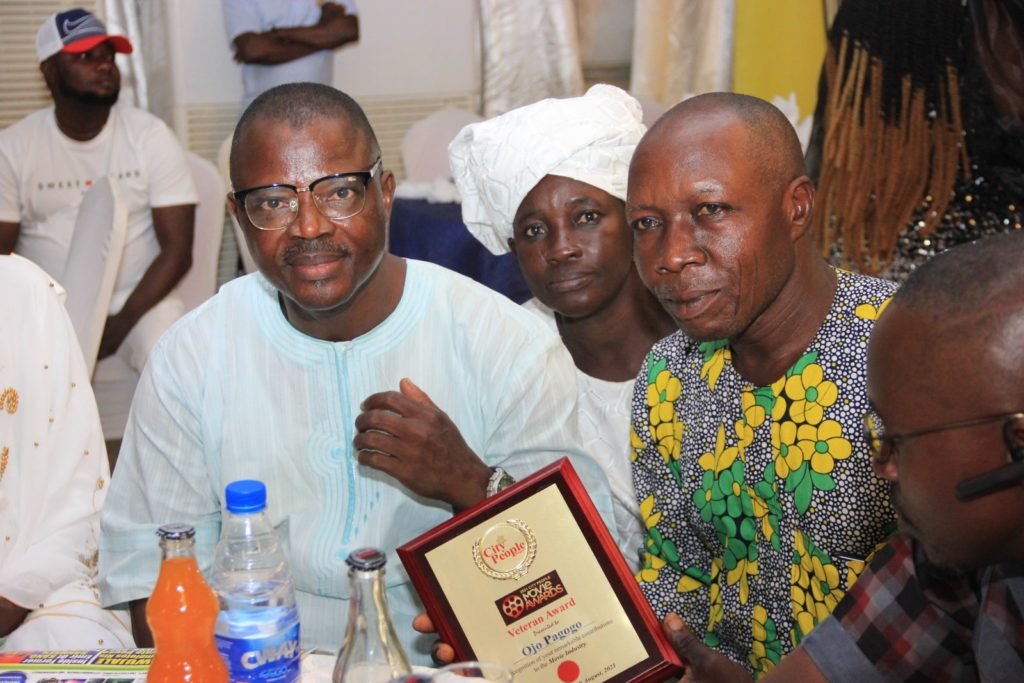 When Rasaq Olayiwola Played Ojopagogo On Stage
Another great movie icon who graced the event was Mr Rasaq Olayiwola popularly called Ojopagogo. He also bagged a Movie icon award and it was presented to him by Madam Kofo. The event anchor and Madam Kofo insisted that he used the comic voice of the Oldman he's known for and he did. The guests were entertained with his brief comic display.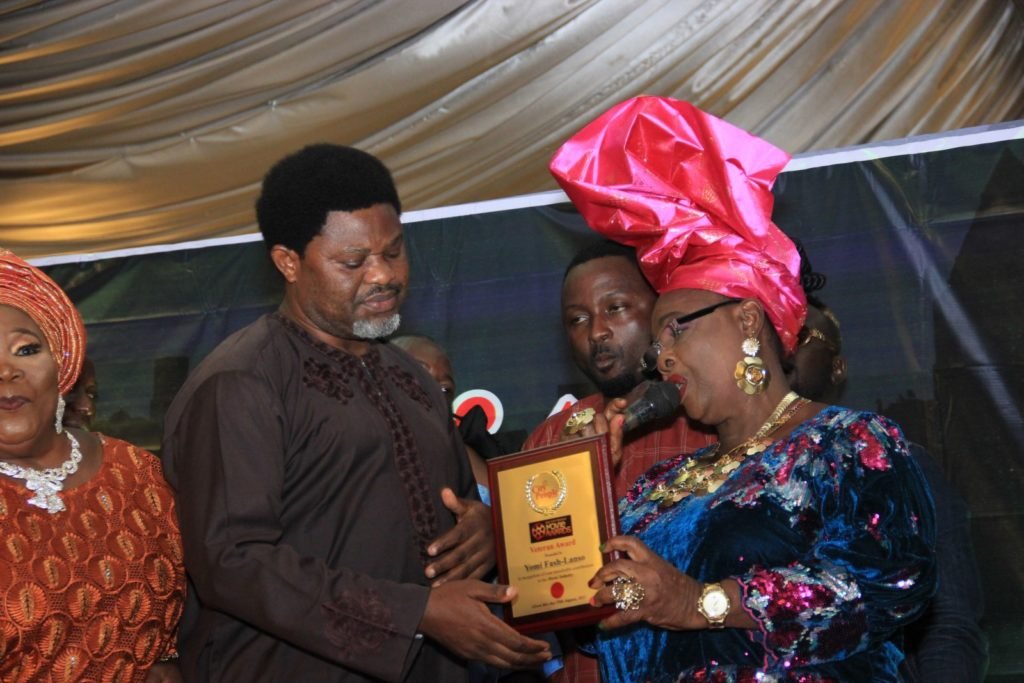 And Yomi Fash Lanso Showed Up
That Yomi Fash Lanso is indeed a great Actor was clear at that event. Once he walked in the mood and the tempo of the award changed.
Yomi Fash Lanso is a big name in the movie industry.He is humble to the core, yet excellent in delivery. He has remained on top of his game for over 20 years and he's not backing down anytime soon. He bagged the Movie Icon award and he chose to speak in Yoruba in appreciation of the award. He also stayed back to present other awards to other recipients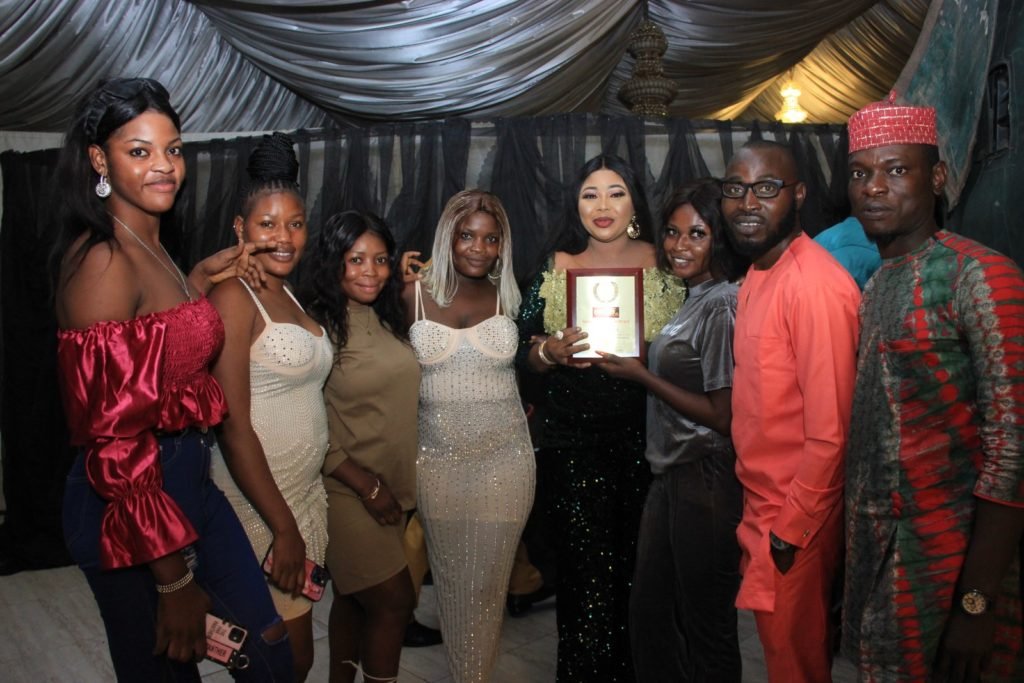 T'was a galaxy of big wigs in the movie industry
Also present at the event were Alebiosu, Muyiwa Adegoke, Akin Olaiya, Kiitan Bukola, Esther Kalejaiye, Omowunmi Ajiboye, Bolaji Ogungbe, Owolabi Ajasa, Imalian boy, Olumide Oworu, Jethro Oyekanmi Adekola, Eniola Ajao, Wasila Coded, DJ Slimzii, MC Floor, and many more..
Send Us News, Gist, more... to citypeopleng@gmail.com | Twitter: @CitypeopleMagz