•The Story Of The 2 Eminent Nigerians
At the Ikeja Club on Friday 16th December, 2002, two eminent Nigerians, Otunba (Engr.) Oluwanishola Olaofe and DIG Johnson Babatunde Kokumo were made new Trustees of the Club. Let's tell you about both of them.
Eng. Olaofe, was in born in Mushin, Lagos State on the 4th day of October, 1960 to the noble family of High Chief & Mrs. Daniel Ikubolaje Ariyo Oluwanishola, both natives of the ancient town of Odo-Ere in Yagba West Local Government Area of Kogi State. Though a native of Odo-Ere by parentage, Otunba (Engr.) Olaofe Oluwanishola is a typical Lagos boyas hewas born, bred and essentially brought up in the famous, enigmatic and historic town of Mushin, where many important personalities were born, brought up or trained professionally.
As a resuIt of his parents' penchant for quality education, he was enrolled at Jehovah Jireh African Church School, Idi-Oro, Mushin at a very young age for his primary education, and later at Progress College, Oko-Oba for his secondary education. He subsequently completed his secondary education at the prestigious Baptist Academy, Obanikoro, Lagos, the oldest secondary school in Nigeria.
He later proceeded to the popular Kwara State College of Technology (now Kwara State Polytechnic) where he obtained both National Diploma (ND) and Higher National Diploma (HND) in Civil Engineering (Structure Option). As a result of his desire for qualitative education, which was inculcated in him by his parents, he enrolled at the Federal University of Technology, Akure and bagged a Post Graduate Diploma in Civil Engineering (Structure Option), and later obtained the much sought after Masters in Business Administration (MBA) from the Lagos State University, Ojo, Lagos.
Otunba (Engr.) Olaofe Oluwanishola JP, is a civil engineer of note and an accomplished engineer in practice. He is a prominent member and famous leader of the Nigerian Society of Engineers (NSE) apart from being a duly certified and statutorily recognized engineer by the famous Council for the Regulation of Engineering in Nigeria (COREN). Due to his professional status, he has attended several career courses in Nigeria and abroad, in the course of his professional practice and career development, he worked in – (i.) Federal Ministry of Finance (ii.) Texaco Nigeria Plc (iii.) Chevron Nigeria Plc (iv.) MRS Nigeria Plc
Engr. Olaofe meritoriously retired as a Regional Operations Manager of MRS Nigeria Plc on 30th June, 2009.
He immediately went into private business after retirement and established:- (i.) Maridom Palace Hotel Ltd (ii.) Maridom Engineering Services Ltd and other companies and business concerns.
Significantly, he was born in October, 1960, the memorable month and year of independence of our great country, Nigeria; and symbolically, Otunba Olaofe Oluwanishola has been a stable source of financial independence to various individuals and families with provisions of many employments and job opportunities to people.
Otunba (Engr.) Olaofe Oluwanishola is a widely celebrated socialite and a philanthropist per excellence; and he is not only a member, but an elder and a leading figure of the following clubs: – Ikeja Club, Lagos Country Club, Rotary Club of Ota Social Reformers Club, Abule-Egba, Lagos; and he is a PauI Harris fellow.
He has excellently served Ikeja Club in the following capacities:- (i.) Chairman, Table Tennis Section (2007 – 2010) (ii.) Chairman, Lawn Tennis Section (2010-2011) (iii.) President, Ikeja Club (2011-2014) (iv.) Patron, Ikeja Club (2017-2022) (v.) He was overwhelmingly elected as a Trustee of Ikeja Club in October, 2022.
Like his father, a High Chief, Otunba (Engr.) Olaofe Oluwanishola has been conferred with several chieftaincy titles in due recognition of his remarkable philanthropic gestures, selfless services and gargantuan contributions to different communities. Some of the chieftaincy titles are:- (i.) Agba-Akin of Ere Kingdom (ii.) Otunba Fiwajoye of lkejaland (iii.) Otunba Gbobaniyi of Meiran Kingdom (iv.) Otun Baba Laje of lbogun Owu Kingdom.
Despite his numerous professional engagements, social activities and business commitments, Otunba Olaofe Oluwanishola is a very wonderful, committed and dedicated family man. He has been happily married for decades to his loving beautiful wife, Deaconess (Mrs.) Caroline Modupe Oluwanishola and they are blessed with adorable children and pleasant grand children.
How about DIG Johnson Babatunde Kokumo? He is popular called 'JB' He was born in Agege, Agege Local Government Area of Lagos State to the family of Pa/High Chief Jacob Olusola Kokumo, a former Baale of Alimosho Town in Lagos, the Oga-Nla of Ilugun Christians and Ntoye of Kemta, Egbaland who died in the year 2005 and Mrs Elizabeth Morenike Kokumo, nee Sholiyi who worked for several years as a School Teacher in Lagos and rose to the position of Head Teacher before her retirement.
DIG JB Kokumo attended University of Maiduguri for his tertiary education where he studied Sociology and Anthropology and graduated with Bachelors of Science (B.Sc) Second Class Honours Upper Division in 1982. He participated in the National Youth Service Corps Scheme in 1982/83. Due to his strong passion for academic excellence and greater knowledge, DIG Kokumo enrolled at the University of Lagos, Akoka for his post-graduate course, where he bagged Masters of Science degree in Sociology with specialization in Criminology in 1983/84. For reason of his unquenchable thirst for inter-disciplinary knowledge, in year 2017, he applied and was offered admission for LLB Degree, Senior Status of the University of Buckingham; a programme currently deferred due to national service exigency.
DIG Johnson Kokumo, a gentleman, but gallant Police Officer with vast experience in operations, investigation, armament, and intelligence-led policing enlisted into the Nigeria Police Force on the 15th March, 1988 as a Cadet Assistant Superintendent of Police (ASP). In his sojourn in the Force, JB as he is fondly called by friends and well-wishers has served in various capacities including working as a teaching staff at the Police Premier Training Institution, Police College, Ikeja. Other places he has served include: (i.) Administration Officer, Idimu Division, Lagos State; (ii.) Operations Officer, Itire Division, Lagos State; (iii.) Divisional Police Officer, Sango-Ota, Ogun State; (iv.) Commanding Officer Police Mobile Force (PMF), Squadron No. 16, Abeokuta, Ogun State; (v.) Assistant Commissioner of Police Operations, Ogun State; (vi.) Area Commander, Karewa, Adamawa State; (vii.) Assistant Commissioner of Police in-charge of Anti-Robbery and Anti-Kidnapping, Special Operations, South-East, Nigeria; (viii.) Assistant Commissioner of Police, Federal Special Anti-Robbery Squad (FSARS); (ix.) Deputy Commissioner of Police, General Investigation (GI), Force Criminal Investigation and Intelligence Department; (x.) Deputy Commissioner of Police, Operations, Lagos State Command; (xi.) Deputy Commissioner of Police, Operations, Anambra State Command; (xii.) A two-time Commissioner of Police Edo State Command;
(xiii.) Commissioner of Police, Osun State Command; (xiv.) Assistant Inspector-General of Police, Federal Operations, Abuja; (xv.) Assistant Inspector-General of Police, Zone 2 Headquarters, Lagos. (xvi.) Deputy Inspector-General of Police, Department of Research and Planning, Abuja; vii. Deputy Inspector-General of Police, Force Criminal Intelligence and Investigations Department, Abuja.
DIG JB Kokumo doubles as the Supervisory DIG for the South-West Geopolitical Zone and he is an Alumnus of the National Institute for Policy and Strategic Studies (NIPSS), Kuru, Jos, having attended the prestigious institute as a member of Course 41/2019, which earned him the suffix of mni.
It is worthy to note that DIG Johnson Kokumo in 2020, then as Commissioner of Police successfully supervised the Edo State Gubernatorial election despite the threat of violence before the election. He also coordinated the security architecture for 2022 Ekiti and Osun States Gubernatorial Elections which were adjudged to be very peaceful.
DIG Johnson Kokumo; a thoroughbred, versatile, hardworking and educationally well-equipped gentleman has attended several professional courses, which include the following: (i.) Mobile Police Squadron Commanders' retreat; (ii.) Workshop on Human Rights; (iii.) Workshop on Human Trafficking and Forensic Science (iv.) One year Policy and Strategy Course at the National Institute for Policy and Strategic Studies; (v.) Training Workshop for Attorneys-General and Chiefs of Public Prosecutions in Africa.
DIG JB Kokumo is a member of the following professional bodies: (i.) International Association of Chiefs of Police (IACP); (ii.) American Sociological Association (iii.) American Society of Criminology; (iv) Academy of Criminal Justice Sciences; (v.) Nigerian Institute of Management.
These include: (i.) Egba Heritage Foundation Award for Outstanding Performance, (ii.) Africa Security Watch Award for Most Outstanding Anti-crime Police Chief in West Africa. (iii.) Nigeria Crime-View Commendation for Competence and Integrity.
(iv.) National Watch Distinguished Award of Excellence in Security and Safety Scheme (v.) Cornerstone Distinguished Service Award (vi.) Treasure Minds Award for Outstanding Performance. (vii.) Young Lawyers' Forum Merit Award (viii.) Edo State Police Community Relations Committee (PCRC) Award of Excellence DIG Johnson Kokumo, the dashing looking gentleman officer is a dedicated family man blessed with glorious children and truly happily married to an elegantly beautiful, carrier woman, a mother, supportive wife and epitome of love; Chief/Mrs Irene Afolashade Kokumo (nee Gbadebo), a retired Permanent Secretary; the Otun Iyalode of Oke-Ona Egba. JB is a highly detribalized Nigerian whose hobbies include listening to classical music, reading, mountaineering, travelling and playing table tennis.
At the event Comrade Tunde Apalara, the General Secretary, Ikeja Club revealed how the club chose the 2 Board of Trustees members. We have all gathered to celebrate and inaugurate, as Trustees, two distinguished members of this great Club who have distinctly distinguished themselves as worthy partners in progress as far as development of the Club is concerned. The two eminent members have been duly appointed by this regime, through the AGM, in line with its policy of according recognition to whom it is due, as the new Trustees have individually contributed to the development and growth of this Club.
It is essential I utilize this opportunity to states that the appointment of the new Trustees was done in accordance and strict compliance with the Constitution of Ikeja Club. It is important to categorically state that it is the constitutional duty of the Club's Annual General Meeting to appoint Trustees for the Club.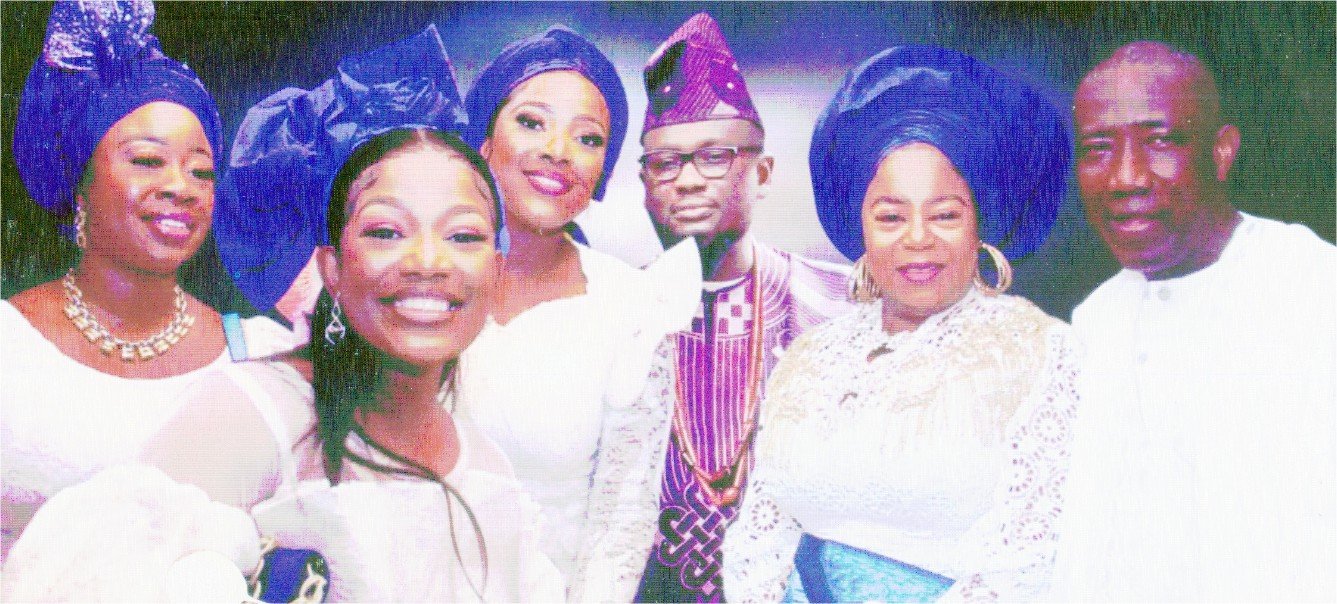 Names of six (6) eminent members of the Club were proposed and submitted to the Annual General Meeting for consideration as Trustees, and the two new Trustees we are celebrating today were duly appointed. Therefore, the new Trustees were duly appointed in line with the enabling law and in the best interest of the Club. We urge the new Trustees not to relent in their efforts for the continuous growth of our dear Club, and we urge other members to continue to do their best for the Club as every good deed shall be rewarded sooner or later.
Send Us News, Gist, more... to citypeopleng@gmail.com | Twitter: @CitypeopleMagz