Filipinos are voicing opposition to the proposed reintroduction of the death penalty by using the hashtag #NoToDeathPenalty.
Today, lawmakers passed a second reading for bill, though it will still need to go through further stages before becoming law.
But social media users are critical of the reintroduction of the penalty even though this time round it would only be applied to drug-related offences.
The largely devout Catholic country last abolished capital punishment in 2006. It was the first Asian country to do so in 1987, though the law was later reinstated in 1993.
Students were among those who expressed their reservations to the move on Twitter and Facebook. One said: "I am RJ Naguit from University of Santo Tomas and I am against any measure that desecrates the value of human life."
"I am Jesica Canete, 23-years-old from Looc, Lapu-Lapu City. I believe that all lives matter. I am against the death penalty," another added.
A Filipino philosophy student pointed out what he said was the "irony" of the House of Representatives possibly reviving the death penalty on "a day of mercy and compassion", Ash Wednesday.

"I'm a registered voter and I don't recognise the power of the state over the life or death of any individual," another user said.
Raymond Badri, who works for the Catholic Bishops' Conference of the Philippines said the death penalty was simply the "legal name for murder".
"I am against the reimposition of the death penalty. This is not the way to go," Jesuit priest and President of Ateneo de Davao University Joel Tabora added.
Last weekend, more than 1,000 people protested in the Philippine capital Manila against President Rodrigo Duterte's brutal anti-drugs crackdown which was launched in July and in which more than 7,000 people are said to have been killed.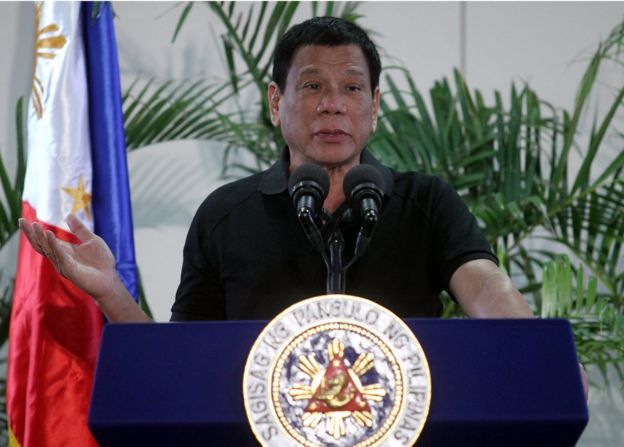 A day before the anti-Duterte protest, Senator Leila de Lima one of the most vocal critics of the president's anti-drugs crackdown – was arrested on drug charges that she denies.
The president has said in the past that he would be "happy to slaughter" the country's drug addicts.
In December 2016, he told the BBC that he killed three men when he was Mayor of Davao.
The latest move to reintroduce the penalty has been criticised by human rights groups and diplomats who say it would breach the country's legal international obligations. Thousands were also said to have marched against the proposal in the capital earlier this month.
But the president still enjoys a high level of approval in the country. Last Saturday, his backers also rallied in Manila to support his anti-drugs campaign.
Send Us News, Gist, more... to citypeopleng@gmail.com | Twitter: @CitypeopleMagz