On Monday, 20th January, 2020, THISDAY Newspaper, one of Nigeria's most enduring publications, led by its founder and publisher, Nduka Obaigbena, celebrated the journal's 25 years anniversary in grand style. The event took place at the prestigious Eko Hotel and Suites, Victoria Island, Lagos. The organizers also used the occasion to celebrate few Nigerians and organizations who have distinguished themselves in the last decade. Personalities like President Muhammadu Buhari, Aliko Dangote, Babatunde Raji Fashola, Goodluck Jonathan, EFCC, Gtbank, Zenith, Rotimi Amaechi and many others, were presented awards of excellence in recognition of their contributions to the growth of the Nigerian economy and development of the country as a whole.
There were also world class performances from international singers, such as Nigeria's ASA and American Super Star, John Legend. These two top class singers delivered breath-taking performances that left the appreciative audience desirous of more. In this report, City People's Senior Editor,WALE LAWAL (08037209290) brings you exclusive gists of some of the high points of the night and a few other behind the scene gists that many certainly must've missed on the night.
EX-GOV DONALD DUKE AND WIFE, ONARI LOOKING AGELESS
You have to give it former Cross River State Governor, Donald Duke and wife, Onari, they were both looking stunning at the recently held ThisDay 2020 Awards. They glittered in their all black outfits and complemented each other pretty well. But what amazed everyone the most was thye fact that they were both looking ever so young. Donald Duke was his ever dashing and handsome self while his wife remained as gorgeous as she's always looked.
PETER OBI THROWS STONES AT APC
Trust the former Anambra state governor, Mr. Peter Obi, to use every single opportunity available to him to throw sticks at the ruling opposition party, APC. This extremely brilliant gentleman who had an outstanding performance while he was the Chief Executive Officer of his state is yet to get to get over the unexpected loss he and his party's presidential candidate, Atiku Abubakar, with whom he ran as running mate, suffered during the last presidential elections. At THISDAY's 25 years anniversary and Awards, when Peter Obi was called up to receive former president Goodluck Jonathan's Person of the Decade Award, he stressed that during Goodluck's time, there was respect for rule of Law and that opportunities were abound for everyone. He said, back then, you didn't really need to bribe judges before you could get justice. Everyone got the import of what the message he was sending. Point noted, sir.
EFCC BOSS SENDS STERN WARNING TO ALL CRIMINALS
One of the revelations of the night was the EFFC Chairman, Mr. Ibrahim Mustapha Magu. Not many knew the often stern-faced and uptight policeman had a comical side to him. He immediately showed this other side of him the moment he came on stage to receive the organization's award as the Institution of the Decade. Former Cross River Governor, Mr. Donald Duke, who was asked to present the award, had jokingly said in his remark while presenting the award, that he was not one EFCC's customers.
But when Mr. Magu received the award, he said to Mr. Duke, "you said you are not one of our customers? I don't think so.'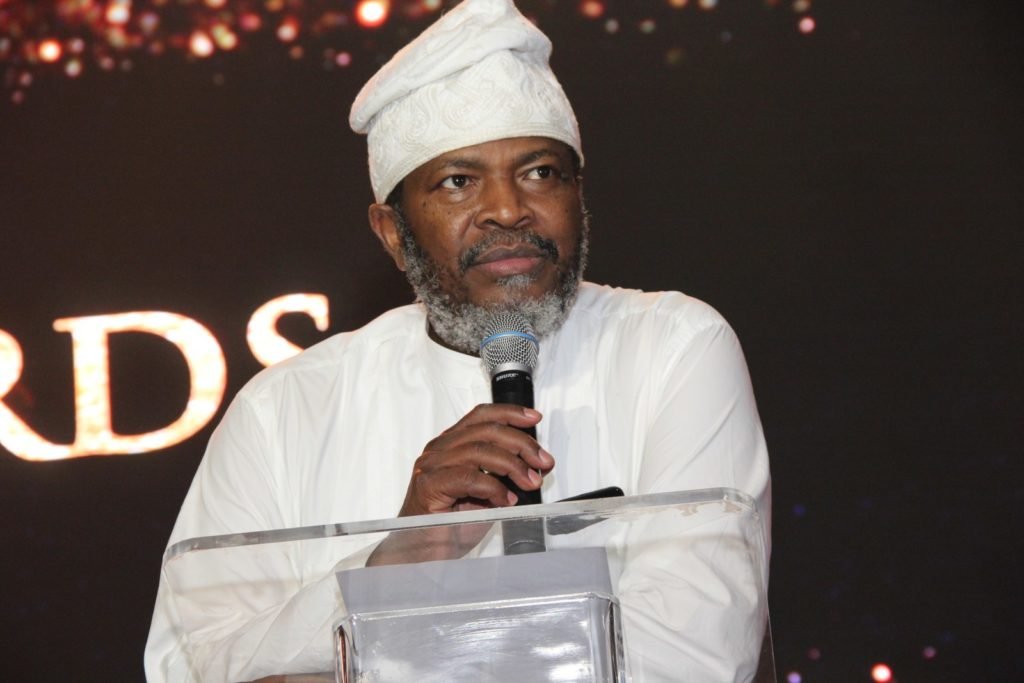 Everyone burst into laughter. But the man was not done yet. Again, with a straight face, he turned to look at Mr. Duke, shook his head and repeated, 'I don't think so.' He repeated same for the third time before going into his speech proper. That was when he fired the salvo and said,'this year, EFFC will build more cells and open more regional offices because it will hunt down more criminals who have stole our money." He added that for the Yahoo Boys, there is no hiding place for them!
DONALD DUKE'S PET NAME FOR WIFE REVEALED
No doubt, one of Nigeria's most admired couples is the beautiful Onari Duke and her attractive looking husband, Donald Duke. For those who may not know, this amazing couple have been married for about 34 years and they do not look anything like they are already bored from each other. Far from it. Indeed, these two still act like new love birds. At the This Day award nite, it excited the very few who were within earshot to hear Mr. Duke call his wife, 'Sweetie.' It is such a rare thing to find amongst African couples who've been together for as long as this amazing pair have been together. Wish more Naija men could take a cue from them.
DANGOTE'S HUMILITY STUNS EVERYONE
Okay, maybe it can be said that it is almost common knowledge that Africa's richest man, Alhaji Aliko Dangote is a very humble pertsonality, but maybe not many know that he is humble to a fault. First, let us tell you for free that this multibillionaire attends public events without bodyguards. He is known to always attend public events unaccompanied by any gun wielding security personnel. And the story was the same at the THISDAY 25 years celebration and Awards. The quiet man was seen strolling within the hall, acknowledging greetings from people and taking time to take selfies with those who had the courage to request for one. The very simple man had a smile waiting for everyone who said hi to him. It was almost unbelievable to see that this man regarded as one of the richest men in the world had no airs, no chips on his shoulders.
AND OUR LADIES GO GAGA FOR JOHN LEGEND
The whole hall erupted on the night when American super star and multi award winning singer, John Legend, stepped out on the stage. The handsome looking star sent all the ladies in the hall into a frenzy. They all rose to their feet, brought out their phone devices and raced to the front of the stage to get a good view of their idol and also capture the special moment with their phones. And the legendary singer did not disappoint. He enthralled them with a captivating performance that left nearly everyone in the hall begging for more. And even the elderly ladies were not left out. They sang along with John who was visibly delighted they could sing every line of his songs word for word.
FEMI OTEDOLA LOOKING RESPLENDENT IN ALL WHITE
He was looking ever young and sweet in his all white Agbada that fitted him like glove. His nice body frame and glowing chocolate complexion all combined to make the traditional outfit look great on him. Femi Otedola, business man, philanthropist and former chairman of Forte Oil was recognized with the award of The Philanthropist of the Decade for his intervention in the medical bills of actors Sadiq Daba and Victor Olaotan and his singular donation of N5 billion to assist children of terror ravaged north east.
OSHIOMHOLE PAYS SPECIAL TRIBUTE TO EX PRES. JONATHAN
The embattled APC national chairman, Comrade Adams Oshiomhole, was also at the event. He was asked to present the Person of the Decade award to former President Goodluck Jonathan who was represented by Mr. Peter Obi, former Anambra State Governor. While presenting the award, Adams Oshiomhole said he was particularly proud of Jonathan for that singular act of conceding defeat during the 2015 presidential elections. He pointed out that although they may not be of the same party and may not have shared the same ideologies, that singular act of conceding defeat even before the final results were officially read has put Goodluck in a special place both in his heart and in the history of Nigeria.
ROTIMI AMAECHI LOOKING DAPPER
Frankly, many will tell you they have probably never seen the Honourable Minister for Transportation, Rotimi Amaechi, looking as dapper as he looked at the THISDAY organized event. The minister, who was honoured with the award, Minister of the Decade, was in a striped suit that looked fabulous on him. And he looked years younger in it too.
ALIKO DANGOTE GROOVES TO JOHN LEGEND
Not many were certainly surprised to see Africa's richest man, Alhaji Aliko Dangote humming along to the music of John Legend. And although he didn't get up from his seat to dance like many did, he obviously enjoyed the performance as he could be seen nodding his head slightly to the rhythm of the music.
JIM OVIA WOOS ALIKO DANGOTE ON STAGE
Let us share this interesting moment with you. The man regarded as the godfather of Banking in Nigeria, Mr. Jim Ovia, was called upon to present awards tom Alhaji Dangote and Mr. Segun Agbaje, the MD of Guaranty Trust Bank. Trust Uncle Ovia, the banker and marketer in him came to the fore as he subtly reminded Alhaji Aliko Dangote that he didn't bring much of his banking investments to Zenith, but instead took them to Guaranty Trust and wondered why Mr. Nduka Obaigbena, founder and owner of THISDAY newspapers would think of him as the most appropriate person to present an award to Dangote and Mr. Segun Agbaje both of whom have conspired not to let the Dangote largesse get to his bank.  
WHY ROTIMI AMAECHI WAS SURPRISED AT WINNING MINISTER OF THE DECADE AWARD
It was a pleasantly surprised Rotimi Amaechi that leapt to his feet and mounted the stage to pick up his award after he was announced to have won the Minister of the Decade award. From the look of surprise on his face upon hearing his name announced as winner, it was clear he didn't expect to win any award. And while making his acceptance, the Honourable Minister explained why he was shocked. "I have known Nduka a long time ago. I was in my thirties when I first knew him. And ever since then, we have disagreed more than we have agreed. So, I am surprised he thought me deserving of this award.' qfm����
Send Us News, Gist, more... to citypeopleng@gmail.com | Twitter: @CitypeopleMagz