Days after the grand event, everyone who attended the 2022 City People Awards For Excellence held at Etal Hall are still talking about the colourful event attended by over 500 celebrities who came to celebrate with the winners.
The hall was colourfully decorated by Seamless Events and Music was by Faith Band, led by Ayo Ajeigbe.
First to arrive was Erelu Dr. Anu Esuola, a US-based Medical Practitioner who was honoured for her remarkable CSR, especially in the Medical & Health sector in Nigeria. A lot of dignitaries came to support her.
Oba Hammed Adekunle Makama came with some top Osun Obas. Lt. Gen. Ambassador Tukur Yusuf Buratai (rtd) was represented by his eldest son.
Until he retired from service, Lt. Gen. Tukur Yusuf Buratai was the Chief of Army Staff. He had an accomplished career in the Military. After he left office, he was again saddled with a fresh responsibility in the diplomatic world. He has always provided exceptional leadership all the way.
Oba Hammed Adekunle Oyelude Makama, the Olowu of Owu Kuta is one of the most accomplished and colourful traditional rulers in Nigeria. He recently celebrated his 10th anniversary on the throne of a community he has transformed phenomenally.
Dr. Remi Awode won the Businessman of the Year Award. He is a big businessman who plays BIG in the Paint industry. Engr. Dr. Emmanuel Aderemi Awode is the Group MD of Chemstar Paint Industry, manufacturers of Fine Coat. He was the 2021 Lagos State Man of the Year.
Unique Motors is one of the leading auto dealers in Nigeria run by High Chief (Dr.) Ambassador Adebiyi Saheed Adesina, the Chairman of the Company.
Oddy Royal was honoured for its strides in the technology sector. That is one company whose brand name is synonymous with good quality telephones and computers at the Computer Village in Ikeja, Lagos. The company is run by Alhaji Ayub Olawole Odeseye.
Mr. Durodola Omolewa Kuteyi, the founder of Spectra Food was also honoured. Mr. Kuteyi is a big industrialist. He is the Chairman of Spectra Foods which is a 30-year-old company that has been producing functional foods.
Faith Band was also celebrated. Faith Band is one of the leading music bands in Nigeria today. It is the band of choice for many celebrities because of the good and sonorous music the band plays. Ayo Ajeigbe, the founder of the band in an experienced hand.
Iyalaje (Princess) Toyin Kolade was also honoured. So also Gov. Babajide Sanwo-Olu, who won the Most Hardworking Governor of the Year Award. His award was collected by Gbenga Omotoso, the Lagos Information Commissioner.
Dr. Tony Elumelu was also honoured. Call Dr. Tony Elumelu a super banker and you won't be wrong.
He is the Chairman of UBA.
Access Bank Plc won the Bank of the Year award. Access Bank is one of the leading banks in Nigeria. It has become so big that it has become a holding company with the new name Access Holdings Plc. trading as Access Corporation. There are 5 verticals. Banking, Lending, Payments, Insurance & Pension. Access Bank Plc is the banking arm.
Asiwaju Bola Ahmed Tinubu also won the Most Prestigious Award of Political Master Strategist of the Year Award.
Mrs. Adekunbi Ajanaku Adeola was honoured also. She is a Financial Services Expert with a tremendous wealth of experience. She is the ED of Jews Business Support Company, a financial support group which offers loans to entrepreneurs.
NDLEA had a powerful team at the awards. Right now, Brig. Gen. Buba Marwa (rtd.), the Chairman/CEO of NDLEA is one of the most accomplished Public Officers in this present dispensation. He is Nigeria's Anti-Drug Czar. He has done a fantastic job battling the menace of drug upsurge in the country.
Mrs. Funmi Waheed Adekojo was also honoured. Engr. Dr. Funmilayo Waheed Adekojo is one young lady who is doing so well in her various roles. Popularly called Funmi Ayinke, she has been tagged Nigeria Power House by Spotlight USA Radio. She has remained a role model to many young people, for having achieved a lot under 40.
Aare Kamarudeen Danjuma came in full force. Aare Kamarudeen Danjuma is a successful businessman and socialite. He is one gentle man who many respect and adore for his affable mien.
LASEMA stood out as one of the government agencies to beat. Lasema is one agency of the Lagos State Government that is doing so well. The agency is run by Dr. Olufemi Damilola Oke-Osanyintolu, the dynamic Perm Sec. of the Agency.
He hardly sleeps. He works round the clock to curtail emergency situations.
Dr. Akeem Alawode was honoured also. Dr. Akeem Olanrewaju Ayinka Alawode is a Consultant Oral & Maxillofacial Surgeon. He has been involved with the free treatment of patients with Cleftlip and Palate since 2009.
Popular Ogun politician, Hon. Bakare Olanrewaju Omolola (BOO) was also honoured at the event.
Prophetess Mary Olubori stormed the event with her husband. She also got an award. She is one of the respected women of God. She is also one of the leading Prophetesses in Nigeria and London where she is based. She and her husband, Pastor Isreal Ayanfe Olubori, co-run their Rock of Salvation Apostolic Church (ROSAC Worldwide) and Havilah Mountain of Fire in Ibadan.
Cardinal J.O. Odunmbaku, MFR (a.k.a Baba Eto) was celebrated also. Who does not know Baba Eto? He is a big brand in Politics. His real name is Cardinal Prophet J.O. Odunmbaku. He is a big APC politician and grassroot mobiliser. He is one of the leaders of APC in Lagos State.
Mama Diaspora also came calling. She is a woman of substance and a great one at that. Everyone calls her Mama Diaspora because of her global tentacles but her real name is Chief Amina Temitope Ajayi. She is a valued member of the Strategic Communication of the TINUBU/SHETTIMA 2023 Presidential Campaign Council.
Alhaja Rontex was celebrated too. Everyone calls her Rontex. That is her brand name but her real name is Dr. Mrs. Alhaja Aderonke Kolade Carew. She is the convener for Rontex 4 BAT Signature. Over the last few weeks, she has been travelling around the South-West campaigning for TINUBU.
Sir Shina Peters was also honoured. Sir Shina Peters is a living legend. He is an icon in music. He is an enigma. He is one musician who has remained relevant musically over the last 3 decades.
TV star, Mrs. Morayo Afolabi-Brown was also honoured. Everyone knows Morayo. She is always looking into your eyes every morning on TVC via her breakfast programme. Today, she has become the Queen of modern day-time television, hosting the number one breakfast chat show on TV, called Your View.
Real Estate guru, Adetayo Adaralegbe (TPumpy) also got an award. Everyone calls him TPumpy but his real name is Adetayo Adaralegbe. He is one of the leading real estate players in Nigeria. He is doing so well.
US-based High Chief Erelu (Dr.) Anu A. Esuola stood out distinctly. Commissioner Erelu, Lion, Dr. Anuoluwapo Esuola is a global brand. Although she lives in the US, she visits Nigeria frequently to organise grassroots medical missions in various communities in Nigeria.
Mrs. Monioluwa Osho came with her members. Her name is Monioluwaninuohungbogbo Osho. She is an accomplished Events Manager, Caterer and a Floral Specialist. She is presently the Chairperson for the Association of Professional Food Service Providers of Nigeria.
Biscon TV was fully represented. Prince Bisi Olatilo came with his crew. Biscon TV has become the No 1 TV station with rich content in Nigeria. It is also the station Nigerians tune to abroad. The station was set up by Prince Bisi Olatilo and it has become the most much-watched station for celebrities.
APPOEMN was honoured too. APPOEMN is the umbrella body for event planners and all those whose businesses are tied to events. Mrs. Adefunke Kuyoro is the National President of APPOEMN.
Dame Tito Obaigbo looked heavenly in her dress. Dame Tito Obaigbo is a beautiful lady who is also an accomplished professional. She is a woman of many parts who juggles so many roles. She is the CEO/MD of Oakhill Group.
Mr. Henry Emole Agbai, a Lagos businessman who plays big in the Paint sector came.
Hon. Kafilat Ogbara stormed the venue with her supporter. She is a leading grassroot politician who has had an accomplished political career. She is the APC House of Representatives candidate for Kosofe Federal Constituency.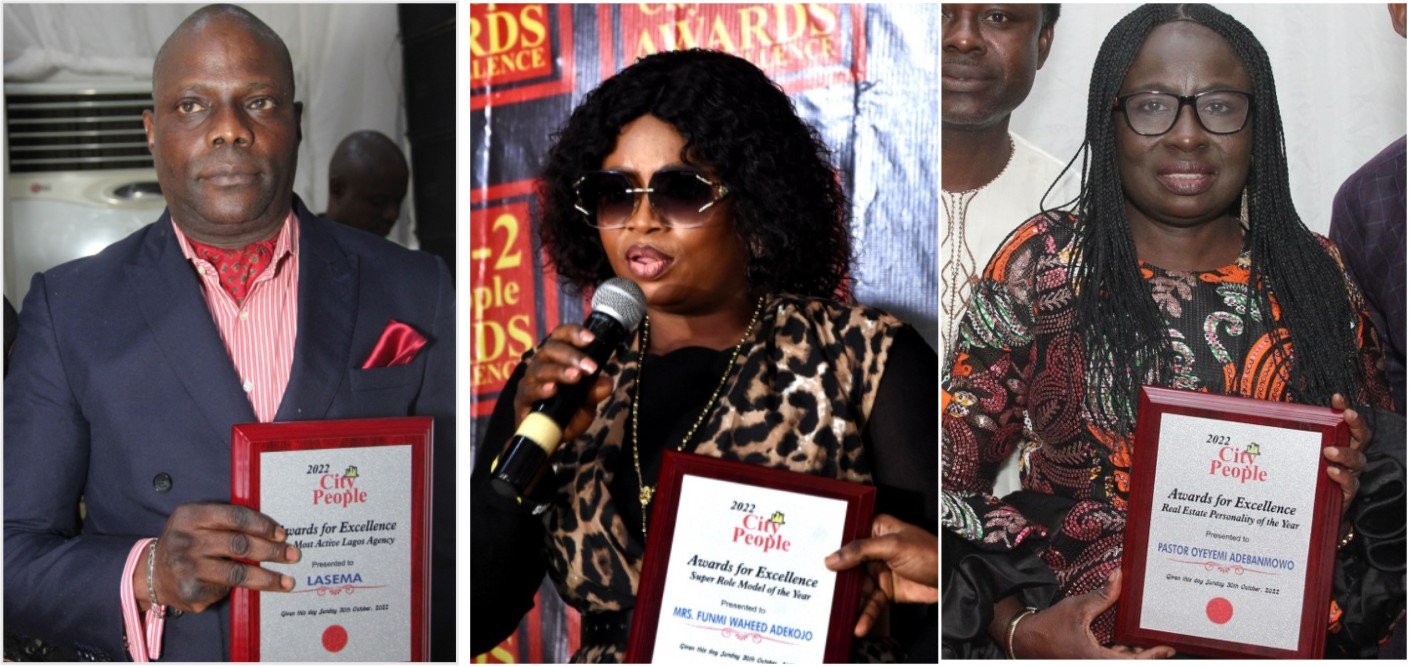 Pastor Oyeyemi Adebamowo, the real estate giant was honoured. Pastor Oyeyemi Adebamowo is a real estate guru who runs Amayemy Properties & Co. She has done so well.
Chief Segun Odegbami was also honoured. Chief Segun Odegbami is a living legend. He is a Football icon who has made a name for himself.
Hon. Tobun Mustain Abiodun was honoured too. He is one of the outstanding Lawmakers in the Lagos State House of Assembly. He represents the good people of Epe 1 Constituency.
Hon. Moshood Oshun Abiodun Olanrewaju was also celebrated. He is one of the leading Lawmakers in the Lagos State House of Assembly. He represents Lagos Mainland 2.
Rt. Hon. Wasiu Sanni Eshinlokun, the Deputy Speaker of the Lagos State House of Assembly was honoured too. He is also the APC Senatorial Candidate for Lagos Central Senatorial Seat.
Otunba Gbenga Daniel won the Lifetime Achievement Award for his contribution to politics.
Sen. Tokunbo Abiru (FCA) was also honoured. Distinguished Senator Mukhail Adetokunbo Abiru (FCA) is the Senator representing Lagos East Senatorial District under the platform of the APC. In 21 months, he has recorded sterling performance as a Senator.
Bishop Isaac Idahosa is another politician who was honoured. Until he went into politics a few months back, Bishop Isaac Idahosa was fully into Church work. He is the presiding Bishop of God First Ministries Inc. a.k.a Ilumination Assembly in Ajah, Lekki area. He is now the running mate to Senator Rabiu Kwankwaso the presidential candidate of the NNPP.
Senator Rabiu Kwankwaso was also celebrated at the awards. Senator Rabiu Musa Kwankwaso, is the presidential candidate of the NNPP. Many do not know that he is a great grassroot mobiliser and a great politician.
Hon. Shina Peller won an award also. He is a member of the Federal House of Representatives, representing Iseyin/Itesiwaju/Kajola/Iwajowa Federal Constituency. He has done so well for his people and they all love him.
Folusho Oguntola dazzled them at the event. This beautiful Skincare Specialist runs a Skincare Clinic where she helps a lot of ladies and men look good. She is an expert and a trained one at that.
Send Us News, Gist, more... to citypeopleng@gmail.com | Twitter: @CitypeopleMagz