•The Story Of STEPHANIE INEDOYE ONYENSO
Few months ago when City People spoke to Omorinmade Kuti, the Crown Prince of Afrobeat Music and son of Femi Kuti, the King of Afrobeat Music, he said his partner was one of his pillars of support.
While answering a question on what keeps him going so strong, Made said,
"That would be my foundation. It is that I have many people to rely on. My dad, my mum, Aunty YK, my siblings, Aunty Dolapo in London, my partner, my cousin Rolari, I have a lot of people that I can rely on. As I said, a lot of downs have come.
We have ups too but in your down moments, solitude sometimes can help for thinking but sometimes it can take you down the slippery slope of mental difficulties. So all these people around are always on my case. I have a lot of people that I can depend on."
There is no doubt about the strong bond he enjoys with his partner, Stephanie Inedoye Adanne Onyenso and only recently, he popped the question and she said, "yes."
Since then, social media has been on fire with the news.
And the couple has been sharing 'loved up' pictures and videos on Instagram.
They're actually on a vacation in Paris, where he popped the question.
In his announcement on Instagram, Made said, "She said YES! @__inedoye
Newest Fiancé and Fiancée in town.
There's a lot of pain in the world every day. But sharing that pain and fighting for a better world with you makes it all worth living for. I can't wait to see the future we build together. I love you."
Made is 27 while Inedoye is 24 years.
The entire Anikulapo-Kuti family has accepted her.
Yeni Kuti, the matriarch of the family, has congratulated the couple.
While replying to Made's post, she said, "I am coming late to the table o!! Congratulations my darlings. I pray you have a wonderful life together. @madekuti and @__inedoye."
Femi Kuti said, "I'm so happy for both of you."
Funke Kuti simply said, "I have gained a daughter!! Congratulations to both of you!"
Laila St. Matthew Daniel, Made's grand mum (she's Funke Kuti's mum) also congratulated the couple. She simply said, "Congratulations dears!"
Celebrities from far and near have also wished the couple Godspeed.
In her announcement, Inedoye gave a back story on their relationship.
She said, "Last night during our 2 years anniversary dinner, I said YES!!! to the LOML.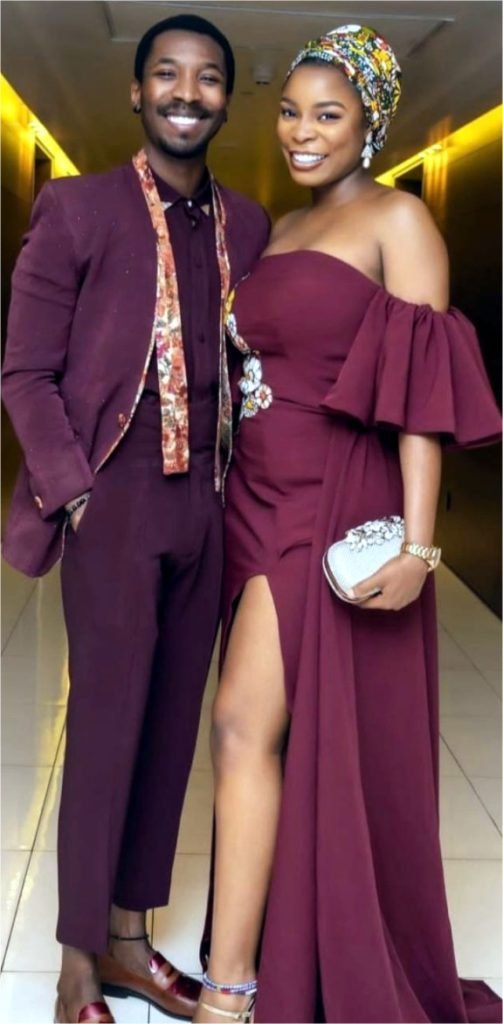 A bit of a backstory,
I always told him I knew he won't go on one knee to propose but he'll go all out and I begged him not to because I'll faint and I'm sure he won't want me to faint before I give him an answer.
Long story short, he listened and popped the question while we were having a conversation about our future which for me is EVERYTHING!
First, this trip was my birthday gift and you decided to plan the itinerary of the trip by yourself and you went above and beyond my imaginations and expectations and took everything I wanted into account.
Not gonna say too much just I LOVE YOU Afolabi @madekuti
I know y'all are dying to see the ring.
As the sweetest man EVER!!! He couldn't decide on a ring because I couldn't make up my mind when he was using style to ask me so he wants us to get the ring together so watch out, I just might post.
P.s. "La Isla Bonita" which was my favorite song as a child because I used to love hearing my mum sing it was out of the blue being sung by the singer on the boat when he proposed so I guess it's our song now."
After she made this post, Inedoye later shared another video in which a ring was unboxed and placed on her fourth finger (also known as ring finger).
While a lot is known about Made, not much is known about Inedoye but we can tell you she's a model, scriptwriter, actress, and entrepreneur. She's the CEO of The Doye Brand which is into swim wears.
In an interview on why she started the business, Inedoye said she decided to go into swim wears because she loves to flaunt her skin and will not allow what people say to prevent her from doing so.
While noting that she loves to swim and go to the beach, Inedoye said "Most girls my size do not always find swim wears to wear. So, I decided to do an all-inclusive swim wear brand."
"When it comes to designs, Inedoye said, "I decided to do designs that will accentuate the figure and type and designs that every woman will wear and be comfortable and confident in."
She gave kudos to her dad who made her comfortable in her skin and body while she was facing backlashes as a kid. She was then restricted from wearing revealing clothes.
She also thanked family, friends, and customers for supporting her new brand.
So, how has business been since she started?
The Doye Brand has enjoyed tremendous support since inception.
It recently had a launch which was attended by classy guests. Toppy Banks was the MC while FK Management, Funke Kuti's company, managed the event.
The Doye Brand's slogan is "Be Your Desire" and features luxury swim wear styles for today's woman.
Its Desire '22 Collection is designed to help women stand out.
When it comes to colours, Inedoye said she specifically chose to make swim wears in teal, yellow, black, purple (her favourite colour) and every colour that a woman would love to wear.
Aside from business, Inedoye genuinely loves Made and vice versa. They've been supportive of each other since they met. Inedoye supports Made and vice versa. Made was at her business launch in August this year.
Inedoye was also at the 60th birthday concert held in honour of Femi Kuti in June this year.
She event went on to dance energetically when Made rendered his lead single 'Free Your Mind', off his album, 'Foreword'. In a romantic twist, Inedoye joined her boyfriend on stage and they danced together.
She has always provided moral support for Made and he confirmed this in the interview we had with him in January this year.
Unlike his grandfather, Fela, Made says he does not intend to have more than one wife.
In an interview with Punch in 2020, he said, "I am a one-woman man. I prefer a very good and stable relationship to any kind of lavish, numerous partnership. I am a one-woman man."
On what he likes about his girlfriend, Made said, "The thing I consider to be of the greatest value is honesty. If two people are honest, they would discover how compatible they are. I have known her for about 12 years and that adds to the value of the relationship."
For those who don't' know, Made's full name is Omorinmade Kuti, but he's known professionally as Made Kuti. He is a Nigerian Afrobeat singer, instrumentalist, and songwriter. He is the son of Femi Kuti and grandson of the late Fela Anikulapo-Kuti, the Afrobeat Legend.
His mother is Funke Kuti, the ex-wife of Femi Kuti and founder of FK Management, an event planning and management firm. He's one young man who's challenging the limits in Afrobeat Music.
His parents are always proud of him.
Raised in the New Afrika Shrine, Made learned to play multiple musical instruments including the trumpet, alto, sax, piano, and drums in his childhood and started playing the trumpet at age 4! In 2021, he released an album with his dad which was nominated for the 2022 Grammys (In the Best Global Music Category).
The joint album was titled "Legacy +" while his own side of the album is titled "Foreward."
That was his first Grammy nomination but Femi Kuti had been nominated six times!
Speaking on the nomination, Made said, "My mind is blown!! A Grammy nomination from my debut album! All those years I spent practising all those instruments by myself to record an album, I would play every instrument by myself! Notating the music, recording it, editing it! Thank you to everyone that was involved."
Made Kuti also got a nomination at the AFRIMA awards early 2021 in the Best artiste, duo, or group in the African jazz category with "Free Your Mind", his first single.
Made is the third Kuti to earn a Grammy nomination. Neither his father, Femi nor his uncle, Seun Kuti, have won the award.
So, what was his childhood like?
Made attended the CTC Primary School and Beehive School. He proceeded to London to study at the Trinity Laban Conservatoire of Music and Dance in London, which happens to be Fela's alma mater.
The first thing that strikes one, upon first meeting Made is his humility. He is humble to a fault and brilliant too. He had an answer to every question thrown at him when we interviewed him early this year.
Over the years, Made has grown into a fine young man who is ready to conquer the world of music like his grandfather, Fela and his father have done.
He's also truthful to a fault. He doesn't like sugarcoating stuff. He says it as it is!
Careerwise, Made had always worked with Femi Kuti and "The Positive Force Band" but last year, he started his own band called "The Movement." But, he still plays once in a while with his dad.
Speaking on how it's like working with his dad, Made said, "I have been working with my dad all my life so it feels, at this point, very natural. What has felt unnatural is that I have now broken away and started my own band. Last year was a roller-coaster of experiences because we started to perform in April and all of a sudden, we had shows all over Lagos, we had Terra Kulture, Oriental Hotel, Hardrock, Global Citizens, and each show we did came with a lot of experience and learning. Last year was a blessing for me. So, I am now an independent musician while playing in my father's band once in a while. So it's a very nice and loving dynamic that we can work together."
So, why did he choose "The Movement" as the name for his band?
He said, "It took a long time to decide but when I finally decided, I wanted a name that would carry the weight of all the ideas I wanted the band to represent. So, "The Movement" as in physicality that is dance. Then the movement as in progression, I wanted it to be forward-thinking. I really want to be able to carry this band all over the world.
An extremely hardworking individual, Made's typical day involves lots of practice.
According to him "It is a lot of practice. Nowadays, I don't have a lot of time to practice which is strange because I am writing a lot of new songs. But practice is music, spending time with my family and partner on a day like this, we have rehearsals. We'll rehearse from 3pm till about 8 pm or 8:30 pm. On Friday, I am recording in the studio.
When asked to describe himself, he called himself, "a simple person with very simple goals."
Speaking about his mum, Made said, "She is now being a very core attribute to the success of "The Movement". Her agency, FK Management has put together 2 shows that helped push "The Movement" forward. One at TerraKulture and the second at Oriental Hotel. And they have really been doing a lot of behind-the-scenes work to push "The Movement" forward, almost at no charge. The entire team has sacrificed for us, we're so grateful."
What does he hope to achieve with his music?
Made said, "I just hope that anybody that listens to my music feels that the message and source of all the ideas, the instrumentation, the lyrics come from a place of truth. I really care about being honest with myself. So, I want anybody, whether it's about politics, whether it's about the mind, whether it's about character, whether it is about value, no matter what I sing about, I want them to know that it comes from a place of learning and understanding and honesty. And when they hear the music and the music makes them feel good, they can trust that it's a true sound."
-IYABO OYAWALE
(08033564055)
Send Us News, Gist, more... to citypeopleng@gmail.com | Twitter: @CitypeopleMagz