Talking about those who are dominating the Nigerian entertainment industry, Bukunmi Oluwasina is obviously in the frontline. Unarguably, she's at moment the number one actress to reckon with in the Yoruba movie genre of Nollywood.
Musically, no one can rubbish her brand because that is where it all started for her. She is among the Nigerian music acts who dishes out matured and intelligent songs.
In December 2021, the small but mighty Nigerian entertainer was in the news when she stormed studio with a renowned American music star, Tatiana Manaois to record her latest song titled "Happy Girl".
This week, precisely on Monday 14th February 2021 (Valentine's Day), the Ekiti State-born mother of one hit the internet with the MP3 of "Happy Girl" and within 6 hours, the song became number 3 on the chart of most trending news in Nigeria.
Having seen this, popular Nigerian entertainment Journalist, Gbolahan Adetayo engaged Bukunmi Oluwasina on the inspiration behind the song, and according to her, "The song is an emotional reflection of a good, God fearing and well mannerd girl who fell in love with a bad boy who has been on her neck for a long time and in the process of her dating him, she shared from the bad habits of the guy just to connect well and stay loved up in the relationship. She kept doing everything that the guy wanted just to maintain the space of being his girl. She eventually got addicted to the guy and the drugs and wayward life style they are both living. Unfortunately for her, the guy grew out of love with her and fell in love with another good girl, who ended up converting him, to start living a good life. She completely changed the guy to a good person. He stopped drugs and ended up marrying the new good girl, leaving his ex-girlfriend who already got addicted to a messed up life. It's just one of the sweet stories that pop up in my head, but then i chose to sing about it this time around and not converting it into a drama. I would later do that for my fans who are movie buffs. The story isn't a true life story but a product of my imagination", she said
On why she decided to put the story in music rather than movie, Bukunmi said, "Apart from dropping a short song or songs dedicated to a particular person on social platforms, I missed being a musician, and a lot of my fans have been waiting for my next single. Some have even been disturbing me with the question "When will you drop an album?" So i just felt it's a good time to entertain my fans in the line of music too".
She further spoke on the choice of Tatiana Manaois an American singer who featured in her new single, "her voice, lyrics and music eases my soul whenever I listen to them. Read a lot about her. And what I learnt about her are kind of fascinating, realizing the fact that we might be sharing a few things in common, which includes writing songs, basically to help the world heal, being a little bit introverted and obsessed with making good music and all that.
Then later getting to know her in person and realizing she is so calm, humbled with a free spirit. I can go on and on. My manager was like, You've been friends with Tatiana and never thought about making a song together still surprises me. That was when i remembered the first thing and purpose that attracted me to her before her personality swept me off my feet. And so we decided to make this song "HAPPY GIRL" together".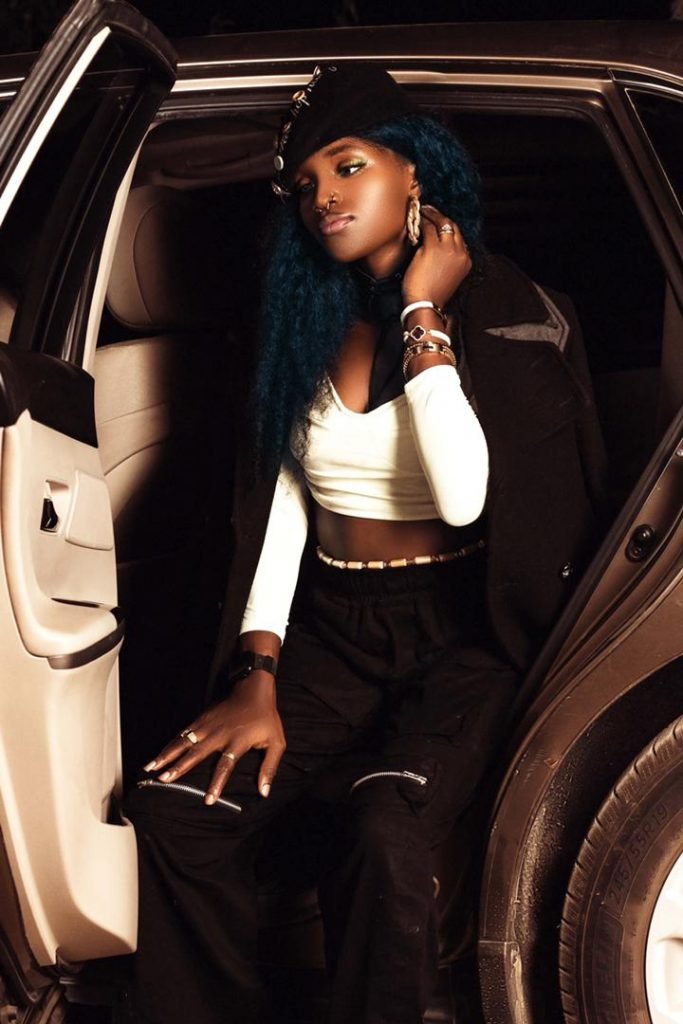 Topping the chart of most trending news in Nigeria 6 hours after the song was released, the pretty babe said, "I feel super excited. I actually supposed to wait and drop the song when the video is ready, but ever since i announced that i have a song that featured Tatiana, everyone has been on my neck for the release "Please Drop it… drop it…" I didn't want the excitement and urge of fans to die down, so i decided to drop the MP3, while they wait for the video later. In a nutshell, HAPPY GIRL just want you to know that the most painful thing is loosing yourself in the process of loving someone else, Forgetting the fact that "YOU ARE SPECIAL" also.
So in this month of love, I'M sending out this special gift "HAPPY GIRL" to everyone out there who has loved and lost themselves in the process, gave their all for nothing in return. Wipe those tears, look around you, think about the genuine love you have given out, how much of it have you given to yourself? You know their favorite color, cook their favorite meal, buy their favorite dress, take them to their favorite place. When was the last time you cooked your own favorite food? Or bought yourself a gift too? Do they even know your favorite place too? While we all await the mouth watering Video of Happy Girl, Let the song itself remind you, that YOU ARE SPECIAL TOO. AND HOW YOU LOVE YOURSELF IS HOW YOU TEACH OTHERS TO LOVE YOU".
Send Us News, Gist, more... to citypeopleng@gmail.com | Twitter: @CitypeopleMagz